Nespresso Vertuo Pop, the compact machine based on the Vertuo Next, comes in two versions: Vertuo Pop and Vertuo Pop Deluxe.
This post is a simple comparison between Vertuo Pop vs Vertuo Pop Deluxe.
You can also read my previous comparison of Vertuo Pop vs Vertuo Next vs Vertuo Plus.
Nespresso Vertuo Pop vs Deluxe – The Differences
There are two main differences between Vertuo Pop vs Vertuo Pop Deluxe:
Color Availability and Water reservoir size
Color Options
Nespresso Vertuo Pop is available in a variety of vibrant colors: Blue, Red, Mint and Yellow.
Vertuo Pop Deluxe is available in Titan and Silver, and has some chrome accents.
Water Reservoir Capacity
Vertuo Pop has a 25 oz water reservoir capacity.
Vertuo Pop Deluxe has a 32 oz water reservoir capacity.
Since these two versions have different water reservoir sizes, does that mean the dimensions are different?
No, both of them have the same dimensions of 8.6 x 14 x 10.4 in WxDxH.
Nespresso Vertuo Pop vs Plus (Vertuo+), Is There a Difference?
Vertuo Pop is sold in the USA under the name Vertuo+ … around the world, it is simply called Vertuo Pop.
I looked at different Nespresso local websites, US, UK, Taiwan, Switzerland, Australia… just to compare and contrast, and I have not found any differences between the Vertuo Pop and Pop+
Interestingly enough, The Vertuo Pop DELUXE version is only available in the United States.
Related Comparisons
Nespresso Vertuo vs Vertuo Next
Nespresso Vertuo vs Vertuo Plus
Nespresso Vertuo Pop vs Essenza Mini
Features of Nespresso Vertuo Pop
Nespresso Vertuo Pop is Nespresso's newest addition to its line of Vertuo machines. It promises a small footprint, fun design and delicious coffee from a range of over 30 different compatible capsules for making hot and cold drinks. Its compact size and easy one-touch brewing make it perfect for small kitchen spaces, offices or dorm rooms. While its smart connectivity allows you to keep track of your machine in real time using your smartphone. Plus, it's made from 35% recycled plastic, has an A+ energy consumption rating, and the capsules themselves are 80% recyclable – so no need to worry about extra waste.
Nespresso Vertuo Pop Serving Sizes

Like other Vertuo machines, the Vertuo Pop uses CentriFusion technology to brew the main 4 sizes of pods: Espresso (1.3 oz / 40 ml), Double Espresso (2.7 oz/ 80 ml) , Gran Lungo (5 oz/150 ml) and Coffee (7.7 oz/ 230 ml)
What gives it an edge over other Vertuo machines, is that it can brew the new Alto pod (12oz/ 350ml). This pod is now exclusive to the Vertuo Pop and Vertuo Next. Ironically, the Vertuo Pop can also brew Carafe pod, which was exclusive to the Next model only. This is funny because Pop is actually quite compact and there's no way to fit a carafe under its spout. Its carafe pod compatibility is not something that Nespresso advertises, but it was confirmed by Pop user. I believe this is due to the machine using Next's same software, so they can practically brew the same pods.
Vertuo Pop Design
Although Vertuo Pop is marketed as a compact machine, it's only actually 'shorter' than other Vertuo models, but when it comes to depth and width, there's not much difference. Having a shorter machine can be an inconvenience sometimes, especially if you're someone who regularly makes larger cups of coffees or likes to brew directly into a travel mug.
What makes Vertuo Pop truly different is its colorful design:
It is available in a wide range of colors, POP of colors… so that's the inspiration behind its name, I guess.
Let's look into the exact differences between the Vertuo Pop and other models.
Vertuo Pop Bluetooth Connectivity
Vertuo Pop shares a lot of Vertuo Next's features, including Bluetooth connectivity. This feature is great because it allows the machine to receive periodic software updates to expand its features, or fix any possible issues. It also allows you to monitor your machine over the app, receive descale alerts and more.
What Pods Are Compatible with Nespresso Pop Machine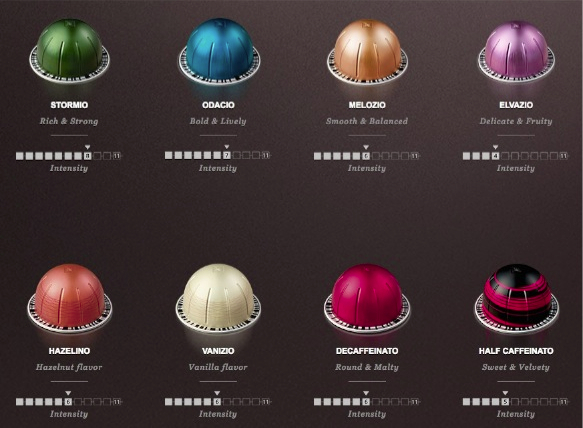 Since Vertuo Pop is a Nespresso Vertuo system, it works with Vertuo Pods only. Those pods are exclusive to Nespresso and can only be purchased from them.
Does Nespresso Vertuo Pop Come with Pods?
Yes, your purchase of Nespresso Pop will include a set of Vertuo pod samples for you to try out.
Related Posts