If you find yourself in a dilemma between Nespresso Vertuo and Citiz, it implies that you are uncertain about which of Nespresso's brewing systems to choose. Nespresso Vertuo refers to the Vertuo machine, while Citiz stands for the OriginalLine machine. To provide clarity on the disparity between Vertuo and Citiz, this guide will help you understand the differences between Vertuo as a brewing system and OriginalLine.
There are many Vertuo machines that you can consinder, but in this guide, I will be using the first Nespresso Vertuo to compare to the CitiZ OriginalLine machine.
Most of the differences will apply to any Nespresso Vertuo or OriginalLine machine, so even if you choose different models, the same core differences will apply.
What's The Difference Between Nespresso Vertuo vs CitiZ
Below, you'll find the two Nespresso models compared in sections of how they brew coffee, what pods fit them and where you can buy them from, design and dimension differences and last bu not least, how easy it is to care for and maintain each model.
Vertuo vs Citiz: Brewing Technology
Nespresso Vertuo uses a propietory brewing technology, while Citiz uses a traditional espresso pump system.
Nespresso Vertuo Brewing Technology
Vertuo is considered an espresso and coffee machine.
Nespresso Vertuo is equipped with Centrifusion technology that uses a unique barcode system to adjust the brewing parameters for each coffee blend. The barcode on the capsule tells the machine how to adjust the brewing time, temperature, and rotation speed to extract the optimal flavor and aroma from each coffee blend.
The Centrifusion technology works by spinning the capsule at high speed (up to 7,000 rotations per minute) while hot water is injected into the capsule. This creates a centrifugal force that mixes the coffee grounds and water, resulting in a rich and creamy crema on top of the coffee.
Nespresso Citiz Brewing Technology
Citiz, or OriginalLine, is an espresso machine only.
Nespresso Citiz uses a 19-bar high-pressure pump to extract the coffee from the capsule. Which is similar to any traditional type of espresso machine. The pump ensures that the water is forced through the coffee grounds at the optimal pressure and speed, resulting in a smooth and rich espresso.
The Citiz also features a thermoblock heating system that heats the water to the optimal temperature in just 25 seconds. This ensures that the water is hot enough to extract the full flavor and aroma from the coffee.
Vertuo vs Citiz: Brew Sizes
This is one of the most important factors to consider when choosing between Vertuo or Citiz. Since Vertuo makes both espresso and coffee, it has more brew sizes than Citiz.
Nespresso Vertuo Brew Sizes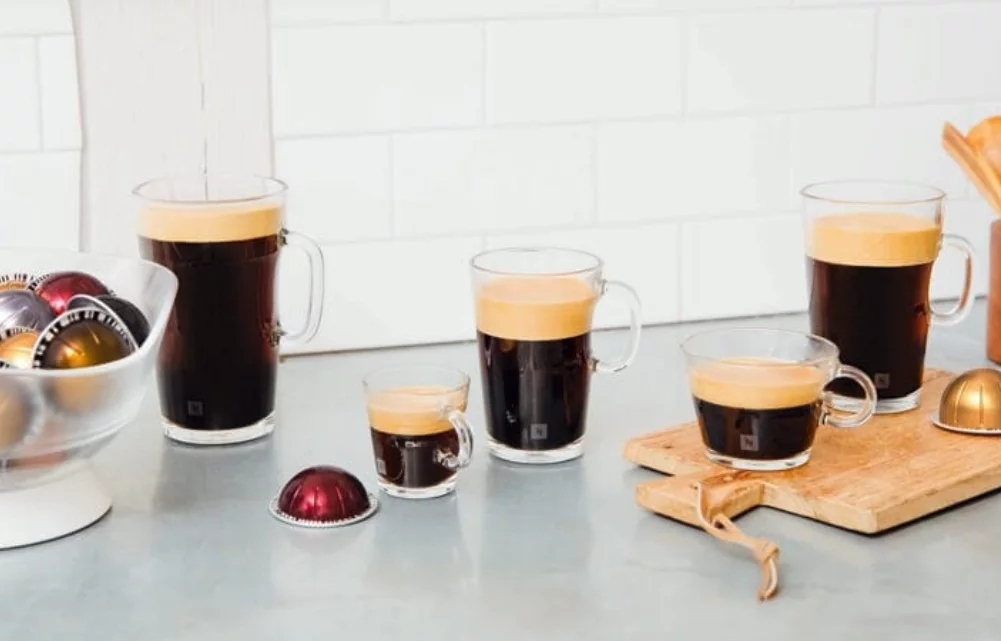 When it comes to brew sizes, Nespresso Vertuo offers a wide range of options to choose from. You can select from five different cup sizes, ranging from 1.35 oz to 7.7 oz. The Vertuo capsules are designed to brew a specific amount of coffee, depending on the cup size you choose. Here are the four different cup sizes and the corresponding coffee volumes:
Espresso: 1.35 oz
Double Espresso: 2.7 oz
Gran Lungo: 5 oz
Coffee: 7.7 oz
Note: There are two other Vertuo sizes that only Vertuo Next, Vertuo Pop and Vertuo Creatista can brew: XL Coffee 12 oz and Carafe 18 oz.
Nespresso Citiz Brew Sizes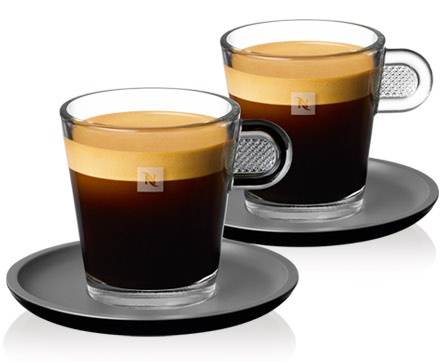 Compared to the Vertuo, Nespresso Citiz offers a more limited range of brew sizes. The Citiz machine offers two cup sizes: Espresso (1.35 oz) and Lungo (3.7 oz). The Citiz capsules are designed to brew a specific amount of coffee for each cup size, just like the Vertuo capsules.
The Citiz machine does not have a barcode system like the Vertuo, but the machine has two buttons for each size, so it's not hard to adjust your brew size.
Vertuo vs Citiz: Pod Compatibility
This is another make-or-break factor when it comes to choosing between Nespresso brewing systems. Vertuo Pods are patented to Nespresso so they can't be purchased from local grocery stores, also, they're only made by Nespresso, so you won't find them from other brands.
On the other hand, Nespresso Citiz pods, or Nespresso OriginalLine pods, are available more widely from Nespresso or Nespresso Compatible brands. Compatible brands are available from many local stores as well as online vendors.
Nespresso CitiZ Pods
When it comes to Nespresso CitiZ pods, there are a few different options to choose from. Here are the three main types of pods you can use with the CitiZ machine:
Nespresso OriginalLine Pods
The Nespresso OriginalLine pods are the classic Nespresso pods that have been around since the beginning. They come in a variety of flavors and strengths, so you can find one that suits your taste. These pods are not compatible with the Vertuo line of machines, so make sure you have a CitiZ machine, or any OriginalLine machine before purchasing them.
Brands that make Nespresso pods include: Starbucks, Dunkin', Illy, Lavazza, L'OR and many more.
Nespresso OriginalLine Compatible Pods
If you want to try out different coffee brands or flavors, you can also use Nespresso OriginalLine compatible pods with your CitiZ machine. These pods are made by third-party companies but are designed to work with the OriginalLine machines. They often come in a wider variety of flavors and strengths than the official Nespresso pods. They're also less expensive, mostly. So buying from generic or third party brands is a great way to save on your pod expenses.
Nespresso OriginalLine Refillable Capsules
Another option for Nespresso CitiZ users is to use refillable capsules. These are small, reusable pods that you can fill with your own coffee grounds. They are more environmentally friendly than single-use pods and can save you money in the long run. However, they do require a bit more effort to use, as you have to fill and clean them yourself. These are my LEAST favorite why to enjoy Nespresso coffee. In fact, I don't recommend them at all:
They take away from your Nespresso experience where you're just supposed to drop a capsule and press a button. Nespresso is for convenience.
These refillable pods are not always made from good materials. They are not officially licensed by Nespresso. So there's always a chance of them breaking your machine.
Using the wrong grind size for your coffee will result in weak shots of espresso. Using more or less coffee ground could lead to the refillable pod exploding inside the machine and a whole lot of mess you have to clean.
Overall, the Nespresso CitiZ machine gives you a lot of flexibility when it comes to the type of coffee you can make. Whether you prefer official Nespresso pods, third-party compatible pods, or refillable capsules, you can find an option that works for you.
Nespresso Vertuo Pods
If you're considering purchasing a Nespresso Vertuo machine, you'll need to know about the pods that are compatible with it. Nespresso Vertuo pods are larger than the original Nespresso pods and come in a variety of flavors and strengths.
Here's what you need to know about the Nespresso Vertuo pods:
Vertuo and OriginalLine pods are not the same shape or size. So buying a Vertuo machine means you can only use Vertuo pods.
Vertuo Pods are sold by Nespresso only. You can buy them from Nespresso's website, their Amazon store or from their local boutiques in your town.
Vertuo Pods are not available from 3rd party brands and won't be for a long time. The only exception to this rule is Starbucks Vertuo Pods which are in fact manufactured by Nespresso, and they can be purchased in Starbucks stores or Grocery stores.
Starbucks Vertuo Pods by Nespresso
One of the most popular options for Nespresso Vertuo pods is Starbucks. Nespresso has partnered with Starbucks to create a line of Vertuo pods that are compatible with the Vertuo machines. These pods come in a variety of flavors, including:
Blonde Espresso Roast (Espresso Pod)
Espresso Roast (Espresso Pod)
Colombia (7.7 oz coffee)
Veranda Blend (7.7 oz)
Pike Place Roast (7.7 oz)
Single-Origin Sumatra (7.7 oz)
Caffè Verona (7.7 oz)
Each pod is designed to deliver the same taste and quality that you would expect from a Starbucks coffee. The pods are available in different strengths, so you can choose the one that suits your taste.
Overall, the Nespresso Vertuo pods offer a wide variety of flavors and strengths. The Starbucks Vertuo pods are a great option if you're looking for a high-quality coffee that is compatible with your Nespresso Vertuo machine. But compared to OriginalLine, you are still very limited in pod variety.
Vertuo vs Citiz: Design and Dimensions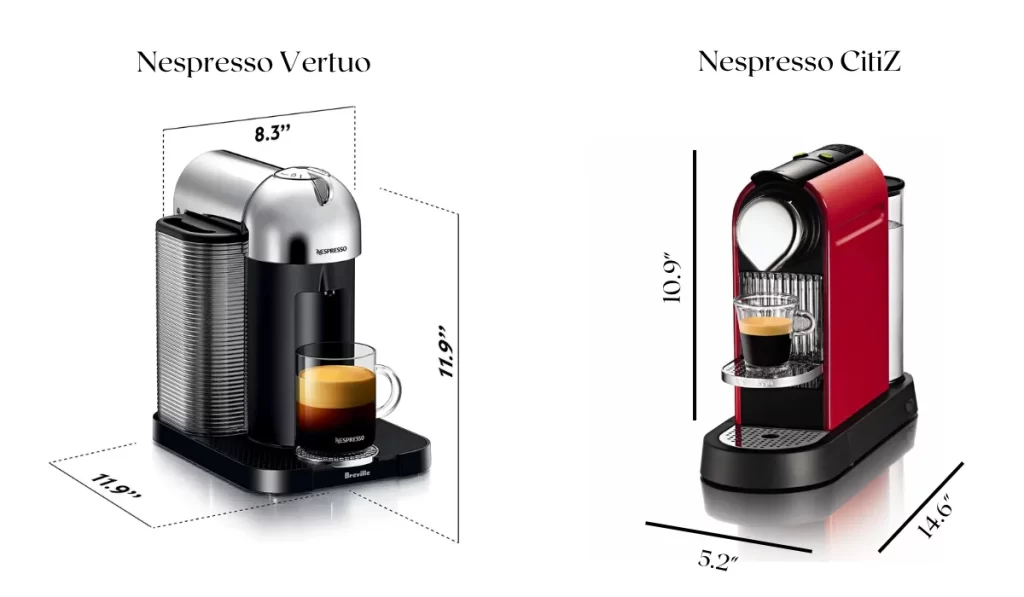 Nespresso machines have nice modern designs that are compact and easy to use. While design is important, I don't find it to be a deciding factor like brew sizes and pod compatibility. Design choice comes AFTER you have decided between Vertuo vs OriginalLine
Nespresso Vertuo Design
The Nespresso Vertuo is a sleek and retro modern-looking coffee machine that will look great in any kitchen. It comes in two shapes, or the head shape at least, and several finishes: full black or black/chrome combination.
The dimensions of the Nespresso Vertuo are(WxDxH): 8.3 in x 11.91 in x 11.9 in, and it weighs around 10 pounds. It has a water tank capacity of 40 ounces, which is enough to make several cups of coffee before needing to refill it.
Nespresso Citiz Design
The Nespresso Citiz has a more traditional design, with a rectangular shape and a shiny finish. It comes in several colors, including black, silver, and red, so you can choose the one that best matches your kitchen decor.
The dimensions of the Nespresso Citiz are (WxDxH): 5.2 x 14.6 x 10.9 inch, and it weighs around 8.9 Pounds. It has a water tank capacity of 33 ounces, which is slightly smaller than the Vertuo's tank.
CitiZ is also available as an option with a built-in Aeroccino milk frother, which goes by the name Nespresso Citiz and Milk. Unlike other OriginalLine machines that come bundled with the milk frother, Citiz has the frother built into its base, so they share the same electric outlet, but it works the same way as a standalone aeroccino.
Conclusion
When it comes to design and size, both the Nespresso Vertuo and Citiz have their own unique features. The Vertuo has a more modern and compact design, while the Citiz has a more traditional and customizable look. Ultimately, the choice between the two will depend on your personal preference and the amount of counter space you have available.
Vertuo vs Citiz: Ease of Use and Maintenance
All of Nespresso machines are incredibly easy to clean and care for, which is part of their appeal. When it comes to cleaning, there is:
Quick rinse cycles that are done in a minute to rinse out any coffee residues.
Periodic descaling and cleaning, which cleans the entire machine from the inside and requires a special descaling solution.
Nespresso Vertuo Ease of Use and Maintenance
Using a Vertuo machine is as simple as pressing a single button. Since the machine as automatic pod recognition, there's just one single 'brew' button on the head of the machine. Press it, and the Vertuo will brew exact amount of pod you have inserted.
Cleaning the Nespresso Vertuo is a breeze. The machine has a removable drip tray and a used capsule container that you can easily empty and clean. The Vertuo also has an automatic cleaning cycle that you can run after every few brewing cycle, ensuring that your machine stays clean and ready to use.
Descaling the machine is a longer process, but you won't have to do it often. It's done every 3 to 6 months, depending on your usage. Your Vertuo will alert you with a light indicator when it is time to descale it.
Nespresso Citiz Ease of Use and Maintenance
The Nespresso Citiz is also easy to use, but it requires a bit more maintenance than the Vertuo. The Citiz has a smaller water tank, which means you'll need to refill it more frequently. Additionally, the Citiz requires more manual cleaning than the Vertuo.
The Citiz's drip tray is removable, but you'll need to clean it frequently to prevent mold and bacteria growth. The Citiz also lacks an automatic cleaning cycle, meaning you'll need to clean the machine manually to keep it in good condition.
Overall, both machines are relatively easy to use, but the Vertuo is the better option if you're looking for a machine that requires less maintenance.
Related Comparisons
Related Articles
Nespresso Vertuo vs Citiz, Which Do You Choose?
The choice here is really between Vertuo vs OriginalLine as a system. As soon as you understand what are the difference between these Nespresso systems are, you'll be able to choose between Vertuo vs Citiz.
Vertuo vs OriginalLine
Vertuo vs OriginalLine Brewing Process
When comparing the Nespresso Vertuo and OriginalLine machines, the first thing to consider is the brewing process. The OriginalLine machines use a pressure-based system, pumping water through the pod at 19 bars of pressure until espresso pours into your cup. On the other hand, the Vertuo uses Centrifusion technology, which runs water in a circle through the pod instead of straight through. Centrifusion is a technology patented to Nespresso, no other machines uses this brewing mechanism other than Nespresso Vertuo machines.
Vertuo vs OriginalLine Brew Sizes
Vertuo machines are espresso and coffee machines. Using a Vertuo system, you can brew small espresso shots or larger coffee cups.
OriginalLine machines, like Citiz are espresso machines. You can brew two sizes: espresso and lungo. Few models are programmed to brew a ristretto, which is a shorter espresso shot.
Vertuo vs OriginalLine Pods
Nespresso Vertuo and OriginalLine use totally different capsules to brew coffee. Vertuo uses larger pods with a special design that is patented to Nespresso. While OriginalLine uses smaller pods that Nespresso no longer owns the patent to, which means you can buy them from Nespresso or any other compatible brand.
How To Choose Between Vertuo vs OriginalLine?
There are two main things to consider when choosing between Nespresso Vertuo or OriginalLine:
1- are you going to be mainly brewing espresso (or espresso based drinks like lattes) or do you want to brew large cups of coffee, too.
2- are you willing to commit to buying your capsules from Nespresso only? Or do you prefer to have more choices and not be limited to one brand of pods?
If you're mainly brewing espresso drinks, then you'll be happy with any OriginalLine machine, that's exactly what they're built for. But if you want to make coffee in addition to espresso, then Vertuo is the way to go.
However, if you're buying a Vertuo machine, you have no other choice but to buy your capsules from Nespresso. Which is not exactly a 'problem'. Nespresso does have a good variety of pods, but they are usually more expensive than alternative brands.
What Is the Difference Between Vertuo Next and Citiz?
Vertuo Next is part of the Vertuo system by Nespresso. What differentiates it the most is that it is Bluetooth connected and it has two exclusive brewing sizes: Carafe 18 oz and XL coffee 12 oz. CitiZ, on the other hand, is an OriginalLine espresso machine.
Why is the Nespresso Citiz More Expensive?
Citiz Is more expensive than Vertuo simply because Nespresso no longer profits from CitiZ pods, so they have to make their profits off of the machine itself. Where as with Vertuo, their profits comes from the pod exclusivity and the fact that only Nespresso can sell them. So they make the machine more accessible for everyone to buy.
Is Nespresso Vertuo as Good as the Original?
The coffee these two machines make are quite comparable in quality, but if you're mainly an Espresso drinker, you'll enjoy an OriginalLine more because it's more in line with what a traditional espresso is in terms of how it is brewed.
Can You Use Any Pods in Nespresso Citiz?
You can use any pod that says 'Nespresso-Compatible'. Those are available from many coffee brands. Vertuo Pods are not compatible with Citiz and vice versa.