Nespresso Vertuo users who used the XL Alto pods (14 oz serving) were disappointed when Nespresso announced that the pods were discontinued back in 2021. Even though the Alto coffee pod was not available in many blends and flavors, many Nespresso users loved that large serving size that's rarely available in single-serve coffee makers.
Here's the good news – Alto coffe pods are back! (as of April 2023) But there are several things you need to know about the newly released pods because things aren't as they used to be.
The Nespresso Alto Pods (12 oz Coffee)
Even though Nespresso has reintroduced the Alto pod again, they made some drastic changes that will make many users unhappy…
1- They don't work in all Vertuo models
2- Alto coffee pods are now 12 oz serving instead of 14 oz
3- They are sold in a set of 7 pods per sleeve instead of 10
Let's start with the names of the Nespresso Alto 12 oz Pods
Alto Ambrato: Light roast coffee
Alto Onice: Dark Roast Coffee
Cold Brew Style Intense: Dark Roast Cold Brew style coffee
Keep reading below for more info on these pods, the caffeine content and more.
Why Nespresso Alto Coffee or Cold Brew Pod Is Not Working in Vertuo
If you got yourself some Nespresso Alto Ambrato, Alto Onice Pods, or the Cold Brew Intense pod, but you insert it into your Vertuo machine and it does not work.
There are two possible reasons for this, and one of them is the sure problem.
Nespresso Vertuo Model Compatibility
The problem with Alto coffee pods not working in Vertuo is compatibility. These pods do not work with all Vertuo machines.
New Nespresso Alto Pods will only work in these models:
So, if you are trying to brew a Nespresso Alto pod in a:
Your Nespresso machine will start blinking twice, then stop. Which means, it doesn't recognize the pod.
Other Possible Issues
If you can confirm that you are using a Vertuo Next, Pop or any of the compatible Vertuo models, then try the following…
Upgrade Your Nespresso Vertuo Software
Vertuo Next and Pop are connected machines, which means they receive updates to their software to help them perform best.
Connect your machine via your phone or tablet, and check for any recent software updates.
Clean the Barcode Reader on Your Nespresso Vertuo Machine
There's a possibility that your Vertuo can't read the barcode around your pod. This is especially true if your machine is having trouble brewing any type of pod.
How to Clean Barcode Reader
The barcode reader is the plastic part around the pod holder inside your Vertuo. To clean it, simply wipe it using a damp cloth, which should get rid of any residue stuck on it and block it from reading your pods
What To Do If Your Nespresso Vertuo Is Not Compatible with Cold Brew Pod or Alto Coffee Pod
If you confirmed that your Nespresso Vertuo is an older version and won't work with cold brew or coffee Alto pods, I recommend that you reach out to Nespresso customer service and explain the situation. There's a good chance you'll get a refund. While I can't promise you that, it's certainly worth a try.
Why Did Nespresso Change Alto Coffee Pod From 14 oz to 12 oz?
There's actually a good explanation for why Nespresso has decided to make the Alto serving size smaller:
Old Alto coffee pods had the same amount of coffee grounds as the Coffee 7.7 oz size, yet, it was used to brew 14 oz. That made customers complain about how weak the coffee tasted, which probably led to Nespresso discontinuing them and replacing them with the new pod.
Now, the redesigned Alto pod is larger in size, contains more ground coffee, and brews a bit smaller, which results in a richer and stronger-tasting cup of coffee.
Which Nespresso Pods Are 12 oz Serving Size?
Now that we have cleared which machines are compatible with Nespresso 12 oz pods, here's the currently available selection for that serving size (as of the time of writing)
Nespresso Cold Brew Style Intense
Nespresso Cold Brew Style is a 12 oz pod that brews a coffee that embodies a traditional cold brew but is done within minutes.
This coffee pod is inspired by the cold brew method. To start, Nespresso advises that you use cool water in the water reservoir. The machine will start to brew hot, just to extract all the flavor from the coffee grounds, and then it will start to brew at the same temperature as the water in the reservoir.
Brew this pod over ice for the best results.
Caffeine Content: 114 mg per serving (each pod is 2 servings)
Grounds per pod: 17 grams
How To Brew Nespresso Cold Brew Pod
This pod works just like any other pod. Insert the pod in your Nespresso Vertuo Next, Vertuo Pop or Vertuo Creatista and start the brewing process.
Nespresso recommends that you add 4 ice cubes to the cup before brewing and let the coffee brew over the ice. You can add additional ice cubes to chill the coffee.
Nespresso recommends this exact recipe for the Cold Brew pod:
"For the best experience, use cool water (below 10°C / 50F) in your Vertuo Creatista, Vertuo Next or Vertuo Pop+ water tank and add 3-4 ice cubes to your coffee. 12 fl oz (355 ml) = 2 servings of 6 fl oz (172.5 ml)."
Nespresso Alto Onice XL Coffee Pod
If you love a dark roast, intense cup of coffee, you'll love Alto Onice. Made from a blend of Arabica and Robusta beans, it is high on bitterness, roastiness and body, and it's low on acidity.
Caffeine Content: 190 mg per 12 oz
Grounds per pod: 17 grams
Nespresso Alto Ambrato XL Coffee Pod
This pod is the opposite of Onice. If you're looking for an easy and mild-tasting cup of coffee, Nespresso Alto Ambrato is the way to go.
Also contains a blend of Arabica and Robusta beans, but Ambrato is a light roast coffee blend. So it is lower on the roastiness and bitterness scale.
Caffeine Content: 170 mg per 12 oz
Grounds per pod: 17 grams
Nespresso Alto Pod 12 oz vs Coffee Pod 7.7 oz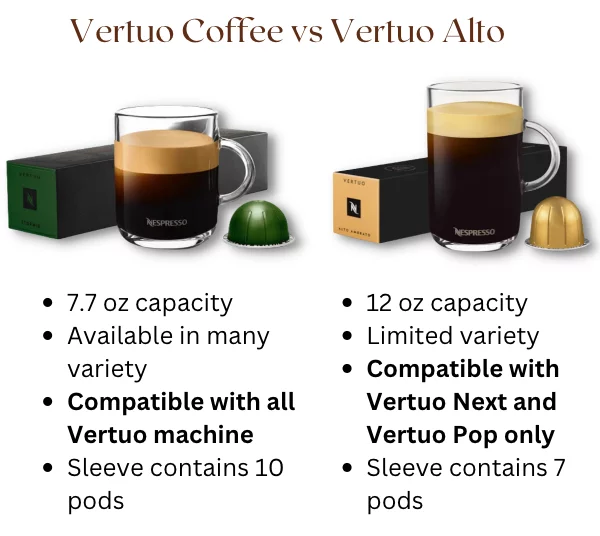 The biggest serving size that's compatible with all Nespresso Vertuo models is the Coffee Mug size, which is a 7.7 oz serving. So if you don't own a Vertuo Pop or Next, the largest pod you can brew is the Coffee pod size.
Serving Size
Alto and Coffee provide two different serving sizes: Alto is 12 oz while Coffee is 7.7 oz. So Alto is about 4 oz larger, and it is better suited for brewing into a travel mug or larger cups.
Compatibility
Coffee pods will work with any Nespresso Vertuo machine, whether it's the Next, Pop, or older models like Vertuo Plus, Vertuo or Evoluo. Alto, on the other hand, is exclusive to the Next and Pop models, just like the Carafe pod.
Variety
Coffee pods are actually available in more variety than the Alto pod. There's a total of 7 Coffee pods available, that vary in intensity and blends. As for Alto, it's only available in two varieties now.
Nespresso Cold Brew Pod vs Nespresso Iced Coffee Pods
All Vertuo machines can brew Nespresso's line of Over Ice coffee like Ice Forte and Ice Freddo.
But what is the difference between Nespresso Cold Brew vs Nespresso Iced Coffee Pods?
| | |
| --- | --- |
| Nespresso Cold Brew Pod | Nespresso Over Ice Coffee Pod |
| Works with Vertuo Next, Vertuo Pop and Vertuo Creatista ONLY | Works with all Nespresso Vertuo machines |
| Serving size: 12 oz | Serving size: 7.7 oz or 2.7 oz |
How Nespresso Iced Coffee Pods Brew
The Iced coffee pods brew hot over ice. It starts out hot, then it drops slightly in temperature, but it continues to be hot over ice. Unlike Cold Brew pod, which actually bypasses the heating element and brews at room temperature in its second phase.
Nespresso recommends that you brew these pods in a cup full of ice, then add additional ice to your liking after to chill it even more.
Is 12 oz The Largest Serving Size on Nespresso Vertuo?
No, there's one additional larger size and that is the Nespresso Pour Over Style pod, which is an 18 oz serving size. Like 12 oz pods, the 18 oz Carafe pod is also exclusive to Nespresso Vertuo Next, Vertuo Pop, Vertuo Creatista and Vertuo Lattissima.
Should You Upgrade Your Nespresso Vertuo Machine To Brew Nespresso Alto Pods?
The new Alto pods are locked to Nespresso Vertuo Next, Vertuo Pop, and possibly newer models of Nespresso Vertuo machines.
Is it worth it to upgrade from an older Vertuo to a Vertuo Next or Vertuo Pop just to brew Alto pods?
Personally, I don't think it's worth it unless you can get a really good deal on a new machine.
Nespresso Alto pods now brew 12 oz, unlike the older pods that used to brew 14 oz.
They come in a package of 7 instead of 10.
They cost about $1.50 per pod (as of the time of writing).
The price per volume is not bad at all. The problem is in the machine model. Nespresso Vertuo Next is not as reliable as previous Vertuo models. Giving up your VertuoPlus to a Vertuo Next is a shame.
I would suggest waiting to see if newer, more reliable models, become available and compatible with Nespresso Alto pods. But for now, stick to your older Vertuo machines.