Nespresso Vertuo users who used the XL Alto pods (14 oz serving) were disappointed when Nespresso announced that the pods were discontinued. Even though the Alto pod was not available in many blends and flavors, many Nespresso users loved that large serving size that's rarely available in single-serve coffee makers. But here's the good news – Alto pods are back! (as of April 2023) But there are several things you need to know about the newly released Alto pods, because things aren't as they used to be.
What Happened to Nespresso Alto Pods
Back in 2021 or so, Nespresso declared that the beloved Alto pods were being discontinued. Back then, Alto provided a serving of 14 oz, and were available in two blends: Dolce XL and Intense XL. Nespresso users loved this pod so much that they created a petition to Nespresso to release the pod again. Fast forward to 2023 – Alto pods are back. But things are different now…
Are Nespresso Alto Pods Coming Back?
Yes! As of 2023, Nespresso is selling Alto pods again….
Even though Nespresso has reintroduced the Alto capsule again, they made three drastic changes that will make most Nespresso users unhappy…
They made the pod exclusive to two models only: Nespresso Vertuo Next and Vertuo Pop. So if you have an earlier Vertuo like the VertuoPlus, Vertuo or Evoluo, you won't be able to use the Alto pod.
They made the serving size smaller: Alto pod now serves 12 oz of coffee instead of 14 oz.
A Sleeve of Alto now contains 7 pods instead of 10 pods.
As of April 2023, there are two Alto pods:
Alto Ambrato – which is a mild intensity 4 light roast blend.
Alto Onice – An intensity 7 blend of dark roasted coffee.
So like the old Alto pods, there's only two blends available so far.
Why Did Nespresso Change Alto from 14 oz to 12 oz?
There's actually a good explanation why Nespresso has decided to make the Alto serving size smaller:
Old Alto pods had the same amount of coffee grounds as the Coffee 7.7 oz size, yet, it was used to brew 14 oz. That made customer complain of how weak the Alto pods tasted, which probably led to Nespresso discontinuing them and replacing them with the newer Alto pod.
Now, the redesigned Alto pod is larger in size, contains more ground coffee and brews a bit smaller, which results in a richer and stronger tasting cup of coffee.
To Recap – the Updated Nespresso Alto Pods Are Not for Everyone
Machine Compatibility: the new Alto capsules will ONLY work with Nespresso Vertuo Next or Vertuo Pop. If you have other Vertuo models, you will not be able to use the Alto pod.
Size: Remember that Alto now brews 12 oz of coffee instead of 14 oz. But, it contains more coffee grounds than the old pods.
Pods per Sleeve: Each Alto sleeve now contains 7 pods instead of 10.
Nespresso Alto Pod vs Coffee Pod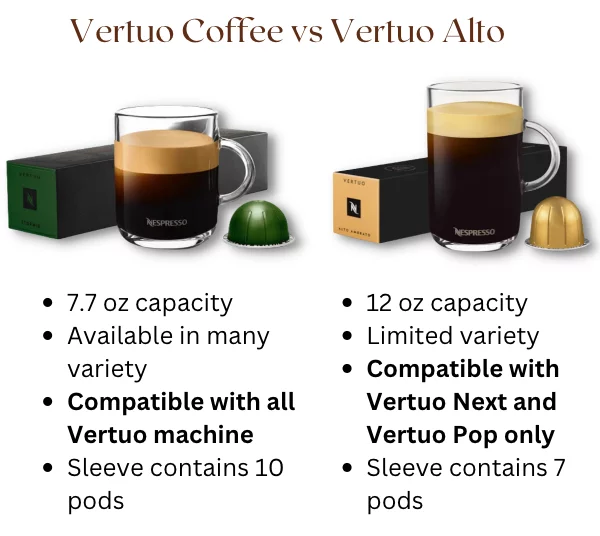 The biggest serving size that's compatible with all Nespresso Vertuo models is the Coffee Mug size, which is a 7.7 oz serving. So if you don't own a Vertuo Pop or Next, the largest pod you can brew is the Coffee pod size.
Serving Size
Alto and Coffee provide two different serving sizes: Alto is 12 oz while Coffee is 7.7 oz. So Alto is about 4 oz larger, and it is better suited for brewing into a travel mug or larger cups.
Compatibility
Coffee pods will work with any Nespresso Vertuo machine, whether it's the Next, Pop, or older models like Vertuo Plus, Vertuo or Evoluo. Alto, on the other hand, is exclusive to the Next and Pop models, just like the Carafe pod.
Variety
Coffee pods are actually available in more variety than the Alto pod. There's a total of 7 Coffee pods available, that vary in intensity and blends. As for Alto, it's only available in two varieties now.
The Wrap Up
Although it is great that Nespresso has decided to bring back the popular Alto pod, I really don't like that they made it exclusive to two models only. It is bad enough that they made the serving size smaller, and that the sleeve now has less pods, it's not understandable that they'd lock the usability of the Alto pod to Vertuo Next and Pop. What's more confusing is the fact that they'd make the largest Nespresso pod exclusive to the smallest Nespresso Vertuo machine, the Pop model. The Vertuo Pop is so small that it cannot accommodate large cups or travel mugs. Pop is also compatible with the Carafe pod, yet, it's so small it can't fit the carafe under its spout.