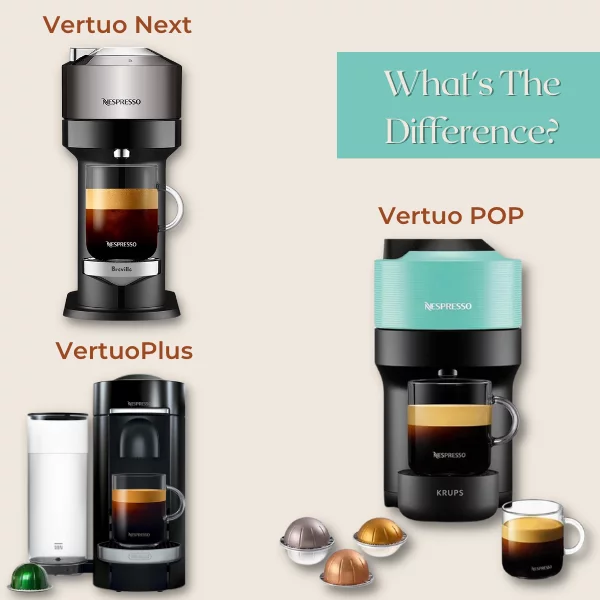 Nespresso as a brand keeps adding new models to its line of Vertuo machines. It's clearly something they are quite invested in, and Vertuo won't be discontinued anytime soon.
Vertuo Pop is a new Vertuo model. As of writing this (March 2023) it is only available in the UK and has not been released anywhere else around the world. So, what's this model and what makes it different than Vertuo Next or VertuoPlus.
Quick Side by Side Comparison
Features of Nespresso Vertuo Pop
Nespresso Vertuo Pop is the company's newest addition to its line of Vertuo machines. It promises a small footprint, fun design and delicious coffee from a range of over 30 different compatible capsules for making hot and cold drinks. Its compact size and easy one-touch brewing make it perfect for small kitchen spaces, offices or dorm rooms. While its smart connectivity allows you to keep track of your machine in real time using your smartphone. Plus, it's made from 35% recycled plastic, has an A+ energy consumption rating, and the capsules themselves are 80% recyclable – so no need to worry about extra waste.
Overall, Nespresso Vertuo Pop offers a great all-in-one solution for anyone looking to craft barista-style coffee at home without all the fuss. The quick heat up time, wide selection of capsules and automatic pod ejection make it easy – no matter your level of expertise – to create tasty espresso drinks in minutes. Add that to its low energy consumption and high sustainability credentials, and you have an unbeatable combination for café-quality coffees at home!
What Makes Vertuo Pop Special
Like other Vertuo machines, the Vertuo Pop uses CentriFusion technology to brew 4 different sizes of coffee: Espresso (40 ml), Double Espresso (80 ml) , Gran Lungo (150 ml) and Coffee (230 ml). It has automatic pod detection so it recognizes the pod you are brewing and brews the correct size accordingly. So far… same as any other Vertuo machine.
What makes it different though is its design:
It is designed to be compact, smaller than any other Vertuo machine.
It is available in a wide range of colors, POP of colors… so that's the inspiration behind its name, I guess.
Let's look into the exact differences between the Vertuo Pop and other models.
Vertuo Pop vs Vertuo Next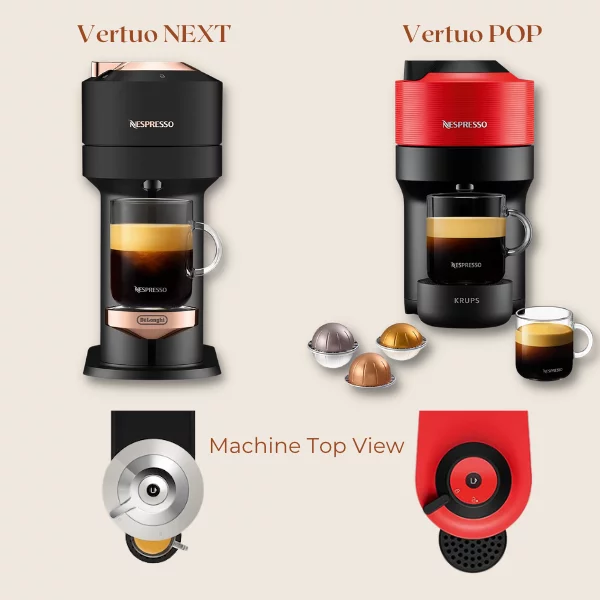 Vertuo Pop is a direct competitor to the Vertuo Next. They share nearly identical design, the difference is in the size
Dimensions
Vertuo Pop is compact with 13.6 cm width, 25 cm height and 42.6cm depth. In comparison, Vertuo Next is 14.2 cm width, 31.4 cm in height and 42.9 cm in depth.
The major difference is in the height of the machine. Which means, this affects the size of mug you can place under the coffee spout…
With Vertuo Pop, you can place a large 250 ml mug max.
Vertuo Next is designed to fit as large as a carafe (Nespresso's) under the spout.
Pod Compatibility
All Vertuo machines are Vertuo pod compatible only. The pods are available from Nespresso only. You won't find pods from other brands like illy, Lavazza or L'OR. In the US, there are Starbucks Vertuo pods, but these don't seem to be available worldwide just yet.
Brew Sizes
With both Vertuo Pop and Vertuo Next, you get to brew the four main cup sizes all Vertuo machines can brew: Espresso, Double Espresso, Gran Lungo and Coffee.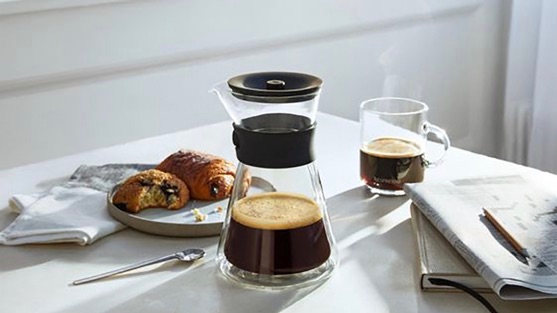 However, the Vertuo Next has one brew size exclusive just to it: The Carafe brew size, which is an 18 oz (about 500ml) brew size. And there's only ONE available carafe pod available from Nespresso with 7 pods in each sleeve instead of 10 like the other pods. For me personally, it's not worth getting.
Performance and Usage
All Vertuo machines, including Pop and Next, perform the same. You use them the same way, too. It's a one-button operation. Insert your pod, the machine will read the barcode and recognize its size and brews accordingly.
Connectivity
Both Vertuo Pop and Next have Bluetooth connectivity. You can connect them to your smart phone using Nespresso's app. You can use this feature to track your pod usage and it can alert you when you're possibly running low. It also offers software upgrades for your machine, and descale alerts or troubleshoot guides.
Design
Other than the difference in dimensions, there's also color availability:
Vertuo Pop has a matted black body with a contrast colored brew head. It's available in a range of pop colors such as Aqua mint, Coconut White, Spicy Red, Mango Yellow, Pacific Blue. As you can see from these names, the colors are might to be bright and fun.
Vertuo Next is also available in some colors, but they're not 'pop and bright' as the Vertuo Pop. Vertuo Next is available in white, grey, black. Or if you go for the Premium or Deluxe models, you can find Rose Gold or Chrome metallic colors.
Vertuo Pop vs VertuoPlus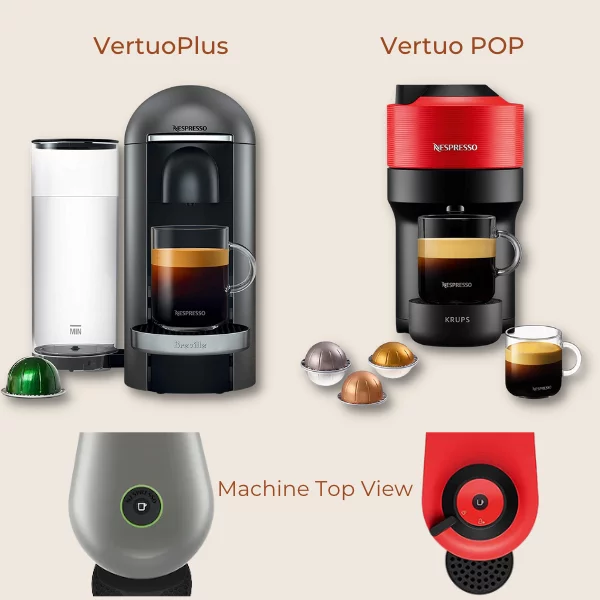 VertuoPlus is one of the best Vertuo machines you can own. I have been using mine daily for nearly 3 years now with zero problems.
Again… all of these are Vertuo models, so they use the same pods, same technology and are used the same way. The difference here is in the design…
Automatic vs Manual Brew Head
Vertuo Pop (and Vertuo Next) use a manual close head brew, which means you manually close and lock the brew head before hitting the brew button to get started.
With the VertuoPlus, it's a motorized open/closure brew head. You simply press the lid button and it automatically closes or opens. Does this make a lot of difference?
It certainly means less breakage. You can't go wrong when things run automatically. With a manual close/lock… you could force the lid down by mistake, or sometimes, not close it correctly.
Dimensions
VertuoPlus is clearly a larger machine than the Vertuo Next.
VertuoPlus dimensions are 34.9D x 22W x 32.5H centimetres vs 42.6D x 13.6W x 25H centimetres
If you're tight on space, you'll appreciate the compactness of the Vertuo Pop.
Design and Colors
VertuoPlus has a retro modern feel and design, while the Vertuo Pop is quite modern and colorful.
The VertuoPlus is available in solid colors like off-white, black or grey. The VertuoPlus Deluxe version has some Chrome accents as well as a larger water reservoir.
One cool thing about the VertuoPlus is that it has a repositionable water reservoir. You can sit it to the back or side of the machine, so it can fit your space better.
Connectivity
VertuoPlus does not have Bluetooth connectivity.
Brew Sizes
Like other Vertuo machines, VertuoPlus and Vertuo Pop can brew espresso, double espresso, gran lungo and coffee. None of them can brew carafe size, which is exclusive to the Vertuo Next.
Nespresso Vertuo by Krups or Magimix, Is There a Difference?
Whichever Vertuo model you settle for, you'll most likely find them available from Krups or Magimix. These are brands that Nespresso has partnered with to manufacture and distribute their brewers. There's no difference at all between them, they are all Nespresso machines.
Does Nespresso Vertuo Pop, Next and VertuoPlus Include Pods?
Yes, your purchase of either Nespresso machine will include a pack of sample pods so you can try them. Sometimes, you can find a promotion to claim 50 Free pods from Nespresso, which is a fantastic deal.
How To Make a Cappuccino or Latte Using a Nespresso Vertuo Pop, Next or Vertuo Plus?
Milk based drinks require frothy milk. If you frequently drink cappuccinos and lattes, I highly recommend that you bundle your machine with an Aeroccino milk frother which automatically heats and froths your milk (you can make cold froth, too).
You can use the Vertuo machine to brew an espresso or double espresso then add the froth from an Aeroccino to your cup. And you've got yourself a delicious creamy cup of cappuccino or latte!
The Wrap Up – Which Nespresso Vertuo Should You Get?
All of the Nespresso Vertuo models are great options for making delicious espresso-based and coffee drinks, and it really comes down to personal preference when choosing which one is right for you. The Vertuo Pop offers a vibrant design with plenty of colors to choose from and its compact size makes it ideal if space is limited. On the other hand, the VertuoPlus has an automatic open/closure brew head that may be more convenient than manually closing each time you want to make coffee or espresso. Additionally, the larger water reservoir on the Deluxe version also adds convenience in terms of having to refill less often. Finally, adding an Aeroccino milk frother will allow you to easily make cappuccinos and lattes at home without any hassle.