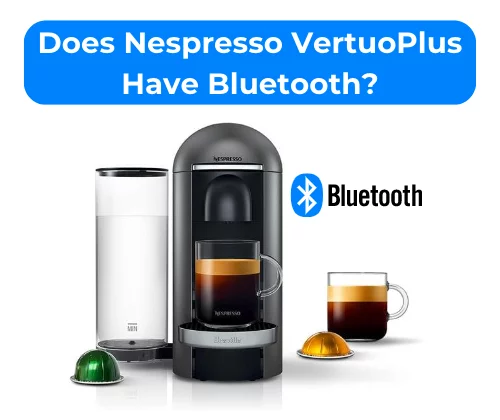 Nespresso's Vertuo Plus is an impressive coffee machine that provides you with the ultimate cup of espresso or coffee. This versatile machine features a unique Centrifusion™ technology which reads each capsule and adjusts to ensure perfect extraction every time. With its intuitive one-touch operation, it takes just seconds to prepare your favorite beverage. Vertuo Plus also includes an extra-large water tank and automatic off feature for added convenience.
If you landed here, you are either considering the VertuoPlus or already have one and wondering about its Bluetooth connectivity. So let's get to it…
Is the VertuoPlus model Bluetooth Connected?
No, VertuoPlus and VertuoPlus Deluxe do not have Bluetooth connectivity. The only Bluetooth connected Vertuo machine is the Vertuo Next, and the Vertuo Pop (if that's a model available in your country)
Why Does Your VertuoPlus Manual Have 'Connectivity' Section In It?
With some VertuoPlus machines, it ships with a generic manual that is for both VertuoPlus and Vertuo Next. I don't understand why Nespresso decided to do that because its quite confusing. But, you'll notice that it clearly states that Connectivity is for Vertuo Next only.
What Does Bluetooth Do on Nespresso Machines?
Bluetooth connectivity for Nespresso can give you clear insight on your machine, like:
Guides on descaling and general errors.
Water level
Performing factory reset through the app
Software upgrades for the machine
Pod count and automatic ordering
While it's not exactly life changing feature, it can be helpful, especially with error guides. It's not something I would look for, but it's definitely nice to have.
Which Nespresso Machines have Bluetooth Connectivity?
As of time of writing (March 2023) – there are two Bluetooth connected Nespresso machines: