Picking between Nespresso Vertuo vs Vertuo Next means one thing:
Do you want to pick the first ever Vertuo machine?
Or, do you want the most updated version?
Vertuo and Vertuo Next will make you the same cup of coffee, same quality, same pods. However, one of these Nespresso models has two additional cup sizes that the other can't brew!
Below, you'll find everything you need to know about the difference between Nespresso Vertuo vs Vertuo Next:
Difference in features,
Difference in brew sizes,
Difference in technology
In the conclusion at the end of the post, you'll find my personal opinion of which Nespresso Vertuo model I prefer.
Difference Between Nespresso Vertuo vs Vertuo Next
When choosing between Nespresso Vertuo Next and Vertuo, it's essential to understand the differences in features they offer. In this section, I'll discuss the differences in release year, Bluetooth connectivity, dimensions, and brew sizes.
Nespresso Vertuo vs Vertuo Next – Release Year
The Nespresso Vertuo Next was released in 2020, while the Vertuo machine made its debut in 2014, it's actually the first ever Vertuo machine.
As a newer model, the Vertuo Next comes with updated features and improvements over its predecessor, which I'll talk about in detail below.
Nespresso Vertuo vs Vertuo Next – Dimensions and Design
In terms of dimensions, the Vertuo Next is more compact, measuring 5.5 inches in width, 16.9 inches in depth, and 12.4 inches in height. On the other hand, the Vertuo machine is slightly larger, with dimensions of 8.3 inches in width, 11.9 inches in depth, and 11.9 inches in height. With the smaller footprint, the Vertuo Next is better suited for tight countertop spaces.
Machine Head Movement
Both of Vertuo and Vertuo Next use similar manual closure/opening brew heads.
Nespresso Vertuo vs Vertuo Next – Brew Sizes
While most Nespresso Vertuo machines, the older ones at least, have the same brew sizes, the Vertuo Next (and Vertuo Pop) have exclusive brew sizes to them: Carafe and XL Coffee (Alto Pods).
Nespresso Vertuo Next Brew Sizes

| Brew Size | Fluid Ounces |
| --- | --- |
| Espresso | 1.35 oz |
| Double Espresso | 2.7 oz |
| Gran Lungo | 5 oz |
| Coffee | 7.7 oz |
| XL Coffee | 12 oz |
| Carafe | 18 oz |
Nespresso Vertuo Brew Sizes
| Brew Size | Fluid Ounces |
| --- | --- |
| Espresso | 1.35 oz |
| Double Espresso | 2.7 oz |
| Gran Lungo | 5 oz |
| Coffee | 7.7 oz |
The most significant difference here is the additional Carafe option (18 oz) and XL Coffee (12 oz) available for the Vertuo Next, giving you more versatility in brewing sizes.
Overall, these are the essential differences between the Nespresso Vertuo Next and Vertuo machines.
Bluetooth Connectivity
One noteworthy feature of the Vertuo Next is its Bluetooth connectivity. This allows your machine to receive software updates and stay current with the latest Nespresso technology. Unfortunately, the older Vertuo model lacks this Bluetooth connectivity.
Bluetooth is also great for alerting you of the minor machine errors, walking you through how to fix them or descaling alerts.
Water Reservoir Capacity
There's a slight difference in the capacity of each machine's water reservoir:
Vertuo has a 40 oz water reservoir, and it sits on the left of the machine.
Vertuo Next has a 37 oz water reservoir, and it sits at the back of the machine.
This is why the Vertuo Next has around 17″ depth, while the Vertuo has around 12″ depth. But on the other hand, Vertuo Next is only 5.5″ wide, so it's quite slim.
Related Comparison:
Nespresso Vertuo vs Vertuo Next – Similarities
Centrifusion Technology
Both the Nespresso Vertuo and Vertuo Next machines utilize the innovative Centrifusion technology to extract coffee. With this technique, you can brew delicious coffee with a rich crema. The machine spins the capsule at high speed, mixing the ground coffee with water to create a perfect blend. This ensures that you get a consistent, high-quality cup of coffee each time you use either machine.
Nespresso Vertuo Capsules
When it comes to using capsules, both the Vertuo and Vertuo Next systems are compatible with Nespresso Vertuo capsules. These capsules come in different sizes, allowing you to brew various coffee styles.
Where to Buy Nespresso Vertuo Pods
Nespresso Vertuo capsules can be purchased from Nespresso directly via their website, their local stores or their Amazon store.
Do Other Brands Make Vertuo Pods?
Nespresso Vertuo pods are exclusive to Nespresso because they own the patent to the Vertuo Pods and to the brewing technology that brews the pods (Centrifusion).
If you buy a Nespresso Vertuo machine, whichever model it may be, you are committing to buying your capsules from Nespresso only.
Your other option would be Starbucks Vertuo capsules. Those are made in collaboration with Nespresso, but they are available in grocery stores. Unlike other Vertuo capsules that you have to buy through Nespresso.
Why Don't Other Brands Make Vertuo Pods?
Because of the patent mentioned above. As long as Nespresso owns the patent to the Vertuo pods, no one can make Vertuo capsules other than Nespresso.
When will the patent over Vertuo capsules expire? No one really knows. Patents can be renewed and expanded. So it won't expire anytime soon.
Also Read:
Can You Use Nespresso Vertuo Pods for Nespresso Vertuo Next?
Yes! Both machines are compatible with Nespresso Vertuo pods only, so they use the same pods.
However, there are TWO Vertuo pods that only Vertuo Next (and Vertuo Pop, Vertuo Creatista) can brew. And these are the Carafe pod and Alto pod.
While these pods will fit ANY Vertuo machine, if your machine is not a Vertuo Next, Alto and Carafe pods won't dispense.
The Nespresso Vertuo Next expands your brewing possibilities with two exclusive sizes, the Carafe and XL Coffee Alto. These additional sizes cater to those who want a larger cup of coffee or wish to share with friends and family.
Both machines use Nespresso's Centrifusion technology for brewing, which ensures an optimal blend and consistently delicious results. This technology spins the coffee capsule at high speeds, blending the water and coffee grounds to perfectly extract the flavors and create a rich, creamy crema.
How Do You Brew Different Sizes on Nespresso Vertuo?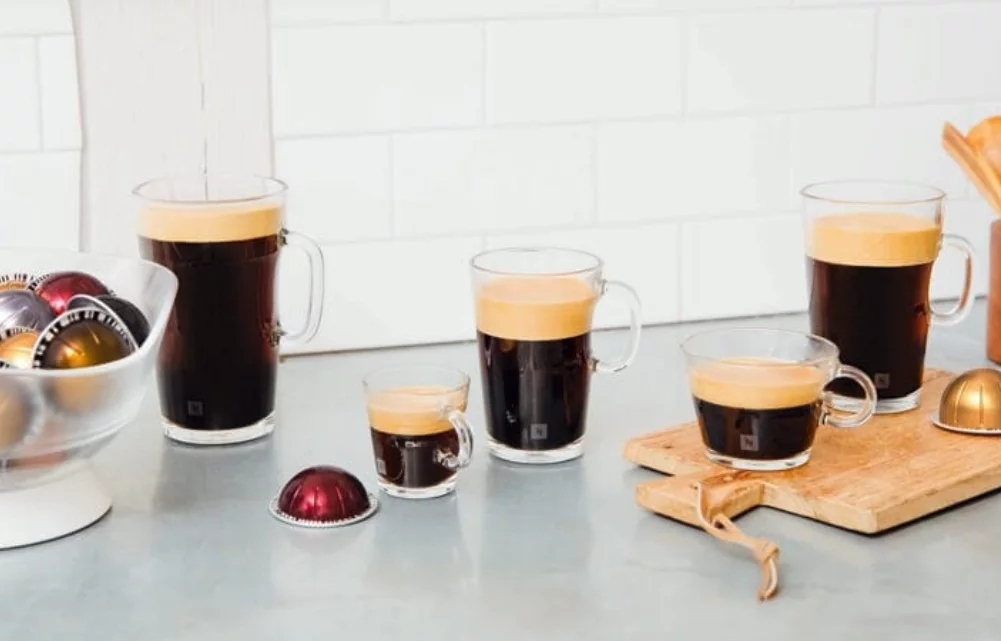 You might have noticed that Nespresso Vertuo machines don't have buttons for brew sizes. So how do you brew different size of coffees? Especially that the Vertuo and Vertuo Plus offer 4 cup size options?
It's through the magic of laser + barcodes on the Vertuo pods.
Nespresso Vertuo machines have automatic pod recognition. Each capsules has a barcode around its rim, which tells the machine which pod size you are trying to brew and then, Vertuo does its magic and brews the correct pod size, with a single touch of a button.
Nespresso Vertuo Next
Key Features
The Nespresso Vertuo Next is a versatile and convenient coffee maker designed to suit your needs. It comes with a unique brewing system that utilizes centrifugal force to create a perfect cup of coffee or espresso. Some of its key features include:
Compact design
One-touch brewing
Water reservoir capacity: 37 oz
Barcode reading technology for automatic pod recognition
An adjustable cup support
A fast heating time of only 25-30 seconds
Compatibility with Nespresso Vertuo capsules
Pros and Cons of Nespresso Vertuo Next
Pros:
Easy and quick one-touch brewing
Wide variety of coffee and espresso options
Smart brewing technology for consistent results
Eco-friendly, made with 54% recycled materials
Cons:
Limited to Nespresso Vertuo capsules
Does not support ground coffee or other brands' capsules
Can be more expensive than other pod-based systems
Nespresso Vertuo Next Breville vs DeLonghi
Nespresso Vertuo Next coffee machines are available in collaboration with two reputable brands: Breville and DeLonghi. The differences comes down to color
Breville:
Available in white or Gray
DeLonghi:
Available in Cherry red or light gray.
Other than color availability, the functionality and performance of both machines remain the same.
Nespresso Vertuo Next Premium vs Deluxe
The Nespresso Vertuo Next series also includes two upgraded models: Premium and Deluxe. Here's what sets them apart from the standard Vertuo Next:
Vertuo Next Premium
Vertuo Next Premium models feature Chrome or Rose Gold accents. You'll find these in the cup tray and lid knob.
Vertuo Next Deluxe
Vertuo Next Deluxe features either Chrome accents or a full Chrome machine head.
Both upgrades cater to varying design preferences, but functionality remains consistent across the entire Vertuo Next lineup.
Which Nespresso Next is Best?
All Nespresso Vertuo Next are IDENTICAL in function. So how do you pick between them?
Start with picking your favorite color: if you want metallic contrast in your design, go for a Deluxe version.
Don't worry about the Breville vs DeLonghi Vertuo Next. They're all the same.
Also, try navigating current deals between the two brands or color choices. Sometimes, one color is cheaper than the other. That's a great way to go about it if you don't have a particular color in mind.
Does Nespresso Vertuo Next Make Latte?
You can easily make a latte, or any milk based coffee drink using the Vertuo Next, or Vertuo for that matter. You will have to bundle your machine with the Aeroccino milk frother, which will help you heat and froth the milk automatically. You can try the Nespresso for milk pods for best results.
Nespresso Vertuo
Nespresso Vertuo is an innovative coffee and espresso machine that lets you enjoy a wide variety of coffee blends and sizes, perfectly brewed each time. Designed for versatility and convenience, this machine uses Centrifusion brewing technology, offering a personalized coffee experience tailored to your tastes.
Key Features
Centrifusion Technology: This unique technology spins the coffee capsule at high speed, extracting the perfect amount of coffee and creating a rich and flavorful cup each time.
Barcode Recognition: The machine automatically recognizes the barcode on the coffee capsule, adjusting the brewing settings to match the blend and size of your chosen coffee.
One-touch Brewing: With a single button, the Vertuo machine brews your preferred coffee or espresso size (from 1.35 oz. to 17 oz.) quickly and efficiently.
Automatic Capsule Ejection: After brewing, the used coffee capsule is automatically ejected into a container for easy disposal.
Pros and Cons of Nespresso Vertuo
Pros:
Wide variety of coffee and espresso options
Convenient, one-touch brewing
Automatic settings adjustment based on barcode recognition
Consistent brewing results
Cons:
Limited to Nespresso Vertuo capsules
Higher cost per cup compared to traditional coffee brewing methods
Some users may prefer the taste of traditional espresso machines
No bluetooth connectivity. Which means it can't receive future updates.
Can't brew carafe or XL coffee sizes.
Nespresso Vertuo Breville vs DeLonghi
Both the Breville and DeLonghi Nespresso Vertuo machines offer the same essential brewing technology and features. The primary differences lie in their design. Breville has the rounded top design, while DeLonghi offers the flat top design.
Nespresso Vertuo vs Vertuo Next – Ease of Use and Cleaning
When it comes to the Nespresso Vertuo Next and Vertuo, both machines are designed with user-friendliness in mind.
To operate either machine, you simply:
Fill the water reservoir
Insert the coffee capsule
Close the lid and lock it in place
Press the start button
The Vertuo uses Nespresso's patented barcode technology to recognize the type of capsule inserted and adjusts the brewing parameters automatically.
Cleaning the Vertuo and Vertuo Next is also hassle-free. Regular maintenance is required to keep these machines in top shape, which includes:
Emptying the capsule container
Rinsing the water reservoir and drip tray
For descaling, both machines have a built-in alert system to remind you when it's time. The descaling process is simple:
Empty the machine and remove any capsules
Fill the water tank with a descaling solution and water mixture
Place a container on the drip tray to collect the liquid
Press the button to start the descaling process
In summary, using and cleaning your Nespresso Vertuo or Vertuo Next should be a breeze. Thanks to their intuitive design and automated brewing technology, you can spend more time enjoying your coffee rather than struggling with complicated operations or cumbersome cleanup tasks.
Nespresso Vertuo vs Vertuo Next – Which One Should You Pick?
Now that you have learned all the differences between Vertuo and Vertuo Next, which model should you pick?
Vertuo Next has:
Two additional brew sizes
Bluetooth connectivity that allows it to receive updates, which means, it can expand it features even more.
Vertuo:
Doesn't have Bluetooth, so no updated.
Can brew only 4 cup sizes.
But then, there's the issue of reliablity and stability. Although Vertuo was the first ever released machine back in 2014, it is FAR more stable than Vertuo Next.
Vertuo Next users report frequent leaks, abrupt function and overall. You'll find many reddit users warning not to buy the Vertuo Next, or that their Next is driving them crazy.
This does not mean that all Vertuo Next models have issues. But it's something to keep in mind, that it's an overall problematic release.
On the bright side, Nespresso has EXCELLENT customer service. If you end up with a problematic Vertuo Next, they'll replace it as many times needed, or they can even give you a different model all together. So, your purchase is worry-free thanks to Nespresso's excellent warranty.
Related: