When it WhenWhen it comes to choosing between Nespresso Vertuo Plus vs Vertuo, the choice is actually easier than you think. I understand how confusing it can be when you have to choose between several, seemingly identical, coffee machines.
I have written this guide to help break down the differences between Nespresso's Vertuo and Vertuo Plus models. You will find:
The difference between Nespresso Vertuo vs Vertuo Plus
The Similarities between Nespresso Vertuo vs Vertuo Plus
Differences in Vertuo variants like: Vertuo Plus Deluxe or Vertuo DeLonghi vs Breville.
Last, but not least, the pros and cons of Nespresso Vertuo as a system
Nespresso Vertuo Plus vs. Vertuo – The Differences
Nespresso Vertuo Plus vs Vertuo Design Difference
Nespresso Vertuo and Vertuo Plus have the 'same' feel when it comes to design. They share some retro-modern aesthetics and the dome-shaped brew head. But they're not entirely the same:
Dimensions
Nespresso VertuoPlus: 9.8W x 13.3D x 12.7H
Nespresso Vertuo: 8.3W x 11.9D x 11.9H
Although the difference isn't huge, Nespresso Vertuo is somewhat smaller than Nespresso VertuoPlus. However, Nespresso Vertuo Plus has a repositionable water reservoir that makes it more flexible or adaptable to your space.
Brew Head Movement
The brew head, which is the top lid that you open up to insert your coffee brew, is differently designed in Nespresso Vertuo vs Vertuo Plus.
Nespresso Vertuo Plus has an automated open/close action. You'll simply touch the lid tab and it will automatically rise, touch it again and it will close and puncture the pod. Opening it again will eject the pod into the used capsules bin.
With Nespresso Vertuo, this is manual. You will rotate the lock on the lid to open or close it. You'll have to push down the head slightly then rotate/lock the knob to make sure its locked in place.
Does this make much of a difference? To me personally, and after a long time of using Nespresso Vertuo Plus, I have come to this conclusion:
Having an automated open/closure action means less manual force on the lid, which means it is less likely to break.
Also for some people, when using a manual Nespresso Vertuo machine, they find trouble locking in the head correctly.
This isn't a huge problem, it's just nice to have to automatic closure vs the manual one.
Water Tank Size
When comparing the water tank size, both Nespresso VertuoPlus and Vertuo have the same 40 oz capacity. The difference is in the location of the water tank and its movability.
A bonus feature of Nespresso Vertuo Plus is its re-positionable water reservoir, which can come in handy if you have limited counter space in your kitchen. It can be located on the back of the machine or to its left side.
The original Nespresso Vertuo, however, has the water reservoir sitting to the left.
Both of the machines have removable water reservoirs, so they're easy to clean and refill.
Related Comparison: Nespresso Vertuo vs Vertuo Next
Nespresso Vertuo Plus vs Vertuo Similarities
Nespresso Vertuo and Vertuo Plus have more similarities than differences, to be honest. Which is good news, because it makes your decision even easier.
Nespresso Centrifusion Technology
Both the Nespresso Vertuo and VertuoPlus machines utilize the innovative Centrifusion technology to extract coffee. With this technique, you can brew delicious coffee with a rich crema. The machine spins the capsule at high speed, mixing the ground coffee with water to create a perfect blend. This ensures that you get a consistent, high-quality cup of coffee each time you use either machine.
Nespresso Vertuo Capsules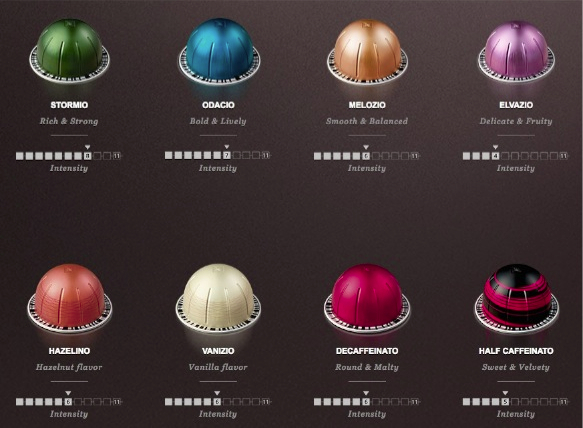 Do Nespresso Vertuo and Vertuo Plus Use the Same Pods?
Yes! When it comes to using capsules, both the Vertuo and VertuoPlus systems are compatible with Nespresso Vertuo capsules. These capsules come in different sizes, allowing you to brew various coffee styles.
| Capsule Type | Brew Size | Type of Coffee Style |
| --- | --- | --- |
| Espresso | 1.35 oz / 40 ml | Espresso, Double Espresso |
| Double Espresso | 2.7 oz / 80 ml | |
| Gran Lungo | 5.07 oz / 150 ml | Americano, Long Black |
| Mug | 7.77 oz / 230 ml | Coffee, Iced Coffee |
Where to Buy Nespresso Vertuo Pods
Nespresso Vertuo machines can only use Vertuo pods, which are ONLY sold by Nespresso. There are no 3rd party capsules from other brands, except for Starbucks, which are also made by Nespresso but can be found in local grocery stores. As for other Nespresso pods, they can only be purchased from Nespresso's website, local Nespresso stores or their Amazon store.
Also Read:
Nespresso Vertuo Brew Sizes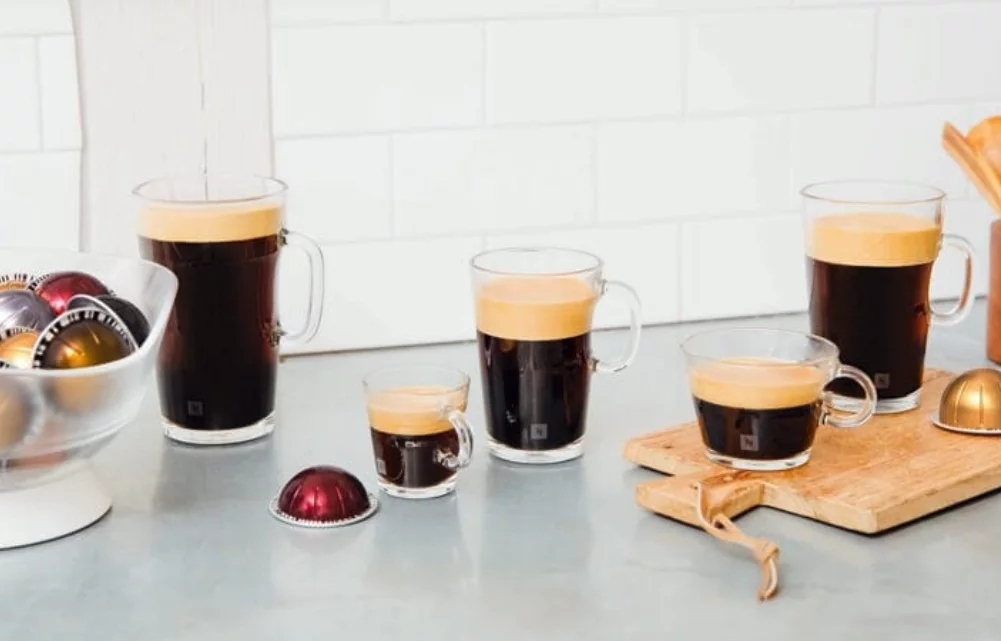 How Do You Brew Different Sizes on Nespresso Vertuo?
You might have noticed that Nespresso Vertuo machines don't have buttons for brew sizes. So how do you brew different size of coffees? Especially that Nespresso Vertuo and Vertuo Plus offer 4 cup size options?
It's through the magic of laser + barcodes on Nespresso Vertuo pods.
Nespresso Vertuo machines have automatic pod recognition. Each capsules has a barcode around its rim, which tells the machine which pod size you are trying to brew and then, Vertuo does its magic and brews the correct pod size, with a single touch of a button.
Nespresso Vertuo Plus Overview
Nespresso Vertuo Plus Design
The Nespresso VertuoPlus (released in 2016) has a sleek and modern design that will fit well in your kitchen. Its retro-modern look adds a touch of style to your countertop, while its small size ensures it won't take up too much space. The motorized head is a unique feature, making the process of brewing your coffee even more convenient and effortless.
Features of Nespresso Vertuo Plus
Nespresso Vertuo Plus comes with a variety of features that make it a great choice for coffee lovers.
Some key features include:
Quick heat-up time, allowing you to enjoy your coffee in just a matter of seconds
A versatile brewing system that can make both espresso and coffee, catering to your preferences
A large water tank capacity of 40 oz, so you don't have to refill it as often
Unique barcode scanning technology to help with brewing the perfect cup
Also Read: Does Nespresso VertuoPlus Have Bluetooth?
Nespresso Vertuo Plus vs Vertuo plus Deluxe
When comparing the Nespresso Vertuo Plus and Vertuo plus Deluxe, there are some subtle differences to keep in mind. While both machines share similar features and design elements, the Vertuoplus Deluxe offers some additional benefits:
A larger water tank capacity 60oz compared to the VertuoPlus 40 oz
A capsule container with a higher capacity
Chrome accents in the cup tray and brew head.
There's not that much difference between the VertuoPlus vs VertuoPlus Deluxe. The biggest difference the the larger water reservoir, which is great if you're going to use your machine several times per day, or if it's in a shared place.
The chrome accents are nice to have, but it's a pure aesthetic difference that won't affect machine usage.
Nespresso Vertuo vs Vertuoplus Deluxe
The difference between Nespresso Vertuo vs VertuoPlus Deluxe isn't far from what the difference is between Vertuo vs VertuoPlus:
To start, the first difference is in the water reservoir capacity: VertuoPlus Deluxe has 60 oz capacity while Vertuo has 40 oz.
Then there are the design differences:
Brew Head:
Nespresso VertuoPlus Deluxe uses the same automated closure/opening head as the VertuoPlus
Nespresso Vertuo has a manual brew head closure
Design:
Nespresso VertuoPlus Deluxe and Vertuo share the same two tone colors with the black and chrome accents. In fact, Nespresso Vertuo has a full Chrome plated head, while Nespresso VertuoPlus Deluxe has some chrome accents in the drip tray and handle.
I actually like the design of the Nespresso Vertuo vs VertuoPlus because of the full chrome top design. But do note that this is actually chrome-plated plastic, not actual chrome. Using metal in such a machine would make it heavy and harder to use, which is why majority of coffee machines use plated plastic.
Nespresso VertuoPlus DeLonghi vs Breville
There's no real difference between Nespresso VertuoPlus from DeLonghi or Breville other than design differences.
Nespresso VertuoPlus by Breville has the dome shaped top and is available in colors: Black, grey or white.
Nespresso VertuoPlus by DeLonghi has a flat head design and is available in the colors: Red, Grey and Silver
Both have the same functionality and the same automated brew head. So simply choose whichever design you like best!
Does Nespresso VertuoPlus Make Lattes?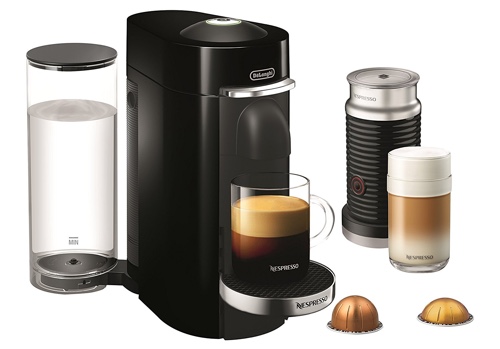 You can easily make a latte, or any milk based coffee drink using Nespresso VertuoPlus, or Vertuo for that matter. You will have to bundle your machine with the Aeroccino milk frother, which will help you heat and froth the milk automatically.
Nespresso Vertuo Overview
Nespresso Vertuo Design
The Nespresso Vertuo (released in 2014) is the original design in the Vertuo Line machines, offering a simple yet elegant touch to your kitchen. With its compact design measuring 8.3 x 11.91 x 11.9 inches, it doesn't take up much counter space. Its exterior has a modern and sleek appearance that complements most kitchen decors.
Features of Nespresso Vertuo
The Nespresso Vertuo comes with a range of features tailored to make your coffee brewing experience convenient and enjoyable:
Brewing Capacity: The machine can brew up to 40 oz at a time, allowing you to enjoy various cup sizes, from espresso shots to larger coffee mugs.
Heating Element: With a 1350W heating element, it heats up quickly, making your coffee ready in just 15 seconds from a cold start.
Power Cord: The Nespresso Vertuo features a 33.5-inch power cord, providing you with more flexibility when setting up your machine in your kitchen.
Centrifusion Technology: This unique feature reads the barcode on the capsule, adjusting the brewing parameters accordingly to make a perfect cup of coffee every time.
Capsule System: The Vertuo uses Nespresso's patented capsules, making it convenient to use and easy to clean.
This Nespresso Vertuo Overview should provide you with a good understanding of the machine's design and features that make it a popular choice among coffee lovers.
Nespresso Vertuo DeLonghi vs Breville
Like Nespresso Vertuo Plus, the only difference between Nespresso Vertuo DeLonghi vs Breville is the shape and available colors.
Nespresso Vertuo by DeLonghi is available in silver, red, grey and black. And it has a flat top design.
Nespresso Vertuo by Breville has the dome-shaped top and is available either in full black or in chrome/black combination.
Pros and Cons of Nespresso Vertuo
Here, I won't talk about the pros and cons of each model (Nespresso Vertuo vs VertuoPlus) as both systems are quite comparable and similar that you're basically going to simply pick based on design.
Instead, I want to talk about the Pros and Cons of using Nespresso Vertuo machines in general. As someone who used a VertuoPlus then switched to the OriginalLine system, I can share my personal experience with this.
Pros of Nespresso Veruto
Easy to use: The Nespresso Vertuo system is very easy to use. All you have to do is insert the coffee capsule, press a button, and the machine will do the rest. This makes it a great option for people who are always on the go and don't have a lot of time to prepare coffee.
Consistent quality: The Nespresso Vertuo system produces consistent quality coffee every time. The capsules are designed to provide a perfect blend of coffee, and the machine is calibrated to brew the coffee at the right temperature and pressure. This ensures that you get the same great taste every time you make coffee.
Variety of flavors: Nespresso Vertuo offers a wide variety of coffee flavors to choose from. Whether you prefer a bold, strong coffee or a milder, sweeter blend, there is a flavor for everyone. This makes it easy to find a coffee that suits your taste buds.
Quick brewing time: The Nespresso Vertuo system brews coffee in a matter of seconds. This is a great feature for people who are always on the go and don't have a lot of time to wait for their coffee to brew.
Easy to clean: The Nespresso Vertuo system is easy to clean. The capsules are disposable, and the machine has a self-cleaning function that makes it easy to keep the machine clean and hygienic.
Cons of Nespresso Vertuo
Expensive: The Nespresso Vertuo system is more expensive than other coffee brewing systems. The cost of the capsules can add up over time, making it a more expensive option for people who drink a lot of coffee. This is especially true because Nespresso owns the patent to the Vertuo pods and they are the only ones who can sell them. Who else sells Vertuo pods? No one else can.
Limited customization: The Nespresso Vertuo system does not offer a lot of customization options. You cannot adjust the strength or temperature of the coffee, which can be a drawback for people who prefer their coffee a certain way.
Should You Buy Nespresso Vertuo?
Does this mean that I don't recommend Nespresso Vertuo? No, this is not the case here.
I still firmly believe that Nespresso VerutoPlus is one of the best Nespresso machines that I've ever used. The cost of the Vertuo pods is my only issue, and it's a personal issue that can be alright with someone else.
What I'm saying is, you have to keep in mind that having a machine like a Nespresso Vertuo means you are committing to Nespresso's own pods, you have no other options, especially when it comes to cost. If that's okay with you, you'll absolutely love having a Vertuo machine!
Also Read:
Related Comparisons