If you're a college student, you know how important it is to have a reliable source of caffeine to keep you going through those long study sessions. An espresso machine can be a great addition to your dorm room, providing you with a quick and easy way to make your favorite coffee drinks without having to leave your room.
Can you have an espresso machine in a college dorm room?
Yes, most dorm rooms allow for small espresso machines and coffee makers. For coffee makers, you're not allows to have one with a hot plate, for example. But that's not a problem for espresso machines. 

I find single-serve coffee and espresso machines to be the best choice for a college student. They are compact and hassle-free, and guaranteed to be allowed in a dorm room. 
The criteria I used to pick these espresso machines for dorm-room use is this:
1- Compact size: a dorm room is usually a shared or small room. For that reason, size really matters. A small espresso machine that does not take up space is a must for dorm rooms.
2- Ease of Use: When you are a busy student, you don't want to spend a lot of time to prepare your coffee.
3- Affordability: I picked budget-friendly yet durable espresso machines that will last you throughout your college years without breaking the bank.
4- Versatility: Whether you decide to go for a pod coffee machine – my personal favorite – or a ground coffee machine, I made sure these espresso machines can brew all kinds of coffee recipes.
5- Pump-based machines: you asked for the best espresso machines, so all of the machines listed in the post are actual pump-pressure espresso machines and not just 'coffee makers'. You are getting authentic-style espresso or espresso-based drinks out of any of my top picks.
Best Espresso Machines for Dorm Rooms
1- L'or Barista Espresso and Coffee Machine [most versalite in terms of serving sizes and pods]
2- Nespresso Essenza Mini [compact size and versatile pods]
3- DeLonghi Stilosa Espresso Machine [compact, easy to use manual machine]
4- Mr Coffee Espresso and Cappuccino Machine [semi-automatic with preset recipes]
5- Lavazza Blue Classy Mini [compact in size, and cheap coffee pods]
6- Illy Y3.3 Espresso Machine [the most compact in size, but uses exclusive pods]
7- DeLongi Dedica Arte Espresso Machine [semi-automatic for the barista hobbyist]
Best Overall Pick – L'or Barista Espresso Machine
L'or Barista System has been my favorite ever since it was released. You can read my comparison between L'or vs Nespresso to learn more about what I think of them.
This espresso machine by L'or, a French coffee company that started by making their own Nespresso-compatible pods, combines ease of use, versatility, and affordability.
Serving Sizes
Espresso: 1.35, Double Espresso: 2.7 oz and Lungo: 3.7 oz
Coffee: 5 oz, 8 oz and 12 oz
Pod Compatibility
L'or can use their own espresso pods, or any espresso pods compatible with Nespresso Original. That includes brands like Starbucks, Dunkin, Illy, Lavazza and many many more
But for their larger serving sizes, which require larger pods, you can only use pods by L'or. Right now, they offer their own coffee selection and well as some Peet's coffee pods. So I see them expanding even more in the future.
Automatic Pod Detection
This machine automatically detects if you have inserted an espresso pod or a coffee pod. Then it will set your brew buttons to either brew espresso sizes or coffee sizes.
You don't have to manually adjust coffee volumes, but it is an option if you want to.
Coffe Recipes
Right out of the box, L'or can make your espresso and coffee with a press of a button. If you want to make milk-based coffee drinks like a latte, for example, you can add the L'or milk frother or any kind of frother you like to your purchase.
Nespresso Essenza Mini Espresso Machine
This compact espresso machine by Nespresso is quick and easy. I have been using this machine in my office for years without any problems.
As you can see from the photo, it's so small it takes less than 5″ in width on the countertop. Starbucks House Blend lungo pods are my favorite.
Serving Sizes
Essenza Mini is an espresso machine only. So it does 1.35 oz shot of espresso or 3.7 oz of Lungo.
Pod Compatibility
You have to option of using Nespresso's own espresso pods (Original pods) or any compatible 3rd party pods. Nespresso Essenza Mini and L'or Barista (above) can use the same espresso pods.
This machine is the perfect way to get a quick shot of espresso with a single press of a button. No hard work and no mess. Don't forget to bundle it with a Nespresso Aeroccino, or any milk frother, if you plan on making milk-based coffee drinks.
And if you want, you can read my full review on my own Essenza Mini.
DeLonghi Stilosa Espresso and Cappuccino Machine
If you prefer the use of ground coffee to coffee pods, this DeLonghi Stilosa espresso machine is a great option for your dorm room, or any small room, really.
While traditional espresso machines can be tricky to use, this one is easy and uncomplicated. Thanks to the pressurized filter it uses, you can make a decent shot of espresso using any brand of ground coffee. However, you want to make sure it is fine ground coffee or says 'for espresso machine' on the label.
The size of the machine is compact, too. Dimensions are 8.07W x 13.5D x 11.22H.
My only concern with such an espresso machine is the cleanup. After each use, you'll have to dispose of the used coffee grounds, clean the portafilter and frothing jug if used and also clean up any countertop mess. None of these messes happen with a pod espresso machine.
Overall, if you still prefer the use of a manual espresso machine, DeLonghi Stilosa is insanely affordable and offers value for the price.
You can read how the DeLonghi Stilosa and Dedica compare, too.
Mr Coffee Espresso and Cappuccino Machine
The Mr. Coffee Espresso and Cappuccino Machine is a semi-automatic 3-in-1 espresso, cappuccino, and latte maker that comes with easy-fill, removable water and milk reservoirs.
The machine's one-touch control panel allows you to select your drink with ease, and the automatic milk frother takes the guesswork out of frothing milk.
Since it uses ground coffee, you'll have to manually fill the portafilter, tamp it and then attach it to the machine. After that, it's mostly automatic operation.
Preset coffee drinks you can choose from are Espresso, Cappuccino and Latte. There's also a manual button if you want to bypass those.
My only issue with this espresso machine is the cleanup. Which is not something you want to deal with daily as a student.
Lavazza Blue Classy Mini Espresso Machine
If you're not familiar with Lavazza, they are the leading coffee brand in Italy and around the world. Their coffee beans are world-famous, and this espresso machine makes it easier for you to enjoy their coffee wherever you choose.
Classy Mini is Lavazza's entry-level machine, very resemblant to the Essenza Mini by Nespresso. It can do two servings: Espresso and Lungo.
If you want to make a latte using this machine, you'll need a separate milk frother from any brand you prefer. Or you can go for the higher model: Lavazza Expert. (read my Lavazza Blue vs Expert comparison).
The size of the Classy Mini is compact: It measures 5.3″ W x 10.2″D x 13.0″ H.
For the price, it offers great value for money. But what I don't like about this machine is the fact that you are limited to using Lavazza espresso pods called 'Lavazza Blue pods'. But on a high note, I think they are the most affordable espresso pods from any brand, at around $0.40 per pod.
The variety of Lavazza Blue pods is decent. You'll find different roasts and intensities to suit your taste. So if you don't mind being limited to one brand of pods, you'll enjoy this machine very much.
If you prefer the option of buying your pods from different brands, Nespresso Essenza Mini or L'or Barista will be a better choice for you.
Illy Y3.3 Espresso Machine
We have another iconic Italian brand on the list, Illy! And their single-serve espresso machine is rather unique.
This compact machine does two sizes: Espresso and Coffee. The espresso serving is 1.35 oz and the coffee serving size is 7 oz.
Each of these serving sizes uses a different capsule by Illy. And yes, this machine is limited to its own pods called iperEspresso pods which cost around $0.70 on average.
Dimensions of the Illy Y3.3 are 3.94 (W) x 11.73 (D) x 10 (H) which is even slightly smaller than the Nespresso Essenza Mini.
But don't buy this machine unless you are positive you like Illy coffee and are willing to limit yourself to their own iperespresso pods.
Related: Cheaper Nespresso Machine Alternatives
DeLonghi Dedica Arte Espresso Machine
I left this pick for last, not because it's a bad machine. In fact, it's a machine I use at home for my favorite cup of cortado.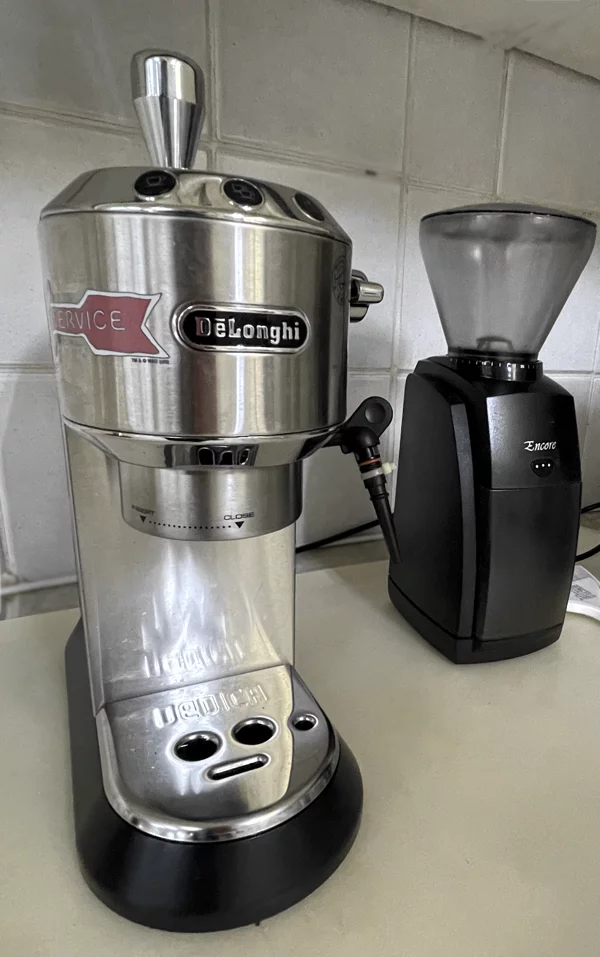 DeLonghi Dedica Arte is a great option for someone who wants a compact, semi-automatic espresso machine. It checks the list as a machine that can be used in a dorm room or any small space.
However, this machine requires some time on your part. Using it is easy, once you get the hang of yet, but it takes time and practice. And there's the cleanup afterward.
So, why add this machine to this list of espresso machines for students?
Because I know that some students like making espresso and lattes as a hobby. They enjoy crafting their coffee drinks and don't mind the mess. If that's the case, then this is the machine for you.
Dedica Arte has a set of pressurized portafilter baskets, so you can easily use espresso coffee grounds. It includes an E.S.E pod adapter, too.
The steam wand on the Dedica Arte is professional, which can help you create a beautiful micro-foam milk texture for latte art.
You can read my full review on DeLonghi Dedica for more info.
Buying Guide and Tips
When it comes to choosing the best espresso machine for your dorm room, there are a few key features to consider. Here are some factors to keep in mind as you shop:
Size and Portability
Since you'll be using this machine in a dorm room, it's important to choose a model that is compact and easy to move around. Look for machines that are lightweight and have a small footprint, so they won't take up too much space on your desk or countertop.
Ease of Use
As a college student, you don't want to spend a lot of time learning how to use a complicated machine. Look for models that are easy to operate, with simple controls and clear instructions. You should also consider how easy the machine is to clean, since you'll want to keep it in good condition with minimal effort.
Price
Espresso machines can vary widely in price, so it's important to set a budget before you start shopping. Keep in mind that more expensive models may have additional features or higher-quality components, but you can still find a great machine at a lower price point.
Features
Here are some additional features to consider when choosing an espresso machine:
Milk frother: If you enjoy lattes or cappuccinos, look for a machine with a built-in milk frother.
Grinder: Some machines come with a built-in grinder, which can be convenient if you want to use freshly ground beans.
Water tank size: Consider how often you'll be using the machine and how frequently you want to refill the water tank.
Pressure: Espresso machines rely on pressure to extract the espresso, so look for models with a higher bar pressure for better results.
By considering these factors, you'll be able to choose an espresso machine that fits your needs and budget, and helps you enjoy delicious coffee drinks in your dorm room.