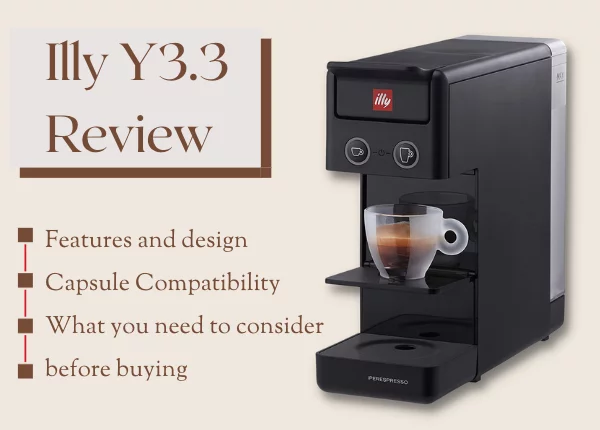 The illy Y3.3 is a compact and stylish coffee machine that promises to deliver high-quality espresso and coffee drinks with ease. It is designed for home use and features a sleek and compact design that will complement any kitchen decor. And due to its small size, it can be used in offices or dorm rooms, too.
The illy Y3.3 is a capsule-based single-serve machine that uses illy's proprietary iperEspresso capsules to brew coffee and espresso drinks. These capsules are designed to deliver consistent and high-quality results every time. The machine is also easy to use, with simple and intuitive single press options that allow you to dispense or program your drinks.
The Y3.3 is Illy's entry-level model that is priced reasonably. It's the perfect choice for someone getting their first illy machine.
This post is an Illy Y3.3 review to help you decide if this is the right espresso and coffee machine for you. You'll learn about the features of this machine, capsules compatibility and what you need to consider before buy it.
Design and Features
Appearance
The Illy Y3.3 is a sleek and modern coffee machine that will fit perfectly in any kitchen. It has a glossy finish that is available in three different colors: black, white, and red. The machine is made of high-quality materials that give it a sturdy and durable feel.
The Y3.3 has a small footprint, measuring just 10.6 inches in height, 3.9 inches in width, and 12.2 inches in depth. It is also lightweight, weighing only 6.6 pounds. This makes it easy to move around and store when not in use.
One of the best things about this Illy machine is that it's made in Italy, which is a rare thing to find these days!
Functionality
The Illy Y3.3 is a single-serve coffee machine that is compatible with Illy's iperEspresso capsules. It has a 19-bar pressure pump that ensures a perfect extraction every time. The machine has two programmable cup sizes: espresso and coffee. It does not have a steam wand or an integrated milk frother. So if you are a fan of milk based espresso drinks (Cappuccino, Latte..), I advise you add a milk frother to your purchase.
The Y3.3 has a removable water tank that can hold up to 25 ounces of water. It also has a used capsule container that can hold up to 10 capsules before needing to be emptied. The machine has an energy-saving mode that automatically turns off the machine after 10 minutes of inactivity.
The Illy Y3.3 is easy to use and maintain. It has a simple interface with just two buttons: one for espresso and one for coffee. Both are already preset with default volumes (1.35 oz for espresso, about 5 oz for coffee), but you can reprogram these volumes to your liking.
The machine also comes with a cleaning kit that includes a descaling solution and cleaning capsules.
illy Y3.3 Capsule Compatibility and Availability
Y3.3 is one of illy's IperEspresso machines. It is exclusively compatible with iperEspresso capsules that are available as espresso, lungo or coffee capsules. There are also some refillable/reusable iperEspresso pods available, but none of them are licensed by illy, so you'll want to be careful when using these.
iperEspresso Espresso vs. Coffee Capsules, Is There a Difference?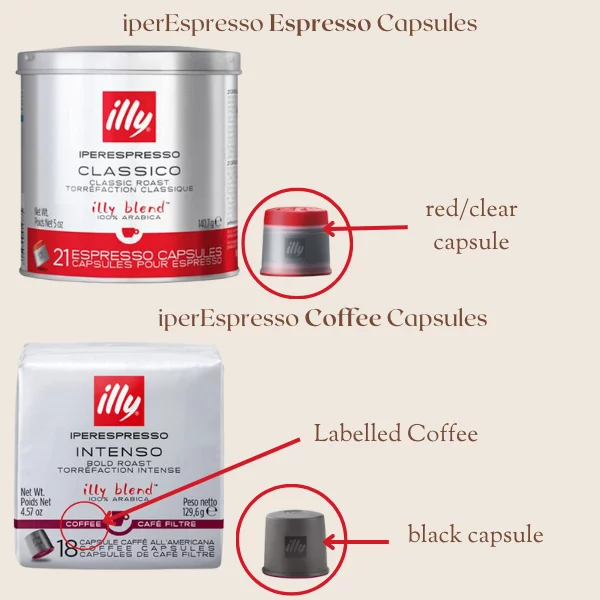 As I mentioned, Y3.3 can brew both espresso and coffee. The capsules for both of these beverages are actually the same in size and contain the same amount of coffee ground. So what exactly is the difference?
While they are the same in size, there's a slight design difference that helps you tell them apart. But the real difference is in the grind size of each coffee capsules. Espresso capsules have fine coffee grounds, while coffee capsules have coarse grinders that will produce a better cup when using the coffee brew size.
Where To Buy iperEspresso Capsules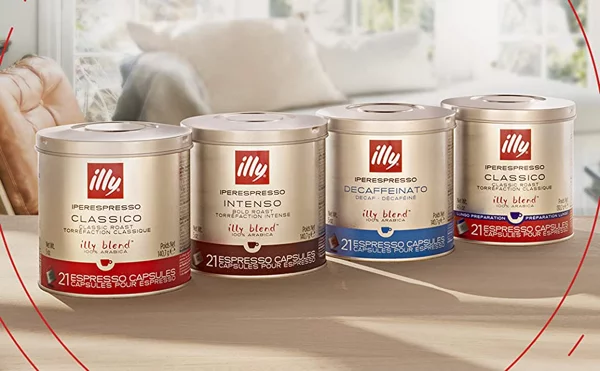 IperEspresso and coffee capsules are not hard to find. You'll find them available in online retailers like Amazon or Target, or even buy them directly from Illy. If you want to buy them in store, you should find them available anywhere illy coffee is sold.
Illy Y3.3 Reusable iperEspresso Capsules
If you are looking for an eco-friendly option, there are some third-party reusable iperEspresso capsules that you can try. These capsules are made from durable stainless steel and are designed to be filled with your favorite ground coffee. The reusable capsules are easy to clean and can be used multiple times, making them a great option for those who want to reduce their environmental impact.
Two things you should keep in mind, though:
Sometimes, you can overfill or underfill these capsules, which can result in a less than perfect cup of coffee. Using the wrong grind size causes the same issue, too.
The quality of these reusable capsules are not always guaranteed to be the best. If your machine ever breaks because of such capsule, you'll be out of the warranty.
Can You Use Nespresso Capsules in illy Y3.3?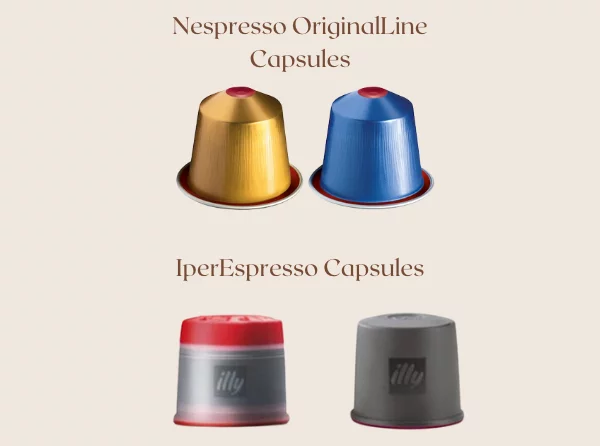 No, you cannot use Nespresso capsules in the illy Y3.3 machine. The illy Y3.3 machine is designed to work exclusively with illy iperEspresso capsules. Attempting to use Nespresso capsules in the illy Y3.3 machine may damage the machine and void the warranty. In fact, they won't even fit the machine.
Related: Illy IperEspresso vs Nespresso
Can You Reuse illy iperEspresso Capsules?
The illy iperEspresso capsules are designed for one-time use only and should not be reused. Attempting to reuse the capsules may result in a poor-quality espresso and coffee. If you are looking for a reusable option, consider using the reusable iperEspresso capsules.
Illy Y3.3 vs Y3.2 – What Changed
The Illy Y3.3 is an upgrade to the Y3.2 model, and it comes with a few changes that improve its functionality and overall performance. Here are some of the major differences between the two models:
Design
There's barely any difference. The only noticeable difference is that the switch button has been changed and relocated. On the older Y3.2, there was a switch button on the side. On the Y3.3, there's a touch on/off button right between the brew size buttons.
Performance of Illy Y3.3
Brewing Time
The illy Y3.3 is a speedy machine that can brew a cup of coffee in under a minute. This is a great feature for those who are always on the go and need their coffee fix quickly. The brewing time is consistent and reliable, so you can count on getting your coffee in a timely manner.
Taste and Flavor
The taste and flavor of the coffee produced by the illy Y3.3 is excellent. The machine uses illy's iperEspresso capsules, which are specifically designed to produce a rich, full-bodied flavor. The coffee is smooth and well-balanced, with a perfect crema on top. The capsules come in a variety of intensities, so you can choose the one that best suits your taste. None of illy's capsules are flavored, or contain dairy or sugar. IperEspresso capsules contain coffee grounds only.
Ease of Use
The illy Y3.3 is incredibly easy to use. Simply fill the water tank, insert the iperEspresso capsule, and press the button. The machine does the rest. The capsule system also makes cleaning up a breeze, as there are no messy coffee grounds to deal with. The machine also has a convenient automatic shut-off feature, so you don't have to worry about turning it off when you're done using it.
In conclusion, the illy Y3.3 is a high-performing machine that delivers excellent coffee in a timely and convenient manner. Whether you're a busy professional or just someone who loves a good cup of coffee, the illy Y3.3 is definitely worth considering.
How To Make a Cappuccino or Latte Using Illy Y3.3
A cappuccino or a latte are made of two main ingredients:
Espresso (single or double shot)
Frothed milk. High foam for Cappuccino and light foam for a latte
Since the Y3.3 does not have an integrated frother, you'll want to buy a frother in order to heat and froth your milk. Illy does make its own frother, but you can buy any frother you like.
Follow these steps to make your milk based beverages:
Using the frother, select the froth type. You'll see there's a cappuccino or a latte option. There's also an option for cold froth to use with iced drinks.
Using your Y3.3, brew your espresso shot. To make a double shot beverage, use two capsules.
Now it's just the matter of adding the frothed milk to your espresso! Enjoy!
Maintenance and Cleaning
The illy Y3.3 coffee machine is designed to be low maintenance and easy to clean. Here are some tips to keep your machine in top condition:
Regularly empty the used capsule container and drip tray. These can be easily removed and cleaned with soap and water.
Descale the machine every 6 months or when the descaling indicator light comes on. Use the illy descaling solution or a compatible descaling product.
Wipe down the exterior of the machine with a damp cloth as needed. Avoid using abrasive cleaners or solvents.
By following these simple maintenance and cleaning tips, you can ensure that your illy Y3.3 coffee machine continues to deliver delicious, high-quality coffee for years to come.
Price and Value: What To Consider Before Buying
The illy Y3.3 is a high-quality coffee machine that comes with an affordable, entry level price tag. At the time of writing, the machine retails for around $150, which is a fantastic price for a machine that is manufactured in Italy and of that great quality.
One of the key benefits of the Y3.3 is its ability to produce high-quality coffee with minimal effort. The machine is incredibly easy to use, and it delivers consistent results every time. This makes it a great choice for coffee lovers who want to enjoy a great cup of coffee without having to spend a lot of time and effort making it.
Another factor to consider when evaluating the value of the Y3.3 is its durability. The machine is built to last, with high-quality materials and a solid construction that ensures it can withstand daily use over an extended period of time. This means that the Y3.3 is a great investment for coffee lovers who want a machine that will provide reliable performance for years to come.
Important Considerations
While the value of the machine is great in terms of price to features and quality. You have to think about the ongoing costs of iperEspresso capsules that you'll need to buy as long as you use this machine. The average price is around $0.80 per capsule, and if you buy them in bulk, it gets cheaper, which isn't that expensive compared to their quality. But I understand that this is subjective, so do your math before committing to the machine and its pods.
Also, make sure that you can easily get your iperEspresso capsules. I find this to be easy because the capsules are available online at many retailers and can be practically sent to any address.
Conclusion
The illy Y3.3 is a great coffee machine that produces high-quality coffee with ease. Its sleek design and compact size make it a great addition to any kitchen or office space. The machine's easy-to-use interface and quick brewing time make it an ideal choice for busy individuals who want a great cup of coffee without spending too much time preparing it.
The iperEspresso capsules are air-tight, which ensures that the coffee stays fresh for longer.
One downside of the Y3.3 is that it only works with illy's proprietary capsules, which can be more expensive than other coffee pod brands. However, the quality of the coffee produced by the Y3.3 is worth the extra cost for many coffee enthusiasts. Additionally, the machine's compact size means that it has a smaller water tank than other coffee machines, which may be a drawback for those who want to brew larger quantities of coffee at once.
Overall, if you're looking for a high-quality coffee machine that is easy to use and produces great-tasting coffee, the illy Y3.3 is a great option to consider.