We've already covered many of your Nespresso questions, compared the popular Nespresso machines, and covered the difference between models in the Nespresso U range and Nespresso CitiZ. But there's another capsules system on the market that is worth comparing to Nespresso, and that is illy's iperEspresso capsule system. In this post, we'll look at the differences between these two systems, and hopefully this will help you decide which system to go for.
What Is iperEspresso?
iperEspresso is illy's exclusive coffee capsules. illycafe is an Italian brand that has been around since 1933. The name is associated with the finest European cafes in the world, and if you've ever tried their coffee, you'll know why it is one of the top coffee brands around the world. To bring this luxury and fine taste to you at home, illy created iperEspresso capsules, pre-measured capsules that will make you the perfect cup of coffee with a push of a button. illy has teamed up with espresso machines manufactures like Francis Francis and Gaggia to create exclusive machines for their capsules. The result of this coffee power combination? REALLY great at-home coffee experience.
The iperEspresso Espresso Machines:
You have a few options to choose from when it comes to an iperEspresso machine, few of them are made by Francis Francis, an espresso machine company owned by illy itself. The other machine is by Gaggia, another Italian espresso machine manufacturer known for powerful espresso machines either for home consumers or commercial use.
Here are a few of the top-rated iperEspresso machines:
Francis Francis for illy X7.1 iperEspresso Machine:
What makes this machine special is how it combines the looks of a retro machine and the power of a high-tech one. It looks like your regular espresso machine, but that portafilter actually holds iperEspresso capsules exclusively, making your espresso brewing easy and mess-free! The machine gives you controls of temperature, and it features a steam wand for milk frothing so you can craft the perfect cappuccino or latte.
Illy Caffe Touch Espresso Machine: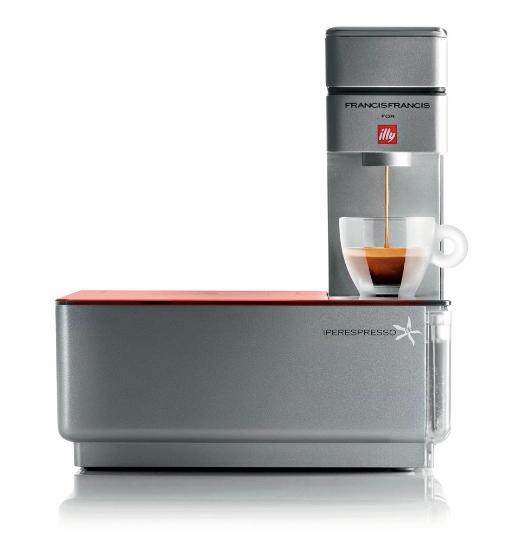 This one looks like it came from the future, very unusual design, clean and sleek lines, perfect for a minimalist. This one-touch system works just like it sounds, with one touch! Place your capsule, and you cup under the dispenser and push the button. On the downside, it doesn't have a built-in milk frother, so if you're looking to make milk based coffee drinks, you'll have to get one separately.
Gaggia for Illy Espresso Machine:
If you prefer a compact machine that does it all, you'll love the Gaggia for illy! It has a classic look, simple to use one-touch system and a built-in milk frother. It doesn't take much counter-space, so it's perfect for home or office use.
The iperEspresso Capsule Variety:
iperEpresso capsules are available in four main roasts: dark, medium, lungo and decaf. They're also available in three different blends; Brazil, Guatemala and Ethiopia. One of the down sides to iperEspresso capsules is that, compared to Nespresso, their variety is still very small in size, so you don't have a lot of options if you prefer flavored coffee, for example. But if you like your coffee plain and pure coffee goodness sourced from around the world, illy is definitely for you..
How Is iperEspresso Different Than Nespresso and Which is Best?
If we're to compare iperEspresso and Nespresso, the only difference would be in the variety of coffee available. Nespresso has a larger range, indeed. But that's not a deal-breaker for everyone, so as long as you know which coffee you prefer to drink, you'll know if this would break the deal for you or not.
iperEspresso's machines are considerably nicer than Nespresso machines in how they look and work. For example, it's nice that the Francis Francis X7.1 allows you to control temperature – no Nespresso machine allows that. The classic espresso machine look with the built-in milk frother is nice, too.
An important thing to keep in mind is the price for the capsules. At this point, Nespresso would win as more cost effective as iperEspresso capsules are slightly more expensive (21 capsules per can at $18).
Another capsule-related point to consider; iperEspressos are exclusive to their machines, and they're not refillable. Although Nespresso capsules are not refillable as well, there's a few non-official refillable capsules (though poorly rated), and a few alternative capsules available.
Further Reads:
If you're still not sure between a Nespresso or iperEspresso system, read our previous posts on Nespresso to help you compare them even more:
iperEspresso Questions And Answers:
Can I Refill iperEspresso Capsules? How?
No you can't. You can only use them once and they cannot be refilled.
Where To Buy the iperEspresso Capsules?
The capsules can be purchased from illy.com or Amazon
illy's e.s.e pods vs. iperEspresso pods, What Is The Difference?
illy's (or any brand's) e.s.e pods is a pre-measured espresso pod that you can use with any traditional espresso machine. iperEspresso coffee capsules can be used with a few compatible espresso machines (see above). With the capsules, there is no cleanup required, they're pre-measured for both espresso and lungo (different capsule for each drink) and you're getting the perfect drink every time. You can read more about the difference between E.S.E Pods and Espresso Capsules by clicking here.
Are iperEspresso Capsules Recyclable?
Yes, luckily, they are! You can learn more about their recycling program here.