Buying a single-serve espresso machine among so many brands is confusing enough. You seem to have narrowed it down to Nespresso, then you find out that in the USA, Nespresso is sold under two brand names: Breville and DeLonghi. And you get confused all over again.
In this post, I'll walk you through every bit of your buying decision to help you get the best option for you.
Nespresso DeLonghi vs Breville – What's The Difference
Let's start with this important question before we get to anything else. Will it make a difference if you buy a Nespresso Breville or DeLonghi?
There are two part answers to this question…
Nespresso Machines in Common Between DeLonghi and Breville
Whether it's an OriginalLine machine or a Vertuo machine, there are several espresso machine models available from both brands: DeLonghi or Breville. For example:
From the OriginalLine collection: CitiZ, Pixie, Essenza Mini or Essenza Plus. Or from the Vertuo line: VertuoPlus/Plus Deluxe, Vertuo Next or even the original Vertuo machine.
These are all the same machines coming from either brand. Breville manufactures Nespresso machines as one of their strategic partners, and so does DeLonghi.
Is There A Difference Between Those Machines?
At their core, they are the exact same machines. They produce the same coffee and use the same pods. There is one single difference though, and it's all purely aesthetic.
DeLonghi and Breville have their own unique designs. Not that different from one another, but each brand has its own line of colors and slight design difference which gives you more options as a consumer.
Nespresso Machines Unique To Breville
Breville makes its own Nespresso machines, too. The line is called the Creatista. It's an OriginalLine machine and has a special feature: a professional steam wand. There are three machines in this line: Creatista Uno, Creatista Plus and Creatista Pro.
Related: Breville Creatista Plus vs Gran Lattissima
Nespresso Machines Unique to DeLonghi
DeLonghi makes a few machines exclusive to their names, too. And it's a quite popular one known as the Lattissima. The Lattissima collection is also an OriginalLine machine with a built-in milk frother, which DeLonghi is quite known for. These machines are preset with recipes and will create several coffee drinks with a push of a button.
Coffee Quality
Nespresso Machines by DeLonghi or Breville offer the same performance when it comes to brewing pods. The quality of coffee can be affected by the type of pod you use, but never by the machine model. As long as the machine holds the Nespresso name, it will work to Nespresso's standards.
Pod Compatibility
Neither DeLonghi or Breville use pods that are exclusive to them. You are buying a Nespresso machine, so you can enjoy whichever pod is compatible with a Nespresso machine. Do note that Vertuo models only use capsules made by Nespresso.
So, to sum up:
When it comes to Nespresso machines that Breville and DeLonghi both have under their name, there's no real difference between those apart from slight design differences. Whether you want an OriginalLine machine (Citiz, Pixie, Essenza…) or a Vertuo machine (including VertuoPlus, Next or Evoluo), they are all the same. Simply pick the design and color you prefer!
As for Nespresso Machines that are exclusive to DeLonghi (Lattissima) and Breville (Creatista): these have many differences that I will list in detail below.
Related: L'OR Barista System Nespresso compatible espresso and coffee maker
Design Differences Between Nespresso Breville vs Delonghi
Let's have a look at some of the most popular Nespresso machines and how they compare in terms of design..
Vertuo Next Nespresso Machine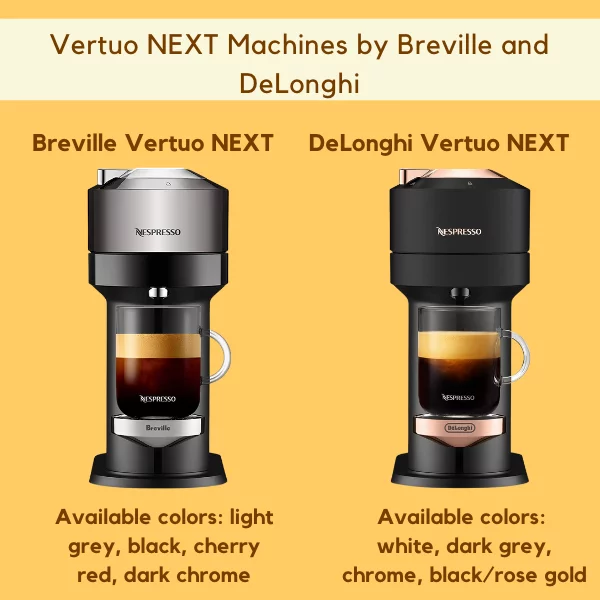 There are no design difference between Breville and DeLonghi's Vertuo Next machines, only color options change depending on the brand choice.
Nespresso Pixie
Pixie's only difference between the two brands is the design of the side panels. DeLonghi uses a textured pattern design while Breville uses a slated design.
Nespresso VertuoPlus
This is the VertuoPlus Deluxe by both breville and DeLonghi. Both of them have the same metallic accents and about the same dimensions. The only difference to tell them apart is the design of the top. Breville uses a rounded lid while DeLonghi uses a nearly flat one.
Is Breville or DeLonghi Better?
When it comes to Nespresso machines that both brands have in common, no brand is better than the other. You should expect the same exact experience whether you buy a DeLonghi or Breville branded Nespresso. That means, you get the same quality of coffee, the same performance and the same aftersale service and warranty.
DeLonghi is an Italian brand that has been around since the 70s, it's a major player in the world of home appliances and coffee and espresso machines especially. Breville, in comparison, is a newcomer, but it has proven itself to be a high quality brand so much that many have started to call it the 'Apple inc. of home appliances'.
Did DeLonghi Buy Nespresso?
No, Nespresso is remains to be owned by parent company Nestle. They do a lot of partnerships together, but DeLonghi and Nespresso remain independent companies.
How To Choose The Right Nespresso For You
If you're still undecided on which exact model you want, here are a few tips to help you out.
Pick Between Nespresso OriginalLine vs. Vertuo Line
This is the first decide you'll need to make. Do you want to buy Nespresso's older system (OriginalLine) or Vertuo?
OriginalLine machines – CitiZ, Pixie, Essenza, as well as Breville's Creatisa and DeLonghi's Lattissima, are Espresso machines. They make Espresso, Lungo (longer shot of espresso) and milk based espresso drinks (Latte, Cappuccino, Macchiato).
The great thing about OriginalLine machines is that the pods are no longer exclusive to Nespresso. You get to enjoy pods from Nespresso as well as many other brands. Few even make more than coffee pods, like Nespresso tea pods or hot chocolate pods.
If you mainly drink espresso or milk based drinks, or if you don't want to commit to Nespresso pods only, OriginalLine machines are a great pick for you.
Vertuo Machines – Vertuo, VertuoPlus, Next and Evoluo, are an entirely new system. Unlike the previous system, Vertuo makes espresso as well as coffee and it uses proprietary pods available from Nespresso only. Vertuo machines make espresso, double espresso, gran lungo and coffee and each serving size has its own dedicated line of pods.
Vertuo machines are a great pick for people who enjoy espresso (and espresso based drinks) as well a longer cups of coffee. While it offers a variety of coffee drinks, you'll be committing to pods from Nespresso only.
Breville or DeLonghi?
Now that you've picked a Nespresso system, you can go ahead and choose between the two manufactures. And as I already mentioned, if you're picking between models that both brands have in common, there's no real difference, so pick whichever design and color you like!
But if you're going to pick between models that are exclusive to DeLonghi or Breville, let's have a look at the features of each.
De'Longhi Nespresso Machines – Lattissima Pro, Lattissima Plus, Gran Lattissima and Lattissima One
This line is considered to be a DeLonghi machine powered by Nespresso. Which means, it was designed and created by DeLonghi but it includes Nespresso capsule technology. What sits this one apart is DeLonghi's patented 'frothing' system. It's a built-in milk frother that automatically heats, froths and dispense milk according to your recipe. Depending on the model, you'll find several preset recipes for drinks like latte, cappuccino or Macchiato. So with a single press of a button, the machine will do it all for you.
If you like milk based coffee drinks and want them with a push of a button, the Lattissima line offers a lot of convenience and variety of recipes.
Breville Nespresso Machines – Creatista, Creatista Plus and Creatista Pro
Like DeLonghi's, these machines are designed and created by Breville and are powered by Nespresso's capsule technology. The Creatista line is quite unique, actually. Because while most machines have a similar style of milk frother, Creatista machines have a professional steam wand that creates coffee house style micro-foam. And because milk texturing and creating micro foam isn't an easy task to start with, two of Creatista's models actually do this for you automatically and to your exact liking by selecting your favorite settings. If you're a fan of latte art, a steam wand will create the right texture for you to make your latte art, but learning this skill is up to you.
Creatista espresso machine models also have preset recipes that can be used to default settings or reprogrammed to your liking.
Breville Creatista vs DeLonghi Lattissima – Which To Choose?
There are several points here that will help you decide between these two lines of Nespresso machines:
Milk Frother or Steam Wand?
This is the biggest difference between these two machines. Lattissima espresso machines have a milk frother that will create higher and denser foam than what a steam wand would. Also, the milk frother works by automatically dispensing the milk into your cup. This style of froth isn't something you can use for latte art because it's too dense.
A steam wand, on the other hand, creates lighter foam that is perfect for latte art. The Creatista will steam and texture the milk for you, but it won't dispense it into the cup. Instead, you'll pour it yourself.
Pod Selection
Both of these machines are compatible with Original nespresso pods. Meaning, you can use Nespresso's pods or any pods from third party brands. You can even use your own coffee grounds using refillable pods.
Budget
If you're on a budget, this will play a role in which machine you can buy. DeLonghi Lattissima machines tend to be more affordable depending on the model, and Breville Creatista machines are on the higher end.
Possible Alternatives Between Models
All espresso machines, including Nespresso, will vary in price and availability depending on the season. Overall, buying a standalone Nespresso machine or bundled with an Aeroccino milk frother can cost you less than buying a Lattissima with a built-in fother, which is also more affordable than the high-end Creatista line.
Lattissima vs. CitiZ or Pixie (with Milk Frother)
If you're on a tight budget and find Lattissima models to be over your price point, you can go for any other OriginalLine model and bundle it with an Aeroccino frother. You should expect the same quality of milk froth, minus the convenience. For the price cut, you'll be giving up on Lattissima's automation of the whole process of milk frothing, one-press recipe creation. But overall, the end result should be the same.
Creatista vs Citiz Or Pixie (Or other OriginalLine Machines)
In the case of Creatista machines, the high price point is justified because what it's offering you compares to professional espresso machines. As of the time of writing, there is no other single-serve espresso machine with a professional steam wand. You could possibly find bean-to-cup machines with steam wands, or manual or semi-automatic espresso machines, but nothing that can prepare single-serve espresso and automates milk texturing like the Creatista does.
So when it comes to the Creatista lines, there's no alternative. You either give up on one of its features (steam wand) or pay the high end price.
The Wrap Up – Do You Choose a Breville or DeLonghi Nespresso Machine
As we reach the end of this post, you should now know that there's no real difference in Nespresso machines branded by Breville or Nespresso, unless it's one of the machines exclusive to those brands.
If you're going for a Nespresso machine that is only manufactured by either Breville or DeLonghi, I'm going to make it super easier for you:
1- Pick a Nespresso system: do you want an OriginalLine or a Vertuo line machine?
2- Pick a design you like
It's truly that simple!
If you're going for one of DeLonghi's or Breville's own machines, then the section above should help you decide between a Lattissima or Creatista line.