In a previous post, I answered the question of whether or not Nespresso can make tea and how to make it using your Originalline machine. Another popular drink that people are wonder whether or not you can make is hot chocolate, and if Nespresso makes hot chocolate pods.
The Quick Takeaway
Nespresso does not make its own branded hot chocolate pods. However, many hot chocolate capsules are available from third party manufacturers.
Hot chocolate pods are only compatible with Nespresso Originalline machines.
There are NO Vertuoline Hot chocolate pods.
Now let's get into the details of making hot chocolate using your Nespresso.
Can You Use Nespresso To Make Hot Chocolate?
Yes! You can make hot chocolate using an Originalline nespresso machine like a CitiZ, Essenza, Pixie, Lattissima and so on.
The reason hot chocolate pods are available for OriginalLine brewers only is because Nespresso has lost the patent on the capsules of these machines, which opened up the opportunity for many brands to create their own Nespresso compatible pods. As for Vertuo, the pods for this line of machine is still patented by Nespresso, so there's no room for 3rd party pods.
How To Make Hot Chocolate Using Nespresso
There are several ways to prepare a cup of hot chocolate using your Nespresso. Here are a few things to keep in mind before you start:
By default, hot chocolate pods contain cocoa powder only. There's no milk or cream in them, so you have to add the milk separately.
If you have an Aeroccino milk frother, you can make hot chocolate either by using the pods then adding the frothed milk or by adding the chocolate powder/syrup directly into the frother (more on this below).
You can either use the espresso or lungo button to prepare the hot chocolate pod. If you're adding milk or cream, use a concentrated espresso shot size.
Making Hot Chocolate Using Nespresso OriginalLine Hot Chocolate Pods
Brewing hot chocolate pods works just like brewing a coffee pod. Insert the pod and pick a serving size. Refer to the package for optimal serving size, but personally I would use the Espresso button for more flavor. And for larger cups, use two pods instead of one.
How to Make Hot Chocolate Using Nespresso OriginalLine Refillable Pods
If you have refillable filter pods at hand, you can fill them up with hot chocolate powered and use it just like you would a regular pod. This cuts your cost and makes it easier to make your favorite hot chocolate flavor.
Chocolate squares or syrup won't work for this method, only powder.
How to Make Hot Chocolate Using a DeLonghi Lattissima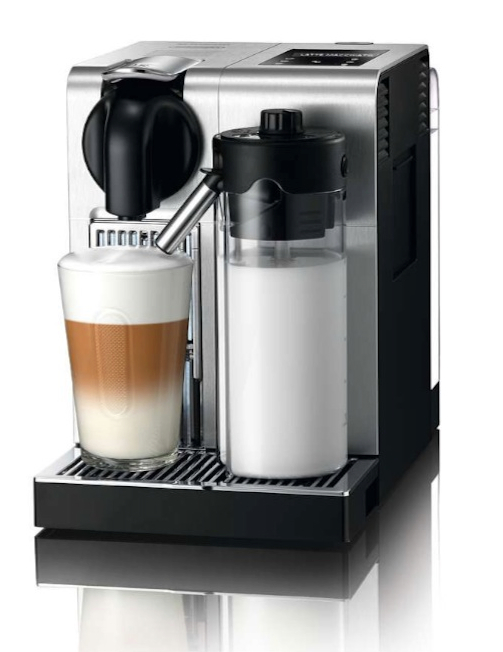 Lattissima machines are great for their built-in milk frother. If you like your hot chocolate pods with milk, use the Latte button for the machine to automatically froth up milk and add it to your hot chocolate. This should work with a Breville Creatista, too. Or any Nespresso OriginalLine with preset recipes.
Can You Make Hot Chocolate Using Nespresso Aeroccino Frother?
If you have a frother, an Aeroccino frother to be exact, you can make a cup of hot chocolate without the need for pods. But before I do that, I have to let you know that this is something that Nespresso advises against, but I personally do without any issues.
How To Make Hot Chocolate Using Aeroccino
You'll want to froth your milk as usual. But as it spins, you can add in either syrup, powder or chocolate squares so the chocolate blends with the milk as it froths. Chocolate powder works best, but if you want to use solid chocolate like squares or buttons, wait for the milk to heat up a bit before adding the chocolate so it melts faster.
Once it is done, serve in a cup and enjoy!
Cleaning Tip
You'll want to clean or at least fill the Aeroccino with water as soon as you are done. NEVER let the milk and chocolate combo dry inside the frothing jug. This could lead to the non-stick coating being damaged by sugar (this is why Nespresso does not recommend this).
For a proper wash, fill in the jug with water and a drop of dish detergent and start the frother. This will allow the soap to spin and clean the frother jug as well as the whisk thoroughly.
If you have an Aeroccino 4, then you can simply pop it in the dishwasher if you have one. Otherwise, you can follow the same cleaning instructions.
Preparing and Cleaning Your Nespresso Machine (Before and After) Hot Chocolate
If you use your Nespresso to make both coffee and hot chocolate, you'll want to make sure to run a cleaning cycle before and after each use to get rid of any possible residues.
Before brewing a hot chocolate pod, press the espresso button without inserting any pod for the machine to dispense hot water only. This will get rid of any residue of your previous drink and prepare it for a clean cup of hot chocolate.
Once you have finished prepping the hot chocolate, you'll want to do the same. Dispense hot water into a container to clean the internal pipe and spout. This time, not only do you want to clean out the chocolate residue, but also ensure no sugars dry inside, which could possibly lead to problems.
Recommended Hot Chocolate Capsules for Nespresso
Podista Nespresso Hot Chocolate Pods
Hot Chocolate Nespresso Original Line Compatible Capsules Hot Cocoa Pods - Variety Pack - 4 Flavors / 4 Boxes - 40 Pod Package
Delicious hot chocolate (hot cocoa) from your Nespresso-machine. Four flavor variety pack. 40 pods
Compatible with Original-Line Nespresso Machines like Citiz, Pixie, U, Essenza, Lattissima and other ORIGINAL LINE machines. Sorry, NOT compatible with Virtuoline. Packaged in compostable pods !
Blended from the finest ingredients, each flavor is a delectable milk chocolate with a velvety texture that melts in your mouth
Flavors include: Smooth & Creamy, Caramel Infusion, Hazelnut Infusion and Mint. Rich and flavorful - perfect anytime
Packed as a set of four (4) boxes (one for each flavor), each with ten (10) hot chocolate pods; 40 pods total
These are the most popular hot pods for Nespresso, coming from a brand called Podista, which also makes espresso pods.
Podista collection of hot chocolate pods contain plain hot chocolate as well as hazelnut, caramel and mint infused hot chocolate. The pods contain sweetened cocoa powder and flavorings. Milk has to be added separately. And they recommend that you use the Espresso serving size for their pods.
And if you're watching your sugar intake, Podista offers a sugar free option, too.
U Organic Hot Cocoa Pods
U Organic Nespresso Compatible Cacao Pods x60 Variety Pack- Pure and Natural Source Ingredients - Unsweetened (X60)
U CHOCOLATE IS THE ULTIMATE TREE-TO-POD EXPERIENCE, crafted right at our organic farm in the Peruvian Amazonia with a selection of our 100% Fine Aroma & Wild Cocoa varieties.
BACK TO THE FUTURE OF CACAO: We use state-of-the-art agricultural and crafting techniques to offer you the authentic flavor of pure cacao, using only 100% organic and unprocessed ingredients, free from major allergens.
TOTAL TRACEABILITY: Growing our own cacao to craft it at the source lets us offer you a unique dark chocolate experience. Complete control over the entire process means total traceability and maximizing our cacao's nutritional and organoleptic properties.
CEREMONIES VARIETY PACK: This speciality Cacao drink pod variety pack features our Ginger, Mocha, and Cacao Ceremonies, each with strong, luxurious flavor and a smooth texture satisfy your cravings. Unimaginable flavor that lingers on your mind.
ECO-FRIENDLY PACKAGING: Our packaging has been designed consciously, from compostable pods to sourcing paper from sustainable forests to package our cocoa pods. Remove lid before composting.
If you prefer unsweetened option, these pods are what you are looking for. They contain organic cocoa beans powder and nothing else. You can add milk and sweeten it with your preferred sweetener for a healthier option. This brand also recommends that you use the Espresso serving size for making the pod for a more concentrated flavor.
Buying Tips for Nespresso Hot Chocolate Pods
When researching to buy hot chocolate pods for your Nespresso machine, you'll want to watch out for a few things:
Don't confused Chocolate flavored coffee pods for hot chocolate pods. While there are not many hot chocolate pod options available, there are a lot more 'chocolate flavored' coffee pods available, and many purchase them thinking they are hot chocolate pods.
If you can't find a hot chocolate capsule that you like, buy a refillable filter pod (make sure it's compatible with Originalline machines) and fill it up with your favorite hot chocolate mix.
Will Using Off Brand Nespresso Pods Damage My Machine?
Third party pods don't affect how your machine works, and they won't break it, for sure. While they're not exactly approved by Nespresso, and some brands do use low quality materials to make their pods, none of them will break or damage your machine. Worst case scenario, the coffee or, hot chocolate in this case, won't taste great or won't be hot enough.
Will Using Refillable Pods Damage My Nespresso Machine?
Now, refillable pods, are a different story. Unfortunately, using a low quality refillable pod can actually damage the puncture needle of your Nespresso. Because refillable pods are usually made from stainless steel or hard plastic, if designed incorrectly, they fit incorrectly inside your machine and could break it if you force close the lid. So read the reviews of refillable pods you choose to buy carefully to ensure no one has faced this problem.
The Wrap Up – Preparing Hot Chocolate Using A Nespresso OriginalLine Machine
Hot chocolate pods do exist, but they are not Nespresso branded. Instead, you can buy them from third party brands and they are compatible with OriginalLine machines only.
What about Vertuo Machines? No hot chocolate available for those.
If you have an Aeroccino, you can make a creamy hot chocolate by adding the ingredients directly into the milk as it froths. Chocolate squares, powder or syrup work just fine (although Nespresso doesn't recommend this). Just make sure you clean your frother immediately and not let the ingredients dry inside the jug.