After the release of Lattissima One machine, the single-serve machine with single serve frother, too, Nespresso has now released a larger version of the machine called Gran Lattissima.
Gran Lattissima, a Nespresso by DeLonghi machine, is an OriginalLine machine with built-in milk frother. Unlike the Lattissima One, the milk frother is rather large, but that's not the only thing that's different… Read on to learn more about the Gran Lattissima features and how it compares to other Nespresso machines.
This post compares Gran Lattissima to
Lattissima One, Lattissima Pro and Lattissima Touch..
Scroll below to find the comparison you need
Gran Lattissima Comparisons
| | | | | |
| --- | --- | --- | --- | --- |
| | Lattissima One | Lattissima Pro | Lattissima Touch | Gran Lattissima |
| Water reservoir | 34 oz | 43 oz | 44 oz | 34 oz |
| Frother capacity | 4 oz | 16 oz | 12 oz | 17 oz |
| Used capsule container | 8 | 13 | 10 | 14 |
| Controls | Buttons | Touch display | Buttons | Glass display and buttons |
| Presets | 4 | 6 | 6 | 9 |
| Dimensions (WxHxD) | 6.1 x 12.8 x 10.1 in | 7.6 x 13 x 14 in | 10.17 x 13.47 x 8.08 in | 7.9 x 14.4 x 10.8 in |
Nespresso Gran Lattissima vs. Lattissima One
Gran Lattissima and Lattissima One share the same premium design. Apart from their different sizes, they look quite identical. But looks aside, how are they different features wise?
The main difference here is:
Lattissima One is a small machine with a small milk frother (4.2 oz capacity). Its frother is designed to hold enough milk for a single use only, so you'll fill the exact amount you need and refill at each use.
On the other hand, Gran Lattissima has a full size milk frother (16.9 oz) that holds milk for multiple uses.
The other difference is the preset milk recipes:
Lattissima One has 4 presets only: Espresso, Lungo, Cappuccino and Latte Macchiato.
Gran Lattissima has 9 presets: ristretto, espresso, lungo, cappuccino, latte macchiato, caffe latte, flat white, hot milk and hot foam.
Nespresso Gran Lattissima vs. Nespresso Lattissima Pro
The Lattissima Pro is another Nespresso by DeLonghi machine with features that are quite similar to Gran Lattissima. But similar as they may seem, there's always a difference that we can spot:
Presets:
Lattissima Pro has 7 presets: Ristretto, espresso, lungo, cappuccino, latte macchiato, warm milk and hot water.
So it's missing the caffe latte, flat white and hot foam options that Gran Lattissima has, but on the plus side, it has hot water on demand which is perfect for Americanos (espresso + hot water) or for preparing tea or instant meals.
Capacity:
Milk jugs of both machine have the same capacity: 16.9oz
Water reservoir capacity of the Lattissima Pro is about 44 oz and Gran Lattissima is 33.8 oz.
Foam Density:
The milk frother on the Lattissima Pro allows you to adjust the density of the foam. Gran Lattissima's frother doesn't have this option.
Design:
Lattissima Pro has a really sleek design with brushed aluminum finish, LCD display, touch buttons and backlight indicators.
Gran Lattissima has an elegant design that combines gloss and matte finishes along with some stainless steel accents and a glass touch panel. It's available in black or white.
Gran Lattissima vs. Lattissima Touch
Lattissima Touch is another popular option for a Nespresso machine with a built-in milk frother. Much like other Lattissima models, it includes several presets for preparing your favorite coffee drinks with a push of a button:
Lattissima Touch has 6 presets: espresso, lungo, cappuccino, latte macchiato, caffe latte and hot foam. So no flat white, ristretto or hot milk presets that are in the Gran Lattissima.
Milk jug capacity in Lattissima Touch is about 11 oz (vs. 16.9oz of Gran Lattissima)
Water reservoir capacity in Lattissima Touch is 44 oz compares to Gran Lattissima's 33.8 oz.
Lattissima Touch has a milk frother similar to Lattissima Pro's which features a knob to adjust milk foam density.
Features of Nespresso Gran Lattissima Espresso Machine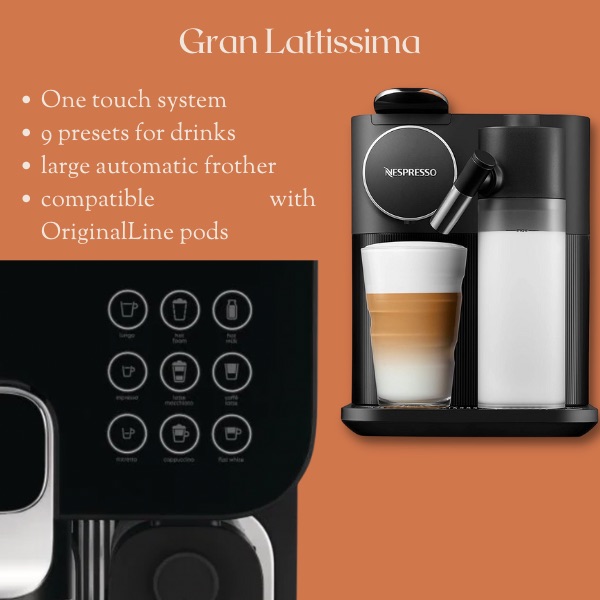 One-touch system: prepare your favorite espresso drink with a push of a button.
Enjoy 9 preset options: Ristretto, Espresso, Lungo, Cappuccino, Latte Macchiato, Caffe Latte, Flat White, Hot Milk and Hot Foam.
Sliding drip tray allows you to accommodate cups of all sizes, tall or short.
Milk frother features a self-rinsing feature to keep the frother clean after each use.
Detachable milk frother allows you to store leftover milk in the fridge.
Milk container is top rack dishwasher safe.
Start up time: 25 seconds, extra 15 seconds for milk beverages.
Milk jug capacity: 16.9 oz
Water container capacity: 33.8 oz
Capsule Compatibility: Compatible with all OriginalLine capsules for Nespresso.