As a Nespresso user, you might have noticed that some Vertuo pods have the word 'For Milk' written on them, or that they are part of the Barista Creations collection, and you're not sure what to do with them?
What does For Milk mean on Nespresso Vertuo pods?
In this post, I will break down the meaning of Nespresso's For Milk capsules and what you can do with them.
Why Do Some Nespresso Pods Say For Milk
For Milk pods are specially designed to create the perfect espresso-based drinks with milk. Nespresso never rates these pods by intensity like the rest of their pods collection, but they do tell you whether it's a light or dark roast.
For Milk pods, or Barista Creation pods, are blended in a way that when they mix with milk, it will bring out delicious notes and balanced taste, making your Latte or Cappuccino quite heavenly.
What To Use 'For Milk' Nespresso Pods For
These 'For Milk' Nespresso pods are ideal for making coffees with milk like Cappuccinos, Macchiatos, Lattes and flat whites. These coffee drinks are all made with espresso as their base and then topped off with either warm or cold milk. Of course, you are free to use any pod from Nespresso to create your recipes, but if you're looking to make the perfect milk recipe, these pods are what Nespresso recommend.
For Milk pods are available for both OriginalLine machines and Vertuo machines, and they're sold under Barista Creations range.
Do Nespresso Pods 'For Milk' Contain Milk, Lactose or Sugar in Them?
No, the Nespresso For Milk pods do not contain any milk or sugar. They are simply a blend of coffee beans that have been expertly blended to create an espresso-based drink with milk.
Do Flavored Nespresso Pods Have Sugar?
Even the flavored Nespresso pods do not contain any artificial flavorings or sugar in them. Only pure coffee grounds, with hints of flavor naturally formulated during the roasting process. So don't expect Nespresso pods to be sweet.
All Nespresso pods contain pure coffee (coffee pods never contain instant coffee, if you're wondering)
Which Nespresso Pods Are for Milk?
For each line of their machines, there are three pods that are especially crafted for milk:
Nespresso For Milk Pods For OriginalLine machines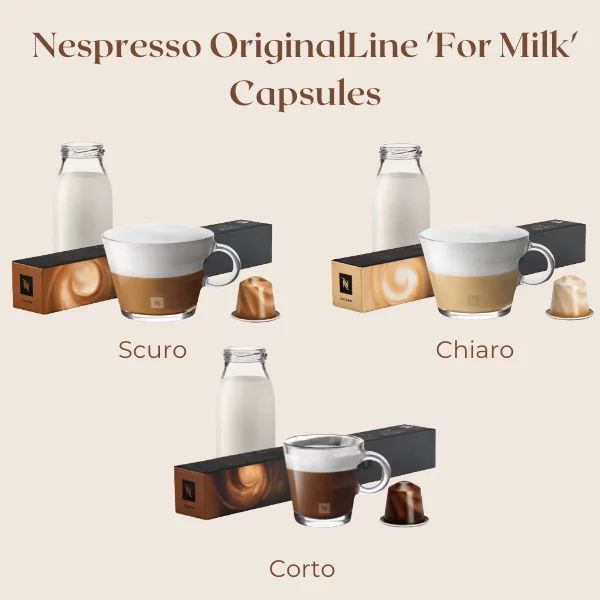 Scuro: Dark roasted blend made of Arabicas from Colombia and Ethiopia
Corto: Dark roasted blend made of blend of African Arabicas and Robusta
Chiaro: Light roasted Arabicas from Kenya and Indonesia
All of these pods are espresso 1.35 oz pods. You can buy them from Amazon or Nespresso.
Nespresso For Milk Pods For Vertuo Machines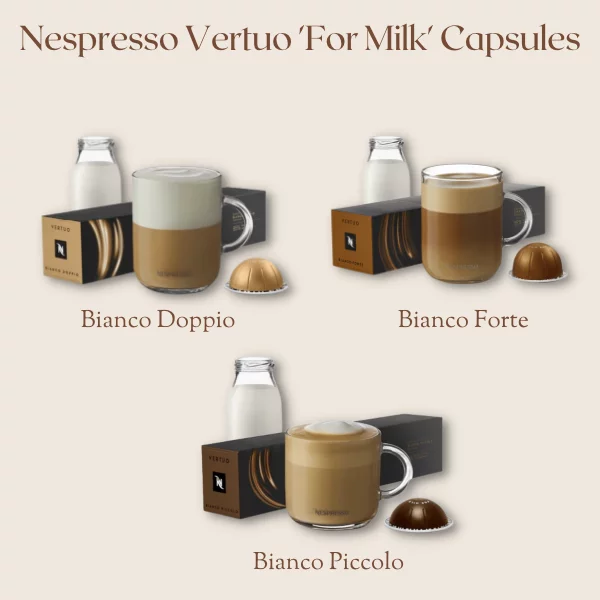 Bianco Piccolo for Milk: Medium roast 1.35 oz espresso pod
Bianco Doppio for Milk: Medium roast 2.7 oz double-espresso pod
Bianco Forte for Milk: Dark roast 7.7 oz mug style coffee pod.
Buy these pods from Amazon or Nespresso.
Nespresso 'For Milk' Instructions
How To Use the For Milk Nespresso Pods
Making coffee drinks using 'For Milk' Nespresso capsules is really easy. Just use the same procedure you would with any other pod, and add some milk.
To make a Cappuccino or Latte, froth some milk using your Aeroccino (or which ever milk frother you have). For a Cappuccino, fill your Aeroccino to the lower MAX line, for a Latte, use the upper MAX line. And if you are using an Aeroccino 3, don't forget to adjust the whisk. If you want to make an Iced Latte, make the foam cold instead of hot.
If you are using a Lattissima Nespresso machine, it's even easier. Simply insert the pod and select your drink from the preset menu and your machine will do the rest. Same for using the Creatista Plus by Breville.
If you're looking for ideas, you can always check out Nespresso Recipes website.
Which Nespresso Pod Should You Pick?
It's really a matter of taste. If you prefer your coffee on the stronger side, use a dark roast like Corto for OriginalLine or Bianco Forte for Vertuo, but do keep in mind that Bianco Forte is a full cup size coffee pod, so it's more of a coffee with milk recipe.
Cappuccino ratio is half coffee half milk then topped with a thick foam. Ideally, you should use a pod of espresso, the same amount of milk then add foam.
For a Latte, you can use two shots of espresso or a single double-espresso shot in a Vertuo. Then add steamed milk with light foam.
Do You Add Milk To Nespresso Vertuo?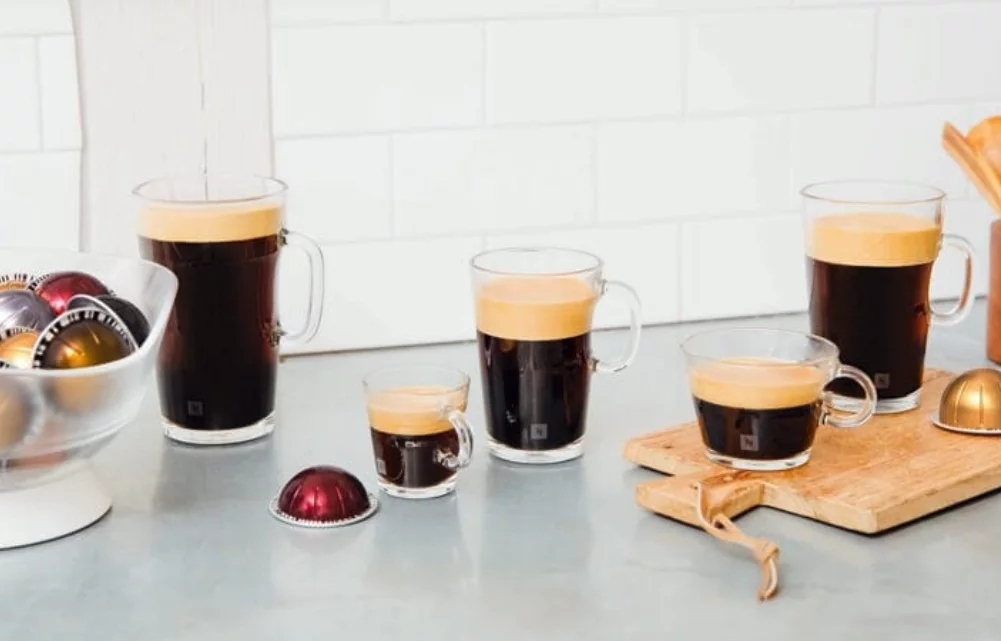 When it comes to Nespresso Vertuo pods, do you have to add milk to them?
Your coffee should always be to your taste, whether you want to add milk to your Nespresso Vertuo coffee or not is totally up to you!
Even if the Vertuo pod is 'For Milk'… that's just what Nespresso suggests for serving. But you can enjoy it however you like.
If yo just got your Nespresso Vertuo machine, I highly recommend that you experiment with the pods all you want to get an understanding of what you really like.
Does Nespresso Have Milk Pods?
Nespresso does not make pods that contain milk or dairy. Nespresso always recommends using fresh milk, dairy or non-dairy, instead of powdered milk, which is what milk pods are packed with.
Preparing your milk based coffee using freshly frothed milk makes it taste better and it is the healthier choice since you'll be using your preferred type of milk with your choice of additives.
Can You Put Milk in a Nespresso Machine?
If you are wondering if you can put milk in a Nespresso machine's water reservoir, so the coffee comes out made with milk, then the answer is no, that would be a terrible idea.
Running hot milk through the internal parts of a Nespresso machine, or any coffee machine for that matter, could turn into a disaster.
The milk will dry inside the machine eventually, it will turn into sugar particles and rot. Soon enough, you'll start to smell spoiled milk coming out of the machine and those internal pipes will get blocked and break.
I highly recommend that you don't even try this!
Related Posts