Lavazza is a company that needs no introduction. The Italian brand is a leader in the world of coffee beans and has been around for ages, for over 120 years.
If you're a fan of Lavazza's coffee, a single-serve coffee maker like the Expert Classy Plus would make a great addition to your kitchen or office. You'll be able to enjoy Lavazza coffee drinks with a press of a button.
Features of Lavazza Expert 'Classy Plus'
Lavazza Expert Coffee Bundle Classy Plus All-In-One Machine LB 400 + 1 Welcome Kit Pack of 36 Mixed Capsules + 1 Extra Vessel
Note: 1)Too coarse a grind, too little coffee, or insufficiently tamping the grounds before brewing can all lead to inadequate pressure for a proper brew. 2)It is important to note that the amount of espresso extracted will vary depending on the grind size and amount and reprogramming may be needed when the size and amount are adjusted.Filter type:Reusable
First ALL-IN-ONE Espresso and Coffee Brewer Machine
Able to brew six selections of beverages: Espresso, Lungo, 8 oz. Coffee, Macchiato, Cappuccino and Latte
Works only with Lavazza Expert Capsules
1 Lavazza Classy Plus All‑In‑One Machine LB 400 Includes a Vessel (Milk Frother)
The machine comes preset with 6 selections of beverages: espresso, lungo, 8 oz coffee, macchiato, cappuccino and latte. For black coffee drinks like espresso, lungo or coffee, all you have to do is insert a capsule and press a button. But if you want to make a milk based coffee drink like a cappuccino or a latte, you'll need to use the included milk frother vessel.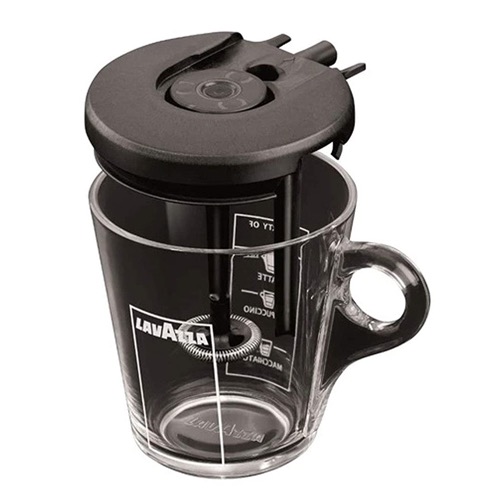 The milk frother that comes with the Lavazza Expert looks different than any other I've seen with a single-serve machine. It is actually a large glass cup that the machine will directly heat, froth and dispense the espresso into, and you can drink right out of it when the drink is ready. Of course, you can also transfer the drink to another cup, but that will mess up the aesthetics of your drink.
Lavazza Blue vs Expert Capsules:

Lavazza Expert is compatible with pods from Lavazza that are labelled for Expert or for Blue machine. Beware when purchasing your pods, as Lavazza also makes pods for Nespresso and Keurig K-Cups, and none of these will be compatible with the Expert line.
So far, Lavazza has four blends available Expert and each of these blends/intensities are available as espresso or coffee pods. If you choose to use pods from Lavazza Blue, you'll find additional blends to try, but they are only available as espresso pods.
Lavazza pods are available for purchase from many online retailers, including Amazon or Lavazza's online store.
What I Like About the Lavazza Expert:
The unique milk frother/glass combination means that you'll only froth the amount of milk you need (no leftovers like most built-in frothers), and you drink right out of the cup, meaning less parts to clean.
What I Don't Like About the Lavazza Expert:
The milk frother/cup combination (yes, I know I just mentioned that I like it). What I don't like though, is that it is designed for a single person use only. What happens if I want to make two or three cappuccinos? Do I transfer each drink it makes to another cup or do I buy additional vessels/frothers (they are available for purchase separately).
The pods are limited at this point. But there are enough to make delicious coffee drinks at different intensities.
Lavazza Expert vs. Blue (Classy Plus vs. Classy Mini)
Sale
As its name suggest, Blue Classy Mini is the smaller version of the Classy Plus. The Blue model has two drink options only, Espresso or Lungo. And it does not include a milk frother.
The Blue model has a small 23 oz water reservoir while the Expert has 42 oz reservoir.
So what if you want to make a milk-based drink using the Lavazza Blue? You'll have to buy a milk frother separately. The Lavazza frothing jug/vessel that comes with the Expert is NOT compatible with the Blue model, so you'll have to go for an electric milk frother of any kind, many brands are available to pick from.
How Do You Choose Between Lavazza Expert or Blue?
It's a simple pick between the Expert and Blue:
Do you enjoy milk based drinks? How often do you drink them? If your answer is yes, then it only makes sense to go for the Expert model.
If you drink espressos/lugno mostly, but enjoy a cappuccino or latte every once in a while, or maybe you have a friend/visitor that might enjoy one, you can buy the Blue model and include any milk frother to your purchase. This is also a great option if you find the Expert to be out of your budget. The Blue model is an inexpensive choice in comparison, and you can find any milk frother that fits your budget.
Which Is Better, Nespresso or Lavazza?
Nespresso OriginalLine is probably the most comparable to Lavazza's Expert or Blue machines.
Nespresso has been in the single-serve coffee making business longer than Lavazza. They have a bigger range of products and options to choose from.
Functions wise, both can make the same coffee drinks. Although I find that Nespresso's Aeroccino milk frother to be more convenient to use than Lavazza's, especially when entertaining guests and wanting to make multiple drinks at the same time.
When it comes to pod compatibility, Nespresso OriginalLine is now compatible with a wider range of capsules, either from Nespresso or 3rd party brands (including Lavazza).
If you're an avid fan of Lavazza, then you'll enjoy their machines, no doubt about it. But if you're looking for convenience, and wider range of capsules to try, then go for a Nespresso OriginalLine machine. Even if you love your Lavazza espresso, you'll be able to buy Lavazza pods for Nespresso, as well as other brands like Illy, Starbucks, and many more.
Read more about Nespresso OriginalLine machines in these posts:
Does Lavazza Make Hot Chocolate Pods?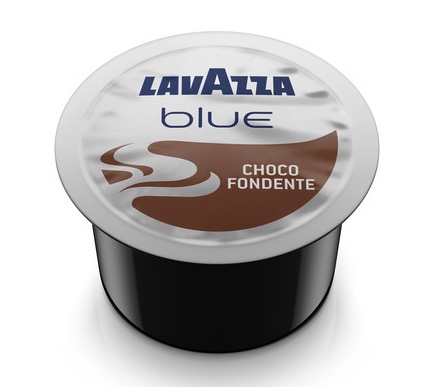 Lavazza has hot chocolate as well as tea pods that are for BLUE machines, but are also compatible with Expert. However, after doing some research, I found that these were really hard to find for purchase. You might find some European vendors selling these, but you'll have to keep in mind that overseas shipping can cost you a lot (If you live in Europe, then problem here). If you want hot chocolate pods that are readily available in the US (or locally in other countries), then again I will recommend going for a Nespresso OriginalLine machine, you'll find hot chocolate pods from compatible brands like Bestpresso, Gourmesso or Podista.