A Nespresso machine is the ultimate convenient automatic espresso machine that uses Capsules to create the perfect cup of espresso every time. Not only is it compact in size, very quick and convenient, it only requires you to insert a capsule and push a button and you've got yourself an espresso cup within seconds.
Which Nespresso Machine Is Best To Buy?
Here's the gist of it…
– If you want the best manufactured machine (but smallest water tank, on the down side), the Pixie is the only machine made in Switzerland. (some newer models may not be though, kindly check before buying).
– If you want the largest water reservoir, and an option to have an integrated Aeroccino milk frother, the CitiZ is your machine!
Read on for more details…
Nespresso Pixie vs Citiz
| | | |
| --- | --- | --- |
| | Pixie | CitiZ |
| Reservoir | 24 oz | 33 oz |
| Serving Size | Espresso – Lungo | Espresso – Lungo |
| Reprogrammable | YES | YES |
| Dimensions HxWxD | 9 1/4 x 4.33 x 12.83 | 10.9 x 5.1 x 14.6 |
| Country of Origin | Switzerland | China |
1- Reservoir Size
Pixie has a 24 oz water reservoir, CitiZ has a 33 oz reservoir.
2- Design
There's difference in design of both machines that won't affect the actual performance of it, but might make a difference to you or your kitchen decor. The difference is in the colors, side panels and the bar in which the machine opens/closes the lid.
The Pixie has metal side panels which gives it a more premium feel. It's also the only machine with backlight indicators for empty water reservoir and full capsule drawer. It will turn from blue to red to let you know it's time to check up on these two things.
On the other hand, the CitiZ has a nice design, but it lacks the premium materials of the Pixie as it's mostly made of plastic. But it does have a larger water reservoir which is quite a useful thing.
3- Country of Origin
CitiZ is made in China, Pixie is made in Switzerland.
Features of Nespresso Pixie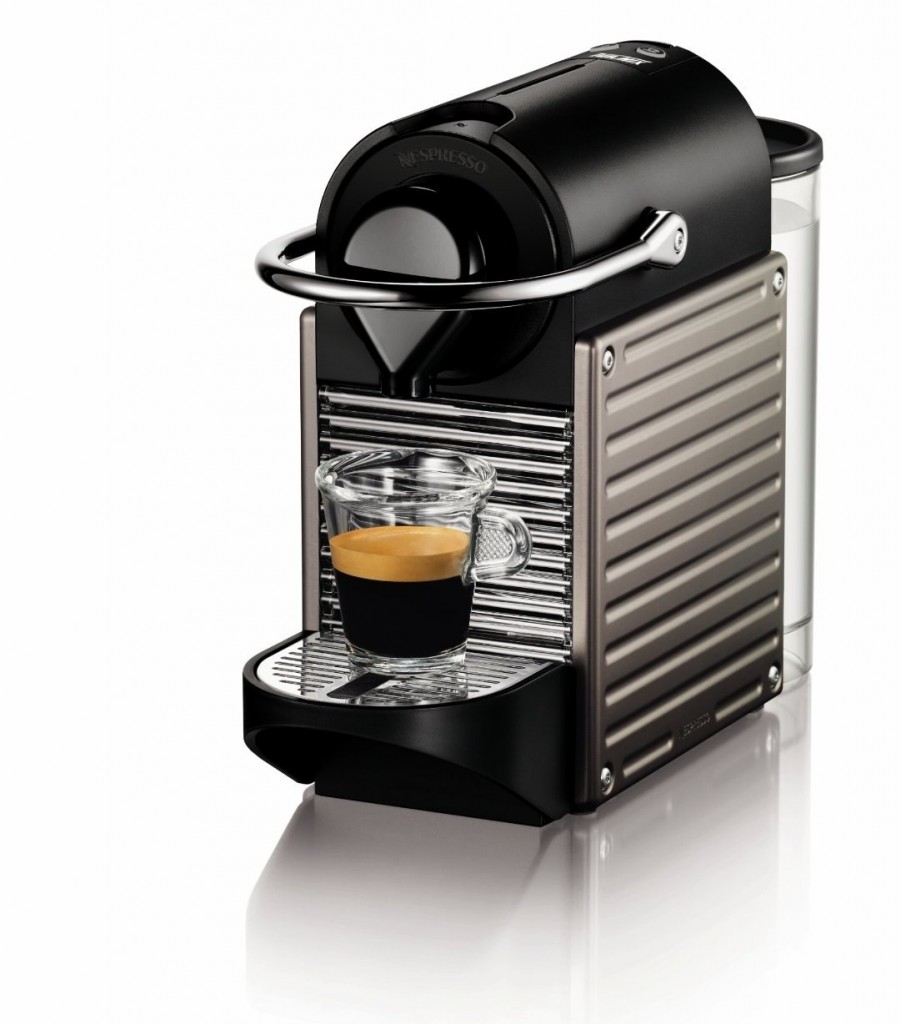 Features:
24 ounce water reservoir.
2 reprogrammable cup sizes for espresso or lungo.
Drip tray folds up to hold different cup sizes.
Capsules container holds up to 12 used capsules.
Backlight indicators for empty water tank or full used capsule drawer.
Power cord storage.
The Nespresso Pixie is the only Nespresso machine made in Switzerland.
Measurement: 12.83-Inch length by 4.33-Inch width by 9-1/4-Inch height
Available in Electric Titan (pictured above), Aluminum or Titan.
Pixie C60 vs. D60, Is There a Difference?
You might notice that some Pixie machines are labeled C60 and other D60, is there a difference between them? No, not at all. These numbers only reference slight model differences and colors, and does not affect the quality or performance of the machine at all. Simply choose the one that looks best to you.
Pixie by DeLonghi or Pixie by Breville? What's The Difference?
Another variation you might find is that some Pixie (or even other Nespresso models) are sold under the Breville brand and others under the DeLonghi brand. There are no actual difference between them. Nespresso partnered with these brands to help them with distribution of their machines, and these labels are only to let you know which brand made your machine. But you're still getting the same Nespresso no matter what.
Video Review:
Features of Nespresso CitiZ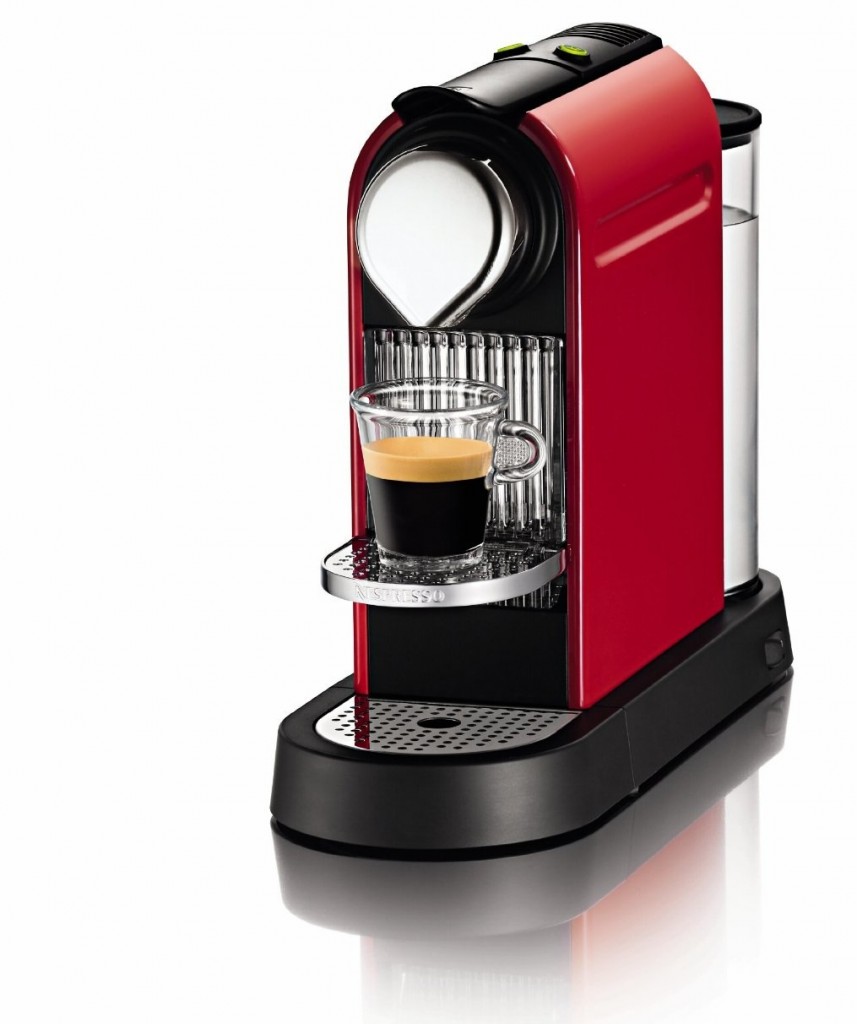 Features:
33 3/4 ounce water reservoir. The largest on a Nespresso OriginalLine machine.
2 reprogrammable cup sizes: espresso and lungo.
Folding drip tray.
Used capsules container.
Available in Red, black, silver, white.
measurement: 8-Inches by 13-1/2 inches by 10 inches
Video Review:
Nespresso Aeroccino Milk Frother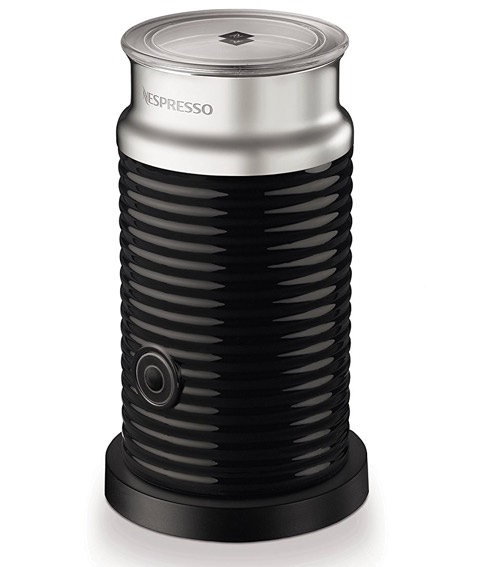 Aeroccino is Nespresso's electric milk frother that heats and froths milk for making Cappuccino or Latte. It includes two whisks for creating different density of milk froth and it can make hot or cold froth. When buying a Nespresso machine, you have the option to buy it as a stand alone or bundled with this milk frother. If you're planning on making milk based drinks, then we highly recommend that you include it with your purchase.
Learn more about Nespresso's Milk Frother here.
Common Questions About Nespresso Machines:
Can I Use Any Other type of Coffee Capsules with Nespresso Machines? (K-Cups, Starbucks Verismo… etc.)
No, you can't. Nespresso machines are compatible with their own capsules/pods only.
Can I use the Same Capsules For More Than Once?
Each Nespresso capsules is pre-measured with the exact amount of coffee ground you need for a perfect cup of Espresso or Lungo. Technically, You can hit the brew button twice on the same pod before you've ejected it, but that won't be a good idea. The coffee will not taste good as you've already spent the coffee ground inside the capsule on the first shot. So we really don't recommend doing this.
Can I use My Own Coffee Ground with Nespresso Machines?
There are non-official refillable Nespresso capsules that you can use to brew your own coffee ground, however, they're not recommended. These capsules, manufactured by companies other than Nespresso, can actually harm your machine. Also, chances are, you won't get the measurements or coffee ground right or as good as Nespresso makes them, which can negatively affect your experience.
Surprisingly, you can! Not officially though. There's a company that makes tea pods that are available for Nespresso machines, which you can learn more about here.
Where Will I Buy Nespresso Pods From?
There's available online at Nespresso or Amazon. They're slightly more expensive on Amazon, but you're not restricted to buying in quantities of 10 like at Nespresso's website. They're also available at Nespresso Boutiques available worldwide. Learn more about buying the capsules here.
Is There a Difference Between the Pixie C60 and D60?
Not in the way the machines function. The names refer to slight aesthetic differences in the coffee spout or available color only. For example, the C60 is available in Titanium and Chrome, and the side panels look differently than the D60 which has a smooth side panel and is available in colors like red, green and blue.