Barista Recipe Maker is Nespresso's state of the art milk frother that does a lot more than just froth milk. For years, Nespresso had Aeroccino as its built-in or stand-alone frother. Aeroccino does a good job of frothing milk for cappuccino, latte or macchiato. But you want to create more specialized recipes, Barista Recipe Maker might be for you.
What Is Nespresso Barista Recipe Maker?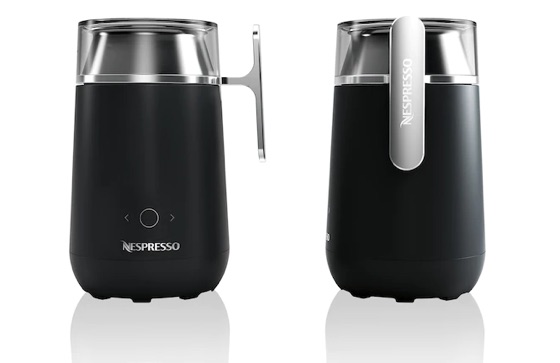 Barista Recipe Maker is a connected milk frother that allows you to create a lot of recipes that involve milk. Either with or without coffee, hot or cold.
You can pair your Barista Recipe Maker to your phone or tablet over Bluetooth and using the app, you can either follow existing recipes or create your own. The app has step by step guide for a lot of hot or cold recipes.
Features of Nespresso Barista Recipe Maker:
Nespresso's first connected milk frother.
Induction system allows for better, uniform heating.
Stainless steel jug that is fully removable and dishwasher safe.
Includes one whisk for all foam types, hot or iced.
Touch interface allows you to scroll through recipes with ease.
You can add any ingredients to your milk as it whisks, including syrups, sauces, flavored powders or even ice cubes.
How Does It Work?
Using the touch interface, you can browse preset recipes like Cappuccino, Latte Macchiato, Latte Art, Mocha, Iced Nitro and more. Each of these recipes use different foam consistency and milk volume. So once you pick your recipe, you'll get instructions through the app on the amount of milk to add and best program to select. All you have to do after that is press start.
Iced Nitro is one of the programs that many users are excited about. Using that recipe, you'll add coffee with ice cubes and the Barista Recipe Maker will turn it into a nice iced concoction similar to nitro iced coffee you get as specialty coffee houses.
Hot Chocolate is another great recipe that the Barista Recipe Maker prepares wonderfully by whisking milk with chocolate together.
You can buy the Barista Recipe Maker frother from Nespresso.com
Barista Recipe Maker vs. Aeroccino 4, What's The Difference?
There's actually a huge difference between Aeroccino and Barista Recipe Maker:
To start, Aeroccino makes hot or cold froth only. You cannot add any ingredients to your milk as it whisks. Aeroccino 4 gives you some control over the density of the froth with button selections, not by changing whisks like previous models. Also, the heating element of the Aeroccino is different than the Barista Recipe Maker's.
When it comes to clean up, the Aeroccino has teflon coating and can only be rinsed by hand. Except for Aeroccino 4 which has ceramic coating, and is detachable from the base and can be submerged in water, so it's dishwasher safe.
Click here to learn more about Aeroccino 4 and how it compares to Aeroccino 3.
Learn about the new Aeroccino 4 refresh, how it compares to Aeroccino 4.
The Barista Recipe Maker, on the other hand, operates on a whole other level. Out of the box, it can prepare about 20 recipes, and you can customize your own recipes. It's bluetooth connected, which is new to Nespresso's milk frother. Being connected means that the frother can always be updated with new recipes and it can also be monitored for maintenance.
The great thing about Barista Recipe Maker is it's induction heating system. This means that the jug of the frother (which is fully stainless steel, including on the inside) does not have any electrical parts, instead it sits on the heating element in the base of the frother. This means that the jug is fully removable, and can be fully washed either by hand or a dishwasher. This also means better heat distribution.
The Barista Recipe Maker also allows you to add any ingredients you want to your milk as it whisks. Which means better integration of flavor and more recipes to make!
The Barista Recipe Maker sounds wonderful so far. But are there any downsides to it?
The price can be a problem to some people as it costs nearly double the price of an Aeroccino. Is it worth it though? That's entirely for you to decide to be honest. If you feel like you need this much customization and you'll be enjoying different recipes, it could be well worth your money. But if a cup of cappuccino or latte is all you need, an Aeroccino will be just great.
The Barista Recipe Maker is also slower than the Aeroccino. That's not a huge issue, but something worth mentioning for sure.
Nespresso Aeroccino Whisk Difference
Aeroccino frothers include a whisk that helps aerate and create the milk froth. In the case of the Barista Recipe Maker and Aeroccino 4, there's no need for you to switch whisks to create difference froth densities. But if you are using the older Aeroccino 3, you have to adjust the whisk to make more or less foam.
You can read all about Aeroccino Whisk Difference here.
Aeroccino 4 Latte Art – Is It Possible?
Latte art is a fun art to perform on your coffee creations. But unfortunately, you need steamed texture milk for that. Aeroccino 4 and 3 or even the barista recipe maker are not able to create the micro foam required for latte art.
Read all about the difference between Aeroccino vs steamed milk here.
A Less Expensive Alternative to Nespresso Barista Recipe Maker – Breville Milk Cafe Frother
If you like what the Barista Recipe Maker has to offer, have a look at the Breville Milk Cafe frother before making your final decision.
Breville Milk Cafe has been around for years, and it does most of the things the Barista Recipe Maker does, if not better.
Breville Milk Cafe vs. Nespresso Barista Recipe Maker:
the Milk Cafe frother is not bluetooth connected like the Nespresso Barista Recipe Maker, but this is not as important it Nespresso makes it sound. It's a cool feature, but not important.
It has the same induction heating system, as well as a stainless steel just that is also dishwasher safe.
The Milk Cafe includes two frothing discs, one for latte and another for cappuccino.
You can add any ingredient to the milk as it whisks: syrup, chocolate shavings, powders… whatever suits your taste.
The Milk Cafe frother actually allows you to adjust the temperature of your milk. You can choose from variable temperatures, including cold froth.
Click here to read our review of the Breville Milk Cafe frother.
So using the Breville Milk Cafe you get:
Induction heating/stainless steel jug.
Add any ingredients,
Variable temperature settings (which Nespresso's frother does not have).
What you don't get:
Bluetooth connectivity
Pre-set recipes
Recipe app.
So by going for the Breville Milk Cafe frother, you'll be basically giving up on the 'techy part' for actual usable features.
Frothing Plant Based Milks and Other Milk Variations:
This is a question that pops up a lot whenever we talk about milk frothers. Can these frothers froth plant based milks and milks other than whole milk?
In theory, yes, they can frother whatever milk you add into them. However, the consistency of the froth changes based on the type of milk you use.
As a rule, the amount of fat the milk contains effects the result of the froth you get:
Whole milk creates the best creamy foam.
low fat milk makes very stiff foam
When it comes to plant based milk, it will depend on the type of milk and brand. So all types of milk will froth, just don't expect the same results from each kind.