The Nespresso Aeroccino Milk Frother is a must-have kitchen accessory for any coffee lover. It's designed to quickly and easily froth milk for cappuccinos, lattes and other espresso drinks. With its sleek design, easy-to-use controls, and quick results, the Aeroccino Milk Frother makes it simple to enjoy your favorite beverages in the comfort of your own home.
Nespresso's Aeroccino is usually an accessory with the majority of their espresso machines, such as CitiZ, Pixie and Inissia or even Vertuo models. But if you don't have one of those models, it's also available for individual purchase. With just a single push of a button, this handy appliance allows anyone to quickly heat and craft velvety foam for all types of coffee recipes!
There are several models to the Aeroccino milk frother:
Aeroccino Plus, which is now discontinued.
Aeroccino 3,
Aeroccino 4.
and Barista Maker.
Since Aeroccino Plus is no longer available, I will compare the three available models, Aeroccino 3 vs. 4 vs Barista.
What You'll Find in this Guide
I will be comparing the Aeroccino 3 and 4 first, as these are the two popular models.
I will then talk about the high-end Nespresso frother, Barista Recipe Maker.
This is a fairly uncomplicated yet comprehensive guide to help. I want to help you buy the best frother for your daily use without overwhelming you with too much info. So let's get to it!
Which Aeroccino Is Best?
Want the quick summary of this comparison guide? Here it is…
Overall, I find the Aeroccino 4 to be the best out of the three models. For the price, it gives you great design, quality and makes perfect milk froth. It's dishwasher safe and does not require whisk changing to create different foams.
The Aeroccino 3, would be okay as a bundle deal. It still makes great milk froth, but I don't like that it has teflon coating or that you need to change the whisk to alter the foam density.
Barista Recipe Maker is a real fancy gadget. Everything it does, you can do it with either milk frother, but without the bells and whistles of bluetooth connectivity or guided recipes. The fact that the jug of the Barista Recipe Maker is stainless steel and used induction heating is my favorite part of this frother, but I still don't think it justifies its price. If that's a design feature you might like, see these milk frothers without non-stick coating (all use stainless steel jugs instead).
Aeroccino Comparisons
Nespresso Aeroccino 4 vs 3: 4 Top Differences
| | | |
| --- | --- | --- |
| | Aeroccino 3 | Aeroccino 4 |
| Housing | Plastic | Stainless steel |
| Interior | nonstick Teflon | Ceramic coating |
| Frothing Options | Hot/Cold | 3 Hot/1 Cold |
| Dishwasher Safe | No | Yes |
Starting with the design, the Aeroccino 4 has a better quality design and finish. It has a stainless steel exterior instead of plastic, a ceramic coating instead of teflon, and it has a handle.
Aeroccino 4 is finally dishwasher safe. This is the first time an Aeroccino became dishwasher safe. Aeroccino 3 is not dishwasher safe and cannot be submerged in water.
Frothing options on the Aeroccino 4 are better, you can select the density for hot froth, select cold froth or just heat milk using the dedicated selection buttons. With the Aeroccino 3, there's just a single button without additional selection.
Features of Aeroccino 3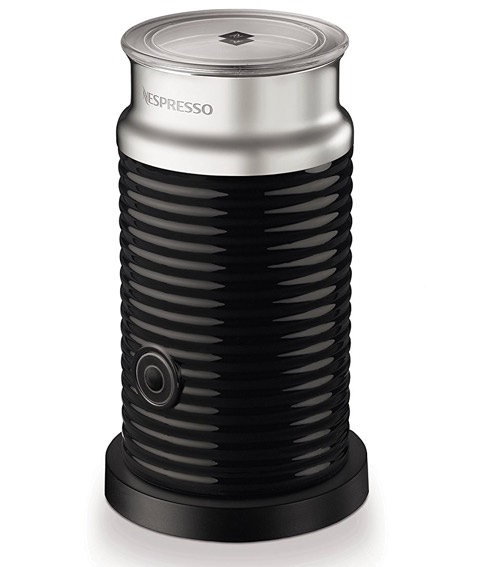 One touch operation for either hot or cold froth.
Includes a single, 2 in 1 whisk that can be used for a dense froth or can be converted by removing the outer spring to make less frothy milk. (more about Aeroccino whisk difference here)
Maximum capacity for milk froth is 120 ml
Max capacity for hot milk is 240 ml.
Teflon interior coating.
Plastic exterior.
Not dishwasher safe. Only rinse with water.
Click here to learn more about Aeroccino 3, read the customer reviews and buy it. (Amazon Link)
Features of Aeroccino 4
Stainless steel design with plastic handle for easier pouring.
Detachable base features a button for each type of foam.
Can prepare hot or cold froth.
Choose from 3 hot foam types: dense, light or hot milk. And one cold froth.
Ceramic interior coating.
Dishwasher safe pitcher and attachments.
Click here to learn more about Aeroccino 4, read the customer reviews and buy it. (Amazon Link)
Is Nespresso Aeroccino Dishwasher Safe?
Depends on the model:
Aeroccino 3 is waterproof but not dishwasher safe. Which means you can wash in by hand, you can get water on it but DO NO submerge it in water.
Aeroccino 4 and Barista Recipe Makers are dishwasher safe.
How To Choose Between Aeroccino 3 or 4?
It's not hard to tell that I prefer the Aeroccino 4 over the 3 model, easily. To start, it is made of better materials. Having a ceramic non-stick coating is more durable than a teflon one. The jug, being detachable is easier to clean and is dishwasher safe. And then there's the multiple button options, which makes your experience better overall.
Note, the Aeroccino 4 now has a complete new design called Aeroccino 4 Refresh. Read about the difference between Aeroccino 4 vs refresh here.
But if you are getting a bundle deal with a Nespresso machine, which will most likely include the Aeroccino 3, it's absolutely fine. It'll do a great job, but I wouldn't except the coating to last as long as Aeroccino's 4.
Is the Aeroccino 3 or 4 Discontinued?
As of the time of writing (APRIL 2023), the only discontinued Aeroccino model is the PLUS model. All other Aeroccino models are available to buy separately or as a bundle with an OriginalLine or Vertuo machine.
Nespresso Barista Recipe Maker Compared to Aeroccino 3 and 4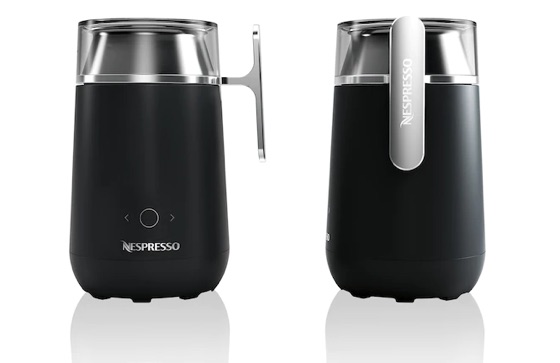 I put the Barista Recipe Maker frother on its own rather than a side by side comparison with the Aeroccino 3 and 4, and it's for a reason. This is a complete upgrade to those frothers and is not on the same level.
The Barista Maker, is a connected device, that allows you to create complete recipes with milk and other ingredients. It features a small text display that will give you step by step instructions to make your favorite coffee recipes. It is also designed so you can add ingredients directly into it, from syrups, milks of all kind, or any other addition you want to add to your coffee.
Other Features:
single whisk operation – no need to switch whisks for different froth styles.
Uses induction heating system.
Stainless steel jug – dishwasher safe.
Prepares hot, cold and chocolate based recipes.
Can be connected to the Nespresso app via Bluetooth.
How Does It Compare to Aeroccino 3 or 4?
The experience with Barista Maker is completely different. You can use it as a milk frother, just like other Aeroccino frothers, but you can also use it to create different recipes, even non-coffee recipes like hot chocolate or matcha.
How To Use Nespresso Aeroccino
How To Make a Hot or Cold Latte in an Aeroccino 3 or 4
a latte consists of a shot or two of espresso and lightly frothed milk. For a hot milk recipe:
When using an Aeorccino 4, all you have to do is select the lighter foam button marked in red and fill your milk to the higher MAX line. This will make you lightly foamed hot milk, then you can pour it into your cup where you brewed your espresso.
When using an Aeroccino 3, first thing to do is remove the spring coil from the whisk to make light foam. Then, press the power button once until it lights up in red. The milk will start heating and foaming. When it stops, pick it up and add it to your coffee cup.
For a cold recipe:
With an Aeroccino 4, there's one single button for cold foam. It will create light cold foam without the need to change a whisk.
To make cold latte foam in Aeroccino 3, keep the coil spring out of the whisk to make the foam light, then long press the power button until it turns blue, which indicates that Aeroccino is making cold foam.
What Can You Put in an Aeroccino? Which Milk is Best To Use?
You can use any type of dairy or non dairy milk with your Aeroccino. Creamer can be used, too, but it's not recommended as it is high in oil content which can harm your nonstick coating over time, especially that creamer was not made to be heated or frothed.
Nespresso recommends that you use cow's full fat milk for the best results. But you can really try any type of milk, just don't expect the perfect results from milk alternatives as those have different fat content and vary from one brand to another.
Cleaning and Maintaining Nespresso Aeroccino Frothers
Cleaning your Aeroccino Milk Frother is simple and doesn't require any special maintenance. First, make sure the device is switched off and unplugged before cleaning. Then remove any used milk or froth from the carafe and discard it. Use a damp cloth to clean the exterior of the machine after each use, then rinse the carafe and lid with warm water and a mild detergent.
If you're cleaning an Aeroccino 3, NEVER submerge it in water. Rinse the interior and dry it. Aeroccino 4 uses a detachable jug, so you can pick it up from the electric base and submerge it in water. Or you can also place it in the dishwasher.
Barista Recipe Maker has a fully detachable jug, too. so you can pick the stainless steel jug, clean it by hand or in the dishwasher.
Frequently Asked Questions
Can You Make Latte Art Using Aeroccino 3 or 4?
Can You Make Hot Chocolate in Aeroccino 3 or 4?
Nespresso does not recommend that you add any ingredients to these frothers. You can make the hot milk or froth, then add the chocolate syrup or powder separately.
Does Aeroccino Heat Milk?
Yes, it heats milk before frothing. You'll add cold refrigerated milk and let Aeroccino do its magic!
What Kind of Milk Do You Use in an Aeroccino?
You can use any type of milk you like. Dairy or non-dairy. However, the results will vary when it comes to non-dairy milks. Cow's milk works best. If you want to use non-dairy milk, pick a type that says 'Barista' or is specially formulated for coffee use.
Can I Use Coffee Creamer in an Aeroccino?
You can use coffee creamer, although it's not recommended by Nespresso. Generally, coffee creamers are not made to be heated or frothed, but added directly to your coffee. Some creamers have sugar content or oils, which might harm the frother. So it's something that you can try but at your own risk. My one advise is to not let the creamer dry in the jug, but wash it as soon as possible.
Is Nespresso Aeroccino Worth It?
Absolutely! But only if you drink milk based coffee drinks (cappuccino, lattes, macchiato…)
The convenience and ease of use it provides, along with its durability, makes it an essential kitchen appliance for any coffee lover. Not only is it easy to use and clean, but with just a press of a button, you can have nicely heated and frothed milk for your coffee. Want it cold? You can make that too!
Plus it's an affordable accessory, especially if you choose to bundle it with your Nespresso machine purchase. – adding a high-end cafe experience to your kitchen without breaking the bank. So if you love coffee, it's definitely worth considering investing in a Nespresso Aeroccino Milk Frother. You won't regret it!
Your second option would be to buy a Lattissima with built-in milk frother. Read about the difference between Lattissima vs Aeroccino here. Also, read the difference between Aeroccino and a steam wand.
Nespresso Aeroccino Compared To Other Brands
Nespresso Aeroccino vs. Breville Milk Cafe
| | | |
| --- | --- | --- |
| | Aeroccino 4 | Breville Milk Cafe |
| Housing | Stainless Steel | Stainless steel |
| Interior | Ceramic coating | Stainless steel |
| Adjustable temperature | Hot/Cold | cold stir, warm, 120F, 140F, 160F |
| Add Ingredients | No | Yes |
| Capacity | One serving | 750 MLS |
| Dishwasher Safe | Yes | Yes |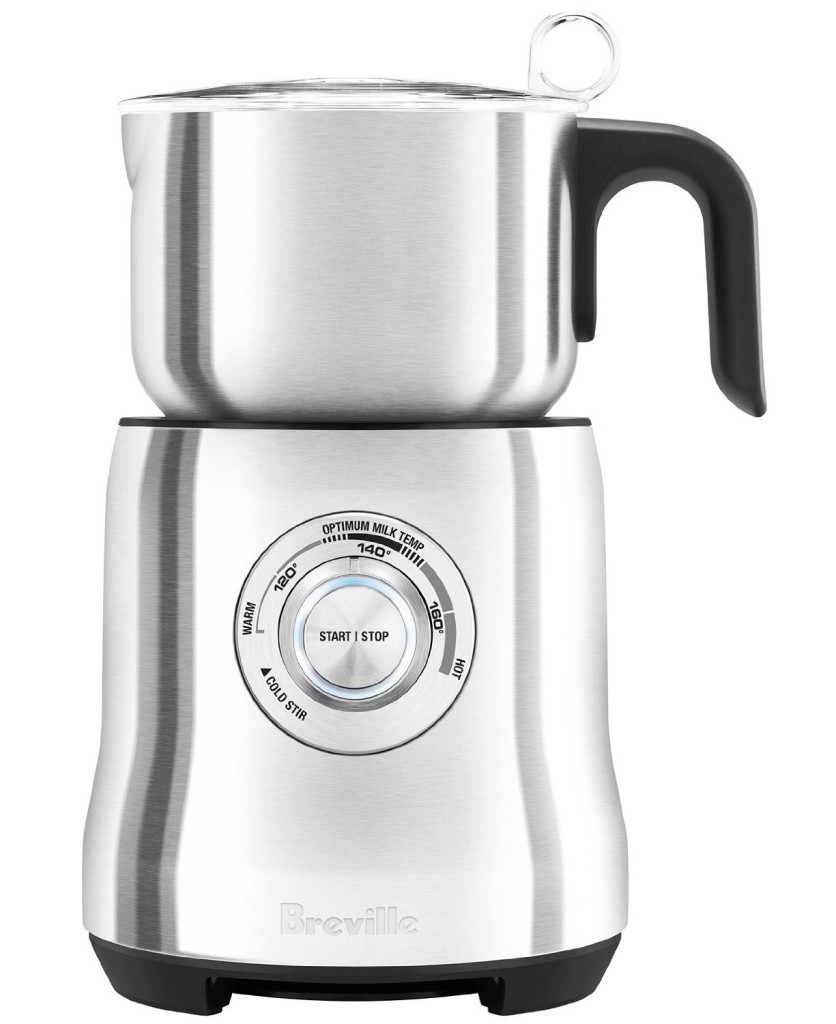 Breville's Milk Cafe is a personal favorite. Like everything else Breville does, this appliance excels at what it's supposed to do. It has many features that we're yet to see in a milk frother from other brands:
First things first, the Breville frother is fully stainless steel. That's exterior and interior. It's more durable and there's no risk of any coating peeling after a while of use.
Instead of the usual pitcher that sit into an electric base, the Breville jug has zero electric parts in it. The base of the frother uses induction heating to transfer heat.
You have full control over the temperature of your froth. Starting from cold stir, warm, 120F, 140F, 160F or over for really hot milk/froth.
Breville knows that frothing milk isn't just for coffee, so it allows you to add ingredients directly into the frother as it heats or whisks the milk. You can add chocolate shavings, syrups, green tea powder or anything you like.
It has a large capacity of 750ml.
Includes two whisks.
Click here to learn more about the Breville Milk Cafe, read the customer reviews and buy it. (Amazon Link)
Nespresso Aeroccino vs. Secura Milk Frother: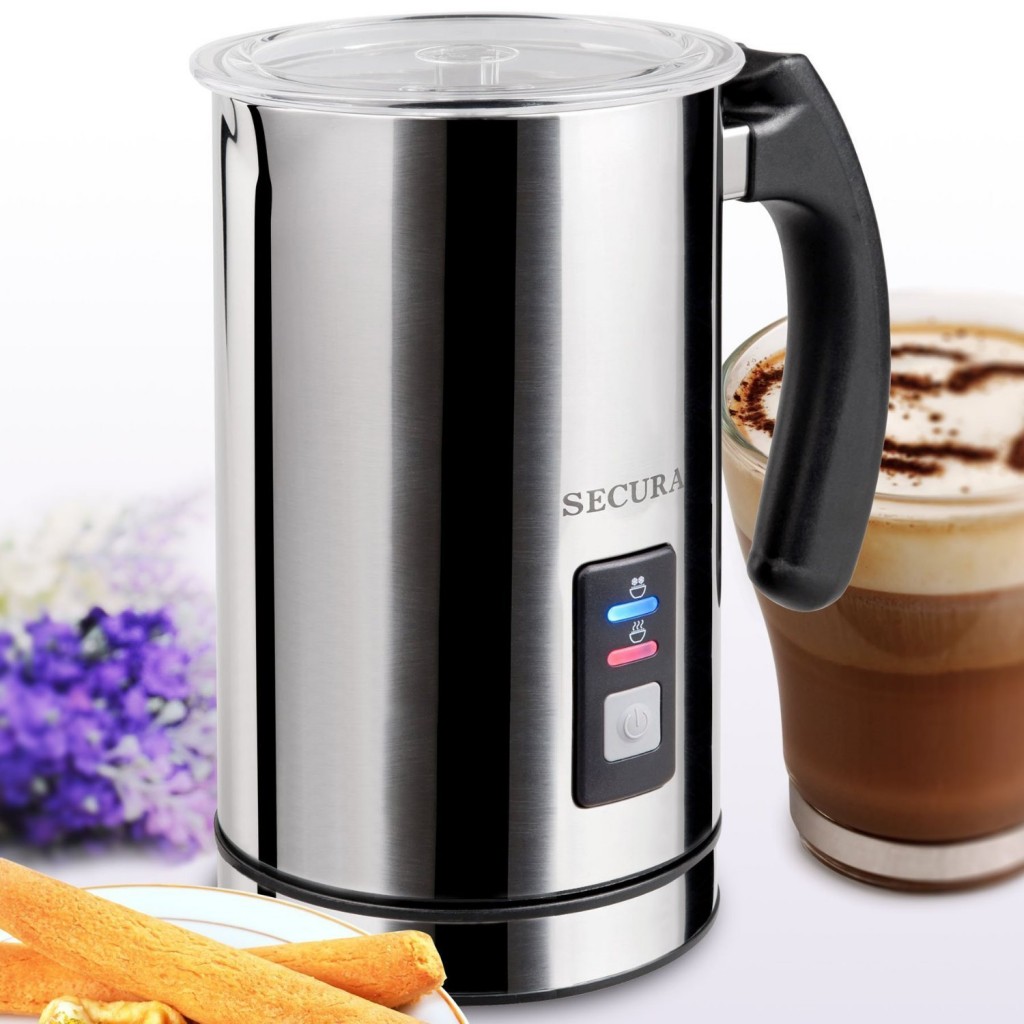 The Secura Frother is a great budget friendly choice for a milk frother:
It makes hot or cold froth. One button operation.
Includes two whisks.
Stainless steel exterior, Teflon interior.
NOT dishwasher safe.
Max capacity for froth: 125 ml, Max capacity for hot milk 250ml.
This model is more comparable to the Aeroccino 3 and nearly has the same features but at a more accessible price.
Click here to learn more about Secura Milk Frother, read the customer reviews and buy it. (Amazon Link)
What To Look For When Buying a Milk Frother
As you can see, majority of milk frothers have a lot in common, and they'll vary greatly in price, which only makes your shopping difficult. So here are some tips that should help you out when picking a frother:
Will you be making hot and cold froth? This should be a basic feature in your frother.
Do you want to add in ingredients to your milk as it froths? I know a lot of companies advice against this, especially when it's not a detachable jug like the Breville for example, but I've personally tried adding chocolate powder to the milk as it heats and froth, using an Aeroccino. Here's what I've come to realize: it is very doable, but you need to wash your frother right away so the sugar won't stick to the coating and dry. But if you're planning on using a lot of ingredients, it's better that you pick something like the Breville milk cafe, which is dishwasher safe and easier to clean.
If you're going to use milk alternatives, then I might have bad news for you. These type of milks provide a variety of different results, no matter what frother you use. You just never know what froth you're going to get! It will take a lot of experimentation and trying out different brands until you get the right froth.
If all you want is simply one cup of hot (or cold) frothy milk, a generic frother will do just fine.