Electric milk frothers are an essential kitchen tool for anyone who loves the taste of a good cup of latte or cappuccino. With the right electric milk frother, you can create creamy, delicious foam in seconds – without having to spend time and energy manually whisking by hand.
One of the down sides of 'some' electric milk frothers is the fact that they use Teflon as their nonstick coating so the milk does not stick as it heats and froths. Teflon is one of the least durable coating materials out there, it chips and it can actually be harmful and toxic.
I salute you on being health-conscious and looking for a non toxic electric frother!
In this post, I will list the best electric milk frothers with stainless steel interior. With means, these milk frothers are without nonstick teflon coating, they are safer to use and more durable.
Best Electric Milk Frothers with Stainless Steel Interior
Breville Milk Cafe Frother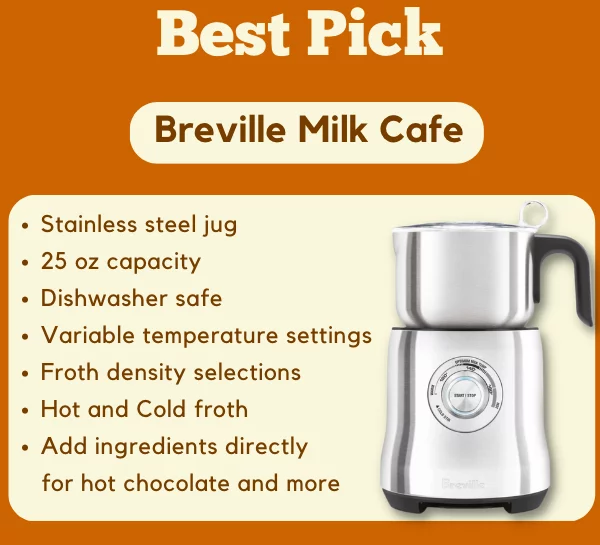 The Breville Milk Cafe Frother is a highly rated appliance for anyone who loves the perfect cup of latte or cappuccino. This electric milk frother makes creamy or high foam in just a minute and without using any nonstick coating at all with its generous 25oz/ 3 cup capacity jug that is made entirely of stainless steel. It also comes with a variety of accessories such as latte frothing disc, cappuccino frothing disc, measuring cap – making it one of the best choices on the market today.
One of the great features of Breville Milk Cafe is adjustable temperature. It has four settings – cold stir, warm, optimum temperature and hot. That ranges from 120F to 160F for the hot milk settings.
Breville Milk Cafe is not for coffee drinks only. In fact, one of its great design features is that you can add ingredients directly to it. An opening in the lid allows you to add ingredients such as cocoa powder, chocolate pieces, Matcha powder, syrups…. as the milk spins to create richer and creamier beverages.
You can rest assured that your milk will remain safe from potential health hazards since this frother does not use any nonstick coating for its construction materials.
As for cleaning, you can clean the jug by hand or place it safely in the dishwasher.
Specs Overview of Breville Milk Cafe
Accessories
Latte Frothing Disc
Cappuccino Frothing Disc
Measuring cap for measuring and adding ingredients once mixing has started
Dimensions (WxDxH)
Construction Materials
Capacity
Settings
Cold Stir, Warm, Optimum Temperature & Hot
Power
Warranty
1 Year Limited Product Warranty
Assist Lid
Jug lid with unique ring pull design ensures the lid is easy to remove yet sealed tight during operation
Smeg Retro Milk Frother
Smeg Milk Frother has a 22 oz stainless steel detachable jug that is comparable to Breville's Milk Cafe. It can effortlessly heat and froth milk for the perfect cappuccino, latte macchiato, or flat white as well as prepare instant drinks such as thick hot chocolate or cool foamy milkshakes! The frother guarantees great results every time so you will never be disappointed with your beverage creations.
This frother features 6 pre-set programs, as well as a manual function for preparing hot or cold beverages – either with foam or no foam. The control knob is clearly marked with an icon representing each program, making it simple to use. An illuminated start/stop button lies at its center when actively used. With various whisks included you can control the density of the froth you are creating.
While Smeg frother allows you to create hot and cold froth, it does not have variable temperature selection.
Specs of Smeg Milk Frother
Programs/Settings:
hot chocolate, hot milk, hot light foam (for lattes), hot dense foam (for cappuccino), cold light froth, cold dense froth. Manual selection for running the frother and stopping it manually.
Included Accessories:
Dishwasher Safe?
Yes- Stainless steel jug only.
Item Dimensions LxWxH
Power:
Maestri House Milk Frother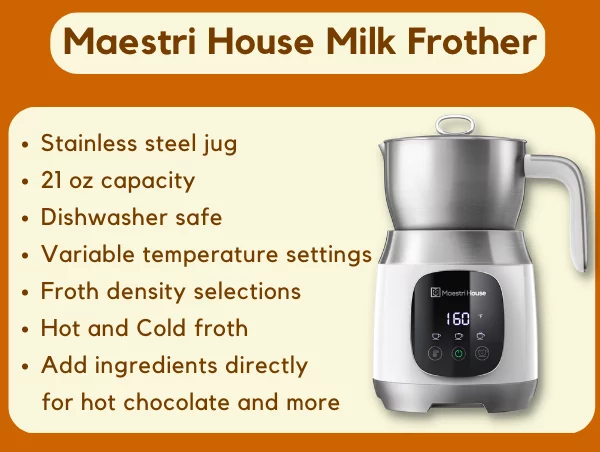 This frother by Maestri House is a copy-cat of Breville's The Milk Cafe frother, but for a cheaper price point. It features a 21 oz stainless steel jug, fully removable and dishwasher safe. It has variable temperature settings from 120F to 160F. It also has three foam density settings. While it does not have 'cold foam' setting, per se, it has a feature called 'room temperature', which creates foam without heating the milk. So adding cold milk while selecting this option creates cold foam for you.
Like both the Breville Milk Cafe and Smeg Frother, this frother by Maestri allows you to add ingredients into your milk as it froths, which makes it just as versatile as the other models.
The controls on the Maestri House milk frother are touch based. It has a small display for the temperature indicator, as well as several icons for your settings and selections. A memory function can save your last setting and allows you to use it with one press.
Specs of Maesrti House Milk Frother
Settings:
3-density selection: low, medium, high.
Temperature Settings:
Room temperature, 120, 140, 160F.
Dishwasher Safe?
Yes – Stainless steel jug only.
Which Electric Milk Frother with Stainless Steel Interior Should You Buy?
My favorite overall pick is Breville Milk Cafe, for sure. For starters, it is the first brand to come up with this type of induction heating/stainless steel jug model for a frother, and for years, they're still the top rated brand with over 5,500 five-star reviews.
The Milk Cafe ticks all the boxes:
Variable-temperature, large stainless steel jug, froth selection, hot and cold foam.
Second pick would be the Maestri House frother. It's a budget-friendly copy cat of the Breville Milk Cafe that can offer a similar experience without the big price tag.
Last comes the Smeg milk frother, simply because of its high range price. It's a high-end brand name, and the frother comes in Smeg's iconic retro design but the features it packs does not justify its price. It has a good set of settings, but it's still missing variable temperature selection which both Breville and Maestri frothers offer.
Electric Milk Frother Stainless Steel vs Teflon
Why should you pick an electric milk frother with stainless steel interior over nonstick teflon?
Not only is stainless steel a healthier option than Teflon, but it also offers an aesthetic appeal to any kitchen. Plus, you don't have to worry about the coating coming off and getting into your food. Stainless steel will last longer and does not corrode or rust, meaning that with proper care and maintenance, your appliance should last for years to come!
And when it comes to cleaning, it's always the easiest to clean and maintain. Stainless steel is always dishwasher safe, and if you choose to wash it by hand, residue rarely sticks and easily slips off.
Can I Froth Non Diary Milk? Oat Milk, Coconut, Almond…?
Califia Farms - Original Almond Barista Blend Almond Milk 32 Oz (Pack Of 6), Shelf Stable, Dairy Free, Plant Based, Vegan, Gluten Free, Non GMO, High Calcium, Milk Frother, Creamer
Califia Farms - Oat Barista Blend Oat Milk, 32 Oz (Pack of 6), Shelf Stable, Dairy Free, Plant Based, Vegan, Gluten Free, Non GMO, High Calcium, Milk Frother, Creamer, Oatmilk
Pacific Foods Barista Series Coconut Milk, 32 Ounce (Pack of 2)
Califia Farms - Original Almond Barista Blend Almond Milk 32 Oz (Pack Of 6), Shelf Stable, Dairy Free, Plant Based, Vegan, Gluten Free, Non GMO, High Calcium, Milk Frother, Creamer
Califia Farms - Oat Barista Blend Oat Milk, 32 Oz (Pack of 6), Shelf Stable, Dairy Free, Plant Based, Vegan, Gluten Free, Non GMO, High Calcium, Milk Frother, Creamer, Oatmilk
Yes, absolutely. Whichever of these frothers you choose, you can use any type of milk you want. Dairy or non dairy. But always keep in mind that with non-dairy milk, results vary due to different fat content in each type of milk.
For the best froth, choose a non-dairy brand that is specially formulated for coffee use, which usually have Barista or Barista Edition written on them.
The Wrap Up…
When it comes to milk frothers, stainless steel is the way to go. Not only does it last longer than non-stick coated models and provide a more stylish aesthetic for your kitchen, but you don't have to worry about any potential toxins getting into your food either. With so many options available on the market today, you can find one that meets all of your needs – from variable temperature settings, foam density levels and even memory functions – there's something out there for everyone! Whether you prefer dairy or non-dairy milks, these top three picks are sure to help make delicious lattes or cappuccinos in no time at all.
Related Read: