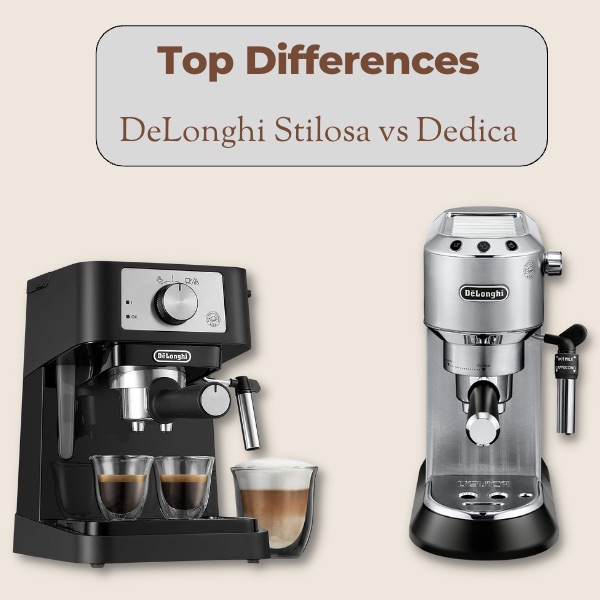 the Stilosa is one of DeLonghi's long time best sellers, and recently, Dedica is another model that has been topping the charts. In this post, I look over the difference between DeLonghi Stilosa vs Dedica, what makes one better than the other and which should you choose.
Difference Between DeLonghi Stilosa EC260 vs Dedica EC685
Dedica is a newer model compared to Stilosa, but that's not where it ends. These are two different type of espresso machines, actually.
Type of Espresso Machine
DeLonghi Stilosa is a manual espresso machine
DeLonghi Dedica is a semi automatic espresso machine
This means that using the Stilosa, you are manually starting and stopping the flow of espresso, which can lead to different results every time you make a shot.
With the Dedica, stop flow is automatic. You can select single or double shot from the control panel and the machine will automatically brew the correct amount. You also have the option of reprogramming the volume of each shot, so you're not limited to factory settings.
Heating System
the Stilosa using a stainless steel boiler, while the Dedica using a ThermoBlock heater.
a boiler is generally slower and less powerful that a ThermoBlock heater, which can help you switch between steaming and extracting quicker.
Group Head
The Stilosa has a surprising advantage over the Dedica with a heated group head (the part where the portafilter attaches to the machine). Having a heated head means that your espresso will brew at a more stable and hotter temperature.
On the other hand, the Dedica does have three brew temperature settings that you can use for a hotter brew. The heated brew group will make for better results, though.
Steam Wand
The Stilosa and Dedica Deluxe models use the same paranello style steam wands. However, Dedica's steam wand is adjustable, using the adjustment attachment, you can set the frother to make light no foam milk or dense cappuccino milk. With the Stilosa, this is manual and up to you how light or dense the froth is.
If you choose to upgrade to the Dedica Arte model, you can get a much better professional steam wand that gives you better control over your milk texturing.
Design
The Dedica has a slimmer design and profile, and it also uses better build material with full stainless steel housing. While the Stilosa using mostly plastic housing, but it's still small in size. It just looks outdated when compared to the modern design of the Dedica, which is available in different colors, too.
Included Accessories
Both models include DeLonghi's basic bundle of accessories: portafilter with two filter baskets, a plastic scoop/tamper combo. None of them includes a milk jug, so make sure to add that to your purchase.
Which Should You Buy – DeLonghi Stilosa or Dedica?
The DeLonghi Stilosa and the Dedica are both great machines for home use. The Stilosa will be better for those people who don't mind a bit more manual control AND want to save money, while the Dedica would be better with its modern design, better build quality and improved features. Ultimately, it depends on what you want and need from an espresso machine. If you're looking for a more advanced espresso machine, then the Dedica would be your best choice. On the other hand, if manual control is not a deal breaker to you and you don't need all the bells and whistles of the newer model, then go with Stilosa. If you choose to go for the Dedica Arte, you'll get a much nicer steam wand that can create micro-foam texture for latte art.
Related Comparisons
Frequently Asked Questions
Is the DeLonghi Stilosa Pressurized?
Yes, it's a pressure pump machine and it uses pressurized filter baskets to brew espresso.
Does the Stilosa or Dedica Grind Beans?
No, none of them have an integrated grinder. You'll have to use either pre ground coffee or buy a grinder separately.
Does the Stilosa or Dedica Use Pods?
They can use ESE pods, but not coffee capsules such as Nespresso or K-Cups.
What Type of Coffee Should I Use?
You can use any type of coffee with either the Stilosa or Dedica. Just make sure it's ground for espresso use, which is fine grounds.
Features of DeLonghi Dedica Deluxe
The DeLonghi Dedica Deluxe is an impressive espresso machine that packs a lot of features into a small and sleek form factor. This machine offers a 15-bar professional pressure to ensure quality results, adjustable controls for personalized preference, and an adjustable premium frother for making delicious espresso-based drinks with ease. The automatic flow stop feature dispenses the right amount of espresso, and the double drip tray can be adjusted or removed to fit taller cups. With a modern design, easy-to-use controls, and all the features you need for a truly authentic café experience at home, it's hard to beat this machine.
Features of DeLonghi Stilosa Espresso Machine
The DeLonghi Stilosa manual espresso machine is an excellent choice for anyone who is looking to make quality espresso at home. This reliable and well-crafted machine has a 15 bar pump that ensures optimal pressure for a single or double espresso. the extraction process is manual, and so is the use of steam wand to texture milk for lattes and cappuccinos. It also comes with a stainless steel boiler designed to last for years and a two-level cup holder that makes it easy to accommodate taller cups. Plus, it's compatible with ESE Pods for added convenience. The exterior of the machine is made out of plastic, but its sturdiness ensures it will hold up to daily use.
In conclusion, the DeLonghi Stilosa manual espresso machine is an excellent choice if you want to enjoy quality coffee drinks in the comfort of your home without spending too much money. Its features are designed to make it easier to brew espressos, lattes, and cappuccinos while ensuring durability and ease of use – all of which make this an ideal purchase for any coffee lover.