DeLonghi Dedica is one of the popular picks for a semi-automatic espresso machines that is compact in size and very easy to use. I use my DeLonghi Dedica every day without any issues.
This post is a comparison between the DeLonghi Dedica Deluxe vs Dedica Arte, and I'll tell you exactly why you should buy the Dedica Arte instead of the Deluxe, based on my own experience.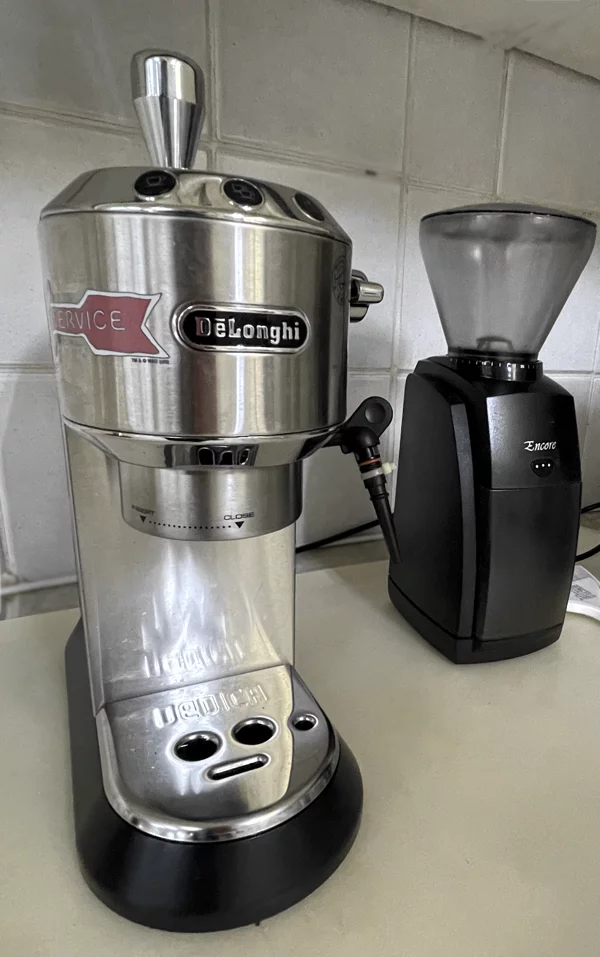 DeLonghi Dedica Deluxe vs Dedica Arte – The Differences
DeLonghi Dedica Similarities
There are a set of features that you will find in every DeLonghi Dedica model:
15-bar pump pressure
Thermoblock heating system
51mm pressurized portafilter
reprogrammable buttons for single shot and double shot.
Stainless steel housing
That's the basics of the DeLonghi Dedica. Now you have to decide between the Dedica Arte, which is the newest release, or the Dedica Deluxe.
DeLonghi Dedica Arte vs Dedica Deluxe
The main difference between DeLonghi Dedica Arte and Dedica Deluxe is the steam wand. DeLonghi Dedica Art features a professional style steam wand while the Dedica Deluxe using a Panarello style frother.
DeLonghi has updated the famous Dedica to include a new steam wand. The Dedica Arte EC885 model now has a more professional steam wand that produces micro foam and will allow you to make beautiful latte art. DeLonghi calls it 'My LatteArt' Steam Wand.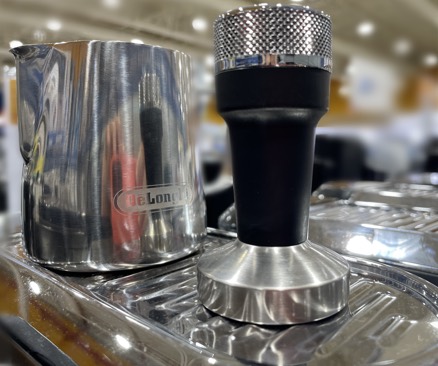 Using this type of steam wand requires some practice before you're able to produce quality milk texture. Once you get it right, you'll be able to achieve silky micro-foam milk texture that you can use to make latte art. But if you prefer easier, and more dense milk foam, you might prefer the frother on the Deluxe version better.
DeLonghi Dedica Arte vs Dedica Deluxe – Which To Pick
I recommend buying the DeLonghi Dedica Arte for its great steam wand, even if it requires some practice until you can achieve the perfect milk texture.
Personally, using my own Dedica Deluxe, which I bought before the release of the Dedica Arte, I struggled with the Panarello frother which made froth easily, but it was denser than what I prefer. To fix this issue, I removed the Panarello slip and now I'm using the plastic tip only froth the milk and to achieve better texture (see picture above for reference). Had the Dedica Arte been available for me, I would have absolutely picked it over the Deluxe version.
Related Comparisons
DeLonghi Dedica Arte vs Breville Bambino
DeLonghi Dedica Review
My Personal Experience with DeLonghi Dedica Deluxe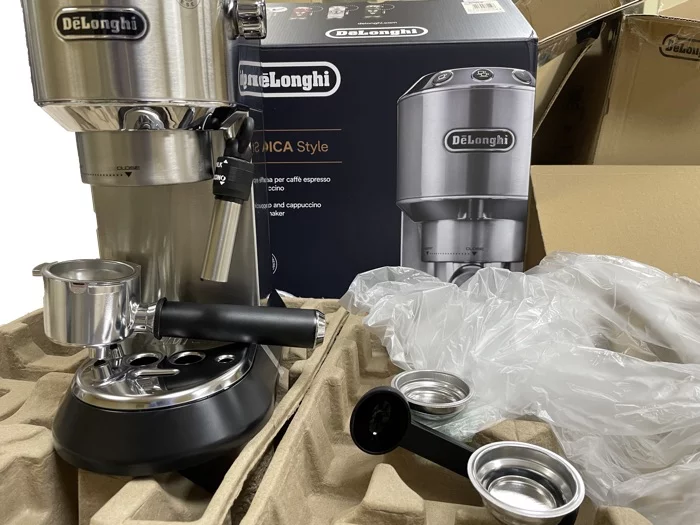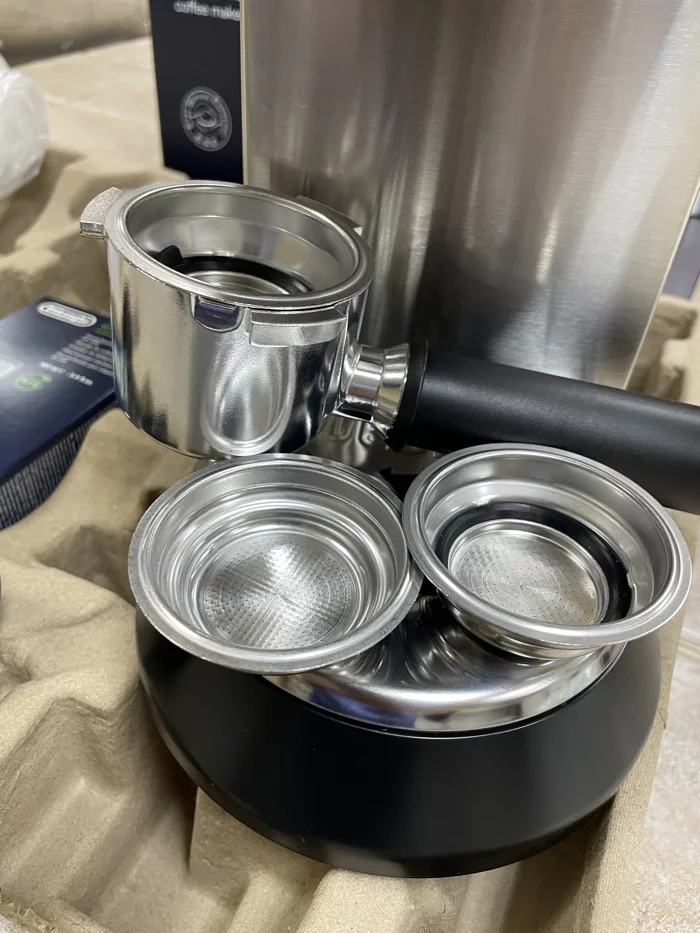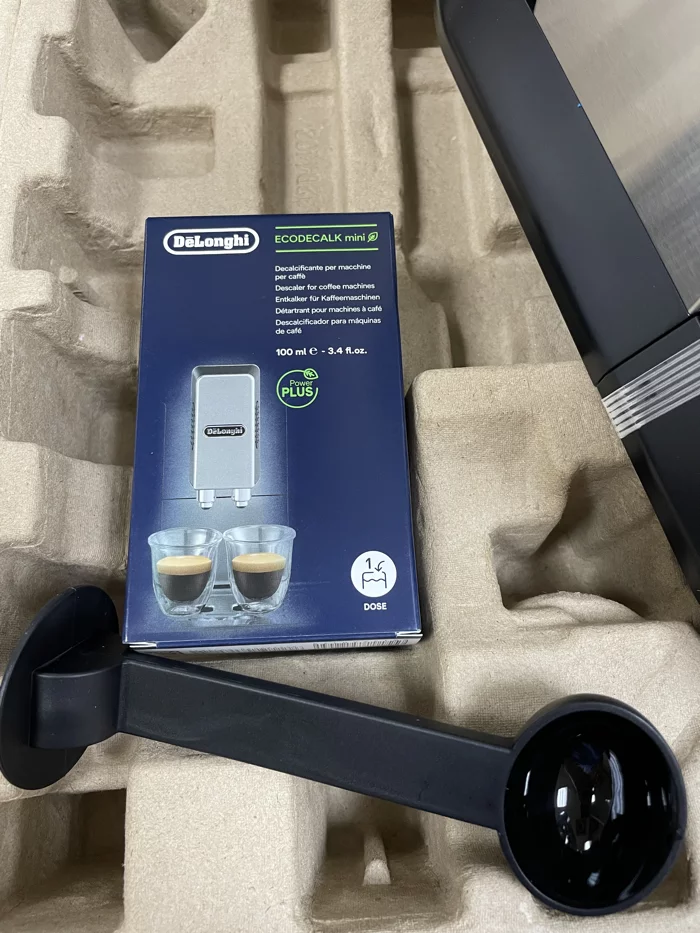 DeLonghi Dedica Included Accessories
portafilter with three baskets: single dose, double dose and an e.s.e pod adapter.
Plastic scoop with tamper.
Descale solution – which you don't need to use until the descale alert turns on.
DeLongi Dedica Portafilter and Basket Capacity
The single dose basket holds up to 7g of coffee grounds, while the double dose basket holds up to 12g of coffee at most. There's also the ESE pod basket, but I haven't use that one.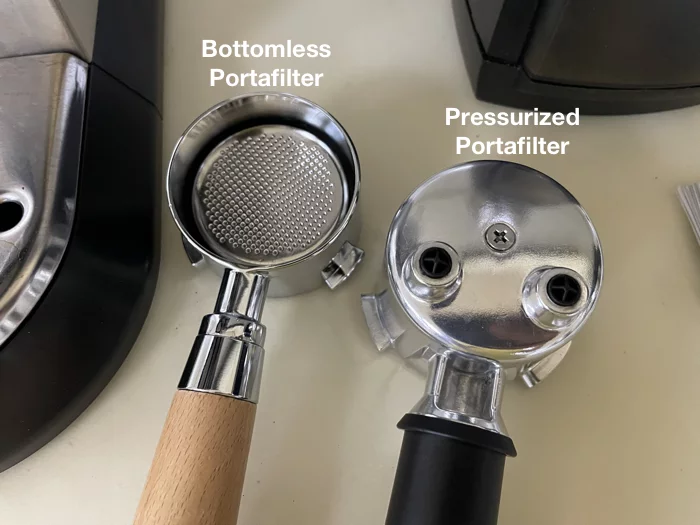 The included portafilter is pressurized, which is a better choice for a beginner. Pressurized filters are more 'forgiving' when it comes to grind size. It'll help you get a decent shot even if your grind is a little off or if you didn't tamp your coffee correctly. But on the downside, 12g is pretty much is its max capacity.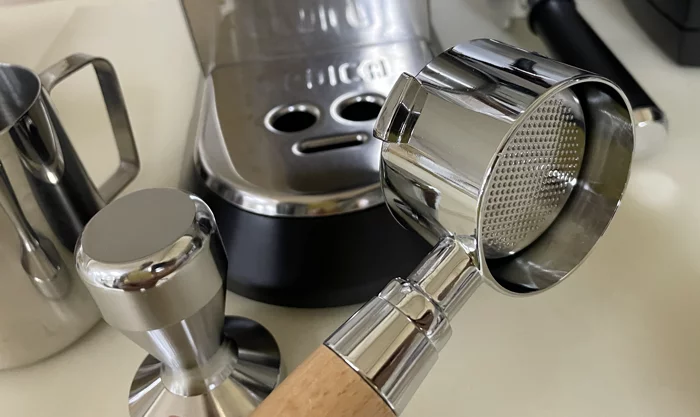 I would recommend that you start with the included portafilter, then as you get a hang of the machine, you can get yourself a bottomless portafilter, which can hold up to 18g of coffee grounds, but does require precise grind size and a perfect tamp to get a good shot of espresso.
The grinder I use the the original Baratza Encore, which wasn't perfect for a bottomless portafilter, even at the finest espresso setting. I would recommend the new improved Baratza Encore ESP, which is adjusted for better espresso fine settings.
DeLonghi Dedica Tamper and Frothing Pitcher
The Dedica Deluxe does not include a pitcher, which is such a shame. But luckily, it can be purchased separately from any brand, and it's not expensive at all, so I highly recommend that you add it to your order if you're buying a Dedica deluxe.
The included plastic tamper is usable, but it's not great. Adding a decent stainless steel tamper would make a great difference. Tampers are widely available, too, and can be purchased for a reasonable price.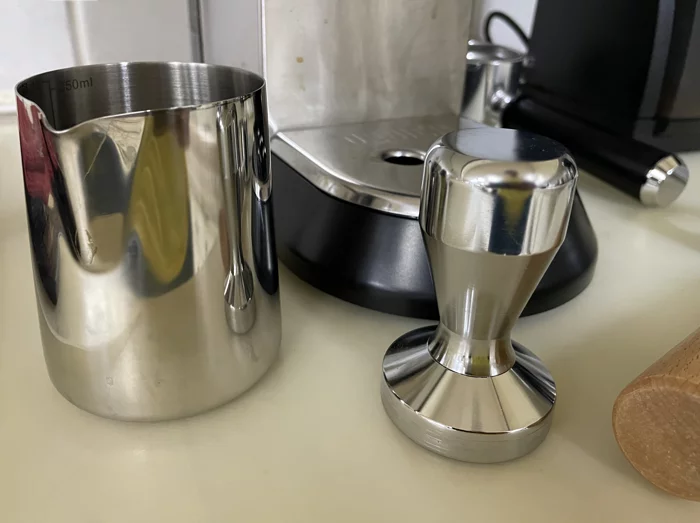 So I do recommend that you add a pitcher and a stainless steel tamper to your purchase of the Dedica Deluxe. When buying a tamper, you'll want size 51mm.
DeLonghi Dedica Steam Wand
The Dedica Deluxe has the 'Panarello' steam wand, which helps you create a high foam for Cappuccino easily. If you want lighter foam, you can simply switch the selector to 'hot milk'. The wand also doubles as a hot water dispenser.
The wand does exactly what it promises. For a beginner, it's easy and simple to use. But if you want decent micro foam for latte art, this isn't the best choice.
However, there are several ways that you can use that same wand to get great micro foam: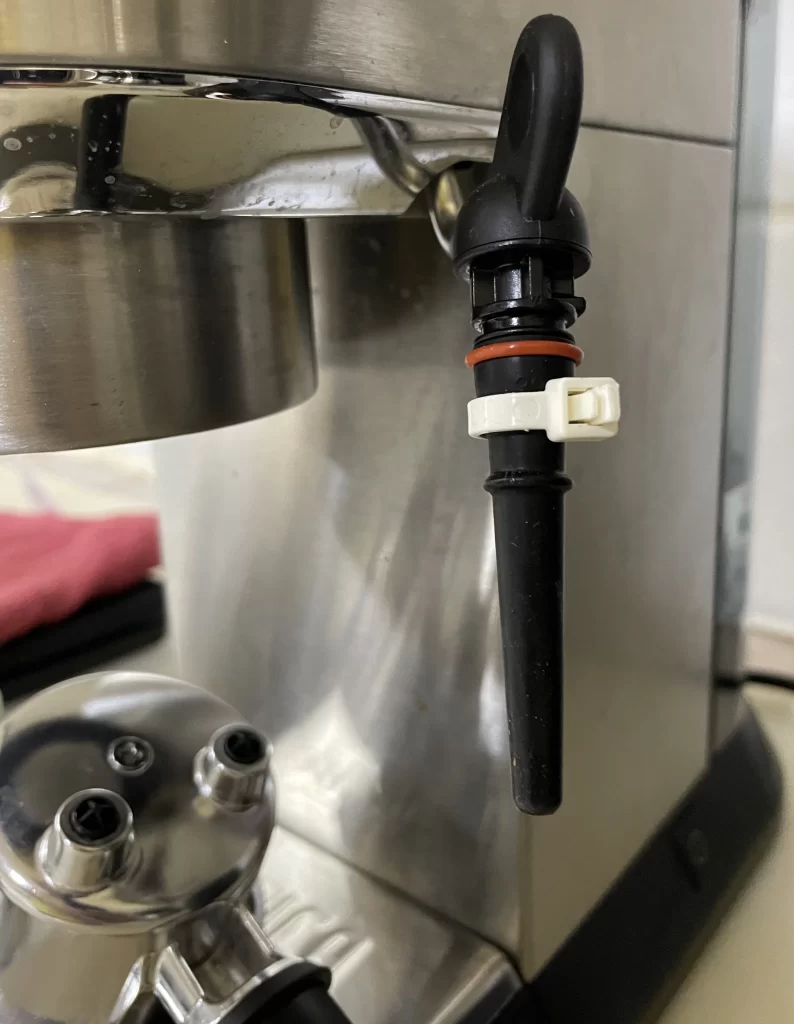 Remove the Panarello attachment from the wand and use the nozzle on its own. Doing that, the steam jets through the milk stronger. But because it does become stronger, you'll need to tighten that plastic nozzle to secure it in place, otherwise it will most likely fly off while you are steaming the milk (yup, it flew off on me and splashed milk all over).
The other way is to modify the machine and replace the entire frother all together. You can purchase a professional steam wand and easily attach it to the Dedica Deluxe. But honestly, with the Arte model available, I would just buy the Arte instead of doing this modification process. If you already own a Deluxe though, this is a great and cheaper option to upgrade your machine.
The Verdict
The Dedica Deluxe is a decent machine for a beginner. You can get really high quality drinks, but they don't come without the learning curve. The machine itself is easy to use, but the process of preparing a good shot of espresso and a nicely frothed milk is one that needs some practice.
The steam wand is good enough. If you like a high cappuccino froth, you can easily get it without much work, thanks to the Panarello attachment.
But if you're someone like me, who prefers micro foam, you'll have to do a lot of practice. Micro foam can be achieved using the Panarello wand following some 'hacks', or you can remove it and practice using the wand without it. Either way, you're in for some practice time before you get things right. As for the option of modifying the wand, I wouldn't recommend you buy the Deluxe and modifying it, buy the Dedica Arte instead, which already has a professional wand.
DeLonghi Dedica Related Questions and Answers
Does DeLonghi Dedica Take Pods?
It is compatible with ESE pods (Easy Serving Espresso pods) but not capsules such as Nespresso, for example. It includes a filter basket just for that.
What Kind of Coffee Should I Use?
Use your favorite coffee beans, any type you like, as long as yo grind it properly for espresso use. You'll want finely ground coffee to make a good shot of espresso.
Does the Dedica Grind Beans?
No, it does not have a built-in grinder. You'll want to have a grinder if you don't already have one. Scroll below for the recommended grinder.
Related Comparisons