I have already featured DeLonghi's Dedica espresso maker on this site before. This espresso maker has been a favorite, especially as a choice for beginners, since it packs a lot of great features without any of the complications.
DeLonghi has released an upgraded version of the Dedica, named the Dedica Deluxe EC685M. It looks identical to the Dedica, but it's more expensive. So is there any new features that are worth the extra bucks? And if you already have a Dedica machine, is it worth it to upgrade?
DeLonghi Dedica vs Dedica Deluxe vs Dedica Arte?
Upgrades in the Dedica Deluxe vs Dedica
The steam wand now has a switch that allows you to adjust the level of foam. You can also just heat the milk without foaming. This is a great option to have more control over your milk texture, even if you're new to steaming milk.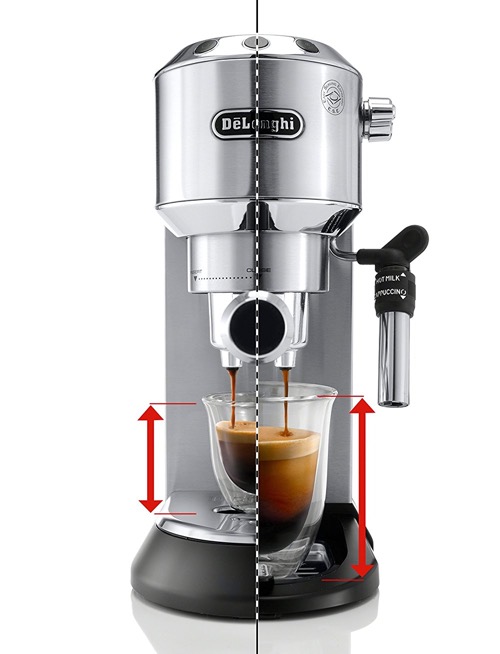 The machine can now accommodate taller cup sizes, such as latte cups. This is thanks to the double drip tray, so you can remove two trays instead of one.
DeLonghi Dedica Arte EC885M vs Dedica Deluxe
Again, DeLonghi has updated the famous Dedica to include a new frother. The Arte EC885 model now has a more professional steam wand that produces micro foam and will allow you to make beautiful latte art. DeLonghi calls it 'My LatteArt' Steam Wand.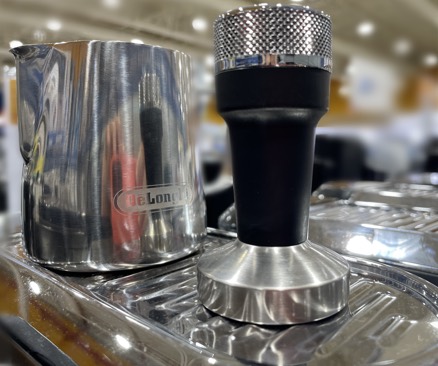 Using this type of steam wand requires some practice before you're able to produce quality milk texture. Once you get it right, you'll make high quality coffee drinks. But if you prefer easier, and more dense milk foam, you might prefer the frother on the Deluxe version better.
Should You Buy The Dedica, Deluxe or Arte Version?
If you already own the Dedica EC680M, should you upgrade to the newer model? If your machine is still working and in great shape, I really don't see the need for the upgrade. Your Dedica still has the best features of the machine, and you're still getting the same drink quality, so it wouldn't be worth it to upgrade.
If you're buying a Dedica for the first time, I would recommend you choosing between the Deluxe and Arte version: If you like creamier froths, want to learn and create latte art, go for the Arte version. It comes with a learning curve, but it'll be worth it. However, if you prefer denser type of foam, the foamier the better, the Deluxe version will be a better fit for you and an easier way to make foam.
Other than the steam wands, you'll get pretty much the same features.
DeLonghi Dedica Deluxe vs. Breville Bambino Plus – Which Is Best?
Breville's Bambino Plus is quite a unique machine that solves the one task most home users struggle with, milk texturing. This machine has a steam wand that will automatically froth and texture your milk to perfection. You have the option of selecting from three milk temperatures and three levels of textures. Select your desired customization and leave the rest to the machine.
If you feel like milk texturing is something that you want to learn and practice, you can save some money and go for something more affordable like the DeLonghi Dedica. This is the biggest difference between the two machines that can affect your buying decision, whether you want automatic frothing or not. Other features are nearly the same.
Related Comparisons
Features of DeLonghi Dedica Deluxe EC685M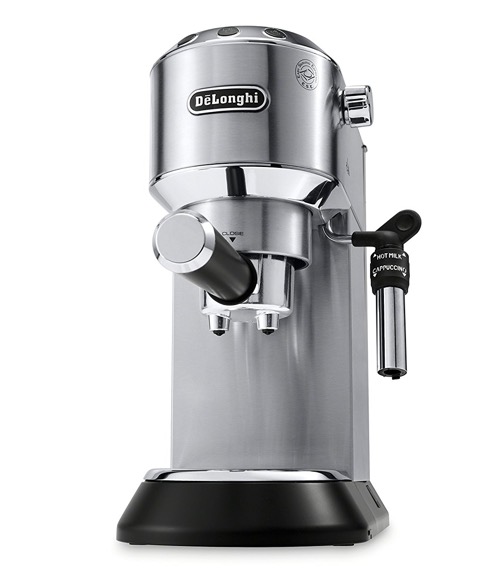 15-bar pressure espresso machine.
Automatic flow stop, choose from a single or double shot, and the machine will dispense the exact right amount.
Adjustable steam frother allows you to adjust the foam and steam level to create different milk styles for your desired coffee drink.
Double removable drip tray allows you to accommodate different and taller cup sizes by removing the tray.
Stainless steel housing.
35 oz removable water reservoir
Very sleek and narrow design makes the machine very convenient to keep in any counter space.
Available in variety of colors.
My Personal Experience with Dedica Deluxe (Review)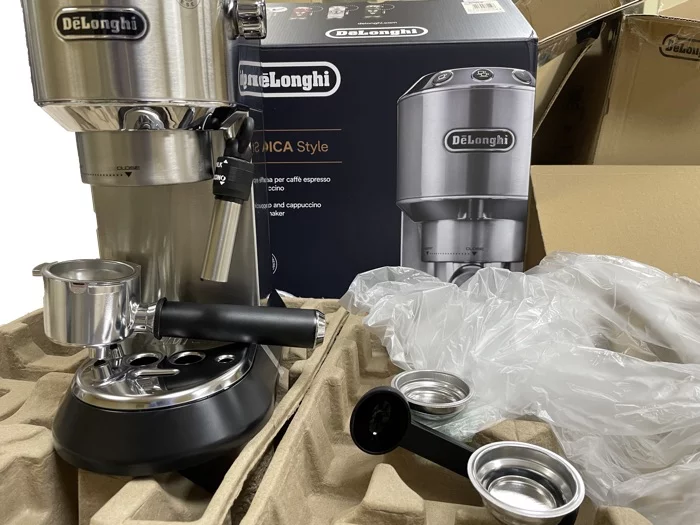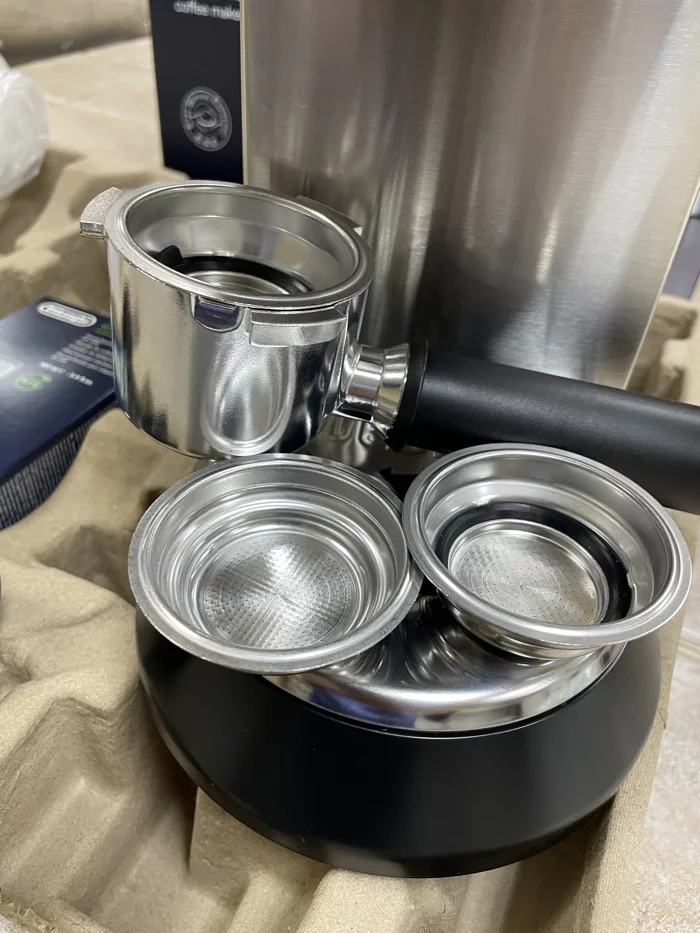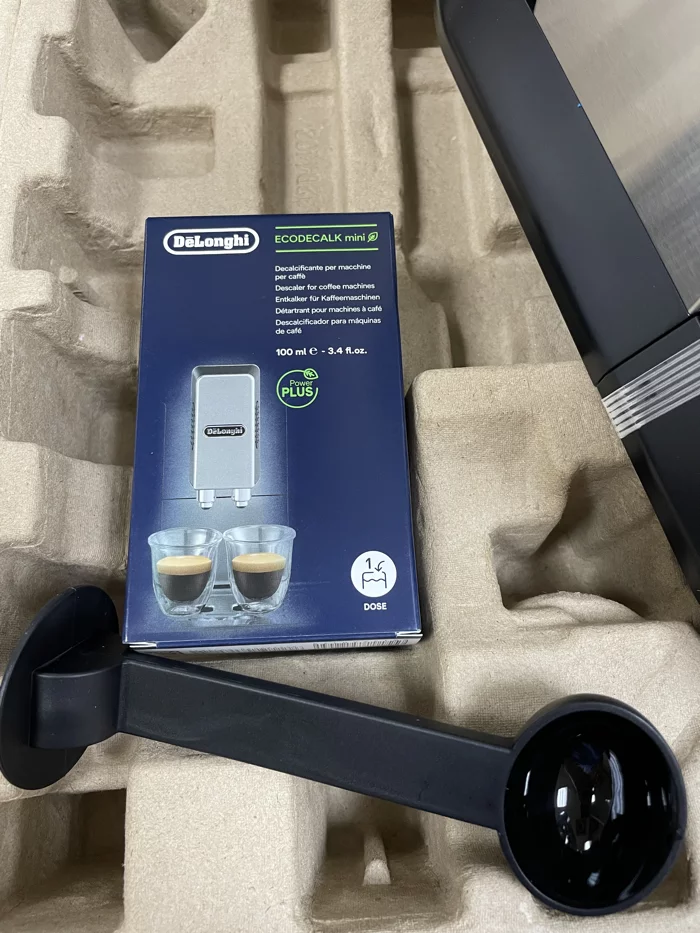 I'm an owner of the Deluxe model, so I can tell you a few things based on my experience. Let's start with what's in the box:
Included accessories are:
portafilter with three baskets: single dose, double dose and an e.s.e pod adapter.
Plastic scoop with tamper.
Descale solution – which you don't need to use until the descale alert turns on.
Portafilter and Basket capacity:
The single dose basket holds up to 7g of coffee grounds, while the double dose basket holds up to 12g of coffee at most.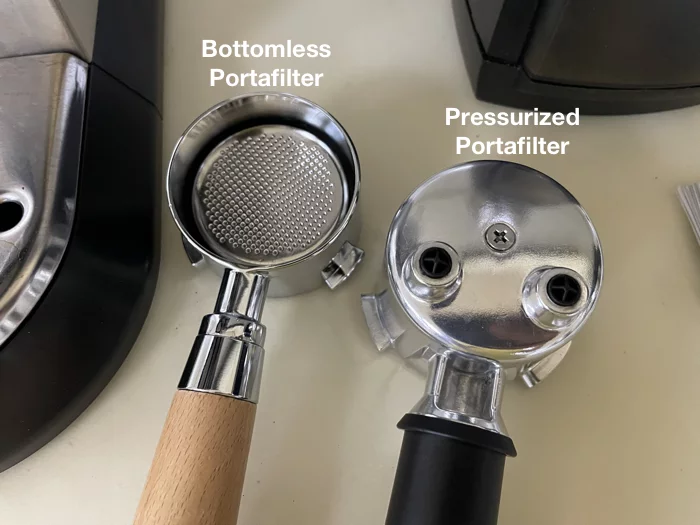 The included portafilter is pressurized, which is a better choice for a beginner. Pressurized filters are more 'forgiving' when it comes to grind size. It'll help you get a decent shot even if your grind is a little off or if you didn't tamp your coffee correctly. But on the downside, 12g is pretty much is its max capacity.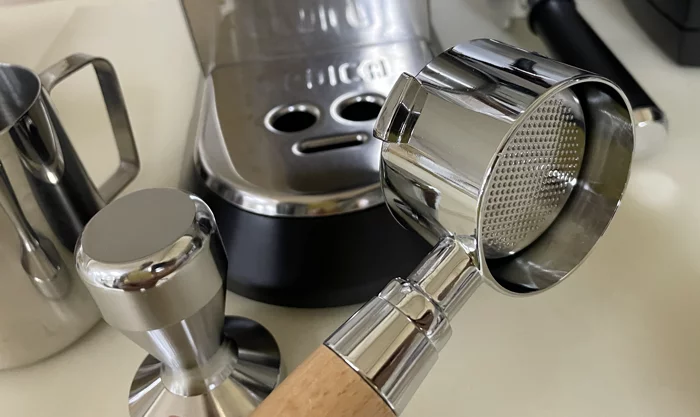 I would recommend that you start with the included portafilter, then as you get a hang of the machine, you can get yourself a bottomless portafilter, which can hold up to 18g of coffee grounds, but does require precise grind size and a perfect tamp to get a good shot of espresso.
Tamper and Frothing Pitcher:
The Dedica Deluxe does not include a pitcher, which is such a shame. But luckily, it can be purchased separately from any brand, and it's not expensive at all, so I highly recommend that you add it to your order if you're buying a Dedica deluxe.
The included plastic tamper is usable, but it's not great. Adding a decent stainless steel tamper would make a great difference. Tampers are widely available, too, and can be purchased for a reasonable price.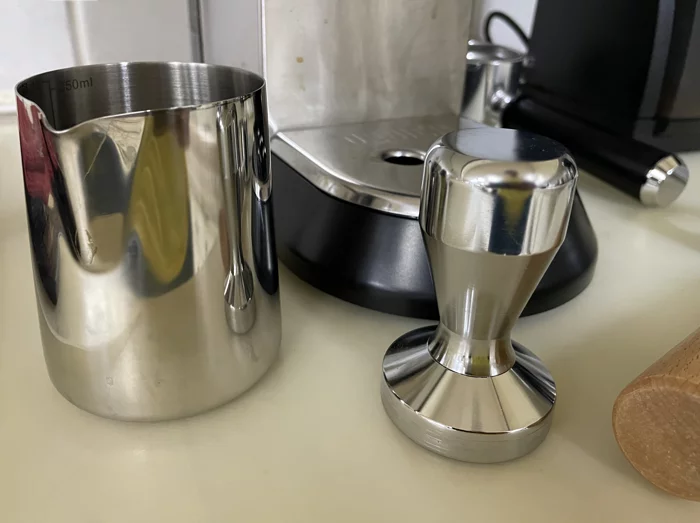 So I do recommend that you add a pitcher and a stainless steel tamper to your purchase of the Dedica Deluxe. When buying a tamper, you'll want size 51mm.
Steam Wand:
The Deluxe has the 'Panarello' steam wand, which helps you create a high foam for Cappuccino easily. If you want lighter foam, you can simply switch the selector to 'hot milk'. The wand also doubles as a hot water dispenser.
The wand does exactly what it promises. For a beginner, it's easy and simple to use. But if you want decent micro foam for latte art, this isn't the best choice.
However, there are several ways that you can use that same wand to get great micro foam: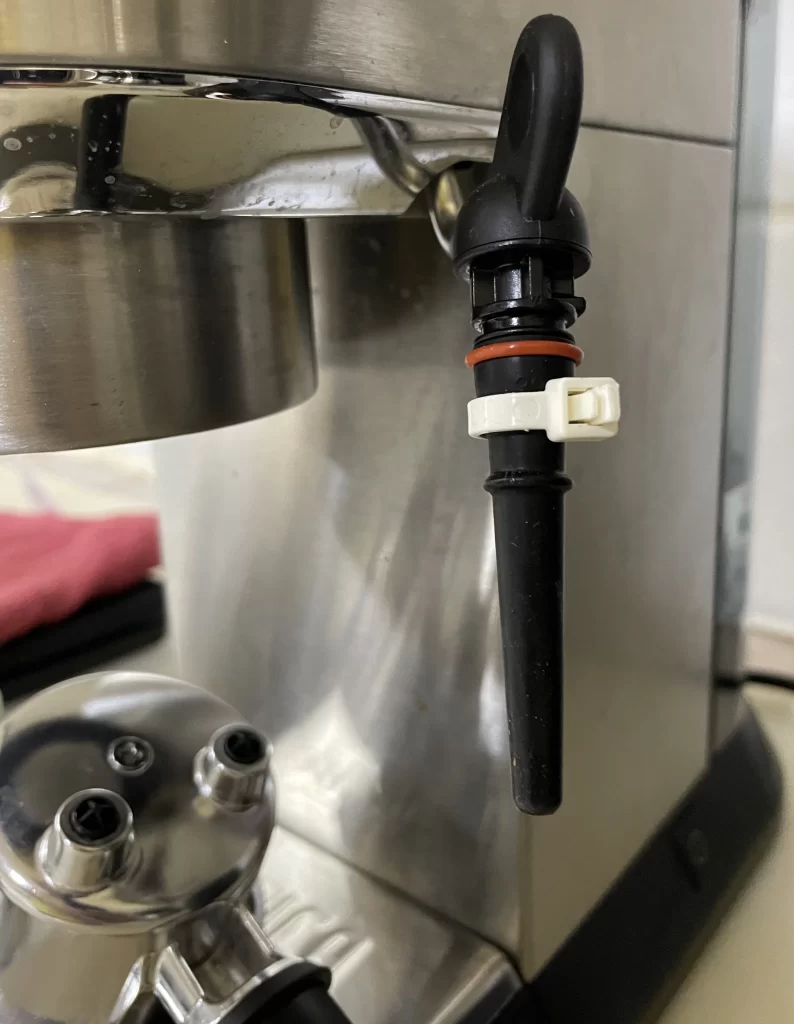 Remove the paranello attachment from the wand and use the nozzle on its own. Doing that, the steam jets through the milk stronger. But because it does become stronger, you'll need to tighten that plastic nozzle to secure it in place, otherwise it will most likely fly off while you are steaming the milk (yup, it flew off on me and splashed milk all over).
The other way is to modify the machine and replace the entire frother all together. You can purchase a professional steam wand and easily attach it to the Dedica Deluxe. But honestly, with the Arte model available, I would just buy the Arte instead of doing this modification process. If you already own a Deluxe though, this is a great and cheaper option to upgrade your machine.
Verdict:
The Dedica Deluxe is a decent machine for a beginner. You can get really high quality drinks, but they don't come without the learning curve. The machine itself is easy to use, but the process of preparing a good shot of espresso and a nicely frothed milk is one that needs some practice.
The steam wand is good enough. If you like a high cappuccino froth, you can easily get it without much work, thanks to the paranello attachment. But if you're someone like me, who prefers micro foam, you'll have to do a lot of practice. Micro foam can be achieved using the paranello wand following some 'hacks', or you can remove it and practice using the wand without it. Either way, you're in for some practice time before you get things right. As for the option of modifying the wand, I wouldn't recommend you buy the Deluxe and modifying it, buy the Arte instead, which already has a professional wand.
The Arte also comes with a pitcher and a great stainless steel tamper, so you don't have to purchase anything separately.
Dedica Related Questions and Answers
Does Dedica Take Pods?
It is compatible with ESE pods (Easy Serving Espresso pods) but not capsules such as Nespresso, for example. It includes a filter basket just for that.
What Kind of Coffee Should I Use?
Use your favorite coffee beans, any type you like, as long as yo grind it properly for espresso use. You'll want finely ground coffee to make a good shot of espresso.
Does the Dedica Grind Beans?
No, it does not have a built-in grinder. You'll want to have a grinder if you don't already have one. Scroll below for the recommended grinder.