We've mentioned both the DeLonghi Dedica EC680 and Gaggia Classic as two great choices for a beginner's first espresso maker. We know that many will disagree with us on this, these two espresso makers are not the cheapest and not the easiest to use. So on what basis did we decide to recommend them for a beginner?
Perfecting a shot of espresso isn't an easy task, it takes some practice until you get the ratio and timing right. The DeLonghi Dedica and Gaggia Classic will help you develop your skills, you get to really control your espresso shots manually or automatically. They're not the type of espresso makers that you'll use for a few months and then outgrow, these models will last you a long time before the need to upgrade. And that's why we recommend them as your first machines!
But the question now is, which one of them should you choose? Let's start by listing their features:
Features of the DeLonghi Dedica EC680M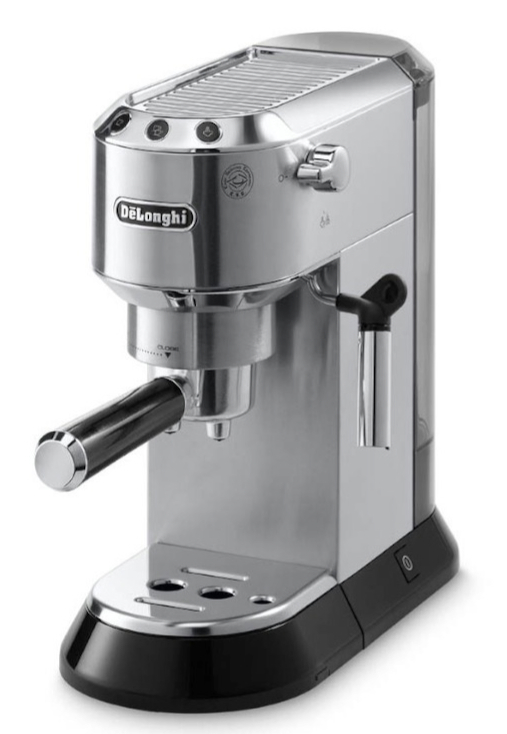 Very slim design, takes about 6″ of counterspace.
Sleek stainless steel housing.
15 bar pump pressure.
Quick 40 seconds start up time.
Cappuccino frothing system.
Automatic stop flow.
Pre-set espresso measurement, all can be re-set to your taste.
Can be used with manual options too.
Water reservoir capacity: 1 liter.
Also check out other Dedica newer models available.
Features of the Gaggia Classic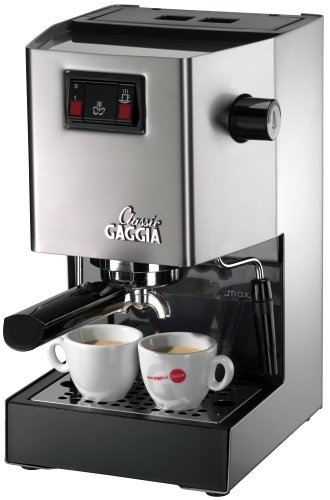 espresso maker with 17 1/2 bars pressure pump.
72 oz water reservoir capacity (about 2 liters).
Stainless steel housing.
Brass portafilter and grouphead to help stabilize temperature.
Only manual brewing.
Frothing wand doubles as a hot water dispenser.
What Is The Difference Between the DeLonghi Dedica EC680M vs. Gaggia Classic?
De'Longhi EC680M Espresso, Stainless Steel, Metallic, 1L
Gaggia RI9380/46 Classic Pro Espresso Machine, 21 Liters,Solid, Brushed Stainless Steel
De'Longhi EC680M Espresso, Stainless Steel, Metallic, 1L
Gaggia RI9380/46 Classic Pro Espresso Machine, 21 Liters,Solid, Brushed Stainless Steel
Pressure power:
The Dedica has a 15 bar pump pressure which is standard for most espresso makers.
The Gaggia Classic has a 17 1/2 bar pump pressure.
Reservoir capacity:
The Dedica has a 1 liter water tank capacity.
The Gaggia Classic has a 2 liter capacity.
Size:
The Dedica is quite compact with only 6-inches in width.
The Gaggia is about 8 inches wide.
Usage:
The Dedica has both automatic and manual options. It's overall easier to use than the Gaggia Classic.
The Gaggia Classic is only manually operated. Using the switch buttons, you'll have to manually start and stop the shot. This is harder to do, but it's good practice.
Which One To Choose?
If you're looking for a fool-proof way to create delicious coffee drinks, you'll love using the DeLonghi Dedica. Its preset and programmability give you room to quickly make your drink, and if you're ever in the mood for an espresso brewing lesson, you can use the manual settings.
On the other hand, if you're serious about your espresso brewing skills, you'll want the Gaggia Classic for sure. It's a commercial grade machine designed with the home user in mind, and it is able to produce a better shot due to its temperature stability.
Watch How They Work:
DeLonghi Dedica:

Brewing a shot of espresso using Gaggia Classic: