As an owner of a DeLonghi Dedica espresso machine myself, I have now used it for several months of daily use, so I know enough to tell you what works with the Dedica and what doesn't.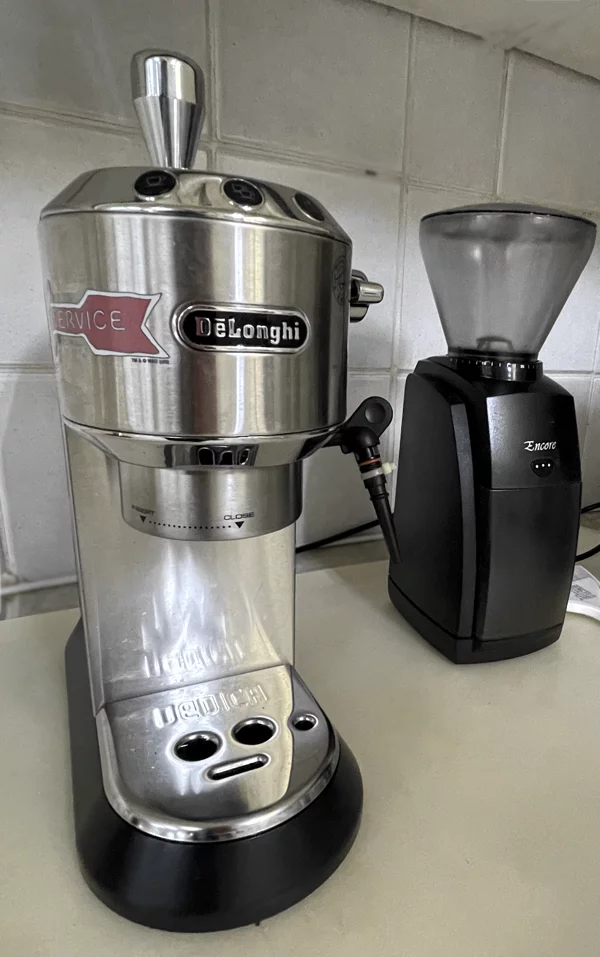 Most of DeLonghi's espresso machines use, like Dedica or Stilosa, use the same portafilter and the same pump, so any questions answered here will apply to both of them.
This post is especially dedicated to answering what pods can you use with DeLonghi espresso machines.
Can You Use Pods with an Espresso Machine?
You can use a certain type of coffee pod with your pump espresso machine, and they're not the same as Nespresso pods or Keurig pods.
There are pods especially formulated for use with pump espresso machines. These are called ESE pods (Easy Serving Espresso pods). Do note that those are entirely different from pods uses for single-serve coffee makers like Nespresso or Keurig.
ESE pods are pre-measured and can be used the same way you'd use ground coffee. You want to make sure that your machine includes a basket for this type of pod. And most espresso machines, DeLonghi ones especially come with this filter basket included.
What Are E.S.E Pods
Easy Serving Espresso pods are made of a material similar to paper filters used in drip coffee makers. These pods contain a standard amount of finely ground coffee, 7 grams. The coffee is packed and tampered and ready to brew, all you have to do is place it in the correct filter basket.
The pods extract while the grounds are fully contained in it, which minimizes clean up to only tossing the pod out.
What Coffee Pods Are Compatible with DeLonghi Espresso Machine
All ESE Pods are compatible with DeLonghi espresso machines that come with a ESE filter basket. If your DeLonghi machine does not include one, you can purchase it separately.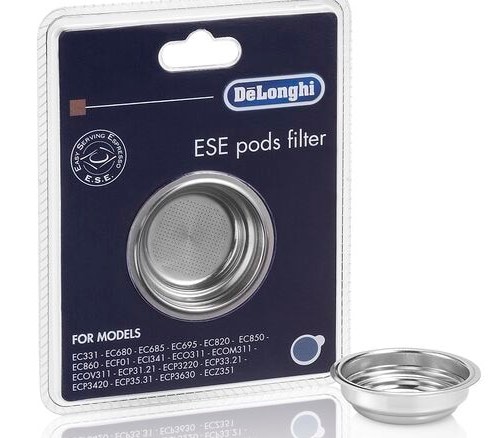 Each pod contains around 7 grams of coffee, which makes a single shot of espresso. If you want to make a double shot, you'll have to use two pods separately, so you'll make each shot separately. You can't fit two pods at the same time.
DeLonghi ESE Pod Basket vs DeLonghi Single Shot Basket
I thought I'd show you the differences in DeLonghi Dedica baskets so you can easily know which basket to use and how to tell them apart.
DeLonghi ESE pod basket: this is the basket on the right part of the photo. On the bottom, you should find an icon that resembles an ESE pod. This pod is shallower than the single shot basket and has no plastic insert inside it.
DeLonghi Single Shot Basket: This is the one sitting on the left side of the photo. It's a deeper basket, has a scoop icon on the bask and a plastic insert inside it.
When it comes to diameter, both are the same and are sized 51mm, which is the only size that can fit a DeLonghi portafilter.
How To Use Pods with DeLonghi Dedica Espresso Machine
Using these pods is as easy as it gets. Place it in the portafilter using the correct basket filter, attach the portafilter to your machine and brew as usual!
Is ESE Pods The Same As Ground Coffee?
Using an ESE pod or ground coffee in your portafilter will result in the same espresso shot.
ESE pods are great in terms of not having to grind your coffee fresh, measure your ground coffee or deal with the mess that comes with it. Also, no need to tamp and level grounds, which is another messy step.
As mentioned above, ESE pods contain 7 grams of coffee as a standard. When using your own ground coffee, it is also recommended that you use 7 grams of coffee for a single shot of espresso. So when it comes to dose, you'll get the same out of both for a single shot.
The other factor is freshness. If you grind your coffee fresh before espresso preparation, you could notice a difference in freshness. ESE pods have pre-ground coffee, and even though it's been sealed fresh and individually packed so no air or moisture reaches the pod, freshly ground coffee always wins.
Can You Use Nespresso Pods in Delonghi Dedica?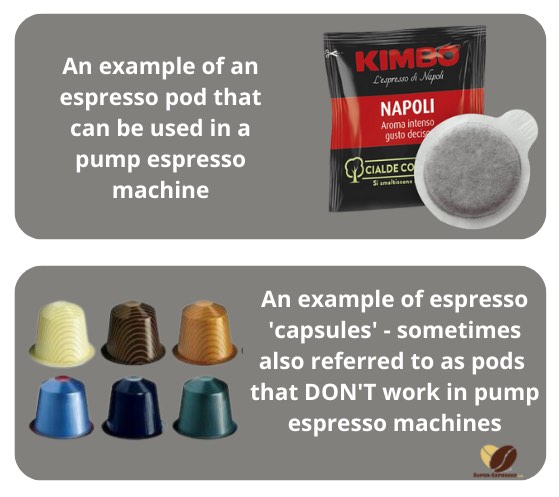 No, this isn't possible in a pump espresso machine. 'Capsule' type espresso pods are designed for single-serve espresso machines only. Nespresso OriginalLine or Vertuo pods will not fit DeLonghi Dedica, or any other manual espresso machine.
Best Coffee Pods for DeLonghi Dedica
These pods are great for DeLonghi Dedica or others like Stilosa or other pump espresso machine. But a quick reminder, always use these pods with the ESE pod basket.
1- Illy Classico ESE Pods: These are the most popular ESE pods to try. It's a medium roast blend with classic taste that is not milder or overpowering. But if you prefer stronger coffee, you'll find the same pods as Intenso blend, which is a dark roast blend.
2- Lavazza Gran Espresso: another popular medium roast blend from Lavazza that produces a balanced shot of espresso.
3- Caffe Borbone ESE Pods: A popular Italian brand with many available blends to choose from.
4- ESE Pods Sampler Pack: If you're not sure where to start with ESE pods, try this sampler pack that includes pods from many Italian brands.
Starbucks ESE Pods
a question I frequently see is where to buy Starbucks ESE pods. Unfortunately, Starbucks does not produce ESE pods.
Flavored ESE Pods
Flavored ESE pods are not popular and widely available, unfortunately. But there are some options that you can try. I found this variety pack of flavored ESE pods that will work with DeLonghi Dedica or Stilosa.
ESE Pods Double Shot
There are a few options for double shot ESE pods that contain 14g of coffee per pod instead of 7g like Artizan Coffee Roasters Pods or Lucaffe double shot ESE pods. However, double shot ESE pods will NOT WORK with your DeLonghi Dedica ESE basket, or other DeLonghi machines.
The issue here is double shot ESE pods are larger in size and need a 55mm portafilter basket to fit. While a DeLonghi Dedica uses a 51mm basket.
Frequently Asked Questions about ESE Pods
Can You Use ESE pods in an espresso machine?
Yes, as long as your machine has the compatible basket for ese pods.
Are ESE pods the same as Nespresso?
Both ESE pods and Nespresso pods are designed to make a single-serve of espresso while eliminating the mess that comes with it. Also, both of them contain 7 grams of coffee, so they make the same shots of espresso.
However, Nespresso pods are only compatible with Nespresso machines, while ESE pods are not exclusive to one type of espresso machine, they should work with any manual or semi-automatic espresso machines.
What are the best ESE espresso pods?
You'll want to try ESE pods from Italian brands like Illy or Lavazza as they excel at producing ESE pods. Pick the best blend or intensity for your taste.
What does ESE mean for espresso machine?
It means 'Easy Serve Espresso'
Can You Use 2 ESE pods at once?
No, that won't work. The basket won't fit two pods at the same time, so you'll have to brew each ESE pod individually.