Have you recently purchased a pump espresso machine, either by DeLonghi or other brands and wondering what pods can you use with it?
Using a manual espresso machine can be a bit of a hassle sometimes. Other times, you want a quick shot of espresso without having to measure, tamp or 'work' for your espresso shot.
Using espresso pods is way way to prepare a shot without measurements and with minimal clean up. And I'll tell you all about it in this post.
Can You Use Pods with an Espresso Machine?
Yes, you can. There are pods especially formulated for use with pump espresso machines. These are called ESE pods (Easy Serving Espresso pods). Do note that those are entirely different from pods uses for single-serve coffee makers like Nespresso or Keurig.
ESE pods are pre-measured and can be used the same way you'd use ground coffee. You want to make sure that your machine includes a basket for this type of pod. And most espresso machines, DeLonghi ones especially come with this filter basket included.
What Are E.S.E Pods
Easy Serving Espresso pods are made of a material similar to paper filters used in drip coffee makers. These pods contain a standard amount of finely ground coffee, 7 grams. The coffee is packed and tampered and ready to brew, all you have to do is place it in the correct filter basket.
The pods extract while the grounds are fully contained in it, which minimizes clean up to only tossing the pod out.
Best ESE Espresso Pods for DeLonghi Machines
All ESE Pods are compatible with DeLonghi machines that come with a ESE filter basket. If your machine does not include one, you can purchase it separately.
Each pod contains around 7 grams of coffee, which makes a single shot of espresso. If you want to make a double shot, you'll have to do them one shot at a time. You can't fit two pods at the same time.
How To Use ESE Pods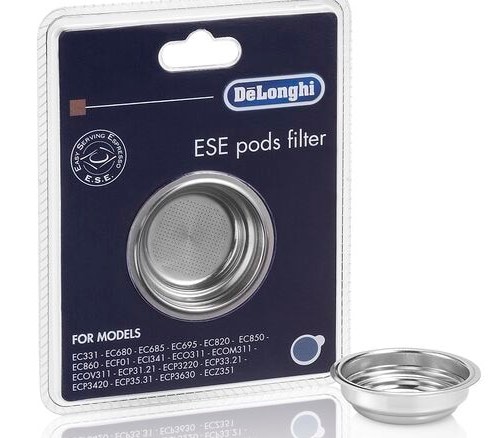 Using these pods is as easy as it gets. Place it in the portafilter using the correct basket filter, screw the portafilter to your machine and brew as usual!
Does Using ESE Pods Make Espresso The Same As Ground Coffee?
As mentioned above, ESE pods contain 7 grams of coffee as a standard. When using your own ground coffee, it is also recommended that you use 7 grams of coffee for a single shot of espresso. So when it comes to dose, you'll get the same out of both for a single shot.
The other factor is freshness. If you grind your coffee fresh before espresso preparation, you could notice a difference in freshness. ESE pods have pre-ground coffee, and even though it's been sealed fresh and individually packed so no air or moisture reaches the pod, freshly ground coffee always wins.
The difference isn't huge though, and pods make a great option for a quick shot.
Can I Use Nespresso Capsules in my Espresso Machine (DeLonghi or Other Pump Machines)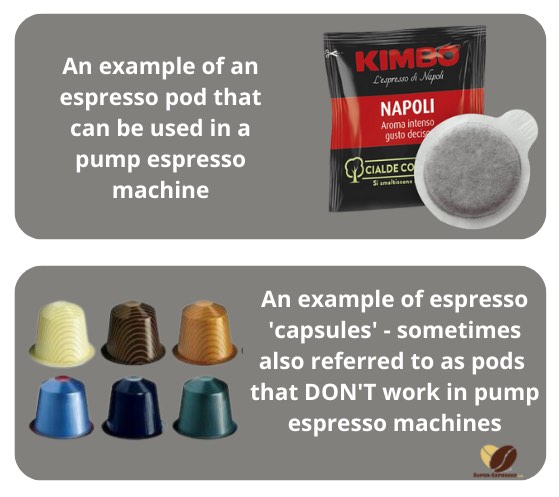 No, this isn't possible in a pump espresso machine. 'Capsule' type espresso pods are designed for single-serve espresso machines only. The only pods that you can use in a pump espresso machine is ESE pods.
Which Brands Make ESE Pods?
ESE pods are adopted by many leading coffee brands, which is great of us! It's popular in Italy especially, land of the Espresso.. so you'll find pods from brands like Illy, which invented these type of pods actually, and Lavazza. Kimbo is another famous brand that makes ese pods.
The pods are sold in smaller boxes, such as 15 or 18 per box, or larger boxes of 100 or 150 pods. Of course, the cost goes down the more you buy. However, if you're new to the world of ese, I'd advise you go for a smaller patch until you decide which are your favorite.
Which Machines Are Compatible with ESE Pods
Most modern pump espresso machines, famously DeLonghi's, are compatible with ESE pods.
DeLonghi Dedica, Stilosa or EC155. Breville's, Mr Coffee… you name it. You'll want to make sure that the machine includes an ESE basket filter. If it doesn't, you can still use the single shot filter, but never use the double-shot filter since it would be too big for the pod.