Keurig K-Cafe and K-Latte are coffee makers that keep the latte lover in mind. If you love coffee, but also love a cup of creamy latte or frothy cappuccino every now and then, these Keurig models are worth considering.
This guide is to help you with your decision between Keurig K-Cafe vs K-Latte. Also, I will break down the differences between Nespresso vs Keurig when it comes to making a latte or coffee.
Here's the quick takeaway before you jump into the details of each comparison:
The Best Keurig is the Keurig K-Cafe Smart, which is the latest and most updated version of both K-Cafe and K-Latte.
If you want an authentic Espresso experience, I highly recommend a Nespresso OriginalLine machine like Lattissima or Essenza Mini
While Nespresso can offer you a true Espresso experience, Keurig has the lead when it comes to versatility and the cheapest pods.
What Is The Difference Between K-Cafe vs K-Latte?
Ultimately, both do the same things, same drinks, using the same pods. Yet, there are some differences that you want to consider for your final decision.
Milk Frother Design
The frother on the K-Cafe is made of stainless steel. It's dishwasher safe and has multiple options: cappuccino froth, latte froth and cold froth.
On the K-Latte, the frother is built from different material. It has a plastic exterior and non-stick interior. This makes it not dishwasher safe. Also, there's no options for froth density. It only heats and froths milk, so you can't choose between capp, latte or cold froth. K-Latte frother is made for making latte froth.
Coffee Serving Sizes
K-Cafe has four sizes: 6, 8, 10 and 12 oz.
K-Latte has only three: 6, 8 and 10 oz.
Strong Brew Option
This option is available in the K-Cafe model only.
Water Reservoir capacity
K-Cafe: 60 oz.
K-Latte: 36 oz.
Overall, the K-Cafe model is larger machine. Since it can brew larger serving size, it is equipped with a larger reservoir. The milk frother has more options and if you want to get a bolder flavor, the Strong Brew option is a great features of the K-Cafe. K-Latte, as it's name indicates, is best for latte lovers. The frother is programmed to make a less dense froth and it only makes hot froth.
Keurig K-Cafe vs K-Cafe Special Edition
K-Cafe Special Edition is a variation of the K-Cafe. There's no real difference in terms of functionality, but only in the colors.
Keurig K-Cafe is the black version, and K-Cafe Special Edition is the 'Nickel' or gray-is version.
Keurig K-Cafe vs K-Cafe Smart
K-Cafe Smart is the newer and updated version of the Keurig K-Cafe. It has so many updated features. All the features I will list below are NOT available in the K-Cafe.
Smart Connectivity
Keurig K-Smart is Wifi-connected. You can connect it through an App to get recipes, messages regarding your machine, purchase pods and more.
The best part about this connectivity feature is recipes. The app will give you specific recipes relating to pod you are brewing, which the machine will automatically identify. Which brings us to the next feature…
Brew ID
This feature allows your machine to automatically detect the pod you have inserted. It will display the pod's name on the display, recommend the best parameters to brew the pod and it will also guide you on your phone with special recipes to match that pod.
K-Cafe Smart Customization Settings
K-Cafe Smart now has 5 strength settings, as opposed to K-Cafe's one STRONG BREW option. It also has 6 temperature settings, and an Over Ice settings, which brews coffee at lower temperature.
K-Cafe Smart Brew Sizes
K-Cafe Smart has the standard brew sizes: 6, 8, 10 and 12 oz brews. But for 'Espresso shot' it has two settings: 2 oz and 4 oz.
K-Cafe Smart Milk Frother
Keurig K-Cafe Smart's frother has 3 hot milk frothing styles and one cold froth setting. On the downside, though, the frother is no longer dishwasher safe.
Display and Controls on Keurig K-Cafe Smart
K-Cafe Smart has a nice display screen, combined with the press buttons, makes customizing your coffee a lot easier. This is something that the older version K-Cafe does not have.
Between K-Cafe vs K-Cafe Smart, Which To Pick?
I believe this one is a no-brainer. Definitely go for the K-Cafe Smart with it's all new up to date features. You can still make the same coffee drinks, use the same pods and same technology, but the K-Cafe Smart offers a much better experience than the K-Cafe or even K-Latte.
What K-Cup Pods Are Compatible with K-Cafe and K-Latte?
Whether you're brewing a cup of coffee or preparing a shot for a specialty coffee drink, you can use any type of K-Cup pod you want. That includes branded or non-branded K-Cups and refillable filters. When making a shot for specialty coffee, you're free to use any type of coffee pod you want and not necessarily an espresso K-Cup. This gives you a lot of options to choose from, which is one of the great things about these Keurig machines.
Do K-Cafe and K-Latte Make Espresso Shots?
Keurig machines are coffee machines that use drip mechanism to make coffee drinks, they are not designed to make an authentic cup of espresso. So, how do they make 'shots' for your cappuccino and latte? What K-Cafe and K-Latte do is brew a really strong concentrate of coffee that resembles a shot of espresso. Instead of brewing an 8 or 10 oz of coffee out of the K-Cup pod, it will brew a 2 oz coffee concentrate that you use as the base of the cappuccino or latte. Then, you'll add the froth to it to complete your drink.
Espresso K-Cup pods contain dark roast coffee, that is commercially known as 'Espresso roast'. So that, combined with a short brew, will give you an espresso style shot that you can use as the base of your coffee drinks.
Can I Use Any Type of Milk With the Keurig Frother?
Yes, you can use any type of milk you like. That includes soy, almond, rice or coconut milk. But do keep in mind that different milks give different froth results.
Keurig Rivo vs. K-Cafe vs. K-Latte, What's The Difference?
Before there was Keurig K-Cafe or K-Latte to make specialty drinks, there was Keurig Rivo. Like K-Cafe and K-Latte, it has a built-in frother and it makes cappuccinos, lattes and other coffee drinks. So how come I said it's Keurig's first time making machines for specialty coffee drinks? Well, because there's a huge difference in how Rivo, K-Cafe and K-Latte work, and they're entirely different systems.
Keurig Rivo, while it has the Keurig name, it does NOT brew K-Cup pods and it does NOT make coffee. It only makes Espresso using pods made from Lavazza, the Italian coffee brand. In this model, espresso made the authentic way, with high pressure pump. That's why the machine is not able to make regular coffee.
On the other hand, K-Cafe and K-Latte using K-Cup pods, which are widely available, available from more brands and they give you the option to make regular coffee as well as cappuccino and latte.
You can read more about Keurig's Rivo coffee maker here.
Keurig K Cafe vs Nespresso – Top Differences
Keurig K Cafe
Keurig K Cafe is a versatile coffee maker that can brew coffee, lattes, cappuccinos, and even iced beverages. It has a built-in milk frother that can froth milk for your lattes and cappuccinos. The Keurig K Cafe also has a strong brew feature that lets you brew a stronger cup of coffee.
The Keurig K Cafe uses K-Cup pods, which come in a variety of flavors and strengths. The K-Cups are easy to use and can be found in most grocery stores. The Keurig K Cafe is also compatible with the My K-Cup Universal Reusable Coffee Filter, which allows you to brew your own coffee.
Nespresso
Nespresso is a single-serve espresso and coffee maker that uses Nespresso pods to brew coffee. Nespresso pods come in a variety of flavors and strengths, and are made from high-quality coffee. Nespresso also offers a range of espresso pods, which can be used to make lattes and cappuccinos.
There are two kinds of Nespresso machines:
Nespresso OriginalLine – like Nespresso Essenza Mini, Nespresso Citiz or Nespresso Lattissima, which are designed to make Espresso only, or espresso based drinks like lattes.
Nespresso Vertuo – like Nespresso Vertuo Next, Nespresso VertuoPlus or Vertuo Pop, which are designed to make both Espresso and coffee using a proprietary brewing system.
If your priority in a coffee machine is to make you a nice cup of latte, you can choose between K-Cafe or Nespresso OriginalLine and I'll tell why below.
Design
Keurig K Cafe Design
The Keurig K Cafe has a sleek and modern design with a brushed metal finish that will look great in any kitchen. It has a compact size, measuring 12.5 inches in height, 15.3 inches in width, and 11.7 inches in depth. The K Cafe features a large 60-ounce water reservoir located at the back of the machine, making it easy to refill without having to move the entire machine. The drip tray is removable and dishwasher safe, making cleaning a breeze.
Nespresso Design
Generally speaking, since there are so many Nespresso machines out there, what they have in common in terms of design is the fact that they are compact in size and modern in design. With Nespresso, you don't have to worry about the machine taking up a lot of space or looking bad on your countertop. But the specificity of each machine will depend on which model you choose.
Keurig vs Nespresso Brewing System
When it comes to brewing systems, both Keurig K Cafe and Nespresso have some unique features that set them apart. Let's take a closer look at each one.
Keurig K Cafe Brewing System
The Keurig K Cafe is a versatile brewing system that allows you to brew coffee, lattes, and cappuccinos all in one machine. It has a built-in frother that can froth milk for your latte or cappuccino. This machine uses Keurig's K-Cup pods, which come in a wide variety of flavors and strengths.
However, Keurig remains a coffee machine only. While it can make lattes, they are not authentic lattes, since the Espresso a Keurig machine makes is only a coffee concentrate.
Nespresso Brewing System
As I already mentioned, there are two types of Nespresso machines.
Nespresso OriginalLine and Nespresso Vertuo
Nespresso OriginalLine is mainly an Espresso machine that uses pressure pump to create a true shot of espresso.
Nespresso Vertuo uses a new technology called CentriFusion that spins capsules rapidly while forcing water through to create espresso or full cups of coffee.
If you are mostly looking to make Lattes or cappuccinos, I would highly advice that you choose Nespresso OriginalLine over Vertuo so you can get a more authentic shot of espresso and more variety of coffee pods.
Keurig vs Nespresso Pod Compatibility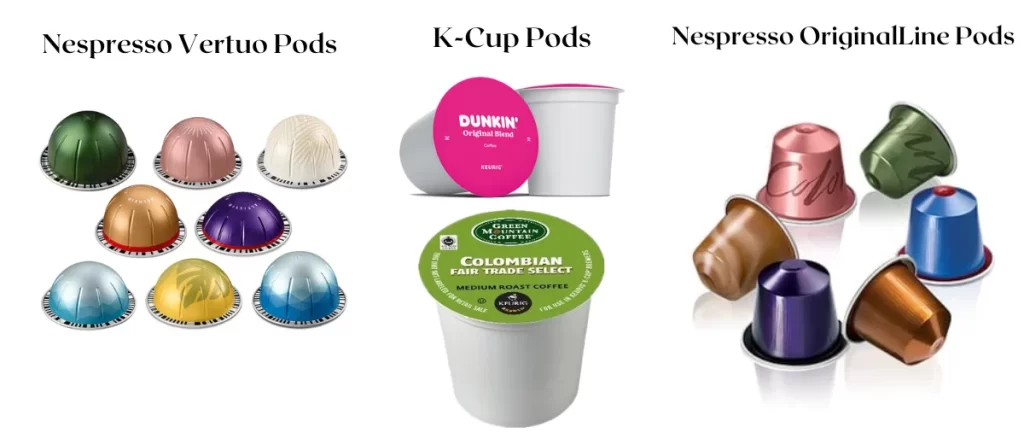 Keurig and Nespresso OriginalLine use entirely different pod styles, so they don't use the same pods.
Keurig uses coffee pods called "K-Cup pods"
Nespresso OriginalLine uses Espresso pods called "Nespresso OriginalLine pods"
Nespresso Vertuo uses espresso and coffee pods called "Vertuo Pods"
Keurig K Cafe Pods (K-Cup Pods)
Keurig K Cafe uses K-cups, which are small plastic cups that contain pre-ground coffee. Keurig offers a wide variety of K-cup flavors and strengths, so you can choose the one that suits your taste. Additionally, you can also use reusable K-cup pods, which allow you to use your own ground coffee.
Not only that, but Keurig K-Cup pods are available in so many drink variety like hot chocolate, tea, hot apple cider and more… and they're available from majority of coffee brands like Starbucks, Dunkin's, Maxwell House, Cafe Bustelo and so many more.
When it comes to variety, Keurig is the clear winner.
Nespresso Pods
Nespresso machines use capsules, which are small aluminum pods that contain pre-ground coffee. Nespresso offers a range of flavors and intensities.
Nespresso OriginalLine capsules (the smaller pods) are available from Nespresso's own brand and other third party brands. Nespresso's own brand can only be purchased from their own stores, online store or authorized retailers. However, generic pods can be purchased anywhere else like major supermarkets and grocery stores.
Nespresso Vertuo pods, on the other hand, are still exclusive to Nespresso and can't be purchased from other brands. So if you decide on a Nespresso Vertuo machine, you are committing to Nespresso's own capsules only.
Nespresso Pods vs K Cups Cost
Keurig's K-Cup pods are the least expensive with an average of $0.35 per pod.
Nespresso's OriginalLine pods, those are the ones made by Nespresso, will set you $0.80 per pod. With ones that cost as high as $1 per pod for limited edition ones. Choosing a third party brand that is compatible with Nespresso OriginalLine, you can get a pod for $0.50 or $0.60 per capsule.
Nespresso Vertuo, which are exclusive to Nespresso, vary in price depending on the beverage (espresso, coffee, lungo)… On average, coffee pods (7.7 oz serving size) can cost an average of $1.50. Espresso and double espresso pods can cost around $1.25 oz.
So when it comes to cost, the cheapest is K-Cup pods, and Nespresso Vertuo is the most expensive.
Keurig vs Nespresso – Which To Pick?
The best pick for lattes and cappuccinos and if that's all you want to make is a Nespresso OriginalLine. Because these machines make real espresso shots, combined with an Aeroccino milk frother, you can make all your favorite milk based coffee drinks.
If you want something that makes both Coffee (as in a full cup of coffee) and a latte, and you don't mind that the espresso isn't 100% authentic, Keurig's K-Cafe is my second recommendation to you. You get to make so many beverages with a Keurig machine, not just coffee, and their variation of K-Cup pods is nearly endless!
Nespresso Vertuo is my last recommendation for an espresso and coffee maker. And it's not because I don't like the coffee, I have used my VertuoPlus for a long time before I gave up on it because of the Vertuo pod exclusivity to Nespresso. Nespresso does offer a good range of Vertuo pods, but it is still quite limited compared to OriginalLine and Keurig.
Features of Keurig K-Cafe Coffee, Cappuccino and Latte Maker
Use any K-Cup pod to make delicious coffee drinks: coffee, cappuccino, latte and more.
Coffee serving sizes: 6, 8, 10 and 12 oz.
Shot size: 2 oz for specialty coffee drinks.
Strong Brew option: for making a stronger coffee, using this option which steeps your coffee longer before brewing.
Built-in milk frother heats and froths milk. Choose from Cappuccino froth, Latte froth or Cold froth for iced drinks.
Frother is dishwasher safe.
Simple button controls makes machine operation very easy.
Compatible with My K-Cup reusable K-Cup filter.
Water reservoir capacity: 60 oz.
Click here to learn more about Keurig K-Cafe, read the customer reviews and buy it. (Amazon Link)
Features of Keurig K-Latte Coffee, Cappuccino and Latte Maker
Brew a cup of coffee or create any specialty coffee drink like cappuccino or latte.
Coffee serving sizes: 6, 8 and 10 oz.
Shot serving size: 2 oz.
Built-in milk frother – makes hot froth only.
Frother is NOT dishwasher safe in this model.
Base under the frother flips up to save space when not in use.
Compatible with all K-Cup pods including My K-Cup refillable filter.
Button controls.
Water reservoir capacity: 36 oz.
Click here to learn more about Keurig K-Cafe, read the customer reviews and buy it. (Amazon Link)
Common Questions About Keurig K-Cafe, K-Latte
Can I make Hot Chocolate or Tea with K-Cafe or K-Latte?
Yes indeed! You can still brew any kind of K-Cup pod using these machines. Hot Chocolate will be even better with frothy milk!
Can I add other ingredients to the milk frother?
No, it's not recommended that you add any ingredients (syrup, chocolate powder, chocolate shavings) to the frother. You can only heat/froth milk in it.
Do I have to use an Espresso roast K-Cup pod when making Cappuccino or Latte?
No, that's not necessary. You can use any type of K-Cup coffee pod. However, an espresso pod would give you better results since it's usually dark roasted and gives stronger tasting coffee.
Can K-Latte make Cappuccinos too?
To make a Cappuccino, you'll want more and higher density froth, which the frother on the K-Latte can't make.