Nespresso OriginalLine machines are espresso machines that can brew a shot of espresso or lungo using Nespresso OriginalLine pods.
For Nespresso OriginalLine machines, the largest cup size it can brew (without reprogramming volume) is 3.7 oz for a Lungo shot.
Many users of Nespresso OriginalLine wished for a way to make a longer cup of coffee without compromising taste, and that's where Nespresso Filter Style pods come into play.
In this post, I will tell you what Nespresso Filter Style pods are, how to use them and what to expect from them when it comes to taste and volume.
What Is Nespresso Filter Style?
Pod Name: Nespresso Filter Style
Pod Compatibility: Nespresso OriginalLine (Essenza Mini, Lattissima, Citiz and Pixie, Creatista)
Serving Size: 5 oz
Pods per Sleeve: 10 pods
Coffee Grounds per pod: 4.8 g
Nespresso Filter Style Pod is a Nespresso OriginalLine pod designed to make a cup that simulates a coffee that has been brewed using a filter coffee maker.
Unlike Nespresso OriginalLine espresso pods that make short shots of really strong espresso, or a slightly milder (but still strong) Lungo, Nespresso Filter Style pods makes a lighter and longer cup of coffee using the same small Nespresso OriginalLine pod.
Nespresso Filter Style Pod Design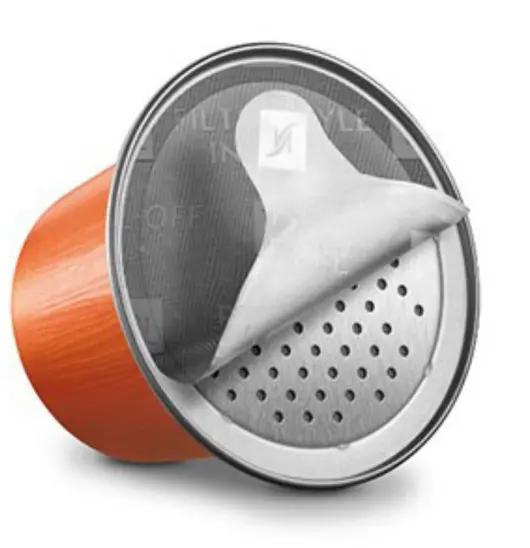 While it looks exactly like a Nespresso OriginalLine capsule, the Nespresso Filter Style pod has an actual filter, so the coffee comes out filtered and cleaner than an espresso shot.
The filter on Nespresso Filter Style pods traps the oils of the ground coffee, so you get milder cup of coffee that has no crema.
So if you've ever wanted to make a larger cup of coffee using your Nespresso OriginalLine machine, this coffee pod is for you.
How To Use Nespresso Filter Style Coffee Pods
Brewing a Nespresso Filter Style pod isn't the same as brewing an espresso pod, but it is as simple.
Here's how to make Nespresso Filter Style Coffee Pod:
1- Peel off the aluminum lid on the pod. You'll see a filter on top of the pod now.
2- Place the pod in your Nespresso OriginalLine machine as usual.
3- Press the Lungo button and wait for the pod to brew.
4- While the pod is still in the machine, press the Espresso button.
So you'll brew a 3.7 oz followed by a 1.3 oz, using the same pod. The full volume will be 5 oz.
Nespresso Filter Style Pod Varieties
As of now, there are two type of Nespresso Filter Style pods:
Filter Style Intense Coffee Pod

Made of a dark roasted blend, this pod is made to brew a smoky roasted cup of coffee. Nespresso describes this as: a hint of honeyed sweetness balances this long cup's bitter, light smoky, and earthy notes.
Filter Style Mild Coffee Pod

A delicate, light roasted blend of coffee for anyone looking for a cup with fruity and mild notes. Nespresso describes this as: a light body and a vibrant bouquet of jasmine and orange blossom, accompanied by subtle cereal aromas and a juicy finish.
How Much Caffeine Is Nespresso Filter Style Coffee Pod?
Nespresso Filter Style Intense and Mild both offer 60 mg of caffeine per 5 oz. Which is a moderate amount of caffeine per cup.
Who Should Buy Nespresso Filter Style Coffee Pods
Before you buy a couple of sleeves to try Nespresso Filter Style coffee pods, there are a few things to keep in mind. because, this could be the wrong pod for you, but on the bright side, it can be the coffee pod you are looking for.
Nespresso Filter Style Coffee Pod Taste
This coffee pod for Nespresso OriginalLine is meant to be light, delicate and not very caffeinated. Even the Intense one.
You'll notice this first thing when you brew the coffee pod. The color of the coffee is light, more like a tea than a coffee. And that's how it is supposed to be.
Nespresso describes their filter-style pods as 'Easy to drink'.
It is meant for someone who is looking for a mild, long cup of coffee.
Who Should Buy Nespresso Filter Style Pod
If you want a light and bright cup of coffee that does not have any bitterness or acidity.
If you don't mind 'watery coffee'.
Who Shouldn't Buy Nespresso Filter Style Pod
If you like espressos and strong tasting coffee, stay away from this pod. It is so light and milder that it will taste like brown water to someone who wants a strong and robust cup of coffee.
Related Posts