Nespresso has recently introduced the Inissia compact espresso machine as an affordable under $100 single-serve machine. But before the Inissia came, there was the Essenza, which was also as compact and affordable. In this post, we'll talk about these two options from Nespresso and if there's any difference between them.
Inissia vs. Essenza: Is There Any Difference?
Like we've just mentioned, both the Inissia and Essenza have been introduced by Nespresso as a compact and affordable alternative to their Original Line of espresso machines. Basically, both machines are equipped with similar features. The design has been revamped and is now much better as the Inissia machine appears to be.
Features:
Manual single-serve espresso machine
19 bar pump pressure.
2 programmable coffee options: espresso and lungo
Compact design.
Removable water tank.
Capsule drawer holds up to 11 used capsules.
Design:

As you can see, the Inissia features a much better and more modern design while the Essenza looks quite outdated in comparison. The Inissia features a nice handle that makes capsule piercing and ejection much easier. The brewing buttons have been moved to the top of the machine where it's easier to operate, and it's available in four colors instead of black only as the Essenza.
Why Is The Inissia and Essenza Less Expensive Than Other Nespresso Machine? Do I Get The Same Quality of Coffee?
Yes, absolutely! Both the Inissia and Essenza use the exact same coffee capsules other Nespresso machines use, so you're guaranteed the same quality. But the Essenza is a manual machine, where the Inissia has been updated to become automatic like the rest of the Nespresso family:
The Essenza has one brewing button, which you have to press and keep on pressing until you have your desired amount of coffee.
The Inissia features automatic volume control, you only have to press the button once and it will automatically brew it. You'll also have the option to adjust the volume.
Click here for a full comparison between the Inissia and Pixie, CitiZ and U.
What Should I Buy? The Innissia or Essenza Espresso Maker?
I don't see why you would want to buy the Essenza, especially that they're both at the same price. The Inissia is definitely the machine to go for. It's up-to-date design and features wise, and it's been receiving highly rated reviews from customers.
More Questions About the Inissia:
Can I Make Cappuccinos, Lattes and Other Gourmet Coffee Drinks with the Nespresso Inissia?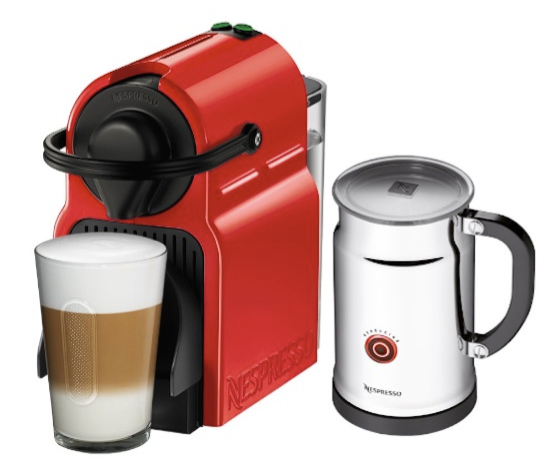 Yes, you can! However, you'll need to bundle it with a milk frother. Now this can be Nespresso's Aeroccino milk frother or any other milk frother you like. It's just important to know that the Inissia does not froth milk on its own so you'll need something to froth your milk with. Have a look at our suggested milk frothers here.
Do I Get Sample Nespresso Capsules With the Inissia?
Yes, you'll get a starter pack with 1 capsules of each Nespresso capsule available.
Where Can I Buy Nespresso Capsules From?
Please refer to this page for more info: Where to Buy Nespresso Capsules