I've been getting a number of emails asking about Nespresso's Decaf capsules. So I decide to put all the questions together in this post to help everyone out. If you have a question that hasn't been answered, feel free to contact me by clicking here.
How Can I Tell Which Nespresso Capsule Is Decaf?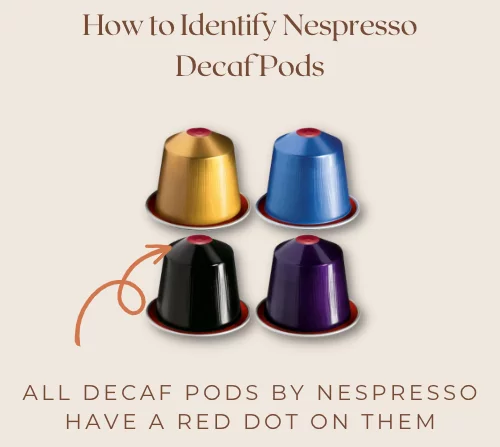 Very simple, On Nespresso Decaf pods, you'll notice there's a red dot at the bottom where the capsules get punctured. The box of the capsules will have the same red dot and will be labelled Decaffeinato.
Is There a Decaf Vertuo Pods?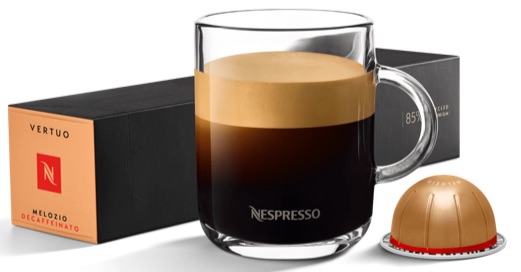 Yes, There are Nespresso Vertuo Decaf pods.
Since Vertuo's pods look different than OriginalLine's, their Decaf mark is different, too. As you'll notice from the picture, this Melozio pod has a red ring around the pod, which indicates it is Decaf. Vertuo's decaf pods are also called Decaffeinato.
What Does Decaffeinato in Nespresso Pods Mean?
That means decaffeinated. So any pod that has 'Decaffeinato' on its box means it is decaf.
What Color Are The Nespresso Decaf Capsules?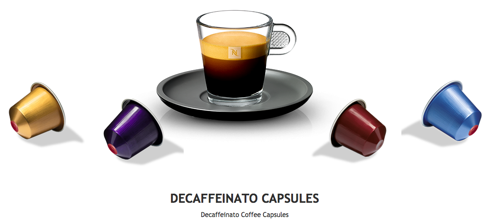 Right now, Nespresso offers four of its original blends in the form of Decaf. The Arpreggio, Ristretto, Volluto, Vivalto Lungo and Intenso. Each of these blends has a different intensity that ranges from 9 to 4. They're the same color as the original blends: purple, gold, blue and red. So how do you tell if they're decaf?… read the next question.
Related Post: Nespresso Pod Color Code – Identify Nespresso Pods by Color
Are Red Nespresso Pods Decaf?
No, Red Nespresso pods are not necessarily decaf.
Decaf Nespresso pods (made by Nespresso) can be any color, as long as they have a RED DOT at the bottom. Or a Red RING around the rim, if it's a Vertuo Pod.
In OriginalLine pods, there are two red nespresso pods: Napoli espresso pod and Shanghai Lungo pod, none of those are decaf.
If you are considering Nespresso decaf pods from 3rd party brands, many of them use the color blue to identify their decaf pods.
Are Blue Nespresso Pods Decaf?
Blue Nespresso pods from Nespresso OriginalLine or Vertuo pod are not necessarily Decaf. Again, Nespresso marks their decaf pods with a red dot or ring for Vertuo pods.
However, there are a few Nespresso OriginalLine compatible brands that make their decaf Nespresso pods blue. I'll list a few below:
Blue Decaf Nespresso Pods
If you have blue nespresso pods and what to know if they're decaf or not, you'll have to identify the brand of the pods first:
If your pod is made by Nespresso, it's not decaf unless it has a red dot on it.
If it's made by a Nespresso compatible brand like the ones listed above, you'll most likely see the word DECAF written on the foil or pod itself.
Nespresso Gold Pod with Red Dot – What's It Called?
Need held identifying this pod? Here's what it is called.
The Nespresso pod you are looking for is called Volluto Decaffeinato. It's the most popular Nespresso OriginalLine capsule with a mild intensity of 4.
Nespresso OriginalLine Decaf Pods
Nespresso Vertuo Decaf Pods
Is Nespresso Stormio Decaf?
Stormio is a green colored Vertuo pod that is quite popular for its strong and robust taste. Stormio is NOT decaf, and there's no decaf version available of it. If you're caffeine sensitive, you should avoid Stormio and go for Melozio Decaffeinato as a caffeine-free alternative.
Is Nespresso Melozio Decaf?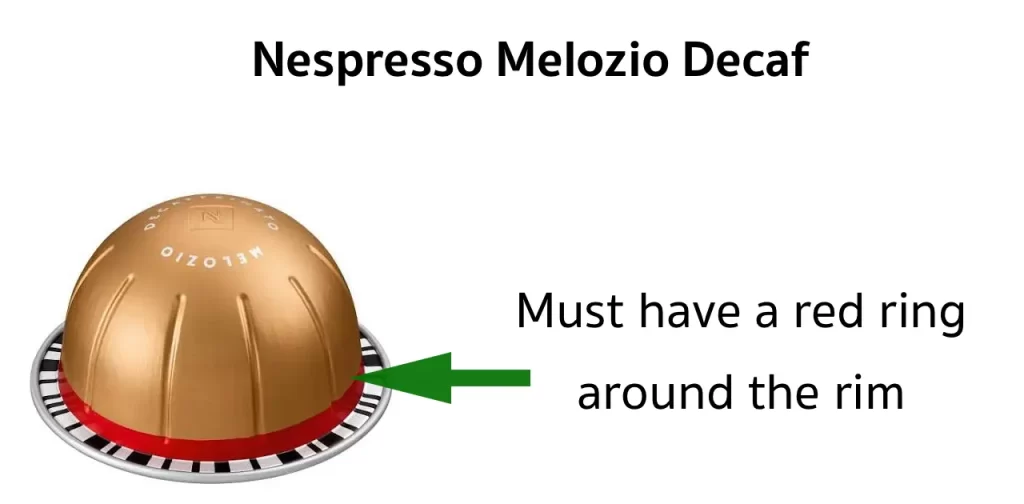 Nespresso Melozio is a 7.7 oz coffee Vertuo Pod.
There are two versions of Nespresso Vertuo Melozio. To identify the decaf melozio pod, you have to see the red ring around the rim on the pod.
As for the package of decaf Melozio, the Nespresso logo will be red, and the name on the package will say "Melozio Decaffeinato"
Is Nespresso Fortado Decaf?
Fortado is a 5 oz Nespresso Vertuo Gran Lungo pod.
This is one of Nespresso's strongest tasting pods. And luckily, for anyone who wants the strong taste without the caffeine, Fortado is available in decaf.
Make sure you get 'Fortado Decaffeinato' with the red Nespresso logo on the package, and a red mark around the rim of the vertuo pod.
Green Dot on Starbucks Nespresso Pods – What Does It Mean?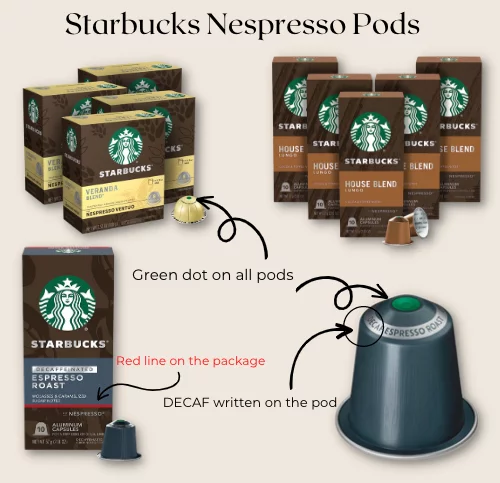 You might have noticed some Nespesso OriginalLine or vertuo pod that have a green dot on them. These are pods made by Starbucks for Nespresso.
The greed dot on Starbucks Nespresso pods does not mean anything in particular, it's just a branding color. They even use the green dot on their decaf pods. However, the package of the Decaf pods will have a red line, and the pods will be labelled DECAF around the green dot.
To identify a decaf Starbucks Nespresso pod, you'll have to look at the package and find the red line. The pod itself should also say 'Decaf Espresso Roast' too.
Caffeine Content in Nespresso Decaf Pods
How Much Caffeine in Decaf Nespresso?
While decaf coffee is supposed to have no caffeine at all, truth is still has some traces of it. The average Nespresso capsules has about 60mg to 70mg of caffeine in it, while the Decaf has 1mg or less. This very tiny amount has very little to no effect on the body. So you can enjoy your decaf without any worries of caffeine kicking in.
If you want to know the caffeine content of each pod, including decaf Nespresso pods, have a look at my Nespresso Capsule Caffeine Content Chart which contains the caffeine content of most OriginalLine and Vertuo pods.
Did Nespresso Discontinue Decaf Pods?
No, Nespresso still produces Decaf pods for Vertuo and OriginalLine. But there's not that much options.
For Vertuo Decaf pods, you'll find three capsules. One Espresso (Decaf Altissio), One coffee (Decaf Melozio) and one Gran Lungo (Decaf Fortado). There's also one half-caff coffee capsules.
For OriginalLine, there are also three decaf selections: one espresso (Volluto) and two Ristretto (Italiano and Arpeggio).
Nespresso Pods Colors Meaning
Whether it's OriginalLine or Vertuo, Nespresso pods are available in all kinds of colors. What do these colors means? And are they the same in each line of machines?
Colors are used to identify the blend and the name of the capsule. For example: Purple is Altissio Vertuo pod or Arpeggio OriginalLine, both of them are Intensity 9 Espresso pods.
Voltesso Vertuo pod and Volluto Originalline are both Golden yellow pods espresso pods of level 4 intensity.
Barista Creations pods for both Vertuo and OriginalLine are in brown hues, to match the color of milk coffee drinks.
So this can give you an indication that the color somewhat matches the intensity of the pod. Darker pods are usually high intensity pods, medium intensity is usually in medium hues like green, blue or pink. Except for limited edition pods or World Exploration OriginalLine pods which usually have unique designs.