If you prefer a sweet cup of Nespresso coffee, then you must be wondering, which Nespresso pods are sweet?
It doesn't matter if you are looking for Nespresso Vertuo pods or Nespresso Original pods, because you'll definitely find something to match your taste.
In this post, I'll explain what Nespresso means by sweet when it comes to their pods, and which pods to choose if you want to make a sweetened cup of coffee.
Are Any Nespresso Pods Sweetened?
Here's the thing…
None of Nespresso pods are sweetened. Nespresso pods do NOT include artificial or non-artificial flavorings or sweeteners.
Which means, none of Nespresso pods are actually 'sweet'.
Nespresso offers a lot of flavored pods in their Barista Creations collection of pods. You'll find Vanilla, Caramel, Hazelnut and other flavored pods, but none of these are actually sweet in the sugary sense.
How Does Nespresso Flavor Their Pods?
When it comes to flavoring their pods, Nespresso uses natural flavors added to the coffee after its been grind.
What this does is give the coffee a 'hint of flavor and aroma' without it being sweet at all. But when these flavored pods are mixed with other sweetening ingredients, which you can add to your coffee, it blends very well to create a balanced and delicious sweet cup of coffee.
Here's what Nespresso says about how they flavor their coffee pods:
Flavours come in the form of a very fine powder. They are added to the coffee after grinding. As they are specially designed for Nespresso to make a perfect and original harmony, the flavours have been recreated using a blend containing natural substances. These natural substances have a natural origins like plants or flowers, with at least part of the natural substance originating from a base component of the characterized flavour. The flavours do not contain any food allergens.
What Is The Sweetest Nespresso Pod?
As I previously stated, none of Nespresso's pods are sweetened with sugar or artificial sweeteners. So 'Sweet' here refers to a balanced and sweet note and aroma of the coffee, rather than sweetness in taste.
That said, here are some pods that Nespresso considers as their sweetest pods:
Sweet Nespresso Vertuo Pods
Nespresso Sweet Vanilla Coffee Pod
Serving size: 7.7 oz
This Vertuo coffee pod is made of a light roast coffee with natural Vanilla note. It is lowest on bitterness, acidity and roast levels.
Since this is a long coffee pod, it's perfect with some flavored creamer to add that sweet flavor and creaminess.
Nespresso Voltesso Espresso Pod
Serving Size: 1.35 oz
This espresso Vertuo pod is a perfect base for a cup of Cappuccino. It's a light roast, mild tasting blend that won't overpower the taste of milk or any flavor you add.
Sweet Nespresso Original Pods
Nespresso Chiaro Pod
This is a very mild espresso shot that is part of the Nespresso Barista Creations collection. The light roast of this coffee blend allows the natural sweetness of milk to shine through. Nespresso Chiaro is a very smooth coffee perfect for Cappuccinos and Lattes.
Nespresso Volluto Pod
This pod is another mild and light roasted espresso pod that will blend perfectly with milk or creamer, and will bring the natural sweetness in your added ingredients.
Nespresso Nicaragua Pod
This espresso pod is a medium roast single origin coffee pod. It's smooth enough to be enjoyed as a Lungo, but will taste balanced and nutty when mixed with dairy.
Related Posts
How To Make Nespresso Coffee Sweet
If you prefer your Nespresso coffee to be sweet, there are several things you can do:
Pick the right Nespresso pod.
Use your choice of sweetener or syrups.
To bring out the sweetness in your coffee, you should use a mild or medium roasted coffee pod. If you choose to use a flavored coffee pod by Nespresso, you'll need to add a sweetener or flavored syrup, because the pod own its own will not taste flavored.
Which Nespresso Pods Are Not Bitter?
Whether you choose to use a flavored or non-flavored Nespesso coffee pod, your best pick for a sweet and balanced cup of coffee is to use a medium roasted coffee.
How To Know Which Nespresso Pods Are Not Bitter?
Intensity Level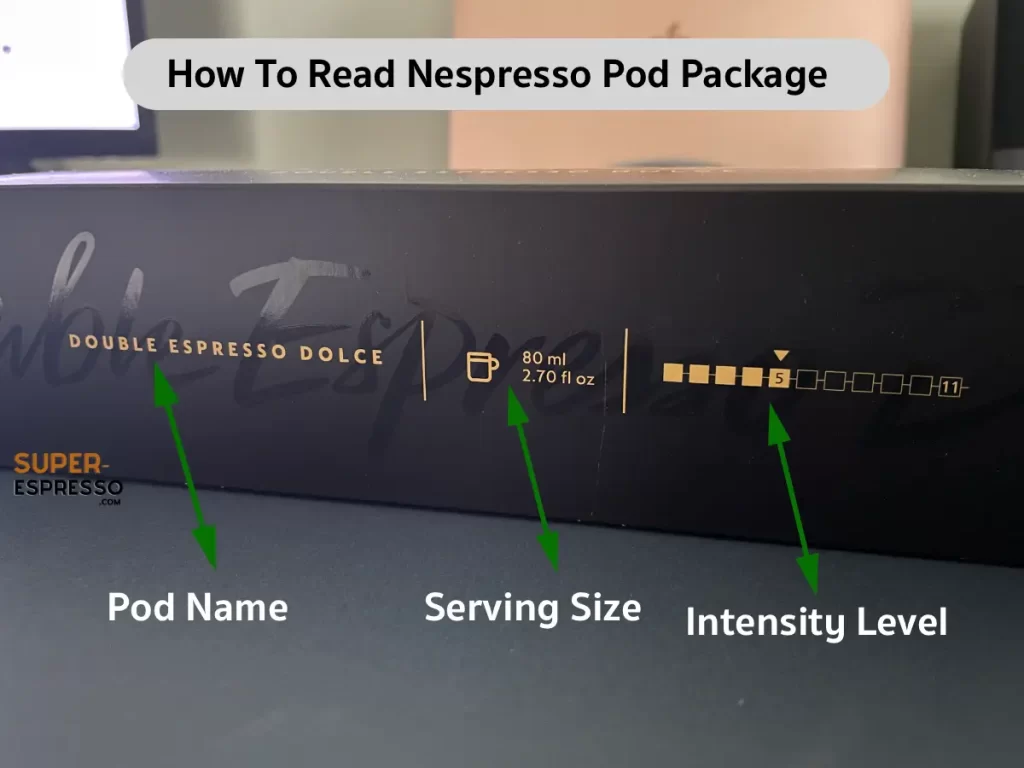 First thing to check for is the Nespresso pod package, and check for the intensity level. The higher the intensity number, the darker the coffee roast and the stronger more bitter it will taste.
For Milk and Barista Creation Nespresso Pods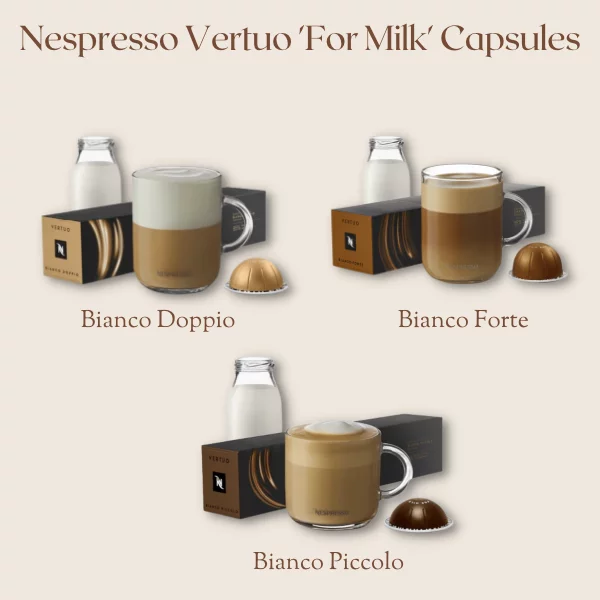 Nespresso has developed a collection of coffee pods that were especially formulated for milk based drinks and for a sweet and balanced finish.
These are the Nespresso Barista Creation pods, and if you are using Vertuo pods, you'll notice these pods say For Milk.
Sweeteners and Syrups for Sweet Nespersso Coffee
For a noticeably sweet cup of coffee, you'll have to add your choice of flavored syrup or sweetener to your coffee.
Flavored coffee pods are not always the best pick for a sweet coffee. Many times, you're better off with a non-flavored coffee pod then adding coffee syrup for a more pronounced taste of flavor.
Flavored Syrups
This is the most common way to add flavor to a cup of coffee. It's what all coffee houses use for their flavored coffee recipes. And luckily, these flavored syrups can be easily purchased in store or online in a variety of flavors.
And if you're watching your calorie-intake or sugar in take, make sure to opt for the Sugar free versions of flavored syrups.
Flavored Coffee Creamers
If you prefer a creamier texture to your coffee, while adding a sweet flavor, then using a flavored creamer is your best choice.
Flavored coffee creamers are thicker in consistency than milk. And it's a 2-in-1 solution because it adds diary and flavor to your coffee. And if you're avoiding diary, there are many non-dairy options, too.