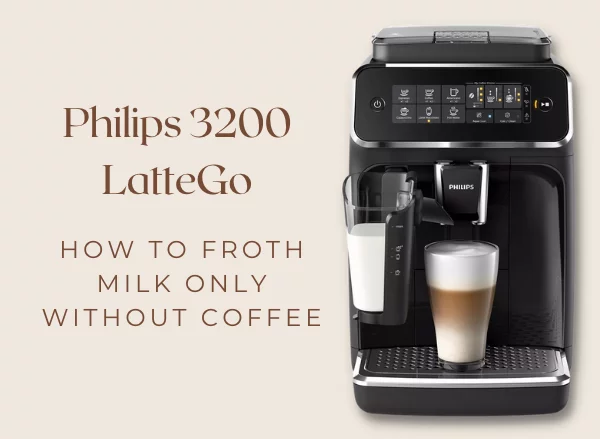 As you know, the Philips 3200 LatteGo espresso machine has a built-in milk frother which automatically heats and froths milk to match your requested recipe, whether it is cappuccino or latte.
While the Philips 3200 LatteGo has an option for Hot Water only, on the downside, it does not have an option for Hot Milk only. So what do you do if you want hot milk froth from the machine without coffee? There are two workarounds for this!
How To Get Hot Milk Only From Philips 3200 LatteGo
Method #1
If you've used your machine for a while, then you know that when selecting a latte or cappuccino, the machine will first heat and dispense the froth into the cup as the first step, then it will dispense the coffee.
So that's exactly what you're going to do:
1- Pick the latte or cappuccino button, depending on the type of froth you want.
2- Wait for the milk to finish dispensing.
3- Immediately hit the STOP button, that way, the machine won't proceed to the next step to brew the coffee.
Now you'll have a nice cup of hot froth without the coffee!
Method #2
Use the option to brew using ground coffee, but without adding any coffee grounds in the bypass doser.
The Philips 3200 has a grounds coffee compartment that you can use when you want to brew coffee from pre-ground coffee and not from beans in the grinder. What you're going to do here is 'trick' the machine into making coffee using the pre-ground setting. But since there will be no grounds in the compartment, the machine will automatically stop.
1- Make sure there is no coffee grounds in the pre-ground coffee compartment.
2- To choose pre-ground coffee option, press and hold the Aroma strength icon for three seconds, until the pre-ground coffee icon flashes.
3- Now press any milk based recipe, the milk will start frothing and dispense into your cup.
And since there's no grounds in the pre-ground coffee compartment, the machine will stop after frothing.
What Kind of Milk Can I Froth Using Philips LatteGo
You're free to use any kind of milk or milk alternatives (Oats, Almond, Coconut…). The results of froth, however, will vary. Cow's full fat or low fat milk works best. Milk alternatives are a hit and miss depending on the brand, but any 'barista' style milk works best.
Related:
Philips 3200 – Coffee VS Americano – What's the Difference?
Philips 3200 Drink Sizes and How to reprogram them