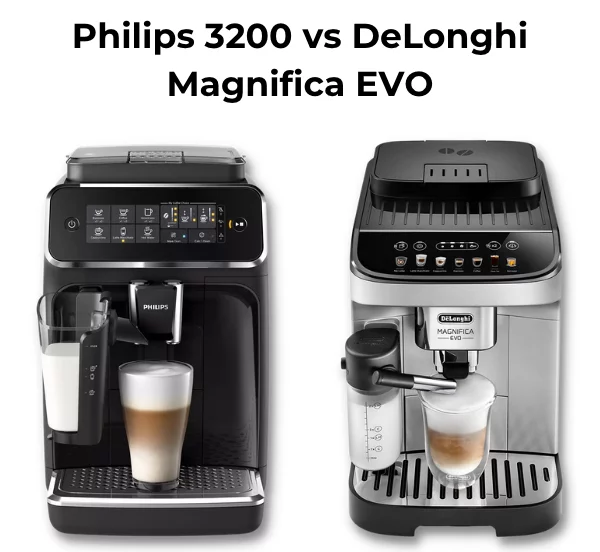 Super automatic espresso machines are a great way to get barista-quality drinks without having to leave the comfort of your own home. With features like one-touch brewing and adjustable settings, these machines make it easy to craft delicious coffee drinks with minimal effort. From milky cappuccinos and creamy lattes to bold espressos, these handy devices have you covered for all of your caffeinated needs. The Philips 3200 LatteGo and DeLonghi Magnifica Evo with LatteCrema (which I find to be one of the best affordable super automatics) are two popular super automatic espresso machine models sold at the same price point and offer plenty of features designed for convenience and performance. In this article, we'll compare both models side by side so you can decide which one is best for you!
This article has two sections, first I'll start with the comparison to get right to the point. Then, you can dive into the specs and features of each machine if you need to.
Philips 3200 LatteGo vs DeLonghi Magnifica Evo with LatteCrema – The Comparison
PHILIPS 3200 Series Fully Automatic Espresso Machine - LatteGo Milk Frother & Iced Coffee, 5 Coffee Variaties, Intiutive Touch Display, Black, (EP3241/74)
Best Pick
De'Longhi Magnifica Evo with LatteCrema System, Fully Automatic Machine Bean to Cup Espresso Cappuccino and Iced Coffee Maker, Colored Touch Display, Stainless Steel
Built-in automatic frother
Control Panel
Colored Icon + Touch Buttons
PHILIPS 3200 Series Fully Automatic Espresso Machine - LatteGo Milk Frother & Iced Coffee, 5 Coffee Variaties, Intiutive Touch Display, Black, (EP3241/74)
Built-in automatic frother
Best Pick
De'Longhi Magnifica Evo with LatteCrema System, Fully Automatic Machine Bean to Cup Espresso Cappuccino and Iced Coffee Maker, Colored Touch Display, Stainless Steel
Built-in automatic frother
Control Panel
Colored Icon + Touch Buttons
These two super-automatic espresso machines are considered to be an entry level with a price range of less than $1000 (as of time of writing). For the most part, they are quite similar at what they do, but some feature differences could affect your experience with each machine.
Let me start with the most important one… the milk frother.
Philips LatteGo vs DeLonghi LatteCrema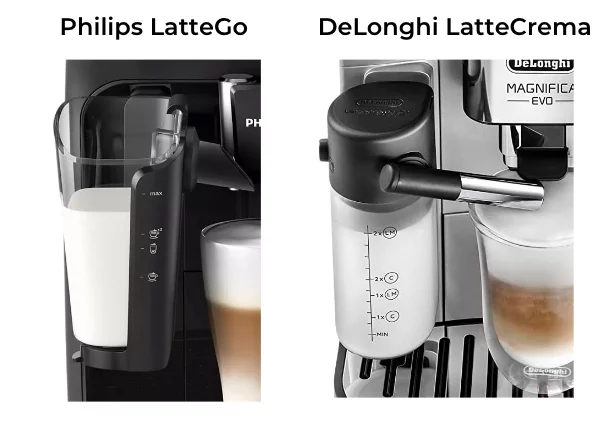 Both of these built-in milk frother perform in a similar way: they create a jet of air to heat and froth milk and dispense it directly into your cup. But here's where the difference comes:
LatteGo does not include a lid, it is designed to be used then removed and cleaned after each use. And the froth level is adjusted from the control panel of the machine.
LatteCrema is fully sealed with a lid. It is designed in a way that you can use it as a milk container in your fridge, so if you pour in too much milk, you simply detach the LatteCrema and keep it in your fridge. As for the froth adjustment, and like most DeLonghi machines, it is done by dialing a knob on the the side of the frother.
When it comes to cleaning, both frothers can be easily detached, dissembled and washed either by hand or a in dishwasher.
If you ever want to froth milk only without coffee, none of these models have a preset for this. On the Philips 3200 there's a workaround to dispense milk only, but not on the DeLonghi.
Also, none of them can make cold froth.
Winner = DeLonghi Magnifica Evo for the better frother design.
Drink Presets
Both of these machines offer the same preset recipes: Espresso, Coffee, Over Ice, Cappuccino and Latte.
Also both of them prepare the beverages in a similar way. For milk based drinks, they will dispense the hot milk/froth, then add the espresso.
For coffee, it is simply a longer shot of espresso (no added hot water) and it can be as large as 8 oz. And for Iced Coffee, what these machines do is brew at a lower temperature and they brew for a longer time so your coffee is bolder, this way, your iced coffee does not taste diluted when the ice starts melting. You'll place a cup full of ice so the machine brews over it.
So overall, when it comes to presets, you are getting the same experience from both models, so it's a tie! But the difference lies in how you customize your drinks, so keep reading…
Adjustable Settings and Customization
In each machine, you can customize the coffee strength, volume and froth settings.
For settings, each machine has three strength selectors – so they're similar in this feature.
Adjusting volumes works differently, though:
Philips 3200 Volume Settings
For espresso, coffee and iced coffee, this machine has 1x or 2x which actually increase the amount of coffee grounds used to brew the coffee. Then, you also have the volume selector which gives you the option of adding more water but in volumes pre set by Philips. (more on Philips 3200 Drink Sizes here)
For Cappuccino or Latte, you can't adjust whether you want a single or double shot of espresso in them. But you can adjust the volume (adds water to your current shot) or froth (uses more milk). What if you want an extra shot of espresso? You'll pretty much just press the espresso button after your latte or cappuccino is ready so it adds an extra shot. If you want a larger cup of latte, for example, as in double the size, you can prepare the same single recipe twice.
DeLonghi Magnifica Evo Volume Settings
the Magnifica Evo does not have a volume selector like the Philips 3200, instead, you can reprogram the volume of each drink as you like by pressing the recipe button and holding it until you reach your desired volume. This will reprogram the recipes and save the new set volumes.
the Magnifica also has MyLatte button which is used to save a whole customized recipe and reuse it with a single push of a button.
Temperature Settings
Both machines offer three step temperature settings . None of them has a dedicated button for temperature control, instead, you need to change the temperature via the machine's settings.
Winner = DeLonghi Magnifica Evo for more flexible customization and memory function.
Grinder Settings
Both Philips 3200 and Magnifica use conical burr grinder that offer precise grind size. Philips' machine has 12 adjustable grind settings while DeLonghi's has 13 settings. An additional adjustable step wouldn't make all that difference, to be honest.
Both also have bypass dosers that allow you to use pre-ground coffee. Many people use this for an occasional change of the current beans they have in their hopper.
It's a tie between the two models for grinder settings.
Control Panels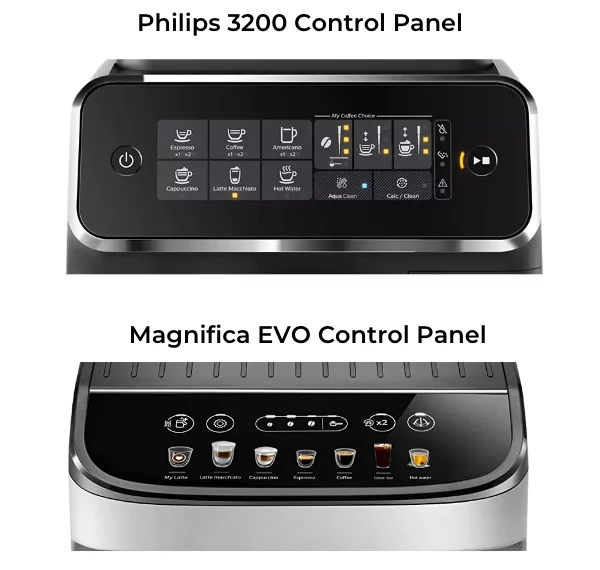 Both Philips and DeLonghi machines have intuitive touch buttons that are easy to read and follow. However, DeLonghi Magnifica Evo uses a much nicer looking buttons with colored icons for each recipe. It almost looks like it's a touch screen but it's not, it's simply colored icons.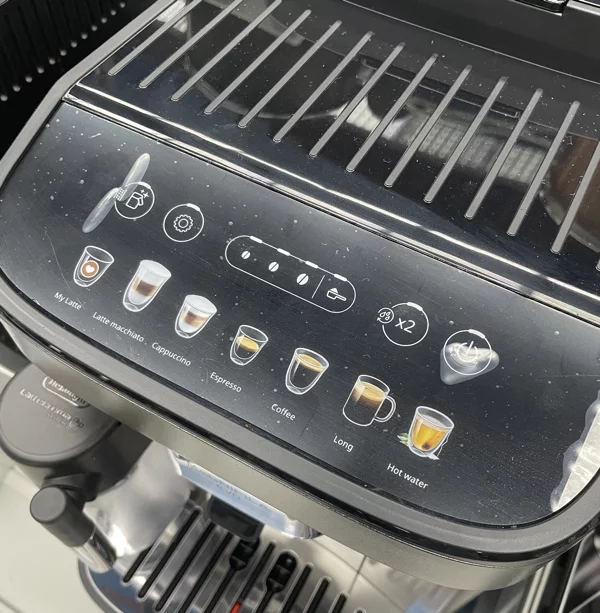 Winner = DeLonghi Magnifica Evo
The Verdict – Which Is Better? Philips 3200 LatteGo or Magnifica Evo with LatteCrema?
It really depends on what you are looking for. The Philips 3200 LatteGo is a great machine if you want fast and consistent results with the ability to customize some settings, but it doesn't have any memory functions nor gives you the freedom of reprogramming your recipes.
The DeLonghi Magnifica Evo LatteCrema has extra features like myLatte function and a nicer control panel. It also offers more flexibility in terms of adjusting drink volumes as well as memorizing customized recipes. And all these extra features don't even come at a large price tag, both Philips 3200 LatteGo and Magnifica Evo are sold at around the same price (at retail price – discounts or offers might change that).
Personally, I prefer the DeLongi Magnifica Evo to Philips 3200 for two reasons:
The overall nicer design,
And the flexibility of customization and memory function.
Features of Philips 3200 LatteGo
The Philips 3200 LatteGo is a super-automatic espresso machine designed to offer barista-quality drinks with a press of a button. With its intuitive touch buttons and adjustable settings, this machine makes it easy to adjust the taste for the perfect cup of coffee every time.
Drink Presets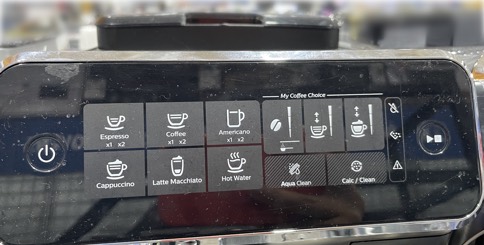 Espresso – Coffee – Iced Coffee – Cappuccino – Latte – Hot Water
Philips 3200 can create five delicious coffees from fresh beans, such as cappuccinos, lattes and coffees. Using LatteGo technology (automatic milk frother), it provides silky smooth milk froth and dispenses it directly into your cup.
Here's a previous article that I wrote that explains the difference between Americano vs Coffee in Philips 3200.
the Iced coffee option is designed to make a bold cup of coffee brewed at a lower temperature (but still hot) so when it mixes with ice, it does not taste watered down.
Adjustable Settings
Aroma Strength – Cup Size & Quantity – Milk Froth Amount
The 3200 has adjustable settings that allow you to customize the strength, size and quantity of each cup. You can also adjust the milk froth according with your taste.
Aroma strength basically means the coffee strength, increasing this parameter increases the strength of the coffee.
As for drink sizes, the smallest and largest volume will depend on each drink selection. For black coffee drinks, you can select between a single or double dose, which controls how much coffee ground is used for the cup. Then you also have the choice of increasing or decreasing strength.
Built-In Conical Burr Grinder and Bypass Doser
Philips 3200 has a built-in ceramic burr grinder with 12 adjustable settings. Adjusting grind settings (making them finer or coarse) affects the taste of your coffee or espresso. By default, your machine will ship with the optimal grind setting, but if you ever see that your espresso looks or tastes watered down, even if you increased the coffee strength, that basically means you should adjust the grinder to make finer grounds.
If you ever want to use ground coffee and not use the grinder, you can do that by adding ground to a special bypass container. It holds a single serving of coffee that you can use immediately for your beverage.
LatteGo Built-In Milk Frother
The detachable automatic frother will heat and dispense hot frothy milk to match your selected recipe. Cappuccino makes denser froth and latte uses more milk and less foam.
The frother has level marks to guide you with how much milk to use for each recipe. It is easily removable and cleaned.
You can use any type of milk, including plant-based milks, with the LatteGo but your results will always vary depending on the type of milk you use. Whole milk is the recommend choice, if you don't consume dairy products, go for a 'barista style' plant based milk.
Capacity
Bean container capacity is 9.7oz and 12x waste container, plus an AquaClean water filter that ensures up to 5000 cups* without descaling.
This model has been developed with convenience and performance in mind, providing you with an easy way to make your favorite hot beverages at home without compromising on taste or quality. Not only can you easily craft delicious coffee drinks with minimal effort but also enjoy them in style thanks to its modern design with stainless steel accents. Furthermore, adjusting the settings is incredibly simple – just select how much coffee and how much froth you want and let it do the rest!
Thanks to its long-life performance guarantee, the Philips 3200 LatteGo is an ideal choice for those who want coffee beverages without all the fuss of learning complicated recipes or measuring ingredients precisely. It also offers great value for money when compared to other machines in its price range, making it well worth considering if you're looking for an elegant espresso maker that delivers consistently great results.
Features of DeLonghi Magnifica Evo with LatteCrema
The DeLonghi Magnifica Evo with LatteCrema is a stylish and sophisticated espresso machine that provides users with an easy and convenient way to craft coffee drinks from the comfort of their own home. It's equipped with all the features necessary for brewing delicious espresso-based beverages, such as a built-in conical burr grinder with 13 settings, a LatteCrema system for texturing milk or milk alternatives, and 7 one-touch recipes with intuitive color icons. The unique My Latte function allows you to personalize your drinks by saving your own custom recipes.
Preset Drinks
Espresso – Coffee – Over Ice – Cappuccino – Latte – Hot Water
Espresso, Latte and Cappuccino are what you know and love. With this machine, you have the option of adjusting strength, using single or double espresso or adjusting the foam settings.
Coffee option does a larger serving of coffee to imitate drip coffee, but it's not the same. It's still espresso based, and it does a long brew of espresso up to 8 oz.
The Over Ice option, works similar to Philip's, by brewing at lower hot temperature and bolder taste.
On the control panel, you'll notice a x2 button, which when pressed the espresso button lights up. This actually does NOT make a double espresso, it just splits your espresso shot into two cups, which I don't see the point of. If you want to make a double espresso, you'll basically have to press the espresso option twice instead of using the x2 button.
LatteCrema System
The detachable automatic frother makes it easy to prepare cappuccinos and lattes with adjustable foam in no time at all. The mark on the frother guides you in how much milk is required for each recipe. Plus, all removable parts are dishwasher safe which makes them easy to clean after use. LatteCrema is even designed to be stored in the fridge if you still have any left over milk in it, which eliminates any waste.
Built-in Grinder and Bypass Doser
In terms of capacity, the bean container holds 9 oz of coffee beans. It has a 13 adjustable grind settings, and a bypass doser for using ground coffee.
Adjustable Settings
Coffee strength: select from 3 settings
Froth settings which is adjusted by dialing a knob on the frother and not through the menu on the machine.
MyLatte Option
This is a nice memory function the DeLonghi Magnifica Evo that allows you to save your favorite adjusted setting and then reuse it with a press of the MyLatte button.
Overall, the DeLonghi Magnifica Evo with LatteCrema is an excellent choice if you're looking for an user-friendly espresso machine that won't cost you an arm and a leg but still delivers delicious results every single time. Not only does it give you one-touch access to all kinds of coffee-based beverages but also offers excellent convenience features such as adjustable grind settings.
Related: DeLonghi Dedica vs Magnifica