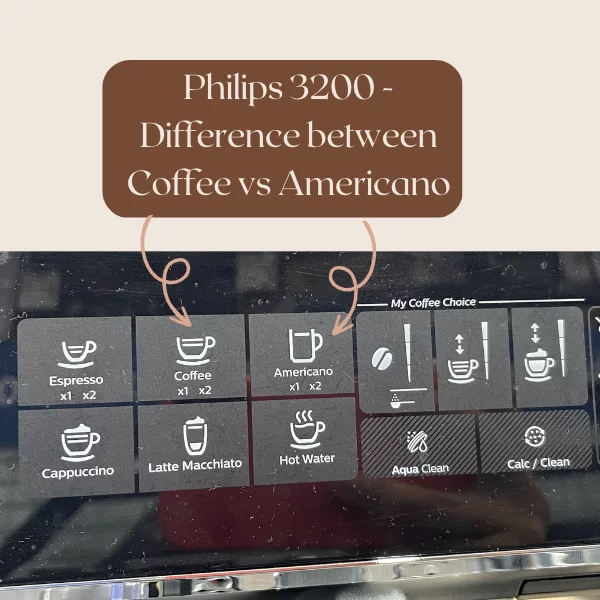 The Philips 3200 Fully Automatic Espresso Machine is a powerful, high-end espresso machine that enables you to make café-style drinks at the comfort of your own home. Equipped with a built-in grinder and milk frother, this machine can easily create rich, creamy espresso drinks with just the push of a button. The intuitive controls make it easy to customize each cup of espresso and its sleek design ensures that it will look great in any kitchen. This all-in-one appliance is perfect for coffee connoisseurs who want the ultimate convenience and quality in home espresso making. With advanced features such as adjustable brew strength, temperature control, pre-infusion technology, you'll be able to make delicious cups of espresso at the touch of a button. Whether you enjoy cappuccino, latte or macchiato, this automatic espresso maker from Philips makes it super easy to get your favorite coffee drink with a press of a button.
Philips 3200 Drink Options
Espresso – Americano – Coffee
Cappuccino, Latte, Hot Water
For all non-milk drinks, you'll notice that each button has 1x and 2x written on it. This indicates whether you want a single or double shot of espresso in your espresso, coffee or Americano.
You also have the options of adjusting the volume of your drinks, as well as strength, temperature and foam settings for milk frother.
Americano vs Coffee – The Difference
This is the question that this dedicated post is about, what's the difference between the Americano and Coffee button in the Philips 3200?
Let's start by answering what's the difference between these two drinks, generally?
An Americano is a single or double-shot of espresso that's been diluted with hot water, while coffee is brewed by passing hot water through ground coffee.
Using the Americano button on the Philips 3200 will do the following:
Brew a single or double shots of espresso, as you choose. The machine will pause…
Then, it will dispense hot water until it fills up the cup according to the volume you picked.
How much water does the machine add?
The default volumes are 4, 6 and 8 oz for the full cup. So when choosing Americano, your ratio will depend on whether you choose a single or double espresso. Once it filled up the desired espresso volume, the rest of the cup will fill up with hot water.
Selecting the Coffee button will:
Brew a single or double shots of espresso – which basically means it will use either the amount of coffee grounds for a single shot or double shot, and it will run water through that one puck until it fills up the cup. No hot water is used to dilute the coffee.
Can I Add Milk To Americano or Coffee Using the LatteGo Frother?
It's possible, but it's not a straightforward option because the machine does not have a selection for hot milk only.
Here's what you'll want to do:
1- Make your Americano or Coffee – whichever you prefer. Do not remove the cup.
2- Fill the LatteGo frother with your desired amount of milk. You can use the guide lines on the side of the pitcher.
3- Select either the Cappuccino or Latte button, depending on the froth or milk style you want.
Because the machine is designed to froth milk first when you choose the cappuccino or latte, you'll want it to run the frother, dispense the milk and then STOP the brew cycle before it starts to brew the espresso. That way, it will heat, froth and dispense the milk to your current cup of coffee/americano without making an entire cappuccino.
Why Is My Espresso Is Very Light/Watery When Making an Americano or Coffee using Philips 3200
A lot of users have complained that the base of their black coffee or americano, which is the espresso, comes out quite light or watery. The good news is, this is easily fixable. Here's what you could be doing wrong:
First, if you are using light roast beans, then you should expect lighter espresso color. But if you are using medium or dark beans and your espresso is still light, then all you have to do is adjust the grind settings.
Philips 3200 has a 12-step grinder. You'll want to play with those settings until you find your favorite. But as a rule:
To fix light espresso, make the grinds finer. If your espresso is too bitter or dark, make the grind coarser.
Fine-tuning your grind settings will solve all your espresso extraction problems.
NOTE: If your Philips 3200 is still new out of the box, Philips actually mentions that it takes about 5 brew cycles until the machine adjusts and brews correctly. So expect the first few shots to be terrible.
Related Post: