If you're looking for an affordable compact super automatic coffee brewer, The Carina (1200 Series) by Philips is a great machine to consider. It's a very simple machine that does exactly what it's suppose with push-button operation. It has enough customization options to make a nice cup of coffee the way you like it.
A Quick Side by Side Comparison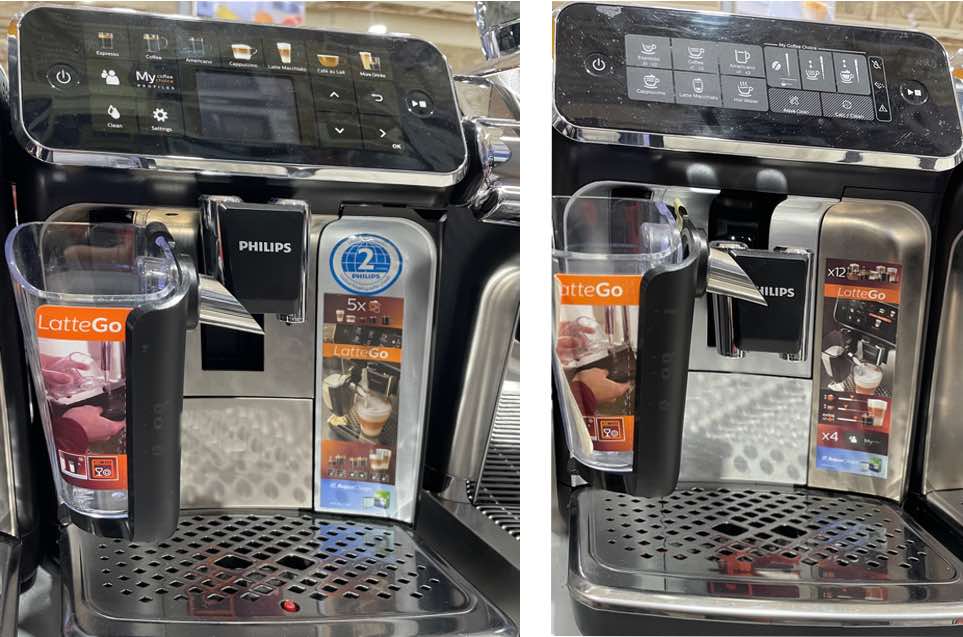 In a hurry? Here's your quick comparison table. But do read below for details on the features of each model
Philips 1200 vs. 2200 vs 3200 vs 4300
Features of Philips 1200 Super Automatic Espresso Machine
EDIT 2023: Philips has updated the design of the 1200 model to look just like the 2200 and it now also includes 3 aroma (strength) settings like just the other models.
The 1200 model is an affordable, entry level super automatic espresso machine that can give you a lot for your money without breaking the bank.
All in one, bean to cup coffee maker with built-in ceramic grinder and milk frother.
Push-button beverages: Espresso, Coffee and Hot Water.
Milk frothing wand allows you to heat and froth milk to create drinks like Cappuccino or Latte.
Adjustable 12 grind settings.
Adjustable 3 temperature settings.
Adjustable aroma settings
Adjustable coffee volume.
Bypass doser for using pre-ground coffee.
Front loading water reservoir with 1.8L capacity.
Bean hopper capacity: 10 oz.
Air-tight lid keeps coffee beans fresh inside the hopper.
Compatible with Philips' AquaClean smart sensing water filters (sold separately).
1- Philips 1200 vs 2200
If you've seen the Philips 2200, it looks identical to the 1200. And we're not wrong, they both have the exact same features:
Beverage options: espresso, coffee and hot water.
Temperature settings: 3
Grind settings: 12
Milk Frother: classic steam wand
They also have the same ceramic grinder and water reservoir. So, where's the difference?
The difference is in the available variations: the 1200 has a classic frother only, while the 2200 is available as a classic wand or LatteGo variation.
Design wise, when these systems first came out, there were two other differences: design and aroma strength. The 1200 was all plastic and did not have aroma strength selection, but as of updating this post (FEB 2023), the 1200 now looks identical to the 2200, has the same metal accents and has aroma strength settings.
If you want to go next level with the features, the 3200-series has the most features out of this line of machines.
2- Philips 2200 vs 3200
Drink Presets are the only difference between these two models…
With the LatteGo system:
2200 has Espresso, Coffee, Cappuccino and Hot Water buttons.
3200 has Espresso, Coffee, Americano, Cappuccino, Latte, Hot Water.
With the Classic Wand option:
2200 has Espresso, Coffee, Hot Water, Steam
3200 has Espresso, Espresso Lungo, Coffee, Americano, Hot Water and Steam
As for the 3200 model with LatteGo and Iced Coffee, you get:
Espresso, coffee, Iced coffee, cappuccino, latte, hot water.
The Philips 3200 Features
Philips 3200 Drinks
Four preset beverages: espresso, coffee and americano (difference between americano vs coffee in Philips 3200). Also milk based drinks like Cappuccino and latte. It has the hot water option, too.
Other Features
It has adjustable temperature, coffee volume (learn about exact drink sizes) and coffee strength settings.
Design wise, the 3200 has some nice stainless steel accents like the bezel around the front panel and the stainless steel drip tray.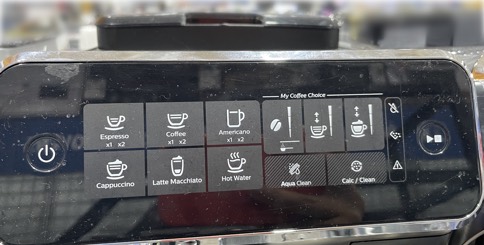 The three models of Philips 3200
The 3200 comes in three variations: one with a Classic frother, one with a LatteGo system, and one with a LatteGo and Iced Coffee selection:
Philips 3200 with Classic Milk Frother: Since this machine uses a classic steam wand, the presets on it are only espresso, lungo or coffee. There's also the steam option. You will brew your coffee or espresso shot, then you will manually heat and froth your milk by switching on the steam wand.
Philips 3200 with LatteGo and Iced Coffee: this model has espresso, coffee, cappuccino, latte and iced coffee options. It is missing the 'Americano' option that the other LatteGo version has. Scroll down to read and watch a video on how Iced coffee option works.
Philips 3200 with LatteGo: This one replaced the Iced coffee option with an Americano, which is a longer 6 to 8 oz brew of coffee. Everything else is the same.
3- Philips 3200 vs 4300
The next model up the line is the Philips 4300, let's compare it to the 3200 model.
Similarities
Milk Frother options: Classic frother and LatteGo
Same design in terms of dimensions, conical burr grinder, front-loading water tank and drip tray.
The Difference
The biggest difference is the control panel design…
The Philips 4300 has a digital screen that will give you more control over your customization. You get to see more details on coffee volume, temperature and milk level if you're getting a LatteGo version. The screen also gives you detailed messages when you need to clean the system or if it ever runs into an error.
Philips 4300 Drinks
Drink Presets on the Philips 4300 and 3200 are somewhat similar. The 4300 model might use some different names for a recipe (Coffee Lungo vs Caffe Crema… both are a Lungo, just named differently).
The 4300 LatteGo model features buttons for: espresso, coffee, Americano, Cappuccino, Latte, Cafe au Lait and then there's the More Drinks button, which will take you to a menu that pops up on the display. On the classic frother model, you get: ristretto, espresso, Americano, Caffe Crema, Hot water.
The one thing that the 4300 model has that is NOT available on the 3200 is Profiles. With the 4300, you get to save recipes under 2 profiles. Selecting a certain profile will recall saved recipes and presets for said profile.
When it comes to the Classic wand versions of these two machines, the frothers are pretty similar, except for one thing: the 4300 has a dial on steam wand that allows you to control the froth density, switching between froth styles allows you to make dense froth for a cappuccino or lighter froth for a latte.
Last, but certainly not least, the Philips 4300 offers 5 coffee strength settings while the 3200 has only 3 settings.
4- Philips 1200 vs 3200
If we compare the entry model and the mid-range model of Philips Carina models, what would be the difference?
Milk Frother Options
The 1200 model is only available with a steam wand
3200 model is available in a steam wand or LatteGo option.
Drink Presets
1200 model has espresso, coffee and hot water option
3200 presets depend on whether you get the steam wand or LatteGo version. The steam wand version has: Espresso, Espresso Lungo, Coffee, Americano, Hot Water and Steam. The LatteGo version has Espresso, Coffee, Americano, Cappuccino, Latte, Hot Water. The third 3200 has Iced Coffee option instead of Americano.
So overall, the 3200 model has more model variations and more presets, giving you more options to choose from. The 1200 is pretty basic.
Which Philips Super Automatic Should You Buy?
If you're looking for an all in one, push button solution then the 3200 LatteGo has it all. The automatic milk frother means you only need to push the cappuccino or latte button to get your favorite beverage done for you fully automatically. The milk froth will be perfectly done every time. This is the biggest advantage the LatteGo offers you.
If you want the LatteGo system, the 2200, 3200 and 4300 have two variations: with with a steam wand and another with the LatteGo system, so these two models give you this option. The 1200 model does not come in a variation with a LatteGo.
The 3200-series offers extra presets (lungo or americano), but I do believe you can save a bit of cash and manually create those presets on either the 1200 or 2200 models. Both models have instant hot water (so you can easily make an americano) and the espresso volume can be adjusted to create a lungo.
The 4300 model is definitely worth considering for three things: The display, which helps make things easier, the extra strength settings and the profiles, which you'll find quite helpful if more than one person use the machine.
If you want the most affordable option that still does most tasks, the 1200 is your choice.
LatteGo vs Classic Steam Wand – Which Is Best?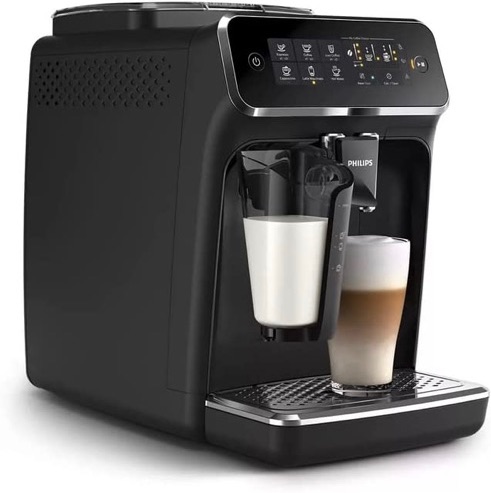 LatteGo is the automatic built-in frother you see attached to the machine. This type of frother works fully automatic from heating, frother to dispensing the correct amount of milk for the recipe you chose. The froth is customizable by selecting the level of froth you want. All you have to do is select your drink: latte or cappuccino and then change the froth level (if you like).
If you opt for the Classic steam wand, you'll have to do all that work manually. Pour in your milk in a frothing pitcher, hold it to the steam wand until it heats and froths. Many users struggle at first to get the milk to the right temperature and texture. Frothing manually takes some practice until you get it right. So if you want an out-of-the-box solution, go for the LatteGo system instead.
Related Post:
How Does the Iced Coffee Option Work?
Using the Iced option, the machine will brew at a slightly lower temperature and a slower rate, which produces a strong yet smoother brew. This will brew better over ice and will not melt your ice entirely.
Will it make a difference using the Iced Coffee option vs. brewing regular coffee over ice?
Yes, it should make a difference if you like your iced coffee less bitter and acidic. Being able to brew the coffee using lower temperature (not cold, but lower heat) makes a difference in how the coffee tastes.
Hot Water Option – What's It For?
The hot water button provides you with boiling hot water instantaneously. You don't have to heat water manually or use an electric kettle to bring water to boil, with the Philips Carina, it's as simple as pushing a button to get hot water to use for tea, instant meals or whatever else you might need it for! The hot water goes through an independent spout, so you don't have to worry about any coffee taste or residue in your hot water.
The Difference Between Brewing Coffee and Espresso
A lot of super automatic machines only brew espresso, which is a shot that is made by extracting a strong brew using high force of water. To extract a shot of espresso, machines use a 15-bar (sometimes 19-bar) pump pressure. That's why espresso machines operate on a totally different level than a drip coffee maker.
Espresso is either drank on its own, or with the use of frothed milk, can be used as a base for many specialty coffee drinks like Cappuccinos, Lattes or Macchiatos.
What about those times when you don't want espresso, but would prefer a classic cup of coffee instead?
A machine like the Philips Carina can make that for you, too. Although the machine does not drip coffee the same as a classic coffee maker, it uses low pressure to replicate it and produces a long cup of coffee that's just as good as a traditional drip machine's.
Frequently Asked Questions
Where Are Philips Coffee Machines Made?
All models, 1200, 2200, 3200 and 4300 are made in Romania.
Can LatteGo Be Purchased Separately?
Yes, you can buy it separately as a replacement part or just as an additional frother to have. However, your machine has to be compatible with it in the first place. Which means, for example, you can't buy 1200 model and then try to fit a LatteGo on it, it won't work.
How Often Will My Philips Machine Need to Be Descaled?
If you use soft water, it can be done once every 6 months. Using hard water will require that you descale your machine more often, once every 3 months at least.
What Kind of Milk Can I Froth Using LatteGo?
Any type of milk you prefer. Whole cow's milk makes the best froth, followed by low fat milk. Plant based milks are a hit or miss, but using a 'barista style' almond or oats milk will give you better results.
What Is The Largest Cup of Coffee I Can Make on Philips 2200 or 3200?
By default, all coffee or milk based recipes don't go over 8 oz. But making larger cups of coffee is as easy as hitting the brew button again to make a double brew instead of one. That way, you'll make double the size of any recipe.
Which Coffee Beans Are Best To Use with Philips Machines?
You can use any type of beans or coffee roasts you like. They don't have to say 'ESPRESSO' or anything. However, you want to avoid oily beans (you'll notice they have a shine to them), these type of beans are a problem for all kind of super automatic machines as they clog the grinder easily.