While DeLonghi Magnifica Evo and Philips 2200 share a lot of similarities when it comes to functionality, there are several differences that can make you lean towards one or the other.
Philips 2200 is a less expensive alternative to the DeLonghi Magnifica Evo, so it's the budget-friendly option in this comparison.
But what features will you get if you decide to pay up for the DeLonghi Magnifica Evo instead?
more intuitive control panel
Attractive design
More drink presets at the touch of a button
Which is pretty much what you want out of a super automatic espresso machine.
In this comparison guide, I'll tell you the exact differences between DeLonghi's Magnifica Evo vs Philips 2200, the benefits you'll get from each machine and whether you should spend more on the DeLonghi or save some cash and get the cheaper Philips 2200 instead.
I will start with the differences between all variations of Philips 2200 and DeLonghi Magnifica Evo. Then, I'll get into the similarities of both coffee machines, which are features that you can get from all models.
DeLonghi Magnifica Evo vs Philips 2200 (Automatic Frother Version)
Coffee Drink Options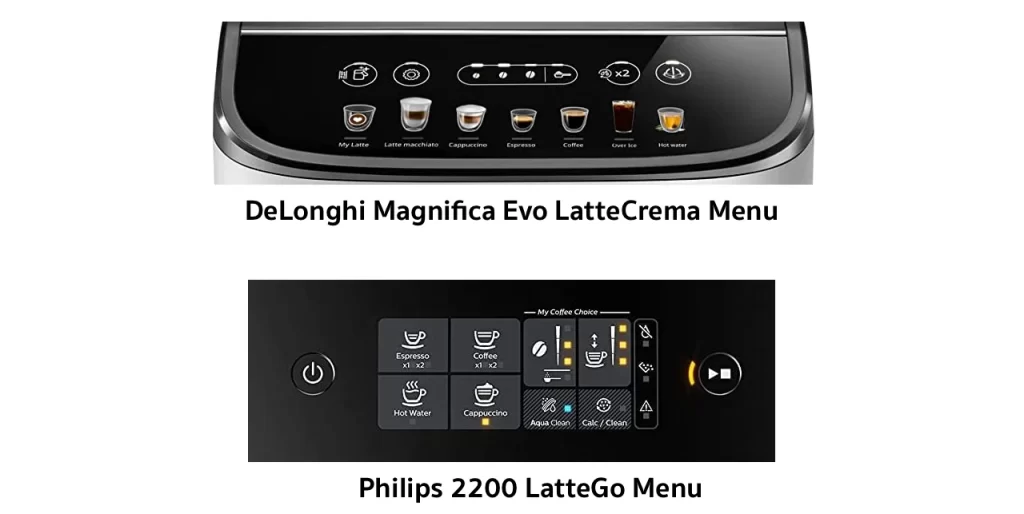 | | |
| --- | --- |
| DeLonghi Magnifica Evo with LatteCrema | Philips 2200 LatteGo |
| Espresso, Coffee, Over Ice, Cappuccino, Latte Macchiato, Hot Water | Espresso, Coffee, Cappuccino, Hot Water |
DeLonghi is the clear winner here. You get two popular milk coffee drinks as a preset: Cappuccino and Latte.
Philips 2200 only has Cappuccino. To make a Latte using the Philips 2200 LatteGo, you'll have to do two things:
Press the Cappuccino button, then, increase the volume level to highest level.
That way, the machine will brew double the coffee amount and will steam higher amount of milk to make a Latte.
LatteGo vs LatteCrema Frothers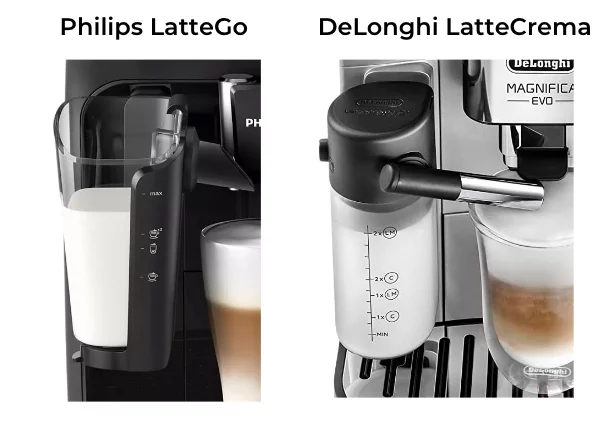 LatteGo and LatteCrema milk frothers perform in a similar way: they create a jet of air to heat and froth milk then dispense it directly into your cup.
LatteGo can be easily detached and placed in the fridge if it has left over milk. On the Philips 2200, there's no option to adjust the froth level, unlike higher models like Philips 3200 and Philips 4300.
LatteCrema is also designed in a way that you can use it as a milk container in your fridge, so if you pour in too much milk, you simply detach the LatteCrema and keep it in your fridge. But on the downside, you can't control froth level.
When it comes to cleaning, both frothers can be detached, dissembled and washed either by hand or a in dishwasher.
None of these frothers can make cold froth
DeLonghi Magnifica Evo vs Philips 2200 (Classic Milk Frother Version)
Coffee Drink Options
| | |
| --- | --- |
| DeLonghi Magnifica Evo | Philips 2200 |
| Espresso, Coffee, Long, Americano, Over Ice | Espresso (single/double) or Coffee |
DeLonghi has three additional coffee presets: Long (which is an Espresso Lungo), Americano (double espresso with hot water) and Over Ice.
These are a lot more options that a coffee drinker can enjoy with a press of a button. With the Philips 2200, these can be replicated with selecting two or three options instead of a single one, so it's not like you can't really do it, it's just not as convenient.
DeLonghi Magnifica Evo Over Ice Option
What does the Over Ice option do on the DeLonghi?
It brews the coffee longer so it tastes stronger, even when mixed with slightly diluted ice.
It brews at a lower temperature than hot coffee, that way, the coffee does not melt the ice right away.
Philips 2200 does not have a special option for Iced coffee. You can still brew over ice, but the coffee will come out pretty hot and melt the ice right away. You can compensate for this by adding strength to your coffee and selecting the highest temperature, which is done through the settings.
DeLonghi Magnifica Evo and Philips 2200 Similarities
Machine Variations
Both DeLonghi and Philips offer two variations of their coffee machines: one with the Classic milk frother (a steam wand) and another version with an automatic milk frother.
Classic Milk Frother vs Automatic Milk Frother
What would be the difference between using a classic milk frother or an automatic one?
Classic Milk Frother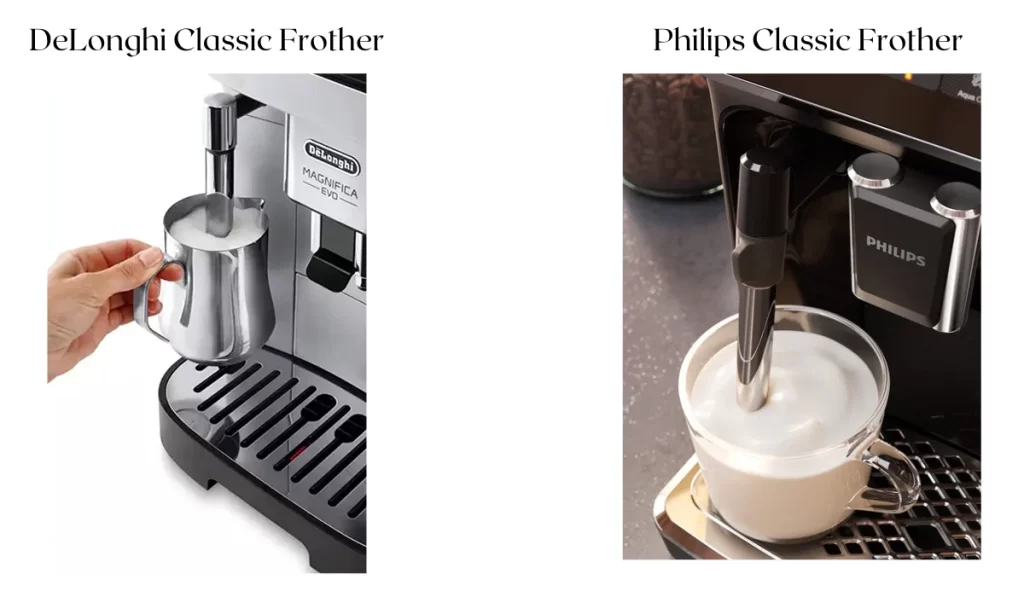 With the steam wand version, frothing milk is manual. You will have to use a pitcher and place it under the steam wand and start frothing manually.
It also affects the drink selections available on the machine. With the classic frother option, your presets will not include milk based drinks, but only espresso and coffee.
Automatic Milk Frother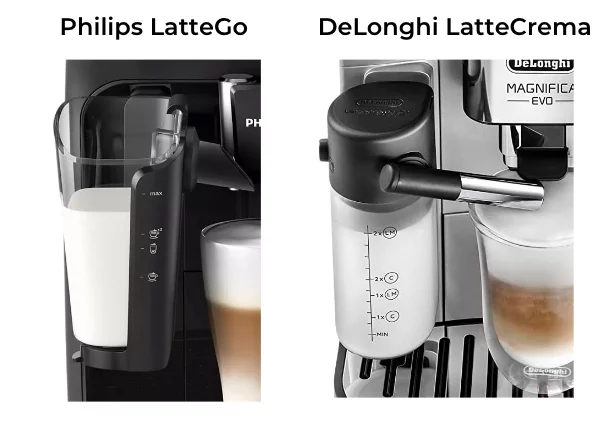 Just like it sounds, an automatic milk frother does the frothing and milk heating automatically. It also dispenses the milk into your cup automatically. That means, prepping milk based coffee drinks is done with a press of a button.
The drink presets on the automatic milk frother versions includes a selection of milk based coffee drinks.
Conical Burr Grinder and Bypass Doser
Both DeLonghi and Philips coffee machines are bean-to-cup, which means, they have a conical burr grinder built into it.
There's a tiny difference here, the DeLonghi has 13 adjustable grinder settings while the Philips has 12 grinder settings. But from my personal experience, one single adjustable setting does not make any real difference, so this isn't something to consider really.
In case you don't want to use the beans in the bean hopper, you can use pre-ground coffee by adding it to the bypass doser. This small container allows you to add a single dose of ground coffee and bypasses the grinding step. This is perfect for when you want to use decaf coffee, flavored coffee or anything different than the beans in your hopper.
Control Panel
DeLonghi Magnifica Evo and Philips 2200 both use touch buttons for their control panel. However, DeLonghi's panel has a much nicer design that looks almost like a touch screen. It has illustrations of each coffee drink, which makes it even easier to pick from the menu.
Philips 2200 uses a standard set of buttons with the name of each preset, no illustrations.
So, even though both coffee machines use touch buttons, DeLonghi made a great job as making theirs look quite attractive.
Temperature Settings
With each coffee machine, you get to select from three temperature settings. Also on both machines, there's no button to adjust the temperature, but you'll have to do it through the settings instead.
Coffee Strength Settings
You get to select from three coffee strength settings on both the DeLonghi Magnifica Evo and Philips 2200.
On the control panel, there's a button that allows you to easily adjust the strength of your brew.
What this option does is adjust the coffee to water ratio. So it grinds a bit more of coffee grounds while using the same amount of water ratio. It also steeps the coffee a bit longer before brewing to extract more flavor.
Volume Settings
The commonality between the Philips and DeLonghi is that both allow you to adjust the volume of your coffee, but there's a difference in how it is done:
Philips 2200 Volume Settings
For espresso and coffee, this machine has 1x or 2x which actually increase the amount of coffee grounds used to brew the coffee. Then, you also have the volume selector which gives you the option of adding more water but in volumes pre set by Philips.
DeLonghi Magnifica Evo Volume Settings
the Magnifica Evo does not have a volume selector, instead, you can reprogram the volume of each drink as you like by pressing the recipe button and holding it until you reach your desired volume. This will reprogram the recipes and save the new set volumes.
DeLonghi Magnifica Evo vs Philips 2200 – Which To Pick?
As you can see, while there are a lot of similarities between these two coffee machines, and those similar features are pretty much standard in all super automatic coffee machines, let's focus on the clear differences:
Putting budget aside, the DeLonghi Magnifica Evo is the clear winner.
It is a newer machine. It has a nicer design, more options and overall a much better experience than the Philips 2200 which has basic features only.
I recommend the DeLonghi Magnifica Evo with LatteCrema, If:
You're a frequent latte or cappuccino drinker.
Having an automatic milk frother will make all the difference in your experience. Press button luxury is what you want out of your super automatic, and it's exactly what a Magnifica Evo with LatteCrema will give you.
You do not want to tinker with a manual frother every time you want to make a latte where you have to measure the milk your self, and check the temperature and froth manually.
On the other hand, if you mostly drink espressos and coffee, but enjoy a latte once in a while, having a steam wand won't be as demanding as using it daily.
Who should go for the Philips 2200?
If you are a budget shopper and want something for around $500 or so.
If you're not too concerned with coffee presets and wouldn't mind making your coffee using several pushes of a button.
The Philips 2200 is a great coffee machine, it's just not as attractive or convenient as the DeLonghi Magnifica Evo, which is to be expected for the price.
If you still prefer to buy a Philips coffee machine, I do recommend the Philips 3200 with Iced Coffee over the Philips 2200, which is more comparable to DeLonghi Magnifica Evo.
Related Comparisons