For the longest time, the answer to the question 'Can I make hot chocolate using my Nespresso machine' has been a depressing 'No, you can't '. Gladly, that's not the case anymore!
We were happy to find out that now there are a number of Nespresso compatible Hot Chocolate capsules available in the market. As of now, there are a limited number but we're hopeful the number of options available will grow and we'll be sure to keep our list updated!
Important note: These hot chocolate capsules are only compatible with Nespresso OriginalLine machine (Inissia, Pixie, CitiZ, Lattisima, U…) and will NOT work on VertuoLine machines.
Best Nespresso-Compatible Hot Chocolate Capsules:
Caffeluxe Hot Chocolate Nespresso-Compatible Capsules: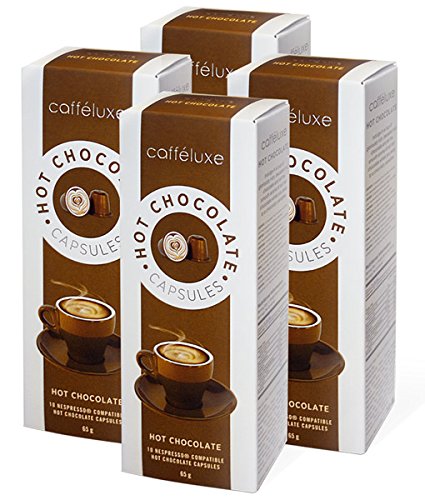 Caffeluxe is a South African brand that makes a wide range of Nespresso Compatible coffee capsules, and lucky for chocolate lovers, it makes Hot Chocolate capsules, too. These capsules are sold in a pack of 4, with a total of 40 capsules.
Click here to learn more about Caffeluxe Hot Chocolate Nespresso Capsules, read the customer reviews and buy it.

Podista Hot Chocolate Nespresso Compatible Pods:
Podista makes a variety of Hot Chocolate Nespresso-Compatible capsules for every taste. These capsules come in classic hot chocolate, caramel infused hot chocolate and mint infused chocolate. Each box includes 10 capsules. Each flavor can be purchased separately or as a set of three in a variety pack.
Click here to learn more about Podista Hot Chocolate Nespresso Capsules, read the customer reviews and buy it.

How To Make Hot Chocolate Using a Nespresso Machine?
It's quite as simply as making coffee using a Nespresso machine. These hot chocolate pods can be enjoyed on their own or mixed with frothy milk. Though please note, if you're going to drink it without milk, you should not brew a full mug like traditional hot chocolate as that would dilute the drink.