Want to make espresso without an espresso machine? A stovetop espresso maker, also known as a Moka pot, would be your best choice. One thing to point out is, making espresso with a moka pot does not produce the same consistency or shot a machine produced, however, the espresso produces will still be much richer than regular coffee.
Stovetop espresso makers are available in different sizes, we've chosen ones that hold 4 cup to 6 cup capacity, perfect for your enjoyment as well as friends and family when they come over.
Best Stainless Steel Stovetop Espresso Makers
Vev-Vigano Vespress Oro 4-cup Stainless Steel Stovetop Espresso Maker: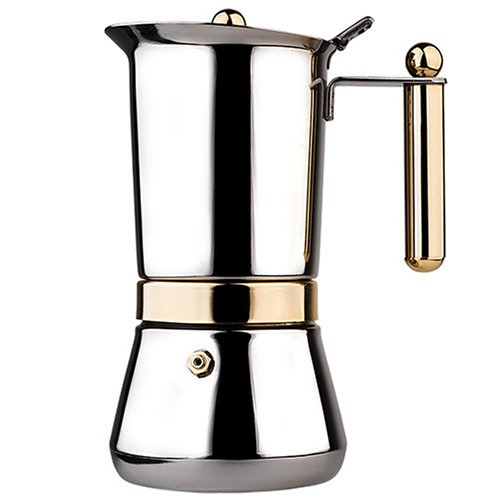 Beautiful stainless steel design with brass accents.
all internal parts are stainless steel as well.
Works with all kind of stovetop: gas, electric, induction.. etc.
4-cup capacity. Also available as 6 and 14 cup capacity.
Made in Italy.
Click here to learn more about this pot and read customer reviews
Cuisinox Milano Espresso Coffee Maker:
6 cup capacity, also available in 4 and 10 cups.
Satin stainless steel finish.
Also available in polished stainless steel.
Induction base.
Works with all cooking surfaces.
Includes 1 extra gasket and reducer.
Click here to learn more about this pot and read customer reviews.
Bialetti Musa 4-Cup Stovetop Espresso Maker:
Stainless steel construction, some plastic parts.
4-cup capacity of 2 ounce per serving.
Coffee ready in 4 to 5 minutes.
Click here to learn more about this pot and read the customer reviews.
Which Stainless Steel Moka Pot Is Made in Italy?
If you're looking for the best quality possible, then it's only natural to opt for an Italian made moka pot. Here are some that we found:
Stainless Steel Or Aluminum Moka Pots – The Difference and Why You Should Go For Stainless Steel
From the beginning, moka pots have always been made of aluminum and stainless steel are sort of the newcomers to this type of coffee brewing. Aluminum moka pots are also more popular, possibly because they're the well-known ones or maybe because they're cheaper in price. But there are a few issues in aluminum moka pots:
They're harder to clean than stainless steel which cleans with virtually a rinse while aluminum might even require some scrubbing.
Aluminum moka pots are not induction-friendly. If you have an induction stovetop, go for stainless steel.
There have been reports that coffee made with an aluminum moka pot can taste metallic.
When it comes to prep time, stainless steel boils water a lot faster than aluminum.
Last but not least, stainless steel is more durable than aluminum.
Here you'll find a useful discussion on the subject if you're interested.
You'll want to go for a stainless steel moka pot instead as they are easier to maintain, they work on different stovetops and not just gas. And many of them are dishwasher safe.
Related Posts