What Is Nespresso Lattissima One? What's New In It?
Nespresso Lattissima models have always been made with Cappuccino and Latte lovers in mind. With a single touch, you can prepare delicious creamy milk based coffee drinks. There are many models in the Lattissima line: Lattissima Pro, Lattissima Plus and Lattissima Touch. They're made in partnership with DeLonghi, which adds their patented milk frothing system to the machines.
So, what sets the Lattissima One from other Lattissima machines? And who should buy it?
Features of Nespresso Lattissima One: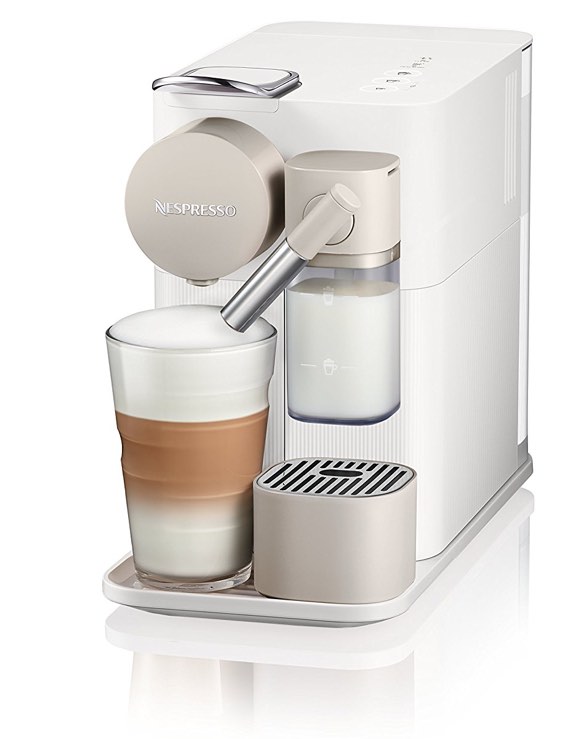 The first machine to feature an innovative single-serve milk frothing system. The detachable frothing compartment holds the the right amount of milk for a single cup and pours frothy milk directly to your cup.
Lines on the milk jug mark the amount of milk to add for your required type of froth (latte or cappuccino).
Simple operations, three buttons on the machine are for Espresso, Lungo and Froth Milk.
Quick operation: heats up in 25 seconds for espresso, 40 seconds for milk drinks.
Compatible with Nespresso OriginalLine capsules.
Compact design.
Made in Italy.
Water reservoir capacity: 33.8 oz
Milk container capacity: 4.2 oz.
Used capsule drawer capacity: 8 capsules.
Available in two colors.
What's New In Lattissima One?
The newest features of the Lattissima One is its single-serve milk container. The milk container holds enough milk for just one use. Which means less waste or no need to manage any left over milk. It also means you'll always use fresh milk.
The marked lines on the container tell you exactly how much milk you'll have to add to get froth for a cup of cappuccino or latte. Unlike other frothers, where you sometimes just guess how much milk you'll use, and end up tossing the left over milk or keeping it in the fridge for later use (meaning – less freshness).
Lattissima Comparisons
Lattissima One vs. Lattissima Pro, What's The Difference?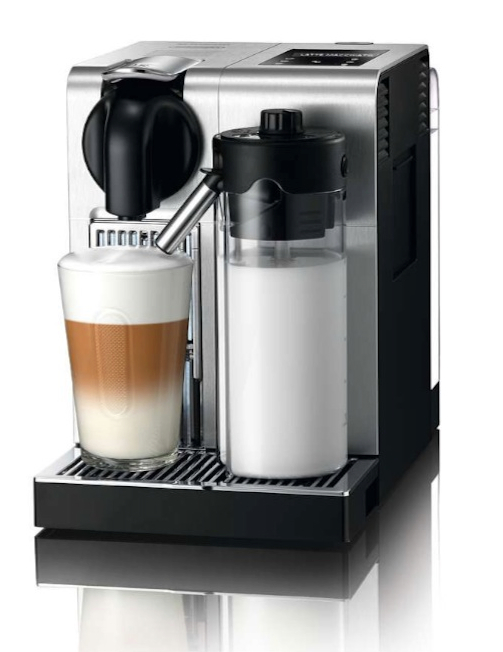 The Lattissima Pro is another Nespresso machine made in cooperation with DeLonghi, and it's also Italian made. And it is quite a best seller thanks for its ease of use and premium design.
How Are They Different?
At their core, both Lattissima machines are made for making espresso and milk drinks with a lot of ease. So if your favorite drink is milk based, you'll want one of these machines. But here's how they compare:
Milk Container:
The Lattissima One is the first to have a single-serve milk container.
The Lattissima Pro has a larger container. Designed as detachable to allow you to keep any left over milk for later use.
Programmed Drinks:
The Lattissima One has three buttons: Espresso, Lungo and Milk. The milk button will froth the entire amount of milk in the container. Which is why it's important to have those marks on it to indicate the amount of milk you need for the drink you're preparing.
Lattissima Pro, on the other hand, has 6 preset drinks: espresso, lungo, ristretto, latte, cappuccino and hot milk. It also has the option to dispense hot water only, to use for making tea or instant meals.
Controls:
Lattissima One has backlit press buttons.
Lattissima Pro as a touch screen with and LCD display.
Capsule Compatibility:
Both Lattissima Pro and Lattissima One are compatible with Nespresso OriginalLine capsules. It also means they're compatible with Nespresso-compatible capsules.
Capacity:
Lattissima One: 33.8 oz water reservoir. 4.2 oz milk container.
Lattissima Pro: 44 oz water reservoir.
Used Capsule Drawer:
Lattissima One holds up to 8 capsules.
Lattissima Pro holds up to 16 capsules.
Lattissima One vs. Lattissima Touch: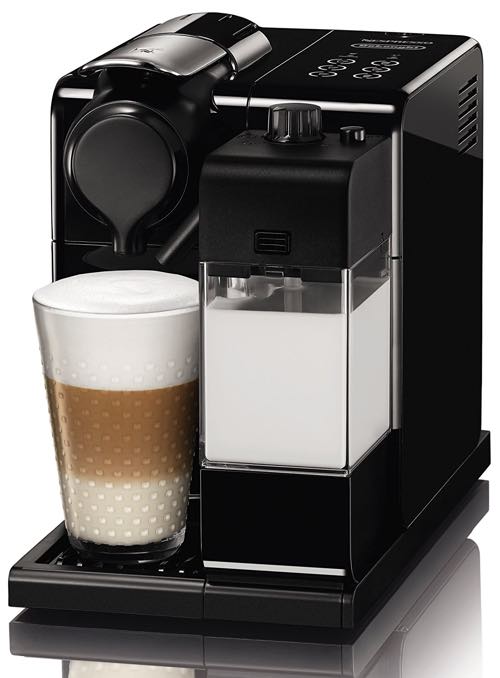 The Lattissima Touch offers the same drink options as the Lattissima Pro. On it, you'll find buttons for: ristretto, espresso, lungo, cappuccino, latte, and hot milk. What's missing though is the hot water on demand. This is something the Lattissima One also lacks.
The milk frothing system on the Lattissima Touch is also by DeLonghi. But unlike the Lattissima One, it's a full size container. It's also detachable so you can keep it in the fridge if there's any left over milk.
Click here to learn more about Nespresso Lattissima Touch.
Does Lattissima Make Regular Coffee?
If by regular coffee you mean drip coffee, then no. None of the Lattissima models can make regular coffee. What you can do is an Americano, which is a single or double shot of espresso mixed with hot water to create something as close to drip coffee. The Lattissima Pro has hot water option so you can dispense hot water with a push of a button. With other Lattissima machines, you'll have to heat water separately. Or alternatively, you can press the espresso or lungo buttons without inserting a pod so the machine dispenses water instead. This, though, will let some coffee ground residues from the machine into your cup, so if it's something you'd mind then you're better off heating water separately.
Who Should Buy Nespresso Lattissima One?
The Lattissima One is the prefect choice for:
a single user who prefers who doesn't need a large machine or large milk container. The Lattissima One holds the perfect amount of milk for a single brew.
Someone who drinks milk based drinks occasionally. This type of user also doesn't need a larger milk container, so this single-serve milk frother is the best choice.
Anyone who wants a single-serve cappuccino or latte maker that doesn't take a lot of space. The Lattissima One is compact in size in comparison to other Lattissima machines.
Should You Upgrade To Lattissima One?
If you already own a Lattissima machine that is perfect working condition, we don't see the need for the upgrade. However, if it's going to be your first Lattissima, consider the points mentioned above to decide whether Lattissima One or another Lattissima is the best choice for you
Watch How It Works:
How Do You Clean the Lattissima Milk Frother
Cleaning the built-in frother of a Lattissima is an easy task. The parts of the frother disassemble and can be put back together easily, and they're all dishwasher safe. If a dishwasher is not available, you can soak the components of the frother in hot water and a mild detergent and let it soak for at least 30 minutes.
If this is starting to sound like a hassle, don't worry, this isn't something you have to do every day or after each use. This is periodic 'deep cleaning' that helps keep the internal parts of your machine clean and working as it should. How often you should clean your machine will depend on the model and your use of the machine. Each machine has an alert system that will let you know when you should clean it and descale it.