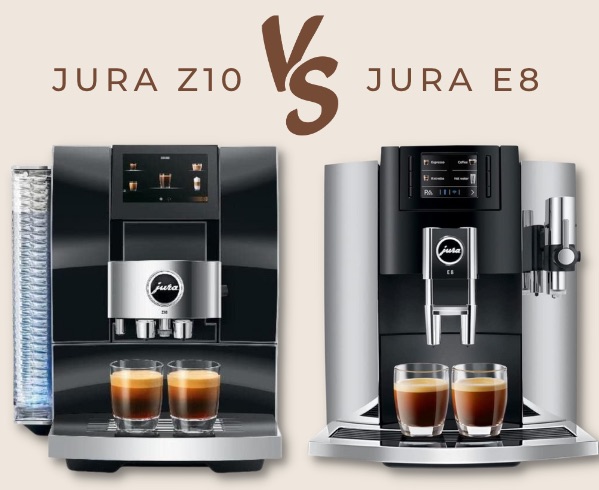 In an effort to help you make the best decision on purchasing a Jura super automatic machine, I try to compare the most selling Jura machines, especially when they're all seemingly so similar.
In this post, I am comparing the Jura Z10 vs E8. The Jura E8 model has been a long running best seller, until the Z10 came a long. Although they're not exactly in the same price range bracket, but one has a clear advantage over the other… so keep reading to know which is best.
Jura Z10 vs E8 – The Differences
Best Pick
Jura Z10 Diamond Black
Jura E8 Automatic Coffee Machine 15270,64 ounces, Piano Black
Grinder
Product Recognizing Grinder
Best Pick
Grinder
Product Recognizing Grinder
Jura E8 Automatic Coffee Machine 15270,64 ounces, Piano Black
Before I get into the details of the differences between these models, it's important you know the release dates of these machines. The Jura Z10 was released in the US in 2021, while the E8 was released in 2020. Why do I bring this up? Just to note that both of these machines are actually modern and none of them is outdated. They simply have more or less features so they can accommodate more budgets and needs of users.
Other Purchase Links: 1stinCoffee.com
Purchase Refurbished Jura Machines: 1stinCoffee.com
Grinders
The Z10 machine has an all new built-in grinder that Jura calls P.R.G (Product Recognizing Grinder). This grinder is designed to self adjust the grind settings to match the drink you want to brew. It goes from very fine for espresso drinks or coarser grinds for long coffee or cold brew. You have the option of adjusting your grinds manually, too. But if you don't want to set and reset your grinds for each individual recipe, you can trust your Z10 to choose the best grind setting for your recipe!
The E8 uses Jura's Multi-Level Aroma G3 Grinder, what does this mean in plain English? The shape of the conical burr grinder allows for quicker and more consistent grinding action, which preserves the aroma and flavor of your beans and prepares your brew quicker.
Cold Brew Extraction
This is a feature that is available in the Z10 only. It's a special feature that allows the machine to extract real cold brew on the spot. As in, your coffee actually comes out cold!
The Z10 will use several adjustments to do this, using high pressure and pulsating water flow using cold water (you will have to fill up the water reservoir with cold water) it will start to slowly extract the cold brew. The grinder also automatically adjusts to make the grounds coarse, which is a requirement to make a great cup of cold brew. Simply place your ice filled cup under the spout to fill it up with cold brew. The Z10 has a selection of cold brew recipes, including milk based ones.
Preset Drinks
As any super automatic espresso machines, you should expect a variety of coffee drinks to be prepared with a touch of a button.
The Z10 has a generous menu of 32 coffee drinks, hot and cold. While the e8 model has 17 preset drinks.
Find a full list of drink presets below.
Milk Frother Design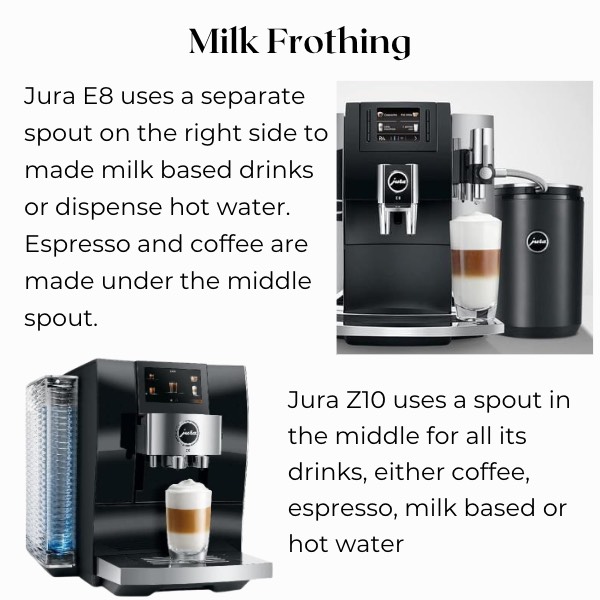 Both of these models use Jura's milk pipe system to heat and froth milk. You can use any container or pitcher you have and drop the milk pipe so the machine can draw the milk and then dispense it into your cup. However, designs of frothers, or placements to be exact, are different.
On the Jura Z10, you have your spouts, that includes coffee, milk or hot water, all located in the middle. So whichever selection your request, coffee, milk based drink or just hot water, your cup sits in one place. Adjusting milk temperature and foam settings is all done through the display.
With the E8, things are different. The middle spout is used for espresso and coffee while another spout that is located on the right side is used for milk recipes and hot water. Both coffee and hot milk/froth will dispense from the right spout for milk recipes. This dispenser also features a lever that you can use to control the froth density, either dense for cappuccino or light for lattes. There's no foam customization other than that.
Display Screen and Controls
Both the Z10 and E8 have beautiful color display screens that will show you an icon of exactly what recipe you are brewing, which comes quite handy when you know what your drink looks like but can't remember the exact name (happens to the best of us!). But, there's a difference in size and how they're controlled.
The Z10 has a 4.3″ touch display. You can easily scroll through recipes, readjust, rename or save new recipes by swiping and pressing the screen – quick and easy! You can even add additional pages if your current ones fill up.
The E8, on the screen is 2.8″ in size. It's not a touch display, so instead, you use buttons that are located on the side along the edges of the screen. Not all options are displayed on the screen of the E8, so for some options, you'll have to navigate a bit.
WiFi Connectivity (Jura Smart Connect)
The Jura Z10 can be WiFi connected and controlled via Jura's app. Unlike other Jura models that connect via Bluetooth, the Z10 connected to your local WiFi, which is more stable and does not require that you be within Bluetooth's limited range to control the machine.
The E8 does not come with the WiFi connecting accessory, or the Bluetooth one for that matter. But if you want, you can purchase the Bluetooth connection accessory and attach it to the E8 – but in my opinion, it's not worth it. Bluetooth isn't the best way to connect, it's a short range and requires that your device is nearby, which defies the whole purpose of remote connectivity.
Similarities Between Z10 and E8
Adjustable Coffee Strength: 10 Settings
Adjustable Coffee Brew Temperature: 3 Settings
Adjustable Hot Water Temperature: 3 Settings
Amount of coffee grams used per drink: between 5g and 16g of coffee depending on your selected strength.
Heating System: Single Thermoblock
Bypass Doser for coffee grounds
Which Is Best Between Jura Z10 vs E8?
Now, I will not be bringing up price and budget into this, because if you're on a set budget and simply want the most affordable model, then the E8 is your winner…
But, if you want the best features, the Z10 is the clear winner here.
The Z10 has features that no other super automatic machine of its class has…. starting with the cold brew extraction function which is insanely good!
Other machines, like the DeLonghi Magnifica Evo or Philips 3200, for example, have an Iced Coffee setting, but all that does is bring the brewing temperature 'slightly' lower and brews the coffee longer so it tastes bolder, but your coffee still comes out hot. The Z10 makes actual Cold Brew coffee, using COLD water, and your ice remains intact till last drop. No ice dilution! Iced coffee lovers will absolutely enjoy this feature.
The other thing about the Z10 is its self adjusting grinder that will ensure you get amazing tasting coffee no matter which recipe you choose. With other machines, you get to adjust the grind settings manually and you can keep fine tuning until you find the one grind setting that will taste great to you. But with a machine like the Z10 that has 32 recipes, many of these recipes require different grind settings, especially cold brew which requires that your grinds are coarser than espresso or coffee grinds. And to spare you from the manual and guess work, the grinder will automatically adjust itself, in a matter of seconds, to match your recipe.
What about the E8, though? Does that mean it's no good?
No, it's a fantastic machine, too! It's just missing a few luxuries like the touch screen, cold brew or self adjusting grinder.
Other Jura Comparisons
Do I Need A Milk Container for Jura Z10 or E8?
This is a common question among buyers on the fence about any Jura model. To start, neither the Z10 or E8 will include Jura's 'Cool Control' milk containers, or the regular plastic container. What they do include is a plastic milk pipe.
Do you need the Cool Control milk container? No, it's totally optional as a separate purchase. The Cool Control is an innovative milk container that works similar to a fridge, it's keeps the milk cold at 4 degrees Celsius so the milk can remain inside this container even overnight.
If you don't want to buy Jura's Cool Control container, you can basically use ANY container or cup you have around your house, fill it with the desired amount of milk you want to froth and drop the milk pipe in it. Your Jura will draw milk from it and dispense it into your coffee cup. Jura does sell a branded glass milk container that you can purchase as an accessory. It would have been nice if they at least included that with their machines, but they don't.
Features of the Jura Z10
Jura Z10 Diamond Black
VERSATILITY: A world first for hot and cold brew coffee specialties; choose from 32 options
OPERATION: Touchscreen display, optional Artificial Intelligence, equipped with WiFi Connect for use with J.O.E. app
CUSTOMIZATION: Customize, duplicate, rename and reposition coffee favorites
GRINDER: Exclusive Product Recognizing Grinder adjusts in a fraction of a second to the predefined consistency of grind
TECHNOLOGY: Pulse Extraction Process, Cold Extraction Process and Eighth-generation Brewing Unit
The Jura Z10 is an innovative super automatic espresso machine that combines convenience with quality. It features a 4.3″ touchscreen display and a host of user-friendly functions like adjustable coffee strength, adjustable hot water temperature and adjustable coffee brew temperature, allowing users to customize their coffee exactly to their taste. The Z10 also allows you to store up recipes in addition to 32 already available ones. Additionally, the Z10 offers connectivity via WiFi so you can control the machine remotely using Jura's app.
Beyond its user-friendly interface, the Z10 also offers several impressive features. It's the first machine in its class that offers cold brew extraction, meaning you can use cold water for your iced coffee drinks and the coffee is brewed cold. Another unique feature of the Z10 is its self-adjusting grinder which automatically adjusts itself according to different recipes so you don't have to guess or manually adjust settings yourself – resulting in consistently delicious cups of coffee every time!
Drink Menu: 32 hot and cold coffee beverages
Programmable Coffee Strength: 10 settings
Programmable Milk/Foam Temperature: 10 settings
Programmable Brewing Temperature: 3 settings
Programmable Hot Water Temperature: 3 settings
Control: 4.3″ colored touch screen
Bean Hopper Capacity: 280g – 9.8 oz
Water Tank Capacity: 2.6 L – 87 oz
Technology: WiFi connected. Control via Jura app on your smart phone.
Made in: Switzerland
Jura Z10 Drink List
Hot Beverages: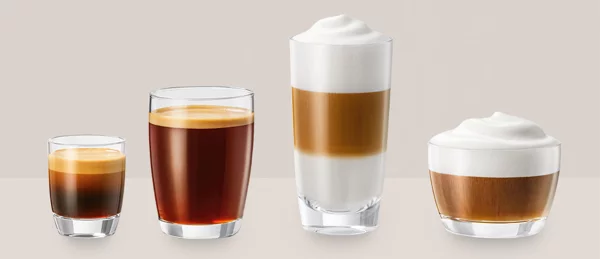 Espresso
Double Espresso
Coffee
Double Coffee
Caffe Barista
x2 Caffe Barista
Lungo Barista
x2 Lungo Barista
Espresso Doppio
Pot of Coffee
Cortado
Espresso Macchiato
Caffe Late with Extra Shot
Cappuccino
Cappuccino with Extra Shot
Flat White
Flat White Extra Shot
Latte Macchiato
Latte Macchiato Extra Shot
Portion of Milk
Portion of Milk Foam
Hot Water
Hot Water for Green Tea
Cold Beverages:
Cold Brew Coffee
Cold Brew Espresso
Cold Brew Cortado
Cold Brew Macchiato
Cold Brew Latte
Cold Brew Cappuccino
Cold Brew Flat White
Cold Brew Latte Macchiato
Features of Jura E8
Jura E8 Automatic Coffee Machine 15270,64 ounces, Piano Black
First-Class Coffee Quality: The Professional Aroma Grinder guarantees 12.2% more aroma and consistently high grind quality so that flavors unfold to perfection throughout the entire service life of the grinder
Pulse Extraction Process: The Pulse Extraction Process (P.E.P.) ensures maximum flavor for short specialties, while intelligent preheating guarantees the ideal temperature right from the first cup
Luxurious Operation: A 2.8-inch color display, six buttons, and a completely new operating concept featuring artificial intelligence enable simple handling. An intelligent algorithm identifies individual preferences and adapts the start screen, so the user's two or four favorite specialties are always displayed
One-Touch Milk System Cleaning: The sophisticated milk system cleaning process takes place automatically at the touch of a button and is completed in no time. The drip tray also meets the highest ergonomic standards. Its design prevents water from spilling, and it can be removed conveniently with just one hand
Harmonious Design: This JURA coffee machine features a clean and expressive characteristic design. High-quality materials and precise craftsmanship underline the premium quality of the modern E8. It's styling alone is evidence of its quality, functionality, and durability
The E8 is one of Jura's high-end super automatic espresso machine designed to deliver top quality coffee drinks with convenience and ease. It features a 2.8″ color touch screen, allowing users to easily select from a wide selection of 17 hot coffee recipes, including espresso, cappucino, latte macchiato, and more. Users can adjust the strength of the coffee and hot water temperatures for a personalized experience. The E8 also offers different grind settings for greater customization when it comes to beverage preparation. Additionally, the E8 has a 1.9 L water tank and bean hopper capacity of about 10 oz – plenty to ensure that you'll always have enough beans on hand for your favorite coffees.
The E8 also had several adjustment settings to ensure you get your coffee drink made exactly to your taste.
Drink Menu: 17 hot beverages
Programmable Coffee Strength: 10 settings
Programmable Brewing Temperature: 3 settings
Programmable Hot Water Temperature: 3 settings
Control: 2.8″ color display – button controls
Bean Hopper Capacity: 280g – 9.8 oz
Water Tank Capacity: 1.9L – 64 oz
Made in: Portugal
Drink List:
Espresso
2x Espresso
Coffee
2X Coffee
Caffe Barista
Americano
Espresso Doppio
Cortado
Macchiato
Cappuccino
Cappuccino Extra Shot
Flat White
Flat White Extra Shot
Latte Macchiato
Latte Macchiato Extra Shot
Portion of hot milk
Hot Water