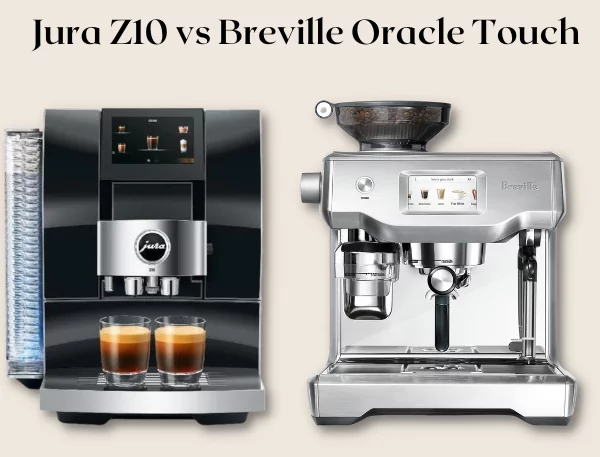 If there's one thing that the Jura Z10 and Breville Oracle Touch have in common, it's the fact that these two machines are an innovation in their respective line of machines. But in reality, compared to each other, the Z10 and Breville Oracle Touch are quite different.
In this post, I will cover all differences between these two espresso machines and help you choose the right one for you.
Jura Z10 vs Breville Oracle Touch – The Differences
Automatic vs Super Automatic Espresso Machine
The Breville Oracle Touch looks like a traditional semi-automatic espresso machine, much like the Barista Express or Barista Touch, but the Oracle Touch is actually quite automated, making it an automatic espresso machine. Here's what it can do:
Auto grind, dose and tamp using a built-in grinder with 45 grind settings and an integrated tamper.
Automatic (and manual) milk steaming and texturing with a selection of temperatures and texture levels.
Using a colored display, you can select and customize your favorite espresso and milk based recipes, and you can reprogram them, too.
This is what makes the Oracle Touch a leading machine in its line of machines, this much automation isn't usually available on semi-automatic espresso machines.
The Jura Z10 is what's known as a Super automatic espresso machine, select your recipe, choose any customization you want and the machine will do every thing from start to finish. It uses a built-in grinder, too, for freshly ground coffee. However, it works without any intervention on your side, there's no portafilter that you need to handle and there's no steam wand, steaming and frothing milk is done automatically but differently than a steam wand (more on this later).
Breville vs Jura – The Grinders
Both Breville and Jura use conical burr grinders that offer consistent grind for your choice of size. However, how these grinders work is different.
In Breville Oracle Touch, you have your usual grinder with 45-grind settings. Select your grind size, brew and adjust accordingly until you find your preferred grind size.
Jura Z10 uses an all new grinder that they call Product Recognizing Grinder (P.R.G)… what that means in simple words is: The grinder recognizes the recipe you want to brew and it automatically adjusts to the perfect grind size for that recipe. It goes from very fine grinds for espresso and espresso based drinks, to a coarser grinders for coffee or cold brew. Of course, you don't have to stick to these automated settings, you can always customize recipes to your liking. But by default, the Jura Z10 has the ability create perfectly crafted coffee drinks using a variety of grind settings that it adjusts on its own.
Milk Frothers in Breville vs Jura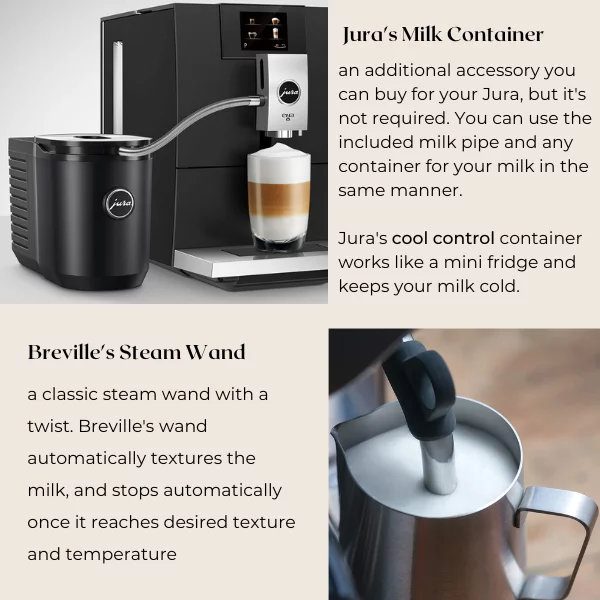 This is where the Breville Oracle Touch shines and the Z10 doesn't. I'm a huge fan of classic steam wand frothing, but it's not an easy task to do from day one.
Brevile's Oracle Touch steam wand gives you the classic steaming experience with added value of automation. The frother actually does all the work for you. Select temperatures between 104°F to 167°F and 9 levels of texture, and you'll get the perfect steamed milk right out of the box! When finished steaming, the wand will auto purge to clean itself, too. So that's one of the hardest tasks all done for you, hands-free.
The Jura Z10, much like many of Jura's super automatic machines, uses a milk container for frothing milk. While it's not totally bad, it does not come close to Breville's steaming system.
The bad part is the fact that the Z10 does not include one of Jura's Cool Control milk containers or even any pitcher that you can use. It only includes a 'milk pipe' which will draw milk from any container you want to use and then dispense it through the machine. This is my least favorite part about any Jura machine. The quality of froth is makes is actually great, it's light and creamy, but I find the whole process to be a bit of a hassle.
Cold Brewing vs Iced Coffee
While theoretically, you can make 'iced coffee' using any espresso machine by simply brewing your usual shot of espresso over ice, then adding cold milk or cold water as you prefer. So with a machine like the Breville Oracle Touch, that's how you would approach making an iced coffee drink.
Things are different with the Jura Z10, however. It's actually an only super automatic that can brew COLD coffee almost instantly (as of the time of writing). Traditionally, cold brew is an overnight process. The Z10 can brew cold using pulsating high pressure and cold water (you'll fill the reservoir with cold water) to make cold brew that won't melt your ice or taste watered down. It has several cold brew recipes, either black or with milk.
Brewing and Preparing Coffee Drinks
The Breville Oracle Touch and Jura Z10 are two different brewing experiences.
Breville Oracle Touch
While both are automated, the Oracle Touch still requires that you use the tools to make your coffee:
Set the portafilter in the cradle, select your recipe for the machine to dose the right amount of beans. You can also adjust any other settings like temperature or volume.
In the cradle, the Oracle Touch will dispense the grounds then automatically tamp it. Then, you'll have to manually remove it and attach it to the brewing head.
For milk frothing, all you have to do is fill up your frothing pitcher and place it under the steam wand. Note that you can only use Breville's pitcher as its equipped with a special sensor to monitor the temperature.
So while all tasks are automated, you'll still doing some work.
Portafilter Size: Oracle touch uses a professional 58mm portafilter and can contain between 18 to 22 grams of coffee.
Jura Z10
With the Jura Z10, you don't have to do anything other than select your recipe and customize them if you want to.
The Z10 uses between 5g to 16g of coffee ground for its recipes, so that's notability a lot less than Breville's dose. But overall, it's a true one touch system.
Touchscreen Display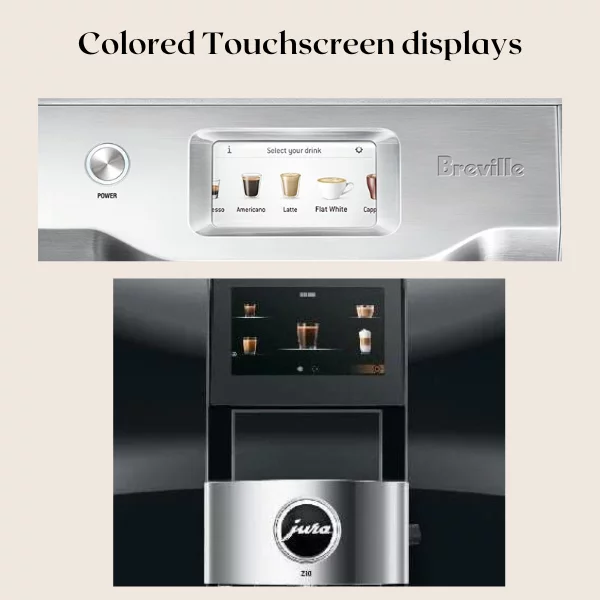 Both of these high-end espresso machines are equipped with impressive colored touchscreen display that you can use to select and customize your coffee drinks. Breville's screen is smaller in size, but that doesn't matter much as both serve and do the exact same purpose. They give you a clear idea of what drink you are preparing and a visual of any parameters you are adjusting.
Oracle Touch vs Z10 Coffee Preset Drinks
The Oracle Touch has 5 preset drinks in its menu, then anything you change or customize you can save and name under 8 different customizable options. So that's 5 drinks preset for you and 8 you can create and name yourself.
The Jura Z10 has an impressive menu of 32 drinks, hot and cold. Jura also allows you to adjust and name different recipes and save them into your system.
Heating Systems in Jura vs Breville
The Oracle Touch is a dual-boiler machine, so not only it heats up fast, but also allows you to brew and steam at the same time.
Jura Z10 uses a single Thermoblock heating system. It heats, froths and dispenses milk then brews the coffee.
Daily Cleanup
I won't get into the details of periodic maintenance as that's something that each machine needs, and it process is nearly the same. Daily cleanup, or clean up after each use is what you want to really think about.
The Jura Z10 requires little to no clean up after every use. You'll need to empty the used grounds container after it fills up (after 20 uses or so), and if you're using the frother, washing the milk pipe is a must after your last use.
With the Oracle Touch, the steam wand purges automatically to clean itself internally, but you have to wipe out the external part. Then there's the cleaning of the portafilter and the frothing jug, simply knock out the used coffee, wash the portafilter and basket filter. So while it's not terribly a long cleaning process, there is still some work done after each use. For a machine in its class, it's quite an easy cleanup process, especially with the grinder being built-in and the tamper being integrated. That means zero coffee grounds on your countertop!
Which Is Better, Jura or Breville?
Before getting into the specifics of each machine, the first thing you want to decide on is the experience:
Do you want a full bean to cup experience (Jura Z10)?
Or do you want automation but with some work your part (the Oracle Touch)?
An espresso machine like the Breville Oracle Touch was made for anyone who wants the experience of a traditional espresso machine but does not want the learning curve that comes with it. Grinding, dosing and milk texturing are not something anyone gets right at first try. In fact, it takes months of trial and error and waste of considerable amount of beans until you get things right. So the automation of the Oracle Touch guarantees you a great cup of coffee from first try, while still having a great barista experience.
A super automatic like the Jura Z10 is for someone who does not care about any of the technicals of making a shot of espresso. You want to press a button, get your coffee and go. That's why Jura machines are considered quite a luxurious appliance. You get high quality coffee, and high quality machine. This fine piece of appliance is made in Switzerland, which is something quite rare in the world of home appliances. Jura machines are great for home and office use because they're quick to make a cup and require no clean up.
When it comes to grinding, the Jura Z10 offers a more consistent grind size and better automated results. The grinder on the Oracle Touch can be fickle, and as different bean roasts require different grind settings, switching and experiencing with grind size every time you switch beans can be a hassle.
Frother wise, the Breville Oracle Touch is a clear winner. It makes perfect milk texture without any work on your side, which is simply great. The consistency of milk the Oracle Touch makes is exactly what you need to make latte art, but that's something you're going to have to learn. On the other hand, the Jura Z10, with all its hassle of a frother, can make a nice consistency of froth, but it's not the type of froth you can use to make latte art, if that's something important to you.
As for the drink presets, the Jura Z10 has an extensive menu. And let's not forget its capability of making cold brew on the spot, which is pretty advanced. While the Oracle Touch only has 5 presets, which is common coffee house favorites, you set get to make your own drinks and save them.
Other Jura Comparisons
Other Related Comparisons
Features of Jura Z10 Super Automatic Espresso Machine
Drink Menu: 32 hot and cold coffee beverages
Programmable Coffee Strength: 10 settings
Programmable Milk/Foam Temperature: 10 settings
Programmable Brewing Temperature: 3 settings
Programmable Hot Water Temperature: 3 settings
Control: 4.3″ colored touch screen
Bean Hopper Capacity: 280g – 9.8 oz
Water Tank Capacity: 2.6 L – 87 oz
Frother: One-touch milk system
Technology: WiFi connected. Control via Jura app on your smart phone.
Jura Z10 Drink List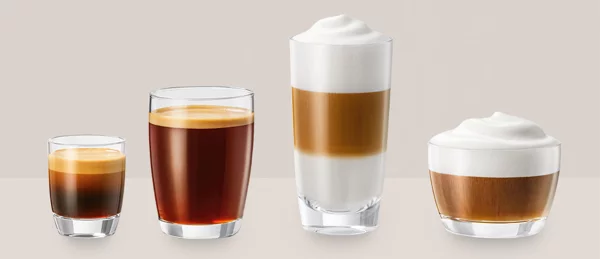 Hot Beverages:
Espresso
Double Espresso
Coffee
Double Coffee
Caffe Barista (Americano)
x2 Caffe Barista
Lungo Barista
x2 Lungo Barista
Espresso Doppio
Pot of Coffee
Cortado
Espresso Macchiato
Caffe Late with Extra Shot
Cappuccino
Cappuccino with Extra Shot
Flat White
Flat White Extra Shot
Latte Macchiato
Latte Macchiato Extra Shot
Portion of Milk
Portion of Milk Foam
Hot Water
Hot Water for Green Tea
Cold Beverages:
Cold Brew Coffee
Cold Brew Espresso
Cold Brew Cortado
Cold Brew Macchiato
Cold Brew Latte
Cold Brew Cappuccino
Cold Brew Flat White
Cold Brew Latte Macchiato
Features of Breville Oracle Touch Automatic Espresso Machine
Drink Menu: 5 hot beverages (espresso, long black, latte, cappuccino, flat white)
Programmable Grind Settings: 45 settings
Programmable Milk/Foam Temperature: 104°F to 167°F
Programmable Milk Textures: 9 settings
Control: Colored touch screen
Frothing: Automatic Steam Wand
Bean Hopper Capacity: 0.5 lbs – 8 oz
Water Tank Capacity: 84 oz