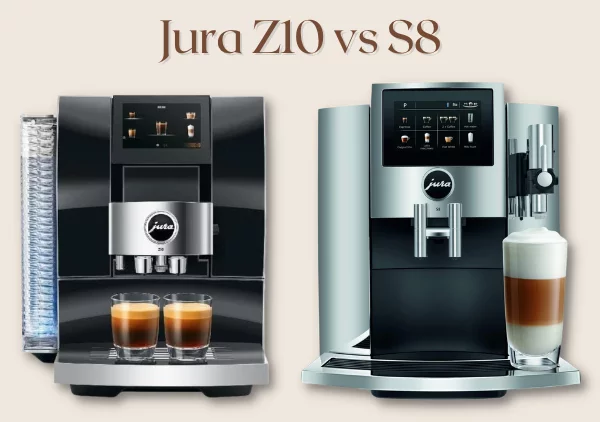 If you're here, chances are you are undecided between two of JURA's excellent super automatics. Although the Z10 and S8 can look similar to the eye, they're not features wise. These are two expensive espresso machines, and their high quality makes them long lasting so it's a one time purchase that will last you long years. You probably don't want to overspend on something you don't need or like, so buying the right Jura is a must.
I'll get right to the point and give you the exact differences between these two models to help you with your decision. After the comparison, you can read the detailed specs of each model.
Jura Z10 vs S8 – What's The Difference
Best Pick
Jura Z10 Diamond Black
JURA S8 Automatic Coffee Machine, 64 ounces, Chrome
Type of Grinder
Product Recognzing Grinder
Best Pick
Type of Grinder
Product Recognzing Grinder
JURA S8 Automatic Coffee Machine, 64 ounces, Chrome
Hot and Cold Brewing
The Z10 is the only JURA, or super automatic espresso machine, that can actually brew COLD coffee. As in, it uses cold water extraction for its cold coffee recipes (scroll below for a video demo). The Z10 uses a combination of high pressure, cold water and coarser grinds to extract a cold cup of coffee. Although it's a slower process, which is common with cold coffee extraction, but it only takes a couple extra minutes. What you get is a cold cup of coffee with your ice fully intact and not immediately melting.
The S8 does not have this technology, nor can it make cold brew coffee. The best you can do with the S8 is brew hot over ice, but try to lower the brew temperature to its lower setting, which will still be hot.
Product Recognizing Grinder (P.R.G.) vs Aroma G3 Grinder
The P.R.G grinder is what the Z10 model uses, it's a self-adjusting grinder that can go from finest grinds to coarse grinders depending on your selected recipe. You don't need to manually adjust the grinder steps, you can select the strength you want and the grinder will adjust automatically. For example: espresso recipes use the finest grind settings, but coffee and cold brew need coarser grinds. The Product Recognizing Grinder knows what kind of grinds your recipe needs, and adjusts accordingly as you brew the brew button.
The S8 uses Jura's Aroma G3 grinder, which isn't self-adjusting, but it's a model that is known to be faster and more precise than Jura's earlier grinders.
Connectivity
Both of the Z10 and S8 give you the option to control them via your smart phone. However, the Z10 connects via your local WiFi, giving you a stable connection even if you're not near the machine, while the S8 connects via Bluetooth, which requires that you be nearby the Bluetooth range.
Design
The Z10 and S8 have somewhat similar designs, but there's a difference in where the milk dispenser and hot water spouts are.
With the Z10, all spouts are located in the middle, so whether you're making a black coffee, milk based drink or dispensing hot water, the cup sits in under the same spout location.
On the S8, the milk dispenser and hot water spouts are on the side. So when making a milk based drink, you'll move the cup to the side where the frother is located. Coffee will dispense from the same side, too, so you don't have to switch places between coffee and milk. So overall, milk based drinks are brewed on the right side spout, while espresso and coffee are on brewed by the middle spout. Both spouts are adjustable in height. In fact, they move together when adjusting either one.
The S8 also has a lever on its frothing spout where you can adjust the density of the spout. One position for light foam and second for dense cappuccino foam.
Other Differences
Drink Recipes
There's an understandable difference in the drink menu in each model, since the Z10 has an extra range of cold brew recipes that the S8 can't make.
Z10 has a total of 32 recipes, the S8 has a total of 14.
Capacity
Both machines have the same bean hopper capacity of 9.7 oz. Their water reservoir capacities are different. The Z10 has a larger 87 oz reservoir while the S8 has a 67 oz reservoir.
Similarities Between Jura Z10 and S8
15-bar pressure pump
4.3″ colored touchscreen display
Variable brewing ground amount: 5g to 16g
Thermoblock heating system
Bypass doser for using ground coffee.
Strength settings: 10
Brew temperature settings: 3
Hot water temperature settings: 3
Which Should You Buy? Jura Z10 or S8?
Other than the feature differences, there's a big price difference between the two models. But if your budget allows for either machine, here's what to take into account:
The Z10 is the better choice for it's advanced cold brew extraction. If you're a fan of iced coffee, or perhaps your family members or guests, enjoy iced coffee, this feature is quite impressive.
The other thing about the Z10 is its grinder, which takes all the guess work from adjusting your grinder correctly. Having a grinder that can adjust automatically to every recipe means you're guaranteed to get the best results out of each cup.
If you want to save a bit on your Jura purchase, you can always consider Refurbished Jura Machines.
Other Jura Comparisons
Where Are Jura Machines Made?
Jura is a Swiss company, many of their machines are made in Switzerland. But some are made in other European countries such as Romania or Portugal.
Features and Specs of Jura Z10 Super Automatic Espresso Machine
Jura Z10 Diamond Black
-32 specialties; brews hot and cold brew coffee specialties
- First with Cold Brew Extraction Process for genuine cold brew specialties, cold water is pulsed at a high pressure through more coarsely ground coffee
- Exclusive Product Recognizing Grinder (P.R.G.) recognizes the selected hot or cold brew specialty and adjusts the grinder automatically
- Unique 3D brewing technology, allows water to flow evenly through the ground coffee at multiple levels
- Large, color touchscreen display for intuitive operation is conveniently located on the front of the machine

Jura Z10 Super Automatic Espresso Machine is an innovative and revolutionary way to make coffee in the comfort of your own home. It has a unique Product Recognizing Grinder (P.R.G.) which electronically controls the grind consistency at different levels, making it perfect for preparing traditional or specialty drinks such as cold brew coffee. With its extensive drink menu featuring 32 hot and cold drinks, you can be sure to find something to suit every taste.
But the true innovation of this machine is it's cold brew extraction feature, which no other super automatic espresso machine has. The Jura Z10 can actually brew COLD BREW coffee, unlike other machines that have iced settings that still brew hot but at a lower temperature. The Z10 uses cold water, and the coffee comes out cold!
The Z10 also features programmable options for coffee strength, milk/foam temperature, brewing temperature and hot water temperature, helping you create your perfect cup of coffee just the way you like it. This machine boasts a bean hopper capacity of 280g and a water tank capacity of 2.6L, so you don't need to worry about running out of ingredients mid-drink preparation. Finally, with its one-touch milk system frother, you can get perfectly frothy milk-based beverages quickly and easily.
Product Recognizing Grinder (P.R.G.)
So what does this fancy feature of the built-in grinder actually mean?
As you know, different coffee recipes require different grind sizes. Super automatic espresso machines, for the most part, have dials that you can use to fine tune your espresso grind until you find the right one to your taste. Finer grounds make the coffee taste stronger, coarse grind is used for long coffee recipes that don't require higher pressure.
Product Recognizing Grinder – which is the built-in grinder used in the Jura Z10 – recognizes the recipe you want to make and adjusts the grind automatically to match your selected recipe and coffee strength. The electronically controlled high-performance grinder adjusts in a fraction of a second to the predefined consistency of grind – much more quickly and frequently than could be done manually.
The grinder has a wide range of grind settings, too fine for espresso and espresso based recipes, or coarser settings for coffee or cold brew. And you never have to worry about finding the correct grind, because your Jura Z10 will do it for you. But if you do want to tinker with the grind settings, you can do so via the menu settings for each recipe, so you're not restricted to factory defaults.
Cold Brew Extraction
This is where the Jura Z10 shines! If you are a cold brew lover, you'll fall in love with the cold coffee process of this machine.
To make iced coffee, or a cold brew, you'll start with a water tank full of cold water. The colder, the better! Then, select the iced recipes menu, and select your desired beverage. Not all drinks can be made cold, but you'll find an array of black coffee or milk based coffee drinks that can be made cold.
The machine starts the cold extraction by pulsating cold water over coarse coffee grounds at a high pressure. Cold extraction takes a longer time so it can extract full flavors from your beans. Result is a cup of refreshing ice cold cup of coffee with low acidity and little to no bitterness.
Drink Menu: 32 hot and cold coffee beverages
Programmable Coffee Strength: 10 settings
Programmable Milk/Foam Temperature: 10 settings
Programmable Brewing Temperature: 3 settings
Programmable Hot Water Temperature: 3 settings
Control: 4.3″ colored touch screen
Bean Hopper Capacity: 280g – 9.8 oz
Water Tank Capacity: 2.6 L – 87 oz
Frother: One-touch milk system
Technology: WiFi connected. Control via Jura app on your smart phone.
Jura Z10 Drink List
Hot Beverages:
Espresso
Double Espresso
Coffee
Double Coffee
Caffe Barista (Americano)
x2 Caffe Barista
Lungo Barista
x2 Lungo Barista
Espresso Doppio
Pot of Coffee
Cortado
Espresso Macchiato
Caffe Latte with Extra Shot
Cappuccino
Cappuccino with Extra Shot
Flat White
Flat White Extra Shot
Latte Macchiato
Latte Macchiato Extra Shot
Portion of Milk
Portion of Milk Foam
Hot Water
Hot Water for Green Tea
Cold Beverages:
Cold Brew Coffee
Cold Brew Espresso
Cold Brew Cortado
Cold Brew Macchiato
Cold Brew Latte
Cold Brew Cappuccino
Cold Brew Flat White
Cold Brew Latte Macchiato
Does The Z10 Include Jura's Milk Frother/Container?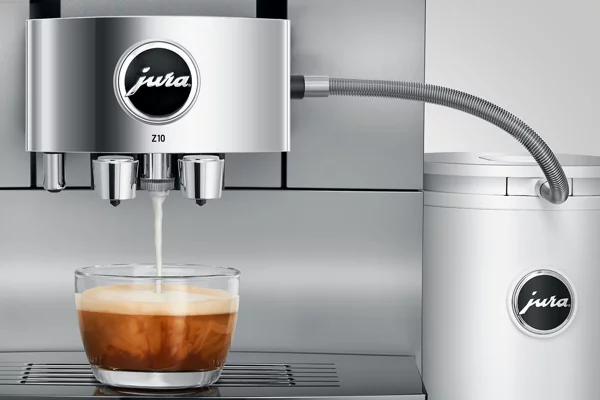 As you probably know, Jura does not use an integrated milk container. Instead, they have their separate milk containers that you can attach to your machine for froth milk. Unfortunately, your Z10 will not include this and it has to be purchased separately. However, it's not necessary to make the milk froth.
Your machine does include a milk pipe, which attaches to the machine and then you can use any container or pitcher to hold the milk and insert the pipe in it. The Z10 (or any other Jura machine, really) will draw the milk automatically.
In Conclusion…
The Jura Z10 really is the pinnacle of home espresso machines – it not only looks fantastic but it can make café quality drinks with minimal effort on your behalf! The fact that each individual component is designed to perfection makes this machine stand out – there's no compromise when it comes to getting the perfect cup of java! You can select from various programs that are already pre-programmed into the machine or create your own customize settings depending on your preference – so no matter whether you like a long black or an extra foamy cappuccino, there's something that caters for all tastes here!
When using this machine you will benefit from maximum convenience. And with minimal cleaning required between uses thanks to its easy-to-clean removable parts made from high quality materials, it's no wonder why this machine is one of the best on the market today!
The only thing I don't like about the Z10, is for its price, you'd expect they add at least any milk container, if not their Jura 'Cool Control' frother.
Features and Specs of Jura S8 Super Automatic Espresso Machine
JURA S8 Automatic Coffee Machine, 64 ounces, Chrome
ONE TOUCH: Prepare 15 barista quality specialties including espresso, coffee, cappuccino, flat white and latte macchiato at the touch of a button
PERFECT ESPRESSO: Ultimate coffee quality thanks to JURA's exclusive Pulse Extraction Process
CONICAL BURR GRINDER: Fast and precise AromaG3 grinder grinds whole beans to the optimum fineness
ECO FRIENDLY: JURA is always freshly ground, not capsuled - fresh taste with very limited waste - single serve machine
CAPACITY: 64 ounce water tank, 10 ounce bean container

Jura S8 Super Automatic Espresso Machine is an impressive, high-end espresso machine that is sure to please even the most discerning coffee lover. This powerful machine features a range of cutting-edge technologies and options to help you craft the perfect cup of specialty coffee every time. It comes with a pulse extraction process (PEP) for maximum flavor, aroma, and freshness; an Aroma G3 grinder which grinds twice as fast as conventional grinders, however, adjusting settings on this one is done manually, unlike the Z10 model which can automatically adjust based on recipe.
You also get programmable settings for size, strength, and temperature; and a professional fine foam frother for barista-quality foam at home. The Jura S8 also includes a 4.3" colored touch screen display and Bluetooth connectivity so you can control it with your smartphone via the Jura app.
All preset recipes can be reprogrammed and saved to your liking. The colored touchscreen makes it all easy to control, adjust or even just follow the steps of your current recipe being brewed.
The Jura S8 has a bean hopper capacity of 280g – 9.8 oz and offers up to 15 hot beverages on its sophisticated drink menu, as well as 10 programmable coffee strength settings, 3 programmable brewing temperature settings and 3 programmable hot water temperature settings.
Drink Menu: 14 Hot Beverages
Programmable Coffee Strength: 10 settings
Programmable Brewing Temperature: 3 settings
Programmable Hot Water Temperature: 3 settings
Control: 4.3″ colored touch screen
Bean Hopper Capacity: 280g – 9.8 oz
Water Tank Capacity: 1.9 L – 64 oz
Frother: Direct froth or use milk container
Jura S8 Drink List:
Ristritto
Espresso
Double Espresso
Coffee
Double Coffee
Espresso Macchiato
Caffe Latte
Cappuccino
Flat White
Latte Macchiato
Portion of Milk Foam
Portion of Milk
Hot Water
How Water for Green Tea (lower temperature)
All in all, if you're looking for an amazing espresso maker that offers unmatched quality, convenience, and technology then look no further than the Jura S8 Super Automatic Espresso Machine! It's a great model that's considered mid-range of Jura's model.