Illy is undoubtedly one of Italy's best coffee brands. And lucky for us, Illy manufactures their own single-serve espresso makers for us to enjoy their highly quality coffee at home.
In a previous post, we reviewed and compared Illy's Y5 espresso machine and its two models, Duo and Milk. In this post, we'll look at the differences between Illy Y3 vs. Y5.
Let's start with the features of Illy Y3 Espresso Machine:
Compact, ultra slim single-serve espresso machine from Illy, for use with IperEspresso capsules by Illy.
19-bar pump.
Two programmable coffee programs, can be re-adjusted to any volume of espresso your want.
Removable 1 Liter (33 oz) water reservoir.
Automatic used capsule ejection.
Used capsule drawer holds up to 8 used capsules.
Adjustable cup tray.
Available in different colors.
Click here to learn more about illy Y3, read the customer reviews and buy it.

Features of Illy Y5 Duo Espresso and Coffee Machine: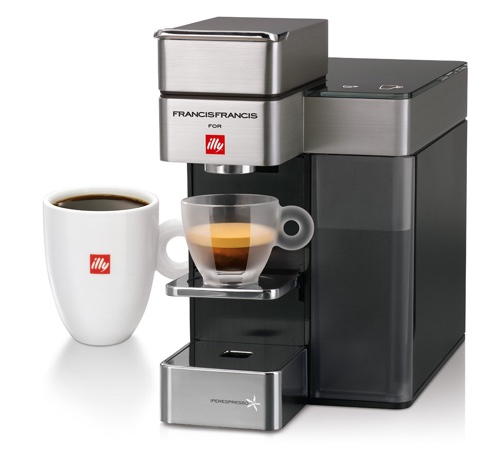 Single-serve Espresso and Coffee maker, uses Illy's IperEspresso capsules.
Can make espresso and traditional cup of coffee.
19-bar pump.
Two coffee programs that can be readjusted.
30 oz (0.9 liters) water reservoir capacity.
Slim and compact design.
Automatic capsule ejection.
Used capsule capsule drawer holds up to 10 capsules.
Click here to learn more about the Illy Y5 Duo, read the customer reviews and buy it.

Illy Y3 vs. Illy Y5, What's The Difference?
[apc id="60″]
The main difference here is:
Illy Y3 is an espresso machine and can only brew espresso at different volumes.
Illy 5 Duo can brew both Espresso and Coffee.
So, if you love espresso but still enjoy a traditional cup of coffee, you'll love that the Y5 Duo can do both. And you could be wondering, since both machine have reprogrammable settings, couldn't you just reprogram a button to do a large cup of coffee? No, it's not advised that you do that, and heres' why:
When making a cup of coffee with the Y5, you will be using iperCoffee capsules, which contains a coffee blend and different measurement than the iperEspresso capsules.
To make a cup of coffee, the Y5 will most likely use less pressure power than when making espresso, since coffee can't be prepared using high pressure like espresso. The Y3 does not have this feature.
Where To Buy Illy iperEspresso and iperCoffee Capsules?
If you want to learn more about iperEspresso capsules and how they work, you can read our full post about it here. iperEspresso and iperCoffee can be purchased directly from Illy's website. You can also buy them from Amazon. (for coffee, make sure the capsule is labeled iperCoffee).
Common questions about Illy's iperEspresso and iperCoffee Capsules:
Can Illy's IperEspresso and IperCoffee Capsules Be Used with Nespresso or Keurig Machines?
No, Illy's capsules can be used with their systems only. If you want illy coffee for Keurig, you can buy their K-Cups here.
Are There Refillable Pods for Illy? Can I Use My Own Coffee Ground?
No, there are no refillable pods. You can only use official IperEspresso and IperCoffee capsules from illy.
Can I Make Hot Chocolate With an Illy Espresso or Coffee Maker?
No, Illy makes coffee and espresso drinks only.
Video Reviews:
How To Use Illy Y5 Duo:

Review of Illy Y3: