Comparsion Between: DeLonghi EC702 vs. Breville ESP8XL Cafe Roma Espresso Makers
As a popular beginner's espresso maker, the DeLonghi EC702 is often compared to many espresso machines from other brands. In this post, we'll be looking at a comparison between it and the Breville Cafe Roma, which we've already compared to another espresso maker, the Saeco Poemia. These comparisons should give you enough information to decide between these great entry-level machines with affordable prices.
What Is The Difference Between: DeLonghi EC702 vs. Breville ESP8XL Cafe Roma:
Image
Feature
Stainless-steel espresso machine with 15-bar Thermoblock pump
Dual-wall filter system for excellent crema; froth enhancer; cup-warming plate
Large, easy-fill 1-2/7-quart water tank; external water window indicates when tank is low
Removable drip tray and grid; stainless-steel espresso cup set and frothing jug included
Measures 9 by 9 by 12 inches; 1-year limited warranty

DeLonghi Pump Espresso Maker
Stainless Steel construction for long lasting durability
Patented cappuccino frother
15 bar pump pressure for most authentic flavor
Quick and easy to use

Title
Breville ESP8XL Cafe Roma Stainless Espresso Maker
DeLonghi EC702 15-Bar-Pump Espresso Maker with Espresso Tamper, Frothing Pitcher, Two 3 oz Ceramic Tiara Espresso Cups and Saucers, and Handheld Milk Frother
Reviews
Read Reviews
Read Reviews
Link
More Info
More Info
Design:
Both the DeLonghi EC702 and Breville Cafe Roma feature stainless steel exteriors, but the Cafe Roma does have more stainless steel than the EC702, which has plastic parts mixed in with the stainless steel.
Size wise, the Breville Cafe Roma is smaller in size at

9 by 9 by 12 inches

vs. 11.25″ x 8.19″ x 12.5 for the EC702.
Control Panel: The Cafe Roma uses a classic dial knob while the DeLonghi EC702 uses push buttons.
Features:
Both machines use 15 bar pump pressure to extract espresso.
Both have almost the same water tank capacity at around 40 to 44 ounces.
Both feature enhanced milk frothers for better milk textures.
Included Accessories:
The Breville Cafe Roma includes a set of 2 stainless steel espresso cups and a frothing jug.
The DeLonghi EC702 does not include any extra accessories with it.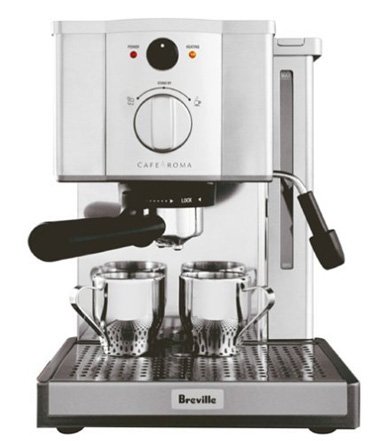 Click here to learn more about the Breville Cafe Roma, read the customer reviews and buy it.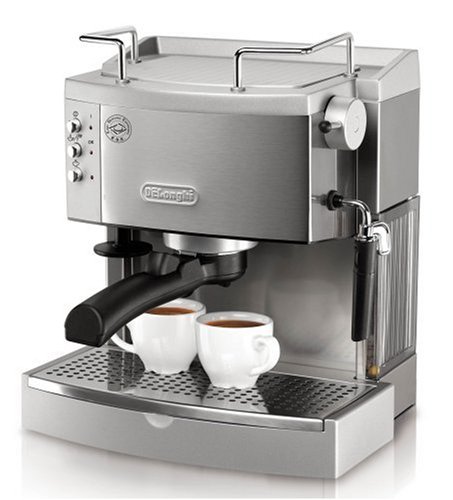 Click here to learn more about the DeLonghi EC702, read the customer reviews and buy it.

Which Is Best To Buy? The Breville Cafe Roma or DeLonghi EC702?
Performance wise, you should expect the same results. Both machines have the same capacity in terms of how they operate. However, we do favor the Breville Cafe Roma for two reasons:
It's FULL stainless steel exterior makes it more durable.
The extra accessories are great and should have you set to make espresso right away. You'll only need to add a tamper.