So you noticed a descale alert on your Nespresso machine and decided to give it a thorough clean, but for some reason, it is stuck in descaling mode and the Orange light won't turn off.
This is a common issue among Nespresso Vertuo and OriginalLine machines, and it's not that there's something wrong with your machine, it only means that you've either missed a step or you did a step wrong.
No worries though! Mistakes happen… and this one can be easily fixed! Below, I will list how you can exit descaling mode in each Nespresso model.
Why Is Your Nespresso Stuck in Descale Mode?
Before we get into the specifics of each model, here's a general idea of what could have happened wrong that got your machine to get stuck in Descaling mode..
You Interrupted the Descaling Procedure
The descaling process of Nespresso machines takes about 20 full minutes to finish completely, and it's made up of two parts: one using the descaling solution and the other using fresh water.
If for any reason, you either pressed the button to stop the process, ran out of water in the tank midway or did not fully complete the descaling cycle, your machine will get stuck and the orange light will not go off.
You Did Not Do The Rinse Cycle
Like I just mentioned, the descaling cycle is made up of two parts: first, you'll run a cycle using the descaling solution, then you'll run another cycle using fresh water. Most people stop after the solution cycle, thinking that this is the complete descale process, but it is not. You have to run the rinse cycle for as long as your machine prompts you to. Sometimes it takes two full rinse cycles, in other machines, you only need to do it once. Keep reading below to see how your model works.
You Did Not Manually Exit Descaling Mode
There are a lot of Nespresso machines out there. Some of them are designed to exit descaling mode automatically, while others require that you exit descaling mode manually. For example, Vertuo Next should exit descale mode automatically if you completed all steps, but Vertuoplus machines require that you exit descale mode manually.
Time Passes Between Each Step and the Machine Resets
Here's something that a few users don't keep in mind. Once you activate Descale Mode, you have to follow up with each step within a certain amount of time or the machine will reset itself. For example, in a Vertuo Next, you only have about 7 seconds between pressing and locking or unlocking the lever to activate a mode. Any longer, and you'll have to start over.
Don't descale your Nespresso machine unless you have the free time to do it without any interruptions. Also, make sure you understand each step before starting so you don't get stuck on any steps.
How To Exit Descale Mode In Nespresso Machines
Please note that it does not matter if your Nespresso is a Breville or DeLonghi, you only have to match the model name (Vertuoplus, Next, Creatista… and so on).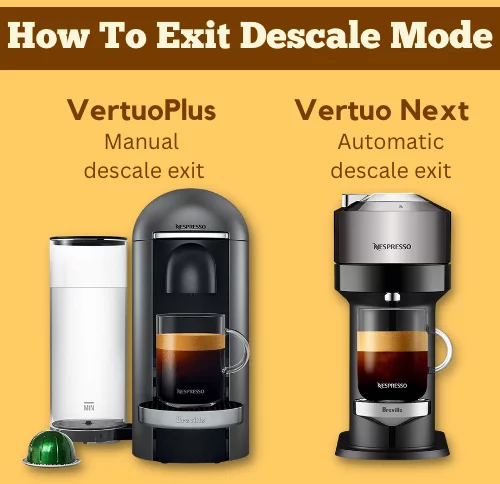 How To Exit Descaling Mode in VertuoPlus
This model requires that you manually exit descaling mode after you have completed all steps. Once you have completed the descale solution rinse and the fresh water rinse, the light will be solid orange. Press the button and lever down together for three seconds until you see green light in a solid state. You have now exited descaling mode and the machine is ready to use.
How To Exit Descaling Mode in Vertuo Next
Vertuo Next is a Nespresso machine that automatically exists descale mode. The light color should turn white immediately after you finish the process. If your Next orange light does not turn off after descaling, it means one of two things:
The descale cycle was interrupted.
You did not complete all steps.
After the machine ran through the descaling solution, take the water tank, rinse it to get rid of any residues and fill it up with clean water. Put it back in place and press the orange-lit button again to start the rinse cycle. Once this has completed, the machine will automatically exit descaling program and the light will be white, indicating that it is ready to use again.
What if you have done all those steps and it is still stuck in descale mode?
Try starting over and following the correct steps. Unplug the machine for a while then start again.
How To Exit Descale Mode in Essenza Mini, CitiZ, Pixie and Inissia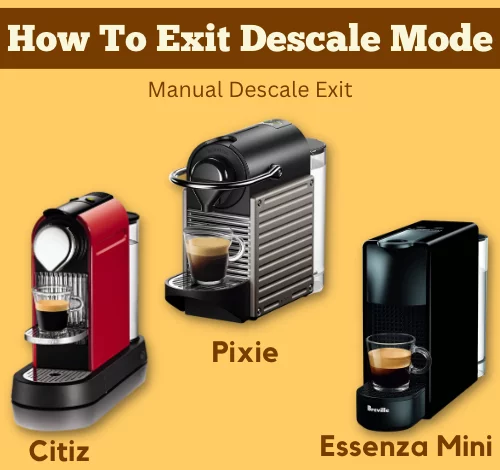 These OriginalLine machines require a manual exit after you finish the descaling cycle. But before you exit, make sure that you have completed the descaling program correctly.
ENTER DESCALE MODE:
Press the Espresso and Lungo buttons together for 5 seconds for the Essenza Mini or 3 seconds for the CitiZ, Pixie and Inissia. Both buttons will start blinking.
Start Descaling Cycle:
Assuming you have added the solution to the water tank along with the amount of water as directed. You can now press the Lungo button to start the descaling cycle. Wait until the tank is empty.
Take the water that came out of the machine, refill it into the tank to reuse it. Repeat the same process by pressing the Lungo button again. Wait until the tank is empty.
Now take the water tank, rinse it and fill it with clean water.
Put the tank back in its place and press lungo button again. This will start the Rinse cycle. Repeat this step twice.
Note: make sure you also empty the drip tray and clean it, as well as the capsule container.
EXIT DESCALE MODE
Simply press the espresso and lungo buttons together (5 seconds for Essenza and 3 seconds for other models) to exit the descale program.
How To Exit Descale Mode in Essenza Plus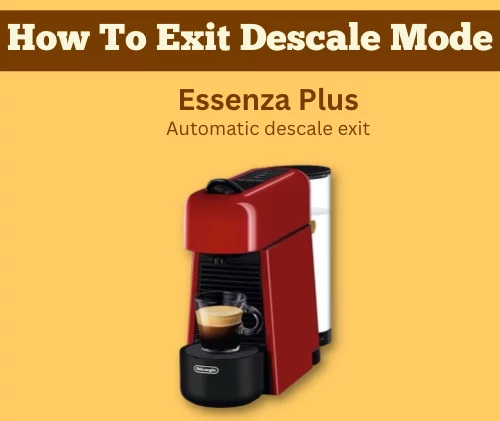 This model works differently than Essenza Mini since it has more buttons and options. The Essenza Plus model actually has an automatic descale exit.
ENTER DESCALE MODE
Press the espresso, lungo and hot water buttons for 5 seconds.
Start Descaling Cycle
To start the descale cycle in the Essenza Plus, after you have set everything up (descaling liquid, water tank and all), press the hot water button to start the process.
Wait until the water tank is empty.
Pick the water tank, rinse it and fill it with clean water to the max line.
Place the tank back in place. Press hot water button to start the rinse cycle. Repeat until the tank is empty.
EXITING DESCALE MODE
When the rinsing is finished, the machine will turn off automatically to exit descaling mode. The trick is to REPEAT the rinsing cycle until the machine turns off.
How To Exit Descale Mode in Breville Creatista Pro or Plus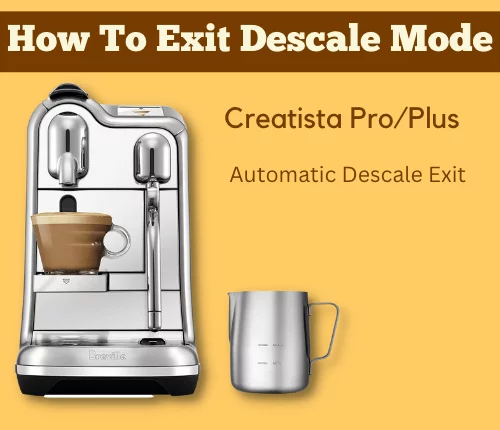 Creatista machines are equipped with a nice colored display that will walk you through the process of descaling your machine. All you have to do is follow what the machine tells you to do. Sometimes though, Creatista gets stuck in descale mode and simply won't exit, here's a possible reason why:
Assuming that you have completed both descaling and rinsing steps, one of the reasons a Creatista gets stuck is because the machine is sensing that there is water inside either the drip tray or used capsule container. So what you want to do is to keep checking and emptying these parts if they fill up with water at some point during the descaling process.
How To Exit Descale Mode in Lattissima Pro, Lattissima Touch, and other Lattissima Models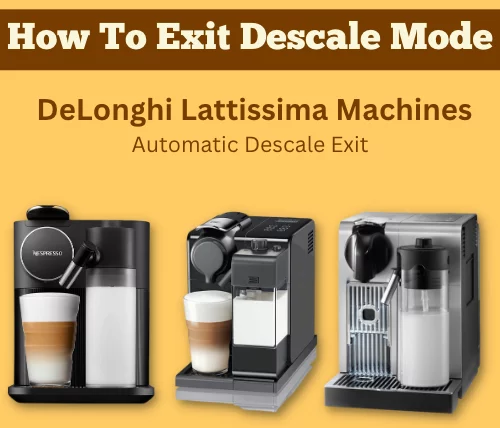 Lattissima models are designed with automatic descaling mode exit. So if your Lattissima is stuck in descale mode, here are a few things to check for:
Make sure you have done both the descale and rinse cycles
When doing the rinse cycle, make sure you fill the water reservoir to the max line. If you use any less water, the machine will think the cycle was interrupted (because it stopped before using the full amount of water it is supposed to use).
Lattissima machines rinse through the coffee spout, hot water spout and drip tray. It alternates between those outlets until the water in the reservoir is completely finished then it will stop automatically.
Common Asked Questions
Do I Have To Use Nespresso Descaling Kit?
Nespresso sells their descaling liquid in a package of two packets. One package is needed for a descale, so a package should last you for a period of 6 to 12 months, depending on your machine usage.
Other brands sell descaling solutions, too, that can be used for any espresso or coffee machine. So do you have to use Nespresso's or can you use any brand available to you?
You're free to use any solution you like. But it is recommend that you use Nespresso's. Just in case you run into any issues or your machine breaks, Nespresso can actually take you out of warranty under 'misuse'. It's not fair, but unfortunately, corporations will do whatever they can to get you out of warranty.
Can I Use Vinegar Instead of Nespresso Descaling Kit?
Some people choose to use Vinegar as a natural descaling liquid. This isn't recommended at all, because vinegar is not enough to break minerals and calcification build up.
For the Best results, stick to Nespresso descaling liquid.