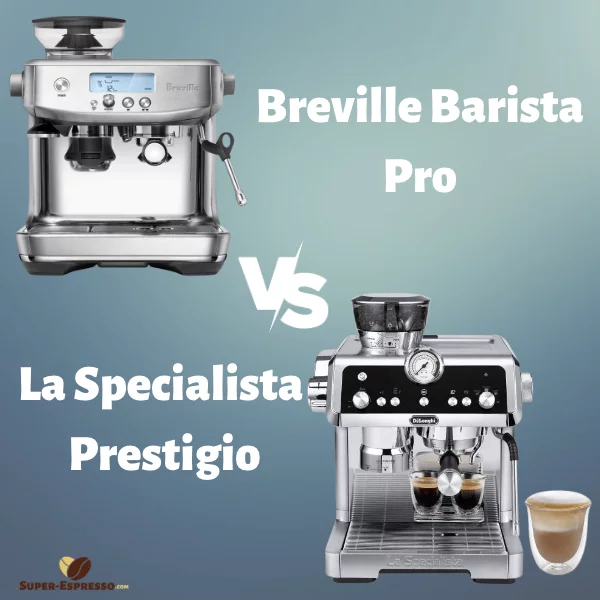 For a while now, Breville has been the leading brand in offering high quality yet user friendly espresso machines for the barista at home with a wide range of machines under their name.
But you might have noticed that DeLonghi has been catching up with their La Specialista line of espresso machines, offering the same experience and top notch quality machines.
In this post, I'll compare the two popular Breville Barista Pro vs DeLonghi La Specialista, both being a mid-level machines.
I chose to compare DeLonghi La Specialista Prestigio because it is the most comparable to the Breville Barista Pro.
Breville Barista Pro vs DeLonghi La Specialista Prestigio
These two espresso machines were made to compete against each other with nearly identical features. But still, each one of them has its unique features and offers a different experience.
| | | |
| --- | --- | --- |
| | La Specialista Prestigio | Barista Pro |
| Grind Setting | 8 | 30 |
| Grinder Type | Conical Burr with Sensors | Steel Conical Burr |
| Portafilter | 51mm | 54mm |
| Tamper | Automatic Tamping Station | Manual tamper include |
| Steam Wand | Manual steaming | Manual steaming |
| Heating System | ThermoBlock | ThermoJet |
| Controls | Buttons | LCD display & Button |
| Temperature Settings | 3 settings | – |
| Pre-infusion | Yes | Yes |
| Hot Water Dispenser | Yes | Yes |
| Housing | Stainless Steel | Stainless Steel |
| Presets | Espresso, Americano, Coffee | Espresso |
| Dimensions WxDxH | 13.9″ x 13.5″ x 16″ | 15″ x 14.48″ x 17.5″ |
| Pump Pressure | 19-bar | 15-bar |
| Water Reservoir Capacity | 2 litres (67 oz) | 2 litres (67 oz) |
| Included Accessories | 1 & 2 shot baskets, stainless steel jug, cleaning kit | 1 & 2 shot baskets, stainless steel jug, cleaning kit, razor precision dose trimming tool |
Related Comparison: Delonghi Prestigio vs Breville Barista Express
Let's take these features one by one and see which is better, before making a final decision of which machine is best.
Barista Pro vs La Specialista – Grinder Differences
Both machines have a conical burr grinder that grinds beans with consistent results. The difference between the Barista Pro and La Specialista Prestigio is the grind settings. The first offers 30 grind settings while the latter only offers 8 grind settings. Now, keep in mind that these are all espresso grind settings, so even a 'coarse' grind setting is a fine grind suitable for espresso. So with the Breville, you have the ability to really fine tune your grind to get to a point where you find your perfect espresso shot. The ability to choose a very specific step for a fine grind is great to have, and could make a lot of different for intermediate to advance users.
Both machines have the same hopper capacity. However, design wise, the Barista Pro has the advantage. When picking up the hopper, for any reason, the Barista Pro's hopper has a locking mechanism that keeps the beans in place. Prestigio's doesn't, and picking up the hopper will result in the beans draining out of from the bottom, which is a huge design oversight.
I would say the Barista Pro wins in terms of grinder, for sure.
Barista Pro vs La Specialista – Automatic Dosing and Tamping
Both machines come with automatic dosing, but they both name it differently.
La Specialista Prestigio's grinder features a patent pending technology that they call 'Sensor Grinding Technology' which is meant to deliver the perfect dose of beans every time. On the control panel, you'll find a 'Dose' knob that references your beans in terms of roast level, from extra light to extra dark. Adjust the knob according to the beans you are using and the machine will deliver the right dose either for a single or double shot, whichever you choose.
When the machine is done with the auto grind, next step is auto tamping, which delivers perfectly tamped coffee without the need to even move the portafilter. The coffee is filled and tamped into the portafilter in what is called the 'Smart Tamping Station'. You will have to pull a lever to do the tamping, but it's much easier than tamping manually using a traditional tamper.
Breville's Barista Pro is programmed to deliver between 19g to 22g of ground coffee, depending on whether you are making a single or double shot. After that, you'll use the included razor trimming tool to clean out any extra grinds and then manually tamp using the included tamper. Breville's tamper has a stainless steel base and a plastic handle with magnetically attaches to the machine.
When it comes to auto dosing and tamping, I do prefer Prestigio's process, which is easier for a beginner, but still satisfying enough for an intermediate user.
Barista Pro vs La Specialista – Heating System
Both Barista Pro and Prestigio have fast heating systems. Barista Pro has an incredibly fast 3 second start up time thanks to the ThermoJet system. The Prestigio takes about 30 seconds to start up
With both machines, there's no wait time between extraction and steaming and can switch tasks instantly.
Barista Pro vs La Specialista – Portafilter Design
A portafilter is a vital part of your Espresso brewing experience. While most espresso machines don't include the best portafilters, Breville always has the edge with their excellent portafilter design right out of the box.
Breville Barista Pro includes a 54mm portafilter size with a double-spout design. It has a metal handle with plastic cover, so it feels sturdier in your hand without transferring any heat.
La Specialista includes the average 51mm pressurized portafilter with small spouts.
Barista Pro vs La Specialista – Temperature Settings
Prestigio comes with a selection of three temperature settings, but you have to understand what this actually means:
Temperature settings refer to the temperature of the water inside the ThermoBlock which will be used to extract the espresso and not the temperature of the produced coffee.
That said, Prestigio has three selections that range between 197F to 204F (92C to 96C to be exact). It is recommended that you select the temperature based on the bean roast range:
| | |
| --- | --- |
| Coffee Beans Roast | Temperature |
| Dark roast | Low |
| Medium to Dark | Medium |
| Light to Medium | Max |
On the other hand, Barista Pro does not have temperature selections. It is programmed to extract using Third Wave Specialty coffee settings, so it's set at a 200F temperature.
Barista Pro vs La Specialista – Drink Presets
Both Barista Pro and Prestigio are espresso machines, so their main job is to extract great espresso and steam milk, which will require some skills on your part. Using those, you'll create your favorite coffee recipes.
Naturally, both machines have presets for either a single or double espresso shots. Both can also be reprogrammed in volume.
What the Prestigio has as an extra is presets for Americano and Coffee, here's what the preset recipes produce: (source)
| | | |
| --- | --- | --- |
| | Default Recipe | Programmable Quantity |
| Espresso | 1.83 fl oz / 35 ml | from 0.84 to 3.04 fl oz / from 25 to 90 ml |
| Double Espresso | 2.37 fl oz / 70 ml | from 1.69 to 6.08 fl oz / from 50 to 180 m |
| Coffee | 2.70 fl oz / 80 ml | from 1.69 to 6.08 fl oz / from 50 to 120 |
| Coffee x 2 | 5.41 fl oz / 160 m | from 4.06 to 8.12 fl oz / from 120 to 240 ml |
| Americano | 4.06 fl oz / 120 ml | espresso: from 0.84 to 2.02 fl 0z/ from 25 to 60 ml • water: from 0.84 to 4.06 fl oz / from 25 to 120 ml |
| Americano x2 | 8.12 fl oz / 240 ml | espresso: from 1.69 to 6.08 fl oz/ from 50-120 ml • water: from 1.69 to 8.12 fl oz/ from 50 to 240 ml |
How Coffee Is Prepared
Prestigio is an espresso machine with a high pressure pump, so it won't make a traditional cup of drip coffee. What it does when choosing the coffee recipe is extract a long shot of espresso, so it's what is traditionally called a Lungo, and it can be programmed to be up to 240 ml in volume.
How Americano Is Prepared
Americano is a classic drink made of double espresso shots diluted with hot water. And that's exactly what Prestigio will do when choosing this recipe. It will extract espresso and will follow it with hot water coming from the integrated hot water dispenser.
Barista Pro vs La Specialista – Steam Wands
Can You Do Latte Art Using DeLonghi La Specialista Prestigio or Breville Barista Pro?
One of the fun parts about having an espresso machine is practicing latte art. It takes time to figure out, but it's all part of the learning process.
Both Prestigio and Barista Pro have excellent steam wands that you can use to create silky micro foam milk textures and create cool latte art. The wands are not automated, so learning how to do that is up to you. Watch tutorials and practice and you'll certainly get there!
Breville Barista Pro vs La Specialista – Included Accessories
At first glance, you'll see that the Barista Pro includes more accessories that the Prestigio. It includes: Milk jug, Razor trimming tool, tamper, cleaning kit. Prestigio includes a milk jug and a cleaning kit, and that's because it does not actually need a tamper or a trimming tool, as those are done automatically in the Smart Tamping Station.
So both of those machines will come with everything you need to get started.
Breville Barista Pro vs La Specialista Prestigio – The Similarities
There are several features that the Breville Barista Pro and DeLonghi La Specialista Prestigio have in common:
Steam Wands: Both have excellent professional style steam wand that will allow you to create silky milk texture. Both are also ready to steam in an instant.
Hot Water Dispenser: Both machines are equipped with hot water dispensers right next to the group head. That way, if you're making an Americano, you can dispense water directly without moving the cup.
Size: Both Barista Pro and La Specialista have almost the same width and depth. They share the same water tank capacity, too.
Portafilter Baskets: While the Barista Pro has a larger 54mm portafilter, the the DeLonghi has a 51mm portafilter, both machines include non-pressurized and pressurized filters.
Breville Barista Pro vs La Specialista Prestigio – Which One to Buy?
These two espresso machines are quite similar in terms of features and price. But each does come with an edge over the other:
My favorite features of the Prestigio is the Smart Tamping Station that leaves to room for error when it comes to tamping your coffee. Tamping is quite an essential step when making a shot of espresso, and having this step done for you by the machine ensures you'll get a great shot. I also like that you get guidance according to the roasting profile of your beans, which gives you a customized experience and ensures the best results. This machine, although it is somewhat advanced in features, will still be easy to use by a beginner and will give them room to grow as a home barista.
What I don't like about the Prestigio is the fact that it uses a mix of plastic and plastic plated chrome in its design, which feels a little cheap.
The Barista Pro, on the other hand, can be a tad harder to use by a beginner. While some steps are automated, like dosing for example, you'll still need to adjust to the correct grind settings out of 30 options and manually trim and tamp the coffee. This requires some skills that comes with regular use of the machine. And while the tamper isn't my favorite due to it's plastic handle, the machine itself has a better quality build than the Prestigio.
Related Comparisons