Breville espresso machines have been ahead of the competition for quite some time now. Apart from having one of the best design, Breville uses advanced technology to ensure that you end up with the most delicious brew. Its compact size and stainless steel surface are part of its appeal. It is just the right espresso machine to have in your home if you want barista style coffee without a lot of complication.
Breville Barista Pro (BES878) vs Touch (BES880) vs Express (BES870)
Quick Side by Side Comparison
Breville Barista Pro vs. Barista Touch
The Barista Touch is another great variation of the Barista Express, featuring similar functions but more upgrades that might or might not be useful to you. I would say that the Barista Touch ranks highest among these three models, but that doesn't necessarily mean it's the best. If it has more features than you need, then go for something else. That's the great thing about having similar models with some variations.
So how is the Barista Touch different than the Barista Pro?
| | | |
| --- | --- | --- |
| | Barista Pro | Barista Touch |
| Touch Display | No | Yes |
| Preset recipes | No | Yes |
| Customized recipes | No | Yes |
| Automatic Steam Wand | No | Yes |
| Reservoir capacity | 67 oz | 67 oz |
| Bean hopper capacity | 1/2 pound | 1/2 pound |
| Heating System | Thermojet | Thermojet |
The Barista Touch is more automated, even easier to use and puts all popular coffee recipes at your finger tips. This model is equipped with an impressive colored touchscreen where all coffee recipes are already programmed and ready for you to enjoy. And of course, there's always room for customization where you can control the volume of the coffee, the coffee strength and milk texture and temperature.
And how do you control milk texture and temperature? Well, that's another automated step in the Barista Touch. The machine uses a special milk jug and automatic steam wand that will heat and texture your milk to your desired temperature and foam/texture level.
Another great thing about the Barista Touch is, since it allows you to customize your recipes, it also allows you to save them under unique names for later use. You can create and save up to 8 recipes.
The Barista Touch has the same ThermoJet boiler as the Barista Pro, so heat up time is just as quick.
When it comes to the built-in grinder, bean hopper and water reservoir capacity, all three models have the same capacities: 1/2 lbs bean hopper capacity, 67oz water reservoir and adjustable conical burr grinder.
Click here to read our review of the Breville Barista Touch.
Breville Barista Pro vs. Barista Express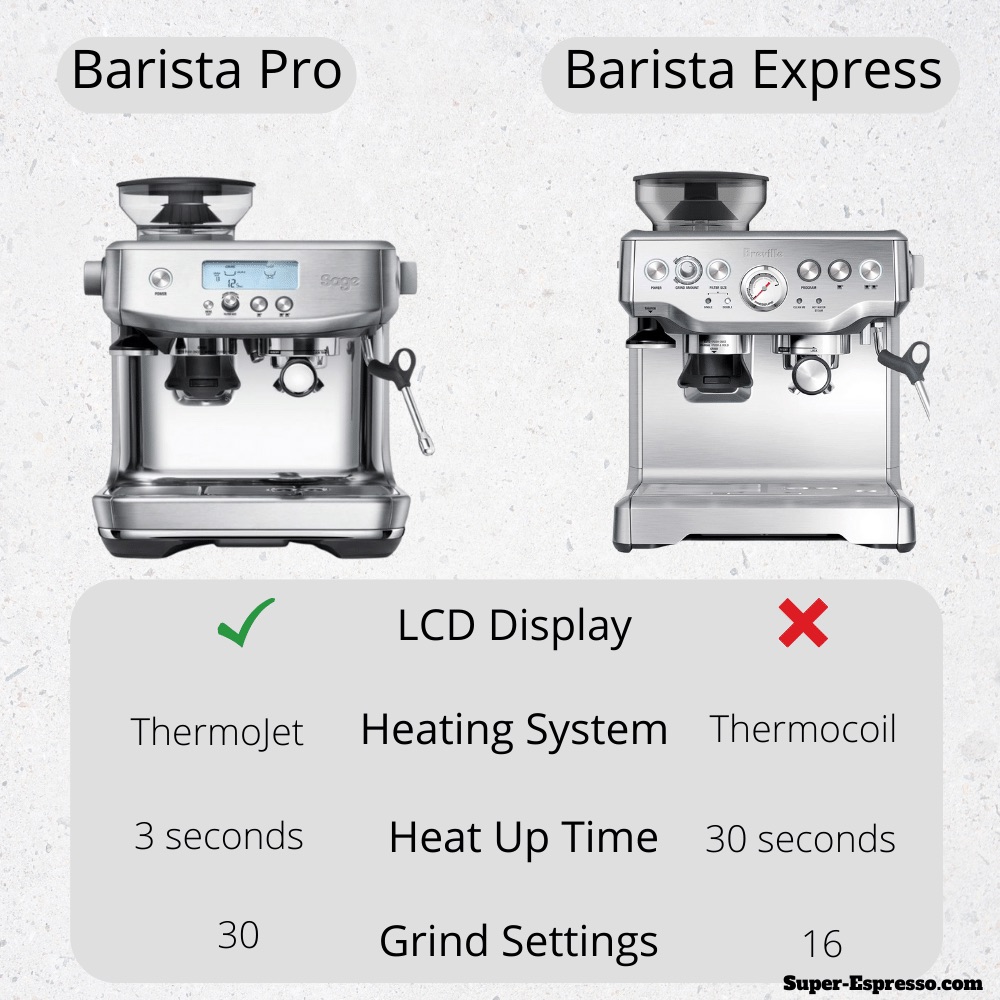 The Breville Barista Express has been a best seller on our site for years now. It's the most loved by our readers, and I can't blame them! It is reasonably priced while packed with so many features that deliver a fantastic at home barista experience. But how does the Barista Pro compare to it? And should you go for the newer model or go for the Barista Express?
The Barista Pro and Barista Express are somewhat similar and can offer you similar results, but one sure offers a more intuitive experience than the other:
Starting with the controls, the Barista Pro has an LCD screen and the Barista Express doesn't. The LCD display gives you precise measures of everything you're doing: the grind size, shot timer, options for customizing your shot and other information you need to create your shot as you want it. On the Barista Express, you have the same options for setting your grind size, filter size, number fo shots and volumes, but you'll have to do it sort of "blindly" without exact numbers but only using button controls. On the other hand, the Barista Express has an important feature on its control panel that the Barista Pro lacks, and that is the gauge. A lot of user find the gauge to be extremely useful in letting them know the temperature of the machine and the best time to switch between brewing and steaming.
Another difference is the machines heating systems. The Barista Pro has a ThermoJet heating system that heats up in as little as 3 seconds and can switch between espresso and steam almost instantly. The Barista Express has a Thermocoil heating system that takes about a minute or two to heat up and requires a bit of a wait to switch from brewing to steaming. And that's why the gauge is needed on the Barista Express but not the Barista Pro.
The Barista Pro also has a more advanced grinder that offers 30 grind settings, this allows you to dial and tweak your grind even further for the perfect shot.
Apart from that, both models have the same capacity in water reservoir and bean hopper. There are some difference in design, but nothing that affects the function of the machines.
Learn more about the Barista Express:
Breville Barista Pro vs. Oracle
The Oracle is on the higher end when compared to the Barista Pro, or other Breville machines.
| | | |
| --- | --- | --- |
| | Barista Pro | Oracle |
| Boiler | Single | Dual |
| Auto Tamping | No | Yes |
| Portafilter size | 54 mm | 58 mm |
| Reservoir capacity | 67 oz | 84 oz |
| Steam Wand | Manual | Manual |
To start, the Oracle has dual boilers. Which means it can extract espresso and froth milk at the same time, all while being regulated with PID for precise temperature.
In addition to auto grinding, which both machines have, the Oracle has auto tamping, too. The machine will automatically grind and tamp 22 grams of coffee straight into the portafilter.
The Oracle includes a 58mm portafilter and has a 84 oz water tank capacity. Barista Pro has a 54mm portafilter and 67 oz water tank capacity.
Overall, the Oracle is a more advanced machine. It's targeted at an advanced home user, or if you're a beginner, then expect some learning and training until you get things right.
Click here to learn more about Breville Oracle and Oracle Touch.
Which One Do You Buy?
Now you've read everything you need to know about the Barista Pro, Barista Express and Barista Touch, it's time to decide which one to buy.
First thing you need to know is that all of these models should give you similar results if used correctly. But here are some pointers to help you with your decision:
Budget: these models are priced differently, and the price difference can affect your decision. So make sure to check the prices at your time you're ready to purchase your machine as prices can vary from time to time.
Controls and Automation: Like I previously mentioned, the difference between these machines should give you the same coffee results, but what will change is your experience in making these coffee drinks…
The Barista Express is a semi-automatic with nearly no guidance from the machine other than the steam gauge, which should help you know when the machine is to switch between extracting or steaming. The grind size is set by hand using a dial (with no numbers assigned) and your espresso shots are presets and can be reset either by pressing the buttons longer to going fully manual.
The Barista Pro offers you guidance using the LCD display where you can see everything that has to do with your shot. Grind size, shot timer, single/double and other customizations that help you in making a shot exactly how you want.
Last but certainly not least, the Barista Touch, which is fully automatic. If you don't want to deal with all the details, this model has all recipes set and ready to go at your fingertips. Simply scroll through the recipes and pick what whichever drink you're in the mood for. And if you're feeling quite particular, you still have to option to customize your drink and save them as new recipes, too!
Specs of Breville Barista Pro Espresso Machine
This machine comes with some incredible features that are designed to transform your beans to a delectable cup of coffee within minutes. Every single component functions optimally, and the result is nothing but a bold brew that is hot enough to welcome you to a new day. With the Barista Pro in your home, you will be enjoying every single cup of coffee just the way you like it and without compromise.
Here's what makes the Barista Pro a great machine:
An interactive display:
You will no longer have to make your coffee blindly. This is because this machine has a nice LCD display. The display is designed to enable you to see the whole coffee making process. Through it, you can set and see the grind size, amount of coffee grounds and the temperature of the water you are using among many others. The details are boldly written and it also comes with backlight to amplify its visibility further. The display shows you all elements you need to pull the perfect shot of espresso.
Built-in Conical Burr Grinder:
Any coffee lover will tell you how important a burr grinder is when it comes to brewing coffee or espresso. Having a built-in grinder saves you from buying one separately. It allows you to choose the exact grind size you want as well as the dose of coffee. The correct choice of these two is significant and often determines the kind of brew you will end up with.
54mm porta-filter:
The consistency of the coffee you get is dependent on the kind of porta-filter incorporated in the machine. For absolute consistency and balanced coffee, Breville espresso maker comes with a 54mm porta-filter which will ensure that you get a smooth cup of full-flavored barista quality brew.
Digital temperature control (PID):
Most espresso machines fail to produce quality coffee due to the temperature of the water used. This is where Breville Barista Pro shines. Its digital temperature control feature allows you to get just the right temperature of water required to extract full flavor from the coffee grounds. When the water trickles through the coffee grounds, the machine makes sure it is hot enough to extract ever flavor from the coffee grounds, this makes your espresso shot bold, flavorful and with an incredible aroma.
A powerful steam wand:
The steam wand is a big part of the espresso machine you own. Its incredible functionality enables it to have micro-foam milk texturing capabilities which is what you need for creating latte art. This part will require some practice from you, especially if it's your first time using an espresso machine. But once you get it right, you'll love the delicious creamy coffee drinks you'll be able to make.
Some other great features that you will find in the Barista Pro are: 2L capacity water reservoir, 250g bean hopper, and 1 and 2 cups volumetric control.
Your Barista Pro will include:
Single and Dual filter basket
The Razor Precision Dose Trimming Tool
480 ml stainless steel frothing jug
Built-in magnetic tamper.
Cleaning Kit
Water filter
Related: Comparison between Breville Barista Pro vs DeLonghi La Specialista Prestigio