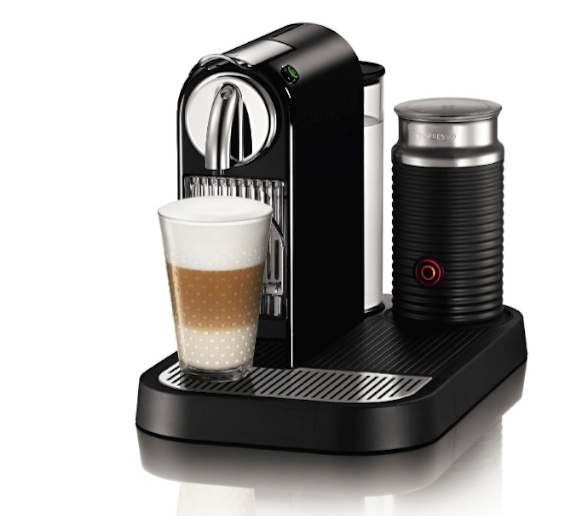 Even though the CitiZ is not Nespresso's latest machine (as of October 2013, the Nespresso U is the latest), it is still the best selling Nespresso machine*. So why is that? And why is might just be the Nespresso machine for you? Here's why:
It has the largest water tank 34 ounce, in comparison to U's 27 ounce tank and Pixie's 24 ounce tank.
It has the Aeroccino milk frother integrated into it, so you don't have to buy it separately. It creates nice foamy milk for Cappuccinos or Lattes, hot or cold, in a touch of a button.
Plus, every other great feature of a Nespresso machine: used capsule drawer – adjustable cup tray – programmable coffee volume – 19 bar pressure pump – 25 seconds pre-heat time.
Is The Nespresso CitiZ The Best Machine for YOU?
If you're looking for a generous water reservoir (which means less refilling trips!), if you want an easier way to make milk based coffee drinks, and of course, if you want a gorgeous retro-chic machine to show off in your kitchen, the CitiZ is for you!
If you want your Nespresso machine for espresso only, and not particularly looking to make Lattes and Cappuccinos, you can look into the Pixie or U without the built-in Aeroccino.
You can read our comparison between Nespresso machines here.
UPDATE: There's a new Nespresso machine in town! Before you consider the CitiZ, learn more about the Nespresso VertuoLine espresso and coffee machine by clicking here.
New Edition of the Nespresso CitiZ: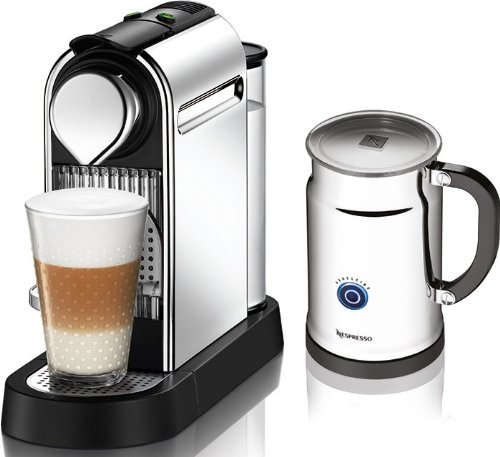 We've recently noticed some new and shiny edition of the Nespresso CitiZ C111 in Chrome. You get the same features mentioned above, and it's available as a stand-alone machine or bundled with the Aeroccino milk frother.
Questions About Nespresso Citiz:
Where Is The Nespresso CitiZ Made?
It is made in China.
How Is The CitiZ Different Than Nespresso Pixie?
You can read our full comparison here.
What Is The Difference Between The Nespresso CitiZ and Lattissima?
Smart question, here's the comparison between these two.
How To Use The Nespresso CitiZ?
This video here will demonstrate how easy it is to use…