Pulling the perfect shot of espresso at home can be an intimidating thing, especially if you're just starting out. But like everything else in life, practice makes perfect, and you can certainly turn into a home barista in no time!
Espresso makers range from small, easy to use machines, to complicated machines that can be hard to control. As a beginner, you'll want just the right machine to practice on. In our opinion, here's what makes the best beginner's espresso machine:
A quality espresso maker that is easy to use, but has enough features for you to develop your skills.
A durable machine that will last you for a long time
A machine that you won't find dispensable even after you've developed your espresso making skills.
A beginner's espresso maker isn't necessarily the cheapest, many people fall into the trap of buying a cheap espresso maker to learn with and then find themselves in the need of a new one shortly after. That is definitely a waste of money. There are a number of affordable yet durable espresso machines that you can learn on and keep for the long run.
Best Espresso Machines For Beginners:
DeLonghi Dedica EC680 Espresso Machine: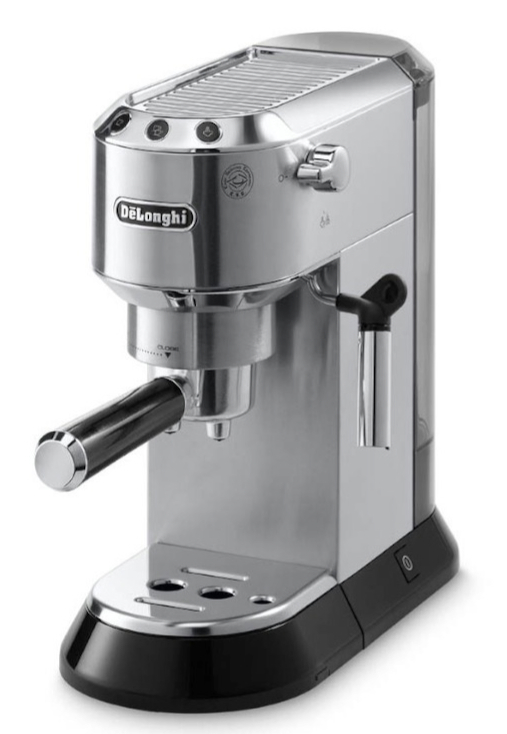 Why we like it – Simple to use, compact in size:
It has automatic as well as manual flow, which means you can either use the pre-set shots or create your own. The machine will remember your last shot preference.
It's very compact in size, it will not take much counter space.
A swivel steam frother will allow you to practice your milk frothing and try your latte art skills.
Thermoblock technology allows the machine to heat up in less than 40 seconds.
Beautiful Italian design. Stainless steel exterior.
Read our full post on the DeLonghi Dedica here.
Breville BES840XL The Infuser Espresso Machine: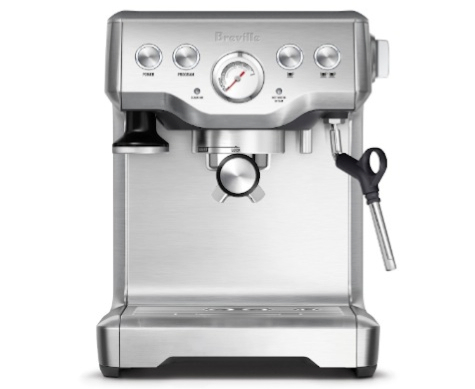 Why we like it – it's almost impossible to pull a bad espresso shot with The Infuser:
It has a mixture of automatic and manual functions. Use either one to create your espresso shots.
Pre-fusion function makes sure the coffee ground is saturated with low pressure water before brewing. This ensures a great shot every time.
Auto-purse function automatically adjusts water pressure for you after steam use for the best espresso extraction temperature.
The steam gauge on the front panel guides you on when and what task the machine is ready to perform.
Also features a hot water dispenser, perfect for Americano or any other beverage preparation.
Read our full post on Breville The Infuser here.
DeLonghi EC702 Espresso Machine: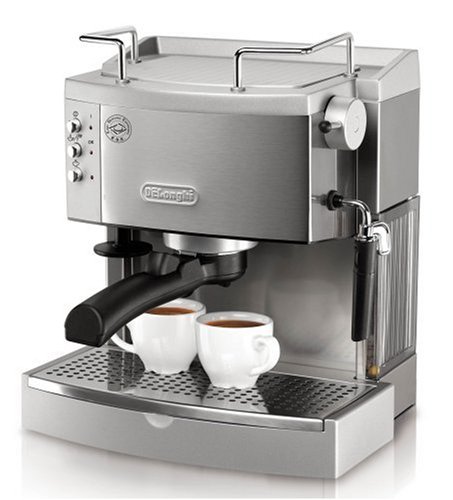 Why we like it:
Simple to use, with manual operation.
Quick start-up.
A more affordable option, if you're on a budget.
Stainless steel exterior makes it a durable machine to have.
Click here to read our post of the DeLonghi EC702
DeLonghi Dedica vs. Breville Infuser:
We listed both these espresso makers as a great choice for beginners, however, the Breville Infuser actually has way more features than the Dedica, that it will still make a suitable machine even when your skills have evolved.
The Breville Infuser is bigger in size, therefore has a larger water reservoir. It has a PID technology that regulates the temperature, so you can expect more consistent results. It has a gauge that allows you to easily monitor the pressure of the machine so you know when to extract your espresso or steam your milk. And one of the greatest features of the Infuser is its pre-infusion which saturates the coffee ground before extraction, which ensures an evenly extracted coffee.
The Dedica's biggest feature is its small size. With only 6″ width, it's a great choice for anyone with little counter-space to spare. It has 1300 Watts power, which is less than the Breville's Infuser 1600 Watts, but it's a great wattage for its size. Dedica's portafilter is 51mm, which is smaller than Breville's 54mm portafilter.
So, overall, you'll pretty much be able to do the same using both espresso makers. But the Breville Infuser regulates heat better, pre-infuses coffee ground which results in better tasting coffee and with its auto-purge function that brings down the temperature of the boiler after using the steamer to ensure your espresso is extracted at an optimal temperature.
DeLonghi Dedica vs. Gaggia Classic, Which One To Choose?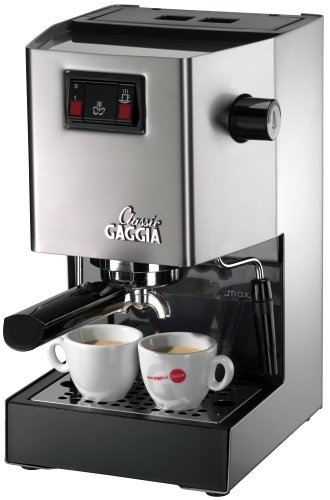 The Gaggia Classic isn't necessarily a beginner's espresso maker, but if you have the patience, you'll enjoy using and developing your barista skills using it. How does it compare to the DeLonghi Dedica though..
It is 17 1/2 pressure bar, stronger than the Dedica's 15 bars.
It is fully manual, so you'll have to know when to start and stop pulling your shot.
It has a generous 72-oz water reservoir and a hot water dispenser.
The biggest difference here is that the Gaggia Classic is a manual machine with no programmability at all. This is important to keep in mind, as it will take a lot of practice until you're able to produce a great shot of espresso.
Further Reads:
Watch How They Work:
DeLonghi Dedica Review:

Review of the Breville Infuser: