UPDATE: We have a full review of the new and improved DeLonghi Dedica Deluxe that you can read here.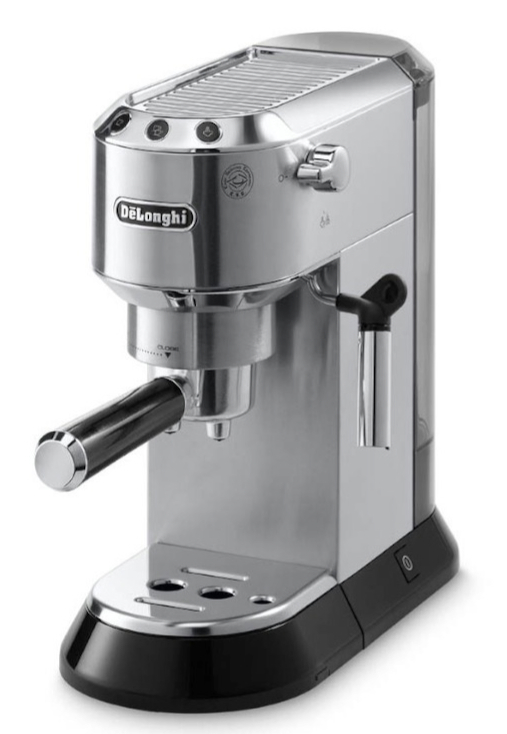 DeLonghi has always been a maker of really great at-home espresso machines, many we've already features and you can see here. But there's something distinctly different about the EC680 Dedica, and that is the slim, sleek and polished design.
The Dedica is only 6 inches wide, making it a perfect choice for someone who is short on counter space. Its stainless steel construction gives it a durable tough exterior. But it's not all about looks, the beautiful design is backed up with many fantastic features:
15 bar pressure pump.
Thermoblock heating system takes only 40 seconds to heat up.
Automatic stop flow.
Cappuccino system allows you to create barista like foam for cappuccinos and lattes.
Control panel has 3 illuminated buttons.
Can be used with ground coffee or e.s.e pods.
Self-priming feature keeps the machine always ready to use.
Hot water dispenser.
Click here to learn more about the DeLonghi Dedica, read the customer reviews and buy it. (Amazon Link)
On top of the machine is a cup warmer where you'll be able to keep your espresso cups and the machine will keep it warm and ready to use. At the back is a clear water tank that can be easily monitored for water level. The drip tray is removable for easy cleaning.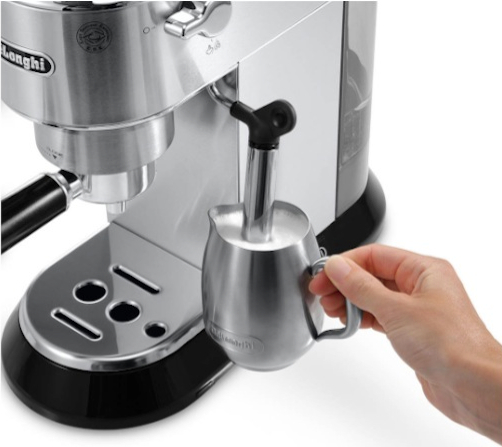 The milk frother is what you would expect from DeLonghi, their Cappuccino System is included in many of their machines. It swivels, mixes steam, air and milk to produce a creamy foam for a delicious cup of Cappuccino or Latte. Included with the machines all filters required for a single or double shot preparation. There's also a filter for E.S.E pods, which are great if you're looking for a quick shot without having to measure your coffee.
Are There Any Downsides To The DeLonghi Dedica Espresso Machine?
One thing that might be annoying to some people is that the maximum cup height the machine can accommodate is 3″. So if you're someone who likes their coffee in a large mug, you'll have to brew your shots separately then pour them into the mug, however, you'll be able to froth the milk directly in the mug.
See the DeLonghi EC680 Dedica in action:
note: the video is in French, but anyone should be able to see exactly what to expect from the machine thanks to the detailed review:
You'll see that the machine is able to extract espresso with a nice crema on top.
Quick start up and quick steam prep. time.
The frother creates a lovely froth of milk with ease.