Nespresso lovers, BEHOLD YOURSELVES! Your ultimate dream Nespresso machine has finally arrived! An all new Nespresso experience that you DO NOT want to miss on. The VertuoLine Nespresso Machine….
** Note: Since the release of this machine, there's been two other VertuoLine machines, Nespresso Evoluo and Nespresso Vertuo**
What Is The Nespresso VertuoLine Machine? And How Is It Different From the Nespresso U, Pixie and CitiZ (VertuoLine vs. Original Line)?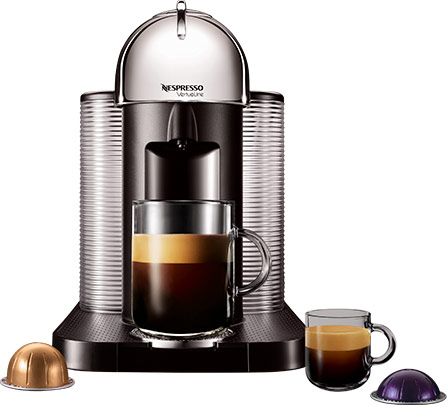 There's quite a BIG difference between all Nespresso machines and the VertuoLine. We've always known Nespresso as the best single-serve espresso machine… the VertuoLine takes it a bit further…
The Nespresso VertuoLine is the first Nespresso machine that delivers espresso as well as brewed coffee!
A never SEEN before technology known as Centrifusion technology, available only on the VertuoLine machine. (more on this below)
It has completely redesigned espresso capsules and coffee capsules.
It's an intelligent machine that recognizes each capsule and provides the best settings for that capsule automatically.
Faster pre-heat time, machine is ready to use at 15 to 20 seconds.
How The Nespresso VertuoLine Brews Coffee and Espresso and How the New Capsules Work:
The VertuoLine system capsules are designed to brew you a more flavorful and more aromatic cup of coffee or espresso topped with the perfect crema. It's a truly smart system that automatically recognizes the type of capsule you inserted and sets the machine accordingly. All you have to do is push a button!
When you hit that button, the capsules spins 7,000 times per minute, mixing the coffee with hot water to brew the perfect cup of black coffee or shot of espresso. You're ensured the most flavorful cup of coffee, every single time. That's what Nespresso calls the Centrifusion Technology. The machine is not a pump based machine like other Nespresso machines, it employs this new technology to make even better coffee. Perhaps the best coffee you've ever tasted.
A Coffee capsule makes a 7.77 oz cup of coffee. An espresso capsule will make you a 1.35 oz shot of espresso. You'll be able to adjust those volumes manually, if you'd like.
Full Nespresso VertuoLine Features:
Machine brews full cup of black coffee or espresso.
Fully redesigned Nespresso capsules allow for more flavor and more delicious cup of coffee.
Automatic recognition of inserted capsule type. No need to change settings.
Adjustable coffee volume settings.
Used capsule container holds up to 14 capsules.
Adjustable drip tray accommodates different cup sizes.
40 oz water tank.
15-20 seconds pre-heat time.
9 minute automatic shut-off
machine dimensions: 8.32″ x 11.91″ x 11.93″
Weight: 10.8 lbs.
Where to Buy The VertuoLine Capsules?
Capsules are also available at Nespresso or Amazon.com. They're less expensive on Nespresso than Amazon, but there's a reason why many people still buy their Nespresso capsules from Amazon.
How To Use The Nespresso VertuoLine:
How To Make a Latte (Or Cappuccino) Using VertuoLine:
Nespresso VertuoLine vs. Lattissima Plus, Is There a Difference?

Whether you're wondering about the Lattisima PRO or PLUS, these two machine are DIFFERENT than the VertuoLine in many ways:
The Nespresso Lattissima are of Nespresso's Original machines, so they use the Original Nespresso capsules.
The Lattissima DOES NOT make regular coffee like the VertuoLine does.
The Lattissima has an integrated milk frother, so its better suited towards someone who wants to make specialty coffee drinks. The VertuoLine can make specialty coffee drinks too, but its frother is not built-in.
Learn more about the Lattissima in the following posts:
Watch how Lattissima PRO works to see the difference:

One thing worth mentioning is the process of making coffee:
Watching the VertuoLine video, you'll notice that it only has ONE button. The machine recognizes capsules automatically by reading the bar code, so you don't have to select any type of settings.
Using the Lattissima, you still go through some settings like coffee volume or froth type.
Common Questions About the Nespresso VertuoLine Machine:
Does the Nespresso VertuoLine Use Pump to Brew Coffee/Espresso?
No, it does not. It uses a whole new innovative technology called Centrifusion which spins the coffee capsules rapidly, at 7000 spins per minute, to brew the coffee or espresso.
Can I Use Regular or Refillable Nespresso Capsules with the VertuoLine?
No, you can't. The Nespresso VertuoLine has its own new capsules for coffee and espresso.
How Loud/Quiet Is The Machine?
Because the machine does not use a pump, it's much quieter than a pump Nespresso machine.
What Doe The Box Include?
It includes a the machine, a sampler pack with 8 coffee capsules and 4 espresso capsules (all available flavors). And if you chose a bundle with the milk frother, it will include the Aeroccino frother, too.
It Looks Like It Has One Button Only! How Does This Machine Adjust Coffee/Espresso?
The VertuoLine has two types of capsules (they don't work with regular Nespresso machines) for coffee and espresso. Each capsule has a code bar on its rim. The machine uses a laser to immediately scan that code, so it knows which capsule you've inserted, and will automatically know what to brew.
Need to adjust the volume of each drink? Just keep pressing that one button as it brews until you have your desired drink. The machine will memorize your selection/adjustment.
Is There a Nespresso VertuoLine Capsules Storage Available?
Yes, there are. You can see them here.
Are There Refillable Capsules Available for This Machine?
No, not yet.
How Much Coffee Does Each VertuoLine Capsule Make?
1.4 oz for espresso and 8 oz for the coffee capsule. Both can be reprogrammed to your taste (increase or decrease volume).
Save