If there's one thing Francis Francis for Illy are good at, it's their ability to create really stylish and compact espresso machines without compromising features. The Illy X9 is an example of this. It's a truly beautiful piece of design, small and can be placed anywhere without worrying about it taking up much space.
Features of Illy X9: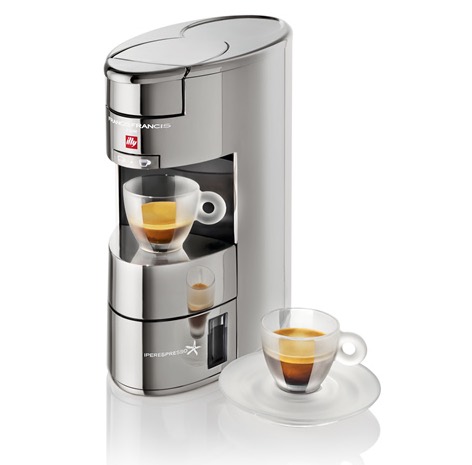 Compact design.
Dimensions: 4.80 W x 10.60 D x 10.50 H
For use with iperEspresso capsules only.
2 reprogrammable coffee settings.
23 oz water reservoir.
Water reservoir can only be partially removed (pulled out like a drawer).
Used capsule drawer for up to 10 used capsules.
Chromed aluminum finish.
Top warming tray holds 2 espresso ups.
Available in Chrome, Red or Silver/black.
Click here to learn more about Illy X9, read the customer reviews and buy it.

What Is The Difference Between Illy X9 vs. Y3?
[apc id="61″]
There's not much difference between the Illy X9 and Y3 in features, in fact, they are exactly the same. The difference however is in the design:
Even though both models are compact in size, the shape of the machines dictates how they sit on your countertop. The X9 has a curved design that makes it narrow from the front and back, with its water reservoir sitting at the bottom.
On the other hand, the Y3 has a larger 30 oz water reservoir that is fully removable. The X9 has a 23 oz water reservoir that is partially removable.
The finish of the X9 is what makes it special. It is housed in Chrome finished Aluminum. The Y3 has some nice chrome accent and tempered glass, but it's mainly housed in a plastic body.
So choosing between these two models will be purely on design features and what material you prefer your machine to be.
Video Reviews: