Nespresso is one of the most popular single-serve espresso machines on the market right now. But there's been a been a few contenders in the same category that are worth considering, the Keurig Rivo is one of them.
One of the first questions that come to mind is, how does the Keurig Rivo differ from the Nespresso machine. And that's what we will be answering in this post.
The Difference Between Nespresso and Keurig Rivo:
The two machines are single-serve espresso machines that make you espresso, cappuccinos and lattes with push button controls. But they're still entirely different systems.
The Capsules:
Each machine has its own dedicated coffee capsules. Nespresso machines use Nespresso capsules exclusively. The Keurig Rivo uses Coffee capsules made by Lavazza, one of the leading Italian coffee brands.
There's quite a difference in the available variety of capsules, too. Nespresso offers about 20 or more capsule varieties, and offers other limited edition flavors from time to time. Lavazza's Rivo capsules are available in only 4 capsules, which give you different espresso intensities.
Both Nespresso and Lavazza capsules are available in retail stores and online and can be purchased easily.
The Machines: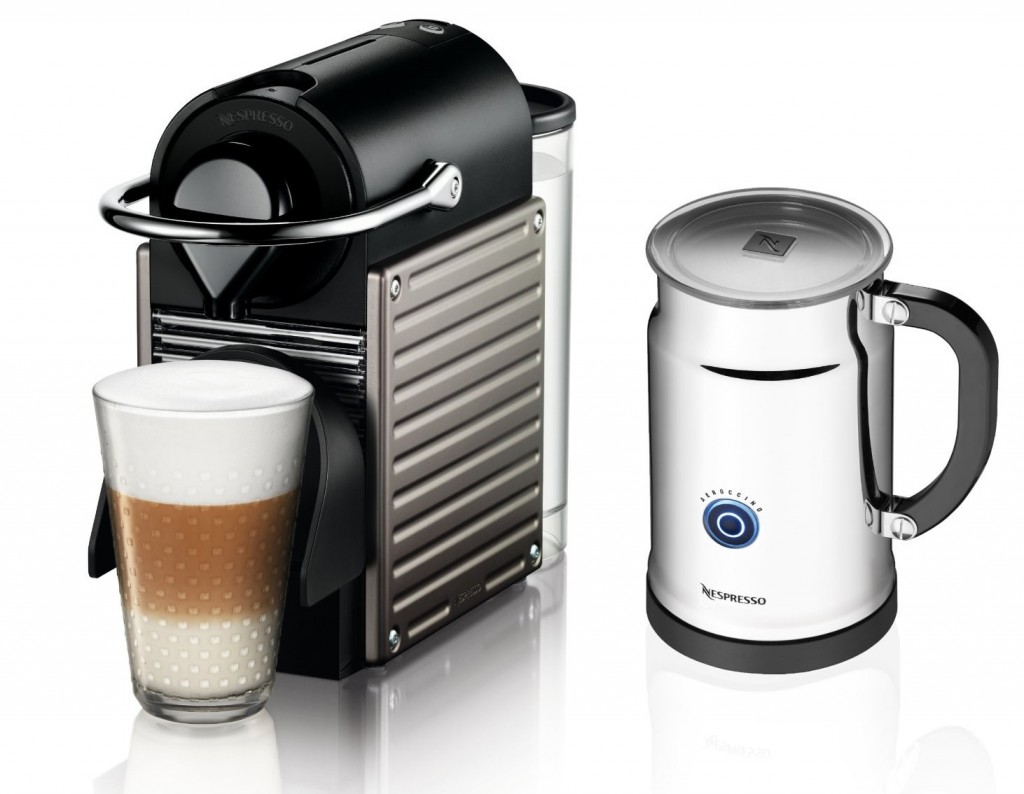 Nespresso has a few machines to choose from. Although they all work the same way, each has a few different characteristics that offer you an experience more suitable to your needs.
You can see all Nespresso machines and see the difference between each model here.
The Keurig Rivo is only one machine and it's the only machine that accepts Lavazza's Rivo capsules.
You can learn more about the Keurig Rivo System by clicking here.
Which Machine Should I Buy? The Keurig Rivo 500 or a Nespresso Machine?
There are a few things to consider before you make that decision:
One of the most important things to keep in mind is that when you're buying a single-serve espresso machine, you're committing to its coffee capsules. If you're a fan of Lavazza coffee, then you'll definitely enjoy the Rivo system. Otherwise, having a Nespresso machine offers you more coffee capsules to try and enjoy.
What coffee drink do you enjoy the most? This will determine whether or not a milk frother will be needed. The Keurig Rivo has a built in milk frother that allows for easy milk based coffee drinks. With Nespresso machines, you have two options: You can get the Nespresso CitiZ, Nespresso U Milk or Delonghi Lattissma (powered by Nespresso), which have built-in milk frothers. Or you can get a stand-alone machine either bundled with an electric milk frother or on its own. So you do have more options to choose from.
If you'd like to try a different variety of coffee every now and then, you'll definitely enjoy the Nespresso selection. There's also an option to by a refillable Nespresso coffee capsule that you can fill with your choice of coffee, although it's not officially licensed, it does work.
How Does The Keurig Rivo Compare to the new Nespresso VertuoLine?
The Nespresso VertuoLine is a more versatile machine. It's the first Nespresso that is able to prepare both Coffee and Espresso, using different capsules. It also uses a new brewing technology that no other espresso machine has. click here for a detailed post about the VertuoLine.
The Keurig Rivo is an espresso machine that prepares espresso as well as espresso based drinks. It does not make regular coffee.